printer friendly version
Turning security alarms into social alarms
August 2014
Perimeter Security, Alarms & Intruder Detection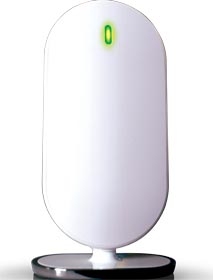 One of the companies exhibiting at IFSEC UK this year was the Essence Group (Essence). The 20-year-old company is based in Israel where it employs and contracts around 500 people serving the security, smart home and healthcare markets – with basically the same solution architecture: wireless cloud-based solutions. Essence is a provider of M2M (machine-to-machine) or Internet of Things (IoT) cloud-based systems and manufactures its own products.

Daniela Perlmutter
Daniela Perlmutter is head of marketing for Essence and she spoke to Hi-Tech Security Solutions about the company and its plans to launch the brand in South Africa. She explains that even though Essence is based in Israel, over 99% of its sales come from Europe and the USA. While Essence provides the solutions, it works through channel partners to implement its systems.
Smart Security
Essence started out as a security product provider and still makes and provides what it terms Smart Security solutions to the residential and small business markets. These solutions cover the expected security areas, from perimeter security to intrusion detection and flood or fire warnings. They are all wireless and battery operated to prevent users having to install cables throughout their houses.
Designed to fit into the most elegant houses, the systems start with a control panel that uses a proprietary protocol to secure communications between all the attached devices. Connected to the control panel is a selection of security devices, from sensors to motion detectors and indoor and outdoor cameras, sirens and a remote control.
The control panel communicates with the cloud via PSTN or GSM/GPRS (cellular) services where the EverGuard software manages the client's security systems remotely. The internal systems are all wireless and run on batteries to ensure the alarm system functions no matter what Eskom does.
Because it is cloud based, the house is always monitored and any alarm events trigger a response. Essence resellers can offer a response service or alert an armed response company along with video verification of the event when something happens. The system is designed for a black-screen approach, meaning the internal intelligence raises the alarm. The central monitoring station as well as the users can manage and view their own premises via the Internet or via a mobile app, which can be used to view events or reset alarms after an event, for example.
Smart Living
With the Smart Living solution, Essence allows clients to monitor their homes using similar technology (wireless, battery operated, cloud-based and manageable via mobile app) through its WeR@Home solution, extending home security with home automation devices and services based on the Z-Wave protocol. Smart Living users do not have to be connected to a remote monitoring service to gain the benefits of the technology, but can be.

Using the system in cooperation with a guarding company or as a standalone application allows homeowners to exercise total control over their residences whether they are at home or not. For example, if a repair person arrives when nobody is home, residents can remotely open the door and disable the alarm in certain areas of the house to allow him to do his job and secure the premises when he leaves. If cameras are installed they can also keep an eye on him while he is at work. Additional remote management services can be added, such as managing a thermostat etc. to deliver a full home automation solution.
Because the technology used is an extension of that already used for security, and in some cases the same technology, Essence offers its Smart Living solutions to security companies as well. G4S in Denmark, for example, uses the Essence WeR@Home solution to offer its clients DIY Smart home systems.
Smart Care
The third part of the Essence offering is Smart Care, which uses the same technical solutions and remote monitoring to provide better care for the elderly that is also less intrusive than paying a visit to their homes. Essence Smart Care solution Care@Home uses a similar architecture (wireless, cloud-based software, battery operated and manageable via web and mobile apps) and uses a smart algorithm and an analytics engine to analyse the elderly's daily activities and trigger personal alerts. The solution includes also a personal emergency response system (PERS) for users to proactively call for help.
This system monitors the elderly as they go about their daily routines and establishes a personal pattern for them after some time – normally about one month. The routines are not observed by monitoring personnel, but privately by the system. When it detects a significant deviation in an individual's routine, it raises an alarm and assigns it a severity level.
Depending on the severity, the remote monitoring personnel can then call or visit the person in their home to check that everything is in order, or call a family member and ask them to check on their mother or father. The intelligence of the PERS enables the elderly to live independently for longer, while their families can be assured of their safety.
Perlmutter says most of the existing self-care services offered to the elderly depend on the individuals measuring their own vital signs and raising an alert if readings are out of control; they also depend on the elderly pressing a panic button should the need help after a fall, for example (falls constitute about 20% of emergencies for older people).
Quite often, however, these elderly folk don't want to be a nuisance or are embarrassed and spend too long trying to help themselves, which can lead to longer recovery times and higher medical bills. Care@Home introduces a paradigm shift in its seamless experience. The elderly user doesn't have to press buttons or send information. Once a routine has been established Care@Home detects any problems quickly and raises the alarm, getting help to the individual faster, which generally results in faster recovery times and lower medical bills.
Smart Care provides a total 'connected care' experience for the elderly folk, their family members and caregivers that can be extended with additional safety devices such as smoke and water leakage detectors. The company's YouTube channel has more on the company and its products and can be found at https://www.youtube.com/channel/UCOdUAVC7QmDoSZGyHMOjwUg).
As noted above, Essence is looking to expand into the South African market and will make use of channel partners in the region.
For more information, contact Daniela Perlmutter, Essence Group, +972 73 244 7702, danielape@essence-grp.com, www.essence-grp.com
Further reading:
Intruder detection is becoming smarter and more mobile
May 2019, Elvey Security Technologies , Regal Distributors SA , Editor's Choice, Perimeter Security, Alarms & Intruder Detection
Alongside the new technologies continually being developed, existing technologies are being co-opted into not only performing an intrusion detection role, but combatting that bane of the electronic security industry: false alarms.
Read more...
---
Effective intruder detection: more important than ever
May 2019, Powell Tronics , Perimeter Security, Alarms & Intruder Detection, Products
While intruder detection systems abound, not all solutions are created equal. Ensuring that their intruder detection system is with them for the long haul is something that all end-users desire.
Read more...
---
Outdoor sensor with anti-masking
May 2019, HiTek Security Distributors , Perimeter Security, Alarms & Intruder Detection
The Viper, made by Duevi, is an exterior sensor integrating technologies such as active anti-masking, Redsense digital analysis algorithm and a simple walk-test mode.
Read more...
---
HD PIR camera with strobe light
May 2019, Hikvision South Africa , Perimeter Security, Alarms & Intruder Detection, CCTV, Surveillance & Remote Monitoring
Hikvision's Turbo HD passive infrared (PIR) camera uses advanced video surveillance technologies to capture infrared light given off by human bodies.
Read more...
---
Intelligent ceiling detector
May 2019, Regal Distributors SA , Perimeter Security, Alarms & Intruder Detection, Products, Agriculture (Industry)
The RISCO Industrial LuNAR Grade 3 is an intelligent ceiling detector with bidirectional remote control, a mounting height of up to 8,6 m and a coverage area of up to 18 m in diameter.
Read more...
---
Outdoor detector with low false alarm rate
May 2019, Regal Distributors SA , Perimeter Security, Alarms & Intruder Detection, Products
The RISCO wired Beyond detector is the company's next generation in outdoor detection, featuring an updated, sleek design.
Read more...
---
Visual intruder and perimeter security
May 2019, Secutel Technologies , Perimeter Security, Alarms & Intruder Detection
Using surveillance cameras for intruder detection and perimeter security is possible with intelligent systems.
Read more...
---
Combine technologies for effective intruder detection
May 2019, Vox Telecom , Perimeter Security, Alarms & Intruder Detection, CCTV, Surveillance & Remote Monitoring
One does not need to break the bank when securing valuables, but rather have the right mix of various layers of technology.
Read more...
---
Protecting ATMs
May 2019, Secutel Technologies , Perimeter Security, Alarms & Intruder Detection, Financial (Industry)
Secutel Technologies has developed an intrusion detection system called VV Compact for ATM, designed and manufactured in South Africa.
Read more...
---
Solid perimeter security measures are still the best deterrent
May 2019, Fidelity ADT Security , Home Security, Access Control & Identity Management, Perimeter Security, Alarms & Intruder Detection, Residential Estate (Industry)
Crime in South Africa is still a problem, despite an abundance of security measures and technological advancements; however, a durable perimeter is will withstand the test of time.
Read more...
---