printer friendly version
Perimeter security essentials – Part 2
August 2014
Perimeter Security, Alarms & Intruder Detection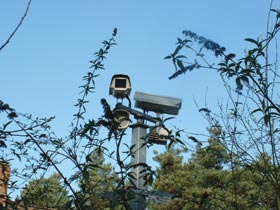 With a background in industrial networks for the mining environments, Roger Powell, senior sales representative at RJ Connect has written a three-part series highlighting some of the best practices in residential security. This is the second instalment in the series.
I started this series with network switches because, without a well-designed backbone even the most expensive camera on the market will function at the same level as an entry level product. Laying the fibre in the correct topography on a greenfield project (new development) is easier than having to retrofit, which is expensive and unsightly. Get it right the first time. Cameras are easy to upgrade, networks are not.
There are hundreds of camera suppliers in the market. Almost all cameras are fitted with a Sony CMOS with a wide selection of different megapixels to choose from. More is not necessarily better. The higher the resolution of the camera, the higher the cost of the camera. Select the correct camera for the application. Very few products come with the necessary attributes for the harsh environment of housing estates and the longevity needed.
The first thing to do is to confirm that they are ONVIF certified. This will ensure that the camera is compatible with viewing software. Where possible, select one brand throughout the network. In the case of a failure, a new camera can be installed without having to spend hours reconfiguring it. Using a camera that has no heater and no fan is always more desirable. Again, it is important to get a camera with a long MTBF and a five-year warranty. Some cameras are intelligent and can create a virtual boundary or raise an alarm on movement. The same features are available on viewing and recording software. Both work and, although they have pros and cons, are very desirable attributes.
I will discuss boundary wall design later on in this series. It has an impact on the camera pole and electric fence design as well as the cost of manufacture and installation. It is something the architects and developers seldom think about when doing their designs. The placement, mounting systems and types of material used to mount the cameras is important.
Lighting is so often installed on a boundary wall on the roadside, blinding oncoming traffic and/or annoying residents. This is a waste of electricity and is not effective. A light that reacts to movement or an alarm is far better. This can be done by using the IVA camera to trigger it or motion detection.
Some estates have boundaries into thick bush where, even in good light and with the naked eye, you will not see a potential intruder. This is where infrared and verge maintenance is required to effectively monitor boundaries. River crossings are always a challenge to monitor and secure. Using cameras will reduce the amount of security staff needed and also reduce internal and external threats.
On larger estates, having a camera placed on roadways and public areas within the estate will go a long way in reducing the internal threat. These cameras need to be placed strategically to maintain the estate aesthetics and to prevent the prison look and feel. This will eliminate vandalism and abuse of public property. A video record for the movement of people and vehicles should be kept at the entry and exit points. This should be done using registration plate and facial footage. Licence plate recognition software has come a long way and can be used in an investigation.
IVA (Intelligent Video Analyses)
In the mining and process industries, fail to safe systems are important. Let me explain: a camera that uses IVA can be used to start or stop motors and/or turn a light on or off and does not rely on the connectivity to an external PC or intelligent device. It is better to have the intelligence on board the camera for this reason. The camera should also have a SD memory card for pre and post recording of an event.
The IVA cameras will also reduce bandwidth. This is done by only recording an event, but not continuously. It is also possible to record a low-resolution image and an event increases it to full high-resolution when required. The camera should also have a 24/7 scheduler built in to the software. This makes it easy to control in areas of high traffic during weekdays and restricted access at night and weekends. The viewing software will also activate the alarm and highlight it on the main monitor in the control room. This will cause security to react. Multiple data streams can be used at different resolution for recording or viewing called multi streaming.
The downside of these cameras is the cost, but it is not necessary to have all of the cameras in the network intelligent (IVA). To reduce costs, planning is crucial.
IVA is not a perfect technology. In areas where there is varying light conditions and shadows, the IVA will be affected. This causes false alarms or false positives. Even with this it will reduce the amount of staff required to monitor it, bandwidth, infrastructure and a higher level of security is achieved.
Standard cameras
These cameras are normally less expensive than the IVA cameras. There are so many different manufacturers, to generalise is impossible. Placing the camera, selecting the correct lens and resolution is important. It is also better to have a product that will have an anti-tamper and a dirty lens alarm. Some are available with infrared built in as an option. If the camera is placed in full sun and open to the elements, an IP68-certified device with a wide operating temperature must be used. The LUX level is an important part of camera selection. The lower the LUX level, the better the camera. Day/night function is a must. This will automatically change the camera from colour to black and white depending on the lighting conditions. The iris will open and will allow more light into the camera.
Image tuning
Tuning the image to maximise the effectiveness of the camera is important. Image tuning starts with the lens selection. Cameras that have interchangeable lenses are more flexible and this reduces repair stock required. Onsite replacement stock is critical for a reliable network and should be budgeted for. The lens will determine your viewing angle, i.e. wide or narrow. A wide angle will reduce the distance and distance will reduce the angle. Resolution level of the camera can compensate for this to some degree. A site survey should be done at each point to determine what type of camera, lens, resolution, mounting and lighting is required. What type of lighting is required: white light or infrared? When using white light the following need to be taken into consideration:
* Who is going to be affected by the light?
* What wattage or brightness is required?
* What distance or area needs to be lit?
* How much foliage is in the area (reflection will deteriorate the image quality)?
* What voltage is going to be used (backup power and how long it is required)?
* LED, mercury vapour, fluorescent, infrared or halogen?
* How to switch the light on? Is it to be automated by event trigger, day/night or the scheduler built into the POE port of the switch?
PTZ (Pan Tilt Zoom) camera
These cameras have a very specific function and are normally manually controlled. In most cases, they are always looking in the wrong direction. Should these cameras be strategically placed and working in conjunction with fixed cameras in high risk areas, they can be an effective tool. In the event of an alarm, the camera will be used to track or follow the intruder.
For this reason, a thermal camera is a good option. When the camera pans, it moves through different lighting conditions and it can be difficult to track anomalies. Some of these cameras can switch between thermal and normal image. Costs vary wildly on these cameras depending on the brand and functionality. Spend the money; do not skimp on this component. Maintenance is required for the camera due to the amount of moving parts and should be carried out regularly. When selecting your camera, the following points should be taken into consideration:
* Distance required or zoom.
* Power requirements – some manufacturers do not necessarily use standard POE 48 volts DC.
* Mounting type and mounting height.
* Resolution.
* Dome or a larger housing with the infrared lights attached.
* These cameras are more susceptible to fluctuations in environmental conditions, such as temperature and vibration.
* Earthing is more critical due to static build-up.
* Confirm that it will work with your software or joystick.
* Maintenance schedule.
Further reading:
Perimeter protection in Ghana
October 2019, AcoustAlert , Mining (Industry), Perimeter Security, Alarms & Intruder Detection
A gold mine in Ghana has erected a dual fence with AcoustAlert PIDS fence detection on both inner and outer fence lines.
Read more...
---
A committed service provider
October 2019, Elf Rentals - Electronic Security Solutions , Perimeter Security, Alarms & Intruder Detection, Residential Estate (Industry)
The theme Elf promoted through its sponsorship was that it offers clients its own financial commitment and willingness to accept the risk of equipment failure.
Read more...
---
Thermal cameras with artificial intelligence
October 2019, Dahua Technology South Africa , Perimeter Security, Alarms & Intruder Detection, CCTV, Surveillance & Remote Monitoring, Residential Estate (Industry)
Dahua Technology showcased solutions that are important to residential estates, namely perimeter protection.
Read more...
---
Securing estate perimeters
October 2019, Nemtek Electric Fencing Products , Perimeter Security, Alarms & Intruder Detection, Residential Estate (Industry)
Nemtek has a range of products designed to secure the perimeters of estates, however its display at the conference focused on its Network Energizer and its Dual-Action Tension Sensor.
Read more...
---
Using home security to provide home automation
October 2019, TPA Security Distributors , Perimeter Security, Alarms & Intruder Detection, Products
Making outdoor intrusion detection sensors an integral part of the security/home automation system is a reality with Texecom Connect and Ricochet technology.
Read more...
---
Not just intruder detection systems
October 2019, Elvey Security Technologies , Perimeter Security, Alarms & Intruder Detection, Products
The market is clamouring for the integration of traditional intruder detection systems with home automation, surveillance and access control solutions.
Read more...
---
Perimeter security in high EMF environments
October 2019, AcoustAlert , Perimeter Security, Alarms & Intruder Detection
Testing AcoustAlert PIDS on extra high tension sites like power stations and power generating gas turbine plants.
Read more...
---
Intelligent intruder detection
October 2019, Secutel Technologies , Perimeter Security, Alarms & Intruder Detection, Products
Imagine a system that integrates all your security and business systems and can interpret people, actions and events, and help you and your employees to become more efficient.
Read more...
---
AI is transforming the security industry
September 2019, Fidelity ADT Security , Home Security, Perimeter Security, Alarms & Intruder Detection
Artificial intelligence (AI) is no longer a futuristic, fictional concept. The truth is we are living the future now.
Read more...
---
Securing Savannah Hills Estate
August 2019, Rhyco Risk Projects , CCTV, Surveillance & Remote Monitoring, Perimeter Security, Alarms & Intruder Detection
Savannah Hills Estate in Midrand planned a security upgrade which was awarded to Rhyco Risk Projects. The project started in March 2019 and was completed in May 2019.
Read more...
---