printer friendly version
The right drive for surveillance
August 2014
Integrated Solutions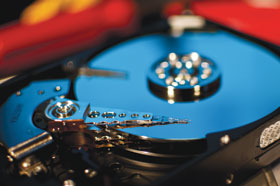 Digital surveillance has come a long way since the initial days of grainy analogue footage.
Today, with HD and multi-megapixel images, the storage requirements for video are enormous and will only increase. Buying a DVR or NVR with a hard drive is very easy today, but all too often the drive has impressive specifications in terms of the storage capacity, but little other information about the capabilities of the device.
What we consider a normal hard drive is designed for daily data use in an 8-hour working environment and is not designed for optimal 24x7 use. To cater for the CCTV market, WD (Western Digital) and Seagate have developed hard drives specifically for the surveillance market. Hi-Tech Security Solutions spoke to the two companies to find out more about surveillance specific drives.
Hi-Tech Security Solutions: Are you finding more acceptance and demand for surveillance-specific hard drives in the security market, even though they cost more?
Kalvin Subbadu, components sales manager, WD South Africa: Digital video surveillance systems rely heavily on the right hard disk drive technology. Without a hard drive, the system will not be able to record video, which defeats the purpose of having the system in place. Using a standard desktop drive or another drive not designed to handle the demanding surveillance environment can have disastrous consequences. Desktop drives are designed to operate for eight hours a day, five days a week – standard office hours. Video surveillance requires 24x7 operation.
Using a desktop drive in a surveillance system will inevitably result in premature failure of the drive, often without warning, which could compromise security. In addition, using the wrong type of hard drive can cause multiple performance issues. These include missing video during playback, slow or jittery playback and problems with the digital video recorder (DVR), such as failure to operate correctly and random restarting. These issues can all compromise security. Surveillance systems require hard drives that can handle real-time access to recordings and simultaneous recording and playback, and can operate 24 hours a day, seven days a week, while providing enough capacity to record from multiple cameras.
I have embarked on a major education drive to ensure that end user customers and resellers understand the benefits of the surveillance drive.
Tyrone Gruner, country manager, Seagate: The surveillance specific drive segment is one of our fastest growing markets. This is driven by both the growth in the industry as well as acceptance by customers who realise that providing users with correctly specified and reliable systems is the best formula for long-term success. We recently attended IFSEC South Africa and I spoke to many system integrators and end users who have had bad experiences as a result of poor solutions.
Storage can be one of the largest costs of the system depending on configuration and is also the heart of the system, the primary function of a surveillance system is the footage that is recorded, ensuring its safety and integrity of the data should be a primary concern. In most cases, a surveillance specific hard drive will be less than a 20% premium over a standard desktop drive.
Hi-Tech Security Solutions: What do surveillance-specific hard drives have that is different from your average PC hard drive? What kind of difference will this make to the user who has to search or copy video?
Kalvin Subbadu: The decision to use a hard disk drive that is not optimised for the surveillance environment is often based on price. Education is key in ensuring this does not continue to happen. WD has introduced a concept called The Power of Choice, which gives each of our internal hard drives an easy-to-understand colour code to ensure they are used in the correct environment.
Surveillance drives are required to run in a 24x7x365 environment and as such, are robust and reliable. They are designed to operate in the toughest environments. This also means they need to run far cooler than other hard drives such as desktop hard drives. Secondly, surveillance hard drives should also be optimised to reduce video loss and be designed for compatibility with surveillance applications.
In addition, with the introduction of HD cameras, surveillance hard drives require a lot more capacity to store this footage and they should handle multiple streams. For example, our WD Purple hard drives can handle up to 32 HD cameras – per hard drive – and up to eight of these drives can be used in an appropriate eight bay surveillance storage device.
Tyrone Gruner: One of the fundamental differences between a PC environment and a surveillance environment is the type of workload. Consumer grade drives are certified for 8x5 use and optimised for predominantly reading data such as opening files, spreadsheets etc. On the other hand, the surveillance drives are designed for 24 x 7 use and for being written to 90% of the time as a result of continuous recording.
Our newest 7th generation platform we have also included some new industry leading features such as embedded RV sensors which allows the drive to support multi-drive systems of up to 16 drives and also supports up to 32 cameras per drive. We also have quick time-to-ready features that allows the drive to instantly wake and record when using motion detection cameras. We certify these drives at less than 1% annual failure rate; systems running consumer grade drives often see significantly higher failure rates, which compromises the system and leads to dissatisfied customers.
Hi-Tech Security Solutions: What is your top-of-the-range surveillance hard drive?
Kalvin Subbadu: WD Purple surveillance-class drives are designed and built with surveillance in mind to ensure faster access, smooth and seamless functionality, and robust operation in a highly demanding environment. WD Purple drives enable high-resolution image quality, streaming video from multiple high-definition cameras, video archiving with ultra-fast data access and on-demand video playback. They are also available in large capacities to ensure that sufficient recording time is available for today's high definition IP cameras.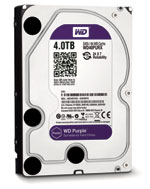 WD Purple.
WD Purple drives feature AllFrame technology, which works with ATA streaming to reduce frame loss, improve playback and increase the number of drive bays supported. IntelliSeek technology calculates the optimum seek speeds, which lowers power consumption, noise and vibration, which can damage drives and cause them to wear out faster. Designed for 24x7 operation, WD Purple surveillance-class drives consume less power during spin-up and operation, minimise heat dissipation and vibration, and operate reliably without compromising performance. Reducing heat, noise and vibration enables surveillance applications to operate more reliably over longer periods of time.
WD Purple hard drives offer up to one million hours Mean Time Between Failure (MTBF). They are optimised to support up to 32 high-definition surveillance cameras and are built for compatibility with industry-leading chassis and chip set manufacturers for seamless ­integration into new or existing video surveillance systems. The drives are available in capacities of 1 TB, 2 TB, 3 TB and 4 TB, all of which feature a three-year limited warranty.
For larger surveillance applications, WD also offers its enterprise-class Se and Re drives. WD Se drives are ideal for mid-range and medium enterprise surveillance, supporting six drives bays and up, and up to 64 cameras. The Se drives are available in capacities from 1 TB to 4 TB. WD Re drives are designed for high-end mission critical surveillance solutions, supporting unlimited cameras and offering maximum reliability and performance storage for systems with six or more drive bays. Re drives are available in capacities of up to 4 TB. The WD Se and Re drives feature an industry-leading five-year warranty.
Tyrone Gruner: Our latest top-of-the-range drive is our 4 TB seventh generation drive, which includes the features I mentioned above. The drives run on a standard SATA 6 GB/s interface compatible with most DVR systems. These larger capacity drives support higher resolution cameras, greater numbers of cameras and longer archival periods. For larger scale NVR and video analytics environments, we also have our latest Enterprise Capacity 3,5-inch range which are available in capacities up to 6 TB. These are our most rugged drives with no limit to the number of drives in a system, they are also the best performing and have a workload rating of up to 550 TB per year, 10x that of a desktop drive.
Further reading:
Intelligent analytics and the brains to match
September 2019, Bosch Building Technologies , CCTV, Surveillance & Remote Monitoring, Integrated Solutions
What if the brains behind our security cameras could be trained to improve their cognitive ability to pay attention, learn, and problem-solve according to specific rules and situations?
Read more...
---
AI-powered autonomous Drone-in-a-Box
September 2019 , CCTV, Surveillance & Remote Monitoring, Integrated Solutions
Organisations in the mining, energy and industrial, oil and gas, ports and terminals sectors can optimise security and business operations, whilst reducing risks and operational costs
Read more...
---
A platform approach to innovation and value
September 2019, Technews Publishing , Editor's Choice, CCTV, Surveillance & Remote Monitoring, Integrated Solutions, IT infrastructure
Moving to the platform model of doing business holds tremendous advantages for end users and smaller developers, but also for the whole technology supply chain.
Read more...
---
Open does not always mean easy integration
September 2019, VERACITECH, Technews Publishing , Editor's Choice, CCTV, Surveillance & Remote Monitoring, Integrated Solutions
Customers who opt for best-of-breed solutions will have to rely on their integrators to develop customised integrated solutions for them.
Read more...
---
Video analytics and AI
September 2019, Axis Communications SA, Dallmeier Electronic Southern Africa , Hikvision South Africa, Technews Publishing, Dahua Technology South Africa , Editor's Choice, CCTV, Surveillance & Remote Monitoring, Integrated Solutions
Artificial intelligence has the potential to deliver real benefits in the world of video analytics and many companies are already delivering customer benefits.
Read more...
---
Cloudy with a chance of AI
September 2019 , Editor's Choice, CCTV, Surveillance & Remote Monitoring, Integrated Solutions
One local company has developed an AI solution that can be added to existing surveillance installations, offering 24-hour intelligence.
Read more...
---
Integration insights
September 2019, Gijima Electronic and Security Systems (GESS), Technews Publishing, neaMetrics , Integrated Solutions
The security industry would be a vastly different place if installers and integrators were not able to make a range of different products work together.
Read more...
---
Video and audio analytics
September 2019, Wisenet CCTV - Hanwha Techwin , CCTV, Surveillance & Remote Monitoring, Integrated Solutions
Viewing many monitors and cameras simultaneously can lead to an increased probability of missing critical situations due to viewing fatigue. Analytics has the answer.
Read more...
---
Enhance video analytics with Augmented Vision
September 2019, IDEMIA , Technews Publishing , CCTV, Surveillance & Remote Monitoring, Integrated Solutions
Augmented Vision is a video analytics application from IDEMIA designed to enhance security in public and private places.
Read more...
---
A tangible return on investment
September 2019, Bidvest Protea Coin, Technews Publishing , CCTV, Surveillance & Remote Monitoring, Integrated Solutions
The key to a successful security solution for any environment is the strategy and processes that define what you need, where, when, how and why.
Read more...
---