printer friendly version
High-end surveillance storage
August 2014
Integrated Solutions
When looking at the storage aspect of security, specifically the high-end surveillance market where a DVR or NVR won't handle the job, most customers accept the storage array their integrators provide.
In most cases these storage solutions come from the IT industry and are assumed to be right for the job.
Hi-Tech Security Solutions has dealt with the issue of what hard drive to choose for your surveillance needs in this and previous issues. But what about the full storage solution for high-end surveillance projects where one has many cameras recording video and you need to keep video footage for lengthy periods of time – some required for daily use, other footage that may be required at some future date? Hi-Tech Security Solutions spoke to EMC and Oracle about what offerings they have for the high-end surveillance storage market.
Nigel Steyn, TEEAM Security SME at EMC, says EMC adopts a unique approach to the design of surveillance projects. "The majority of our competitors began their business during the days of analogue security systems, DVR and VCR technology, and must now make the change to be able to advise on IP solutions. As a Fortune 500 IT solutions company, EMC's security practice follows a clearly-defined, repeatable IT-centric approach to designing open architecture solutions which provide clients with full traceability from start to finish.
"Unlike some integrators, we are completely product-neutral, which means we tailor each system to meet a client's requirements. As a result, we have the ability to support multiple manufacturers. We work closely with all the leading industry specialists to test and prove their products in our test laboratories, establishing each product's strengths and weaknesses."
EMC has a surveillance storage product portfolio that allows clients to mix and match depending on their requirements. For example, for up to 250 TB (terabytes), EMC has a Video Surveillance Storage (VSS) appliance that offers an open, flexible and cost-effective platform for video content storage and analysis, focusing on the large 'edge to core' deployments.
For larger storage requirements, EMC Isilon is leading the charge in surveillance storage products, providing a scale-out architecture of up to 20 PB (petabytes) of data in a single file system.
Big video data
The IT industry is making a big deal about big data and how it is geared to handle massive amounts of information. But is the IT industry ready to provide big data platforms that can handle video and video analysis demands (such as multiple high-definition video streams and high hard drive usage) on top of traditional data? More importantly, can it manage this data from hundreds of cameras effectively while still providing real-time analytics and intelligent surveillance?
Manfred Gramlich, head of public sector storage solutions at Oracle SA, says the company provides the technology behind many public sector security solutions. Oracle is focused on automating as much of the surveillance process as possible, especially in the analytics field with what he terms Business Decision Management solutions.
As demonstrated at IFSEC UK, Oracle partners with Milestone to automate surveillance analytics. An example of this partnership can be seen in the Turkish city of Izmir, where the police force manages over one thousand cameras with a Milestone and Oracle solution. Numerous triggers have been set and when an event occurs, the system analyses it and dispatches the correct resources, such as the police or fire brigade automatically. This reduces the cost of providing these services while improving their productivity as resources are only sent where required.
Steyn says the concept of smart cities is one of the main initiatives driving the need for a big data platform. As part of the smart city initiative, a safe city concept is being derived which requires the same big data platform to analyse large amounts of distributed video data.
This platform will be able to integrate heterogeneous security databases with large amounts of video data and at the same time use analytics allowing predictive models to be built, feature extraction, patterns to be learned and displayed on the set of data collected – all of this in near real time. These requirements are now real and are driving the need for big data platforms.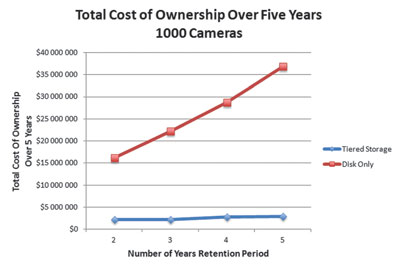 Tiered storage
Gramlich says the key to storing large amounts of video without exorbitant costs is to tier the storage. This means that the data required immediately is kept on faster, more expensive storage (even solid state storage if immediate response is required), while older data that is not required as quickly can be moved onto slower, less costly systems – including eventually onto backup tapes.
Oracle's partnership with Milestone combines XProtect with Oracle's StorageTek SAM-QFS software and offers video management software (VMS) with a low cost and scalable digital video archiving solution. This solution provides customers a means to retain their video surveillance data longer while keeping up with increasing camera resolutions and frame rates – and reducing their storage costs.
SAM-QFS is a digital archive solution that enables tiered storage, which gives users the freedom to choose how their data is stored while always keeping all of the data available for access by applications. Data can be kept on flash or disk storage devices for fast access, or on tape for low cost long-term archiving. Users have the flexibility to determine how much of their data they want on fast access storage and how much they want on low cost storage, and can tailor their system based on their specific needs.
The effective management of video data in this manner is part of the information lifecycle management (ILM) process for large projects and needs to be carefully planned to ensure the right data is available when necessary and the right resources are on hand to deal with enormous amounts of video information.
So, while there are many companies offering storage solutions for large video surveillance projects, it's always important to remember that data requires more than a hardware solution. As important as selecting the correct storage solution is the management software and making sure your security operators have access to what they need without undue delays, while also keeping costs in mind. And as the world comes to rely more on automated intelligence, it will be just as important to ensure the real-time nature of automation is supported by fast data access while archived material is indexed and available on slower and cheaper storage technology. To achieve this will require a storage solution designed for surveillance, simply because dealing with video data requires more resources than traditional business data – compressing and decompressing high definition video consumes resources, as does video analytics. It's also worth remembering that correctly using video data can provide as much, if not more business intelligence than traditional data – or it will as soon as the video analytics industry delivers.
Further reading:
Intelligent analytics and the brains to match
September 2019, Bosch Building Technologies , CCTV, Surveillance & Remote Monitoring, Integrated Solutions
What if the brains behind our security cameras could be trained to improve their cognitive ability to pay attention, learn, and problem-solve according to specific rules and situations?
Read more...
---
AI-powered autonomous Drone-in-a-Box
September 2019 , CCTV, Surveillance & Remote Monitoring, Integrated Solutions
Organisations in the mining, energy and industrial, oil and gas, ports and terminals sectors can optimise security and business operations, whilst reducing risks and operational costs
Read more...
---
A platform approach to innovation and value
September 2019, Technews Publishing , Editor's Choice, CCTV, Surveillance & Remote Monitoring, Integrated Solutions, IT infrastructure
Moving to the platform model of doing business holds tremendous advantages for end users and smaller developers, but also for the whole technology supply chain.
Read more...
---
Open does not always mean easy integration
September 2019, VERACITECH, Technews Publishing , Editor's Choice, CCTV, Surveillance & Remote Monitoring, Integrated Solutions
Customers who opt for best-of-breed solutions will have to rely on their integrators to develop customised integrated solutions for them.
Read more...
---
Video analytics and AI
September 2019, Axis Communications SA, Dallmeier Electronic Southern Africa , Hikvision South Africa, Technews Publishing, Dahua Technology South Africa , Editor's Choice, CCTV, Surveillance & Remote Monitoring, Integrated Solutions
Artificial intelligence has the potential to deliver real benefits in the world of video analytics and many companies are already delivering customer benefits.
Read more...
---
Cloudy with a chance of AI
September 2019 , Editor's Choice, CCTV, Surveillance & Remote Monitoring, Integrated Solutions
One local company has developed an AI solution that can be added to existing surveillance installations, offering 24-hour intelligence.
Read more...
---
Integration insights
September 2019, Gijima Electronic and Security Systems (GESS), Technews Publishing, neaMetrics , Integrated Solutions
The security industry would be a vastly different place if installers and integrators were not able to make a range of different products work together.
Read more...
---
Video and audio analytics
September 2019, Wisenet CCTV - Hanwha Techwin , CCTV, Surveillance & Remote Monitoring, Integrated Solutions
Viewing many monitors and cameras simultaneously can lead to an increased probability of missing critical situations due to viewing fatigue. Analytics has the answer.
Read more...
---
Enhance video analytics with Augmented Vision
September 2019, IDEMIA , Technews Publishing , CCTV, Surveillance & Remote Monitoring, Integrated Solutions
Augmented Vision is a video analytics application from IDEMIA designed to enhance security in public and private places.
Read more...
---
A tangible return on investment
September 2019, Bidvest Protea Coin, Technews Publishing , CCTV, Surveillance & Remote Monitoring, Integrated Solutions
The key to a successful security solution for any environment is the strategy and processes that define what you need, where, when, how and why.
Read more...
---