printer friendly version
Nothing in common makes a good match
August 2014 Integrated Solutions, CCTV, Surveillance & Remote Monitoring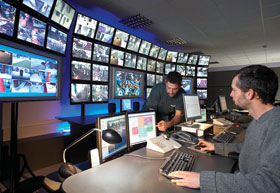 The surveillance world was caught by surprise when Canon announced it had acquired Milestone Systems just before IFSEC UK this year.
The deal made no sense to some people, while others saw it as the end of the Milestone that they knew. The two companies seem to have nothing in common, Canon sells hardware and Milestone is a software company.
Canon has never been one of the major global surveillance brands, especially not in Africa, and it was interesting that this quiet company would take the plunge and buy Milestone. Of course, Canon has a range of quality cameras that it sells in many territories, but it hasn't quite made it to the brand recognition level of an Axis, for example. That said, the company is not taking it easy. Canon has had plans to become a more significant player in the global surveillance market for some time. In our May issue we announced that Canon's surveillance division had opened up shop in South Africa, led by Braam Steyn. The company appointed Security & Communication Warehouse as its local distributor and is in the process of building its brand in the country (see www.securitysa.com/48511n)
Milestone has made its name as an open systems company that allows partners to integrate their own software into the company's management platform to offer a broad range of services from traditional video management through to intelligent analytics, storage management and even access control. Multiple camera brands can be plugged into Milestone's software and managed almost seamlessly and that number is continually growing. It seemed strange that the company would risk being bought by a hardware vendor and give up its independence, openness and entrepreneurial way of doing business.
Both companies promised 'business as usual' after the announcement, but there have been many comments on the Internet about the future of open platforms, with some websites listing the 'last remaining open platform' vendors – assuming Milestone would become a Canon VMS (video management system) at the expense of its long relationships with other brands. To get to the bottom of what brought about the acquisition and what we can expect from the two companies going forward, Hi-Tech Security Solutions spoke to Steyn, Canon SA's business development manager for network cameras, and Karl Erik Traberg, head of corporate communications and development at Milestone Systems.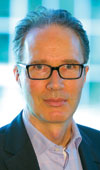 Karl Erik Traberg, head of corporate communications and development at Milestone Systems.
Why do the deal?
As to why Canon bought Milestone, Steyn says the company has "identified network video surveillance as an important driver for the future growth of the company globally and this acquisition is a strategic step which significantly enhances our offering and capabilities in this market sector. The network video surveillance market is a multi-billion Euro industry which continues to show huge growth potential and Canon has a strong commitment to build a long-term presence as a leader in this industry."
He adds that combining Milestone's VMS and Canon's imaging technology positions Canon as a formidable player. "The addition of Milestone to the Canon Group is a natural step towards realising our ambition of leadership in this market."
He adds that the acquisition combining Canon's hardware and Milestone's software technology will enable Canon to offer unique propositions to customers.
Looking at it from the Milestone perspective, Traberg says Milestone's vision was first communicated in 2006 "and is not changing, we aim to drive the convergence of video surveillance and business systems. This vision is becoming a reality and it will now be strengthened after the acquisition is completed. We will get the ability to ramp up our R&D even more as we now have financial backing that enables our ambitious goals."
Canon, it seems, understands that the open platform is the core of Milestone's success; Traberg says they support the software provider's open culture and business model. "Customers and partners will continue to enjoy the freedom of choice in hardware and other systems with which to integrate their Milestone VMS. Canon's network camera business also has relationships with other VMS providers, just like we do with other camera manufacturers. These will continue."
Traberg also highlights Canon's R&D pedigree, stating: "I'll bet you didn't know that Canon is number three in the world for companies with registered patents? In the last year alone it registered 3 800."
What are the benefits?
Contrary to the doomsayers in the market, Traberg says Milestone is sure the deal will be beneficial for partners and customers in the long term. The way forward is for Milestone to remain an independent, standalone company within the Canon Group, operating as they do today, but with greater resources.
Steyn confirms that Milestone will be able to accelerate its business and development of new products and propositions, and being part of the Canon Group will enable them to use the vast resources and channels of Canon in expanding their global reach. "Milestone can now leverage Canon's strong position in the consumer market and our channel and partner relationships."
Steyn is clear: "As a standalone company within the Canon Group, Milestone will continue the development of new products as they have in the past, and Canon will respect the confidentiality of our partners."
Looking ahead
Milestone is not letting the industry talk about what its future may or may not be to slow it down. With the recent release of XProtect 2014, it launched the new version of its MIP SDK (Milestone Integration Platform Software Development Kit) with the XProtect Access Control Module. Traberg says this enables fast integration of access control systems with XProtect Smart Client to make the most commonly used access control functions available from Milestone's interface. "We are always looking at new options to improve video surveillance and its many applications, convergence with business systems and processes, and new technologies that can be applied. The global resources of the Canon Group can only open up broader opportunities to explore."
Locally developed SmartProtect is one company taking advantage of the MIP SDK and it has announced it has integrated Suprema technology into its access control system – built as a plug-in for the Milestone platform. SmartProtect integrates video and access information from multiple systems into an easy-to-use interface (see more at www.smartprotect.co.za).
From Canon's perspective, the future is also looking bright, even though it has set itself a significant challenge. Steyn says the company is "committed to building a significant presence in this market. Following this step, we will work closely with Milestone to identify the best way of achieving our goal of becoming a leader in the network video surveillance market."
He continues, "We are cognisant that Milestone's success is built on the foundation of their open platform strategy, strong partnerships and entrepreneurial approach. We support this and have no intention to change this. … The difference is that now, this open platform technology and operating model will be supported by a global technology leader."
And perhaps one aspect of the global world we operate in that is most appealing to both Canon and Milestone is that each company has a strong presence and partner base in territories into which the other has not yet made serious inroads. There will naturally be some overlap, but by combining their areas of influence, the combined entity has a stronger global presence, which is again beneficial to bother partners and customers.
Despite some misgivings, it seems clear that the combination of Milestone and Canon's surveillance unit will offer benefits to both companies, and that Canon is aware that Milestone's success is built on the foundation of an open platform strategy, strong partnerships and an entrepreneurial approach, and has accepted this as the status quo going forward. Canon will have a stronger offering to take to market and a way into markets where it wants to grow, but the big winner must be Milestone with improved R&D resources, access to new markets and a big brother with decades of experience dealing in both the consumer and business markets – and a healthy bank balance.
Further reading:
Smart water management
Axis Communications SA CCTV, Surveillance & Remote Monitoring Integrated Solutions
South Africa is currently facing a water crisis, with scarcity and inefficient water management posing significant challenges to sustainable, consistent access to water. Smart technology and powerful partnerships may offer a proactive solution to SA's water crisis.
Read more...
---
Helping retailers optimise monitoring and security
Guardian Eye Retail (Industry) CCTV, Surveillance & Remote Monitoring
From a smart retail perspective, it is crucial to understand that monitoring stock and other assets through camera surveillance and a variety of Internet of Things (IoT) sensors stretches further than the stores themselves.
Read more...
---
Empowering Istanbul's public transportation
Dahua Technology South Africa CCTV, Surveillance & Remote Monitoring Integrated Solutions
Dahua's intelligent transportation solution, using technologies like DSM and AI-based passenger flow counting, has facilitated an intelligent system upgrade for nearly 6 400 minibuses and electric buses in Istanbul.
Read more...
---
Collaboration delivers integrated and holistic security
Guardian Eye CCTV, Surveillance & Remote Monitoring News Integrated Solutions
Guardian Eye and Lytehouse have partnered to integrate their speciality solutions and provide a holistic security offering that overcomes the fragmentation of security systems and services.
Read more...
---
SMART Surveillance Conference 2023
Technews Publishing Editor's Choice CCTV, Surveillance & Remote Monitoring Conferences & Events
Some people think the future is all about cloud technologies, but the SMART Surveillance conference demonstrated that AI is making edge surveillance much more attractive, over distributed sites, than ever before.
Read more...
---
Smart obsession: Cities within security
Business Connexion Integrated Solutions IT infrastructure
Rebatho Madiba, from BCX, explores the security and connectivity considerations that define the development of smart city foundations, naturally, with connectivity and security the most important considerations.
Read more...
---
Project services to best-practice standards
Mustek Security Technologies Integrated Solutions
Mustek Security Technologies is dedicated to providing security solutions and distributing the full spectrum of blue-chip surveillance solution-driven products, primarily for the government and corporate arena.
Read more...
---
Supporting CCTV intelligence with small and big data
Leaderware Editor's Choice CCTV, Surveillance & Remote Monitoring
The increasing development of AI and its role in enhancing investigation-led surveillance, and the increasing capacity of control rooms and local analysts to deliver data in return, can increase the synergy between intelligence and surveillance.
Read more...
---
Rapid deployment video surveillance
Blacklight Group CCTV, Surveillance & Remote Monitoring Integrated Solutions
Kelly McLintock explores the importance of implementing rapid deployment video surveillance systems on construction sites to enhance safety, minimise losses, eliminate downtime, and promote productivity.
Read more...
---
Cultivating safer and smarter cities
CCTV, Surveillance & Remote Monitoring Integrated Solutions
As a provider of video management software (VMS) and physical security information management (PSIM) solutions, AxxonSoft enables cities to anticipate and respond swiftly to security threats through advanced video analytics and intelligent surveillance capabilities.
Read more...
---