printer friendly version
Integrated management platforms
August 2014
Integrated Solutions
When it comes to management platforms, the big news right now is the acquisition of Milestone by Canon. At IFSEC UK, everybody commented on how unexpected that move was. Hi-Tech Security Solutions is running an article in this issue in which we asked the two companies about the deal and the future of Milestone and its popular open platform.
But Milestone is a leader in the platform market with only around 9% market share so there is still much to play for (Genetec and Milestone are the two brands fighting for the top spot and actually shared the number one position the previous year according to IHS). So what does this mean for security management platforms? Milestone may hold the moniker of an 'open platform', but there are many more, some independent and some owned by camera companies. In fact, IHS notes that Hikvision and Avigilon are two of the companies that grew their share of the platform market in 2013.
Is your traditional video management system (VMS) becoming old hat as more management platforms are offering plug-ins or modules that can manage non-surveillance technology. Hi-Tech Security Solutions asked a few management platform vendors for their views on the market and the evolution of VMS and PSIM in an environment in which integration and single console management of multiple systems seems to be the norm.
Integration is trending
Richard Hepplestone, business development manager for AxxonSoft Southern Africa, says, "We are seeing more and more that customers are wanting to integrate their various physical security systems, such as access control, fire detection, control of cash transactions in retail outlets and perimeter security with video surveillance. This is simply because all of these subsystems ultimately are designed to perform one main task – the physical protection of the site. This requirement is leading to some traditional VMS platforms being extended to become integrated PSIM systems.
"The immediate benefits of this approach are around staff training. This overhead can be reduced if the operators of the various subsystems are presented with only a single interface. More importantly, the aim is to ensure the value of the whole system is greater than the sum of the individual parts. For example, automatic redirection of cameras based on the triggering of perimeter protection, or using video based facial recognition in conjunction with access control."
He says the integration of additional systems is an ongoing practice at AxxonSoft, based on project, customer and market demands. "The wider range of subsystems in use today, such as fire detection, access control, point of sale, intrusion detection and perimeter protection make this a necessity."
Adlan Hussain, marketing manager for CNL Software EMEA, agrees that this is a major trend at the moment. "The industry is moving in the right direction, slower than we would have liked, but it is moving."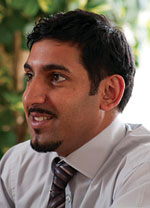 Adlan Hussain.
He offers a number of benefits of greater integration at the VMS, ACS (access control system) or BMS level:
• Benefits of integration – It is opening up minds to the benefits of integration within the physical security world. And once minds have opened, they start to imagine what else they could do with this technology. How they can improve processes, reduce costs, move faster and solve more incidents by connecting systems and data?
• Low-level integration – If an ACS, VMS or BMS can provide some of the local site integration, it makes it easier to work with these individual sites. We can connect these systems and create the management rules, workflows and intelligence for an enterprise wide security shield.
• Increased IT skills within integrators – One of the biggest challenges faced by PSIM vendors is the availability of IT savvy channel partners. We spend a lot of time educating the market on IT-related matters around integration. It is good to see others investing in channel too.
"Ultimately, there comes a point when a VMS which was designed to playback and record large amounts of video, ACS which is designed to manage doors and a BMS designed to manage single building environments just don't have what it takes. Once they get to this stage, they are really looking at a platform designed to integrate and manage, and this is where you will find PSIM dominating the space."
There is still a clear distinction that needs to be made between VMS and VMS-plus systems and more comprehensive PSIM / Situation Management solutions, says Jamie Wilson, security marketing manager, EMEA at NICE Systems. "While a VMS can provide a level of integration with other systems they are not comparable with a PSIM solution that can incorporate safety and security systems such as CCTV and access control sensors, but also BMS in order to manage safety and security, but also operations.
"The major benefit of a PSIM solution is that regardless of the number of systems and sub-systems you have, it integrates them all and applies adaptive workflow to an incident, giving the operator clearly defined procedures to follow based on best practice and real-time information."
Trends are interesting roadmaps of the future, but if we want to see how they are working out in the real world, we need to look at the evolution of the products and solutions they refer to. In this respect, we can see the changes; not only in terms of technical integration, but also in terms of the impact software makes on business generally, influencing issues such as return on investment (ROI), operations and so forth.
Products are evolving
Wilson says the NICE PSIM solution (NICE Situator) has open gateways so there is no limit – within reason – to what sensors and data input a customer chooses to integrate. This enables customers to customise the solution for their own specific environments. For example, customers like Naftoport in Poland have recently integrated, among other things, radar and sonar sensors as part of their holistic security and operational sensory data input.
Wilson says the company's product evolution is primarily in two domains at the moment:
Adding more than just real-time capabilities into the system – particularly strengthening the post-event aspects, the ability to learn and even prevent incidents based on the masses of data collected in the system.
Going beyond security – NICE has leveraged the initial security oriented installation into more than just security in many projects, touching aspects of customer service and satisfaction, more effective operations and other ROI benefits.
Recent advances at AxxonSoft have been around the automation of operator tasks, in other words, reducing the role of the human factor in online monitoring. This includes using the integration of other systems and situation detectors (analytics) to draw operators' attention to suspected incidents and to speed up the time it takes to find the relevant video footage.
Another area being actively developed is the use of cloud services. Although Internet bandwidth may still be a limiting factor when using cloud services for the storage of high definition video surveillance, Hepplestone says there is still great value to be had in using these services to simplify remote connections, centralise and store metadata, events and video exports, provide system health monitoring and to provide notification services.
"The third area we are continuously working on is tighter integration with cameras to make use of onboard analytics," he adds. "Using analytics to improve operator efficiency has one main problem; the resources required to decompress the video and analyse what is happening. Modern IP cameras are relatively powerful computers in their own right and by integrating their ability to perform analytics and generate metadata, we can drastically reduce server resource requirements."
Hussain adds that CNL's PSIM is constantly evolving. "Over the last few years we have added better mobile clients, increased the system's ability to scale through federation, developed the asset mapping capabilities and improved the installation process amongst other things. These have all been focused on allowing us to scale for the enterprise or city wide system."
When talking about federation, Hussain explains that the federation "means that we can create multiple local instances of our software, managing their local environment, but at the same time they can all be connected into one centralised management system."
The requirement for mobile interfaces to management platforms is not a fashion statement either. Large systems need to work with more people than ever and the easier it is for these people to get the information they need, the more engagement and buy in the system will have. The ability to push information to stakeholders via their mobile devices at the time of need has huge appeal.
So where do they fit?
The generic trend with new IT solutions, especially large integrated solutions that cost a lot is that they start out expensive at the top of the enterprise chain and work their way down into everyday life. The same can be said of security solutions. Where, therefore, can we expect to see these integrated management platforms in action? A platform may be customisable for any environment, but there are always those areas in which they initially prove their worth before they are generally adopted.
AxxonSoft, says Hepplestone, is seeing growth in integrated solutions particularly in city surveillance, retail and secure housing estate projects. Hussain says CNL sees the most interest in areas such as critical infrastructure, safe cities and global corporations – with a significant increase in interest from rail and metro operators over the past few years. Wilson says NICE solutions have gained traction in markets such as banking, utilities, safe cities and large universities, but also in rail, air and seaports in recent years.
To IT or not to IT
Now that integration is happening across boundaries and management platforms are more intelligent, proactive and easier to use, the question must be asked as to just how far management will extend in future. Is there any drive to incorporate traditional IT security management systems such as security information and event management (SIEM), for example, into traditional security platforms like PSIM (or PSIM into SIEM)?
Wilson believes it makes sense to combine these two key capabilities, but says it is at a very early stage. "I would expect this to pick up in enterprises where IT security is especially sensitive, for example, in banks. This is espec­ially true in places where security and IT are managed from the same location, thus providing better situational awareness if combined."
Hussain also believes this is the direction the market is moving towards, but notes there are some challenges with legacy physical security systems – such as propriety standards and obsolete technologies. These systems were never designed to connect to the bigger picture.
"Our software provides the perfect platform to bring all of these physical security technologies into a meaningful system. From here, we can share bidirectional information with other corporate systems, not only SIEM, but also ERP, HR systems, CRM and any others that can benefit from data from the physical security world."
Hepplestone doesn't see the trend happening at this stage, however. "IT security and physical security are different disciplines. Although physical security systems have much in common with IT systems, the servers, ­storage, switches, software etc., the functions are different."
IT may play a role in ensuring that physical security systems are safe from cyber security issues and also in ensuring the health of the underlying hardware and software, he explains. Similarly, IT security may be a user of physical security systems in that they may wish to get notification of (or video of) breaches in physical security of data centres, but "physical security systems are business applications that run on top of IT systems and should be managed accordingly".
He therefore expects to see VMS systems evolving into PSIM solutions, but not integrating with SIEM systems beyond possibly the passing of security events from one to the other.
In this brief look at how management platforms are changing, we include examples of systems from various parts of the world: NICE is from Israel, CNL is from the UK and AxxonSoft is Russian. All of them are expanding their integration capabilities beyond traditional security functions in an effort to offer clients a single dashboard from which to manage their operations. This proves the argument often made that integration is a crucial factor in the security world. Selling products is not going to make the grade for companies and manufacturers who want a prosperous long-term future, customers want solutions that cover multiple pain points.
Of course, the question of cost will keep the box movers in business for some time, but as with all technology, prices will decline and the citywide solutions will be adapted for smaller customers with less to spend.
IHS says the global PSIM market was $160 million in 2013, but will grow at 20% and higher rates until 2018; the research company says the VMS market was worth over $900 million in 2013 and will hit $3 billion in 2018. Both management platforms are therefore looking at good times ahead, but also chaotic times, as the current market share leader doesn't even own 10% of the market. The company that gets its integration, simplicity and user interface right has a potentially huge market waiting. We should also expect some consolidation to take place in the fight for supremacy, and the surprise grab by Canon of Milestone may only be the first step in an interesting few years for management platforms.
Contacts:
NICE: www.nice.com
AxxonSoft: www.axxonsoft.com
CNL Software: www.cnlsoftware.com
Further reading:
Intelligent analytics and the brains to match
September 2019, Bosch Building Technologies , CCTV, Surveillance & Remote Monitoring, Integrated Solutions
What if the brains behind our security cameras could be trained to improve their cognitive ability to pay attention, learn, and problem-solve according to specific rules and situations?
Read more...
---
AI-powered autonomous Drone-in-a-Box
September 2019 , CCTV, Surveillance & Remote Monitoring, Integrated Solutions
Organisations in the mining, energy and industrial, oil and gas, ports and terminals sectors can optimise security and business operations, whilst reducing risks and operational costs
Read more...
---
A platform approach to innovation and value
September 2019, Technews Publishing , Editor's Choice, CCTV, Surveillance & Remote Monitoring, Integrated Solutions, IT infrastructure
Moving to the platform model of doing business holds tremendous advantages for end users and smaller developers, but also for the whole technology supply chain.
Read more...
---
Open does not always mean easy integration
September 2019, VERACITECH, Technews Publishing , Editor's Choice, CCTV, Surveillance & Remote Monitoring, Integrated Solutions
Customers who opt for best-of-breed solutions will have to rely on their integrators to develop customised integrated solutions for them.
Read more...
---
Video analytics and AI
September 2019, Axis Communications SA, Dallmeier Electronic Southern Africa , Hikvision South Africa, Technews Publishing, Dahua Technology South Africa , Editor's Choice, CCTV, Surveillance & Remote Monitoring, Integrated Solutions
Artificial intelligence has the potential to deliver real benefits in the world of video analytics and many companies are already delivering customer benefits.
Read more...
---
Cloudy with a chance of AI
September 2019 , Editor's Choice, CCTV, Surveillance & Remote Monitoring, Integrated Solutions
One local company has developed an AI solution that can be added to existing surveillance installations, offering 24-hour intelligence.
Read more...
---
Integration insights
September 2019, Gijima Electronic and Security Systems (GESS), Technews Publishing, neaMetrics , Integrated Solutions
The security industry would be a vastly different place if installers and integrators were not able to make a range of different products work together.
Read more...
---
Video and audio analytics
September 2019, Wisenet CCTV - Hanwha Techwin , CCTV, Surveillance & Remote Monitoring, Integrated Solutions
Viewing many monitors and cameras simultaneously can lead to an increased probability of missing critical situations due to viewing fatigue. Analytics has the answer.
Read more...
---
Enhance video analytics with Augmented Vision
September 2019, IDEMIA , Technews Publishing , CCTV, Surveillance & Remote Monitoring, Integrated Solutions
Augmented Vision is a video analytics application from IDEMIA designed to enhance security in public and private places.
Read more...
---
A tangible return on investment
September 2019, Bidvest Protea Coin, Technews Publishing , CCTV, Surveillance & Remote Monitoring, Integrated Solutions
The key to a successful security solution for any environment is the strategy and processes that define what you need, where, when, how and why.
Read more...
---