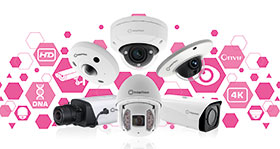 Integrated surveillance solutions
September 2017, Products, CCTV, Surveillance & Remote Monitoring, Residential Estate (Industry)
IndigoVisions' products all work together to provide a high level of security in residential estates through its end-to-end security management solution, from cameras to software to storage. Indigo Vision offers IP surveillance solutions and the intelligent BX camera range.
With BX cameras, you get connectivity and flexibility, combined with HD or 4K video, audio and analytics to create the most effective security solution for your needs. With the GX camera range, you get more camera than you bargained for, and lastly, an Ultra camera range that uses SMART.core technology that has Activity Controlled Framerate which offers you up to 90% savings on storage costs.
IndigoVision's enterprise recording solutions and open platform video management systems are there to achieve the best results for residential estate security. IndigoVision products integrate seamlessly with MASS video analytics, which indicates everything from intrusion detection, average speed exceeding or below a defined threshold, LPR for vehicle licence plates for access control management, to stationary vehicles within virtual areas for longer than a defined time. Everything is integrated into and managed by the IndigoVision Control Centre.
For more information contact Management and Supply of Security Solutions (MASS), +27 (0)12 142 0000, info@mass-solutions.co.za, www.mass-solutions.co.za.