printer friendly version
Is your water meter online?
Residential Estate Security Handbook 2017 Residential Estate (Industry), Integrated Solutions, IT infrastructure, Products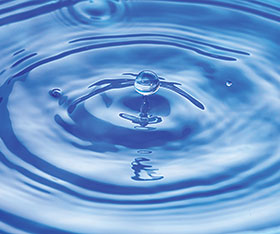 Is your water meter online?
VixNet Africa has launched a new way for estates to keep tabs on its residents' and common property water usage. Connecting to current manual water meters, VixNet's Water Meter Interface Unit (named Manzi), electronically reads water usage, on up to two water meters, and sends the information back to a central server every 24 hours, allowing for accurate, up-to-date billing and consumption reports.
According to VixNet's Clinton Lemmer, Manzi reads water consumption on meters fitted with pulse outputs, such as magnetic reed switches. The Manzi counts the pulses, which are then converted by the back-end software into cubic metres for billing purposes. The device is powered by a replaceable battery which should last for at least five years under normal usage.
The pulse count values are saved in the onboard memory every hour, and the totals are transmitted once a day to keep battery drain to a minimum. Any unsuccessful transmission is retried at the next scheduled transmission.
The system works on VixNet's Direct Sequence Spread Spectrum (DSSS) network, which is up and running in Gauteng and Cape Town. This is the same network VixNet uses to monitor alarms and transmit signals to guarding control rooms ( www.securitysa.com/7715r). Using DSSS allows signals to be transmitted through normal obstacles, especially devices in awkward areas of transmission. In addition, VixNet's DSSS network allows for bi-directional communications via the appropriate monitoring software.
Detection of excessive flow outside set parameters can activate the Manzi device to transmit this 'alarm' for action to be taken. The Manzi also has a tamper facility in case unauthorised access is gained to where the Manzi unit is installed.
Remote water control
On the back end, VixNet offers a management interface for estates which will allow estate managers to access the water usage from every meter whenever required. Moreover, the back-end functionality with Vixnet's available incoming data can analyse for leaks due to pressure and or maintenance.
For example, Lemmer says water usage is normally limited between midnight and 3am. Through intelligent head end analysis, trends in wasted water can be logged indicating possible leaks, especially during this period as usage is low and pressure is high. This will allow estates to find areas where there may be leaks without digging up pipes and ensuring a plumber is called only when they know there is a problem. Another cost saving feature is the ability to accurately measure water consumption without sending people to read each individual meter.
The system is easy to install, and it starts its work as soon as the batteries are inserted. Twenty-four hours later the first report will be transmitted (as long as the installation is within VixNet's coverage area). The system has already been installed at numerous private and commercial installations successfully.
Manzi features
• Long range communication capabilities.
• No need for expensive concentrators.
• Licenced ICASA frequency and not in the unlicensed band.
• Secure and jam-resistant communication technology.
• Excellent signal penetration through urban obstacles.
• No SIM cards required.
• Adding in the meters specific pulse per litre in the head end, displays the litres used per hour.
• Tamper switch provides a signal when the meter casing is opened.
• Positioning of Manzi devices are possible via triangulation.
• No ICASA licence required by the end-user.
• Self-powered using a replaceable battery pack.
• Low battery alarm.
• Programmable pipe burst alarm parameters.
For more information, contact VixNet Africa, +27 (0)11 100 1969, [email protected], www.vixnet.co.za.
Further reading:
Future-proofed intrusion detection for retail
Elvey Security Technologies Retail (Industry) Perimeter Security, Alarms & Intruder Detection Products
One of the ongoing challenges that has faced retailers during their adoption of security technology is the issues caused by non-standardisation of technology.
Read more...
---
HS 6040 security X-ray inspection system
Asset Management, EAS, RFID Products
Hissco's HS 6040 DE is a compact, versatile security X-ray machine used in a wide range of applications, and manufactured under strictest ISO 9001:2015 and CE standards.
Read more...
---
Hytera and KZN Police Service roll out digital call handling system
Government and Parastatal (Industry) Asset Management, EAS, RFID Integrated Solutions
Hytera Communications announced that the municipality of Ray Nkonyeni in the KwaZulu-Natal province of South Africa is now using its digital call handling system for the reporting and recording of crimes.
Read more...
---
A comprehensive video solution for retail
LD Africa Retail (Industry) CCTV, Surveillance & Remote Monitoring Products
Retail Intellect is a comprehensive, flexible solution for retailers that matches technologies to ensure point-of-sale safety and security with video analytics.
Read more...
---
Understanding customers better using AI
Secutel Technologies Retail (Industry) CCTV, Surveillance & Remote Monitoring Products
With in-store analytics of consumer behaviour, retailers can improve store performance and boost the productivity of their business.
Read more...
---
Visible-light facial recognition terminal
ZKTeco Access Control & Identity Management Products
The SpeedFace-V5L [P] is a visible-light facial recognition terminal using intelligently engineered facial recognition algorithms and the latest computer vision technology.
Read more...
---
Facial and palm verification
ZKTeco Access Control & Identity Management Products
The ProFace X [P] supports both facial and palm verification, with a large capacity and rapid recognition.
Read more...
---
Glide Master High Security 90° Sliding Gate
BoomGate Systems Access Control & Identity Management Products
Boomgate Systems was asked to make a sliding gate that can turn 90 degrees. The gate had to offer high security and be vandal-proof.
Read more...
---
Suprema's new BioStation 3
Suprema Access Control & Identity Management Products
The brand new BioStation 3 is not only Suprema's smallest face recognition device to date, but it also comes packed with the largest variety of features.
Read more...
---
Rhino103 extinguishing control panel
Technoswitch Fire Detection & Suppression Fire & Safety Products
Technoswitch has released the Rhino103 extinguishing control panel range, designed and manufactured in South Africa to comply with EN54 parts 2 and 4, and EN12094.
Read more...
---