printer friendly version
Is your water meter online?
Residential Estate Security Handbook 2017 Residential Estate (Industry), Integrated Solutions, IT infrastructure, Products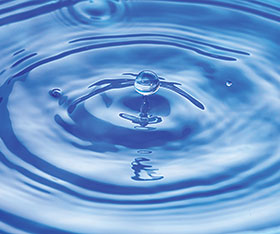 Is your water meter online?
VixNet Africa has launched a new way for estates to keep tabs on its residents' and common property water usage. Connecting to current manual water meters, VixNet's Water Meter Interface Unit (named Manzi), electronically reads water usage, on up to two water meters, and sends the information back to a central server every 24 hours, allowing for accurate, up-to-date billing and consumption reports.
According to VixNet's Clinton Lemmer, Manzi reads water consumption on meters fitted with pulse outputs, such as magnetic reed switches. The Manzi counts the pulses, which are then converted by the back-end software into cubic metres for billing purposes. The device is powered by a replaceable battery which should last for at least five years under normal usage.
The pulse count values are saved in the onboard memory every hour, and the totals are transmitted once a day to keep battery drain to a minimum. Any unsuccessful transmission is retried at the next scheduled transmission.
The system works on VixNet's Direct Sequence Spread Spectrum (DSSS) network, which is up and running in Gauteng and Cape Town. This is the same network VixNet uses to monitor alarms and transmit signals to guarding control rooms ( www.securitysa.com/7715r). Using DSSS allows signals to be transmitted through normal obstacles, especially devices in awkward areas of transmission. In addition, VixNet's DSSS network allows for bi-directional communications via the appropriate monitoring software.
Detection of excessive flow outside set parameters can activate the Manzi device to transmit this 'alarm' for action to be taken. The Manzi also has a tamper facility in case unauthorised access is gained to where the Manzi unit is installed.
Remote water control
On the back end, VixNet offers a management interface for estates which will allow estate managers to access the water usage from every meter whenever required. Moreover, the back-end functionality with Vixnet's available incoming data can analyse for leaks due to pressure and or maintenance.
For example, Lemmer says water usage is normally limited between midnight and 3am. Through intelligent head end analysis, trends in wasted water can be logged indicating possible leaks, especially during this period as usage is low and pressure is high. This will allow estates to find areas where there may be leaks without digging up pipes and ensuring a plumber is called only when they know there is a problem. Another cost saving feature is the ability to accurately measure water consumption without sending people to read each individual meter.
The system is easy to install, and it starts its work as soon as the batteries are inserted. Twenty-four hours later the first report will be transmitted (as long as the installation is within VixNet's coverage area). The system has already been installed at numerous private and commercial installations successfully.
Manzi features
• Long range communication capabilities.
• No need for expensive concentrators.
• Licenced ICASA frequency and not in the unlicensed band.
• Secure and jam-resistant communication technology.
• Excellent signal penetration through urban obstacles.
• No SIM cards required.
• Adding in the meters specific pulse per litre in the head end, displays the litres used per hour.
• Tamper switch provides a signal when the meter casing is opened.
• Positioning of Manzi devices are possible via triangulation.
• No ICASA licence required by the end-user.
• Self-powered using a replaceable battery pack.
• Low battery alarm.
• Programmable pipe burst alarm parameters.
For more information, contact VixNet Africa, +27 (0)11 100 1969, [email protected], www.vixnet.co.za.
Credit(s)
Further reading:
Cyber resilience is more than cybersecurity
Technews Publishing Cyber Security Integrated Solutions IT infrastructure
Hi-Tech Security Solutions held a round-table discussion focusing on cyber resilience and found that while the resilience discipline includes cybersecurity, it also goes much further.
Read more...
---
Avoiding human error at ports
LD Africa Transport (Industry) CCTV, Surveillance & Remote Monitoring Products Logistics (Industry)
LD Africa introduced a local port to the AxxonSoft Port Security System ,a solution that helps overcome the element of human error and eliminate paperwork.
Read more...
---
A key to urban transport challenges
Axis Communications SA Transport (Industry) CCTV, Surveillance & Remote Monitoring Integrated Solutions Logistics (Industry)
There are many enabling technologies that can impact transportation in South Africa, but a good place to start is by considering the applications for smart physical technology with the ability to collect and respond to data.
Read more...
---
Hikvision aims for solutions
Technews Publishing Hikvision South Africa Editor's Choice CCTV, Surveillance & Remote Monitoring News Integrated Solutions Conferences & Events
Hikvision recently held a roadshow titled Industry X, where the company highlighted its latest products and solutions, supported by partners and distributors.
Read more...
---
Olarm launches PRO 4G communicator
Olarm News Perimeter Security, Alarms & Intruder Detection Products
Olarm has announced an additional 4G/LTE version of its Olarm PRO smart communicator. It is aimed at areas suffering from poor connectivity by providing support for 4G, 2G and Wi-Fi networks.
Read more...
---
Reliable, low-maintenance video appliances
Technews Publishing Editor's Choice CCTV, Surveillance & Remote Monitoring News IT infrastructure Products
Symetrix, part of the Agera Group, has added the AES range of video recording servers, storage appliances and workstations to its portfolio.
Read more...
---
Technology and the future of security installation in South Africa
Editor's Choice Integrated Solutions Security Services & Risk Management
What are the technologies and trends shaping installation, service and maintenance teams globally, and how will they shape South African businesses today and in the future?
Read more...
---
Upgraded security and AI monitoring at upmarket estate
Watcher Surveillance Solutions Editor's Choice CCTV, Surveillance & Remote Monitoring Integrated Solutions Residential Estate (Industry)
Estate upgrades and enhances its security through a partnership between surveillance specialist Watcher and the incumbent guarding company.
Read more...
---
Infinidat a leader in ransomware protection
IT infrastructure Products
InfiniSafe brings together the key foundational requirements essential for delivering comprehensive cyber-recovery capabilities with immutable snapshots, logical air-gapped protection, a fenced forensic network, and near-instantaneous recovery of backups of any repository size.
Read more...
---
Streamlining processes, integrating operations
Security Services & Risk Management Integrated Solutions Transport (Industry) Logistics (Industry)
With Trackforce Valiant, Airbus now has one single platform that connects its security guards, supervisors and management across its organisation.
Read more...
---