printer friendly version
Enforcing security at Izinga
Residential Estate Security Handbook 2017 Residential Estate (Industry), CCTV, Surveillance & Remote Monitoring, Access Control & Identity Management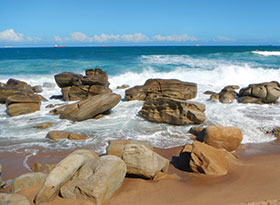 Izinga Estates is a grouping of residential estates situated in Umhlanga Ridge just north of Durban's vibrant Umhlanga commercial and retail hub. Currently there are four estates that are developed or under development with a further two developments to break ground shortly.
The key aspects of the security solution were to create a secure estate by providing effective security solutions and by using quality products to protect and manage security requirements of the entire estate and includes camera surveillance systems for the suburb entrances and patrols in open spaces and public roads.
Izinga Park falls within Izinga and is split into two gated entities that are divided by Herrwood Drive and is currently the only gated estate within the development. Access to Izinga Park is controlled by means of patrolled green Beta fencing and manned entrances. Electric fencing is included with the Beta fencing and monitored at a central control room. Each of the parks has two boom entries and two boom exits, as well as turnstiles for pedestrians on either side.
The security aspects of the estate was designed predominantly by Adamastor Consulting and a formal technical security solution was created for tender purposes in conjunction with various stakeholders.
In respect to access control, an Impro IXP 400 access control backbone with Morpho Sigma biometric readers are installed. The access control system includes PT Guest as an integrated visitor management system.
The Cathexis VMS is used for CCTV surveillance and video management (VMS). Various cameras are installed, including 42 thermal cameras mounted on the fence line to protect against incursion along the perimeter. Furthermore, 62 optical cameras, including nine PTZ cameras are installed within the two estates, predominantly at the four access areas and at other critical locations. Over and above this, twelve ANPR (automatic number plate recognition) cameras are installed at certain points in the open estate to enable operators to ensure that vehicles that had been flagged on the database as suspicious could be tracked and reported. This is another method of crime detection and used to protect the area.
Security solutions selected by the relevant stakeholders were determined on the basis that they have been proven in environments of a similar nature and are, in general, products of choice used by the installation companies that install and manage security systems at other estates in the greater Durban area. As such, the level of expertise with respect to these products is high and due to local production and supply.
The Izinga Park security installation was done through a prescribed tender process designed by the appointed engineering security consultants. Enforce Security Services was awarded the tender, used internal installation teams that were managed through a strictly measured and controlled project process to ensure that timelines and quality standards were met.
Obstacles that were encountered during installation consisted of instances where new homeowners had excavated their sites too close to the fence line and certain instances jeopardised the secure foundation of some of the perimeter equipment and cable kiosks, and in some cases created obstacles which made it difficult for patrolling security officers to patrol the perimeter at these points. In all cases these issues were resolved and have not jeopardised the integrity of the equipment or patrol routes in any way.
Other obstacles included the topography of the area and some of the terrain had to be levelled and cleared to enable the installation to proceed. Monkeys, which are prevalent in the area, also provided a challenge in so far as they would sit on the perimeter camera housings causing the camera's viewing arc to be changed. In some cases, metal spikes had to be installed on these cameras to stop this from happening.
Changing weather patterns also proved to be a problem and increased lightning activity in the area had to be taken into consideration after severe lightning strikes had damaged some electrical equipment. Increased lightning protection had to be added to protect against this.
On completion of the project, Enforce Security Services believes that the objectives set out at inception were met and that the installation standards required were achieved and exceeded. The result is a functional, effective and high quality security system has been installed and is being managed and utilised to full effect to protect the residents and their property.
The rate of change in technology is very high and if one lesson can be learned from this project it is that controllers and security personnel in key positions in this type of environment must undergo extensive and ongoing training to understand processes, cope with change and use the systems in place to their full capacity to ensure full value is obtained.
For more information contact Enforce, +27 (0)31 573 7600, [email protected].
Credit(s)
Further reading:
Avoiding human error at ports
LD Africa Transport (Industry) CCTV, Surveillance & Remote Monitoring Products Logistics (Industry)
LD Africa introduced a local port to the AxxonSoft Port Security System ,a solution that helps overcome the element of human error and eliminate paperwork.
Read more...
---
Compact, lightweight bullet cameras with support for analytics
Axis Communications SA Products CCTV, Surveillance & Remote Monitoring
Axis Communications announced two new outdoor-ready bullet-style cameras featuring deep-learning processing units for analytics based on deep learning on the edge.
Read more...
---
Numerous challenges for transport and logistics
Transport (Industry) CCTV, Surveillance & Remote Monitoring Security Services & Risk Management Logistics (Industry)
Operators are making significant investments in automation and digitalisation in order to address security concerns, improve loss prevention as well as efficiency, and reduce unit order costs.
Read more...
---
Hybrid licence plate recognition
ZKTeco Products Access Control & Identity Management Transport (Industry) Logistics (Industry)
The ZKTeco LPRS2000 is a hybrid-recognition vehicle management terminal that combines the latest high-performance UHF reader.
Read more...
---
A key to urban transport challenges
Axis Communications SA Transport (Industry) CCTV, Surveillance & Remote Monitoring Integrated Solutions Logistics (Industry)
There are many enabling technologies that can impact transportation in South Africa, but a good place to start is by considering the applications for smart physical technology with the ability to collect and respond to data.
Read more...
---
Hikvision aims for solutions
Technews Publishing Hikvision South Africa Editor's Choice CCTV, Surveillance & Remote Monitoring News Integrated Solutions Conferences & Events
Hikvision recently held a roadshow titled Industry X, where the company highlighted its latest products and solutions, supported by partners and distributors.
Read more...
---
Suprema joins FiRa Consortium
Suprema News Access Control & Identity Management
Suprema recently became a member of the FiRa Consortium, a consultative body that establishes standards for ultra-wideband (UWB) technology, the next generation of wireless communication.
Read more...
---
Reliable, low-maintenance video appliances
Technews Publishing Editor's Choice CCTV, Surveillance & Remote Monitoring News IT infrastructure Products
Symetrix, part of the Agera Group, has added the AES range of video recording servers, storage appliances and workstations to its portfolio.
Read more...
---
Upgraded security and AI monitoring at upmarket estate
Watcher Surveillance Solutions Editor's Choice CCTV, Surveillance & Remote Monitoring Integrated Solutions Residential Estate (Industry)
Estate upgrades and enhances its security through a partnership between surveillance specialist Watcher and the incumbent guarding company.
Read more...
---
Physical security at distribution centre
Turnstar Systems Transport (Industry) Access Control & Identity Management Products Logistics (Industry)
Turnstar's Velocity Raptors create a high-security physical barrier at Massmart's new 75 000 m2 distribution centre in Riversands, Johannesburg .
Read more...
---