printer friendly version
Risk management approach to ­estate security
September 2017 Security Services & Risk Management, Residential Estate (Industry)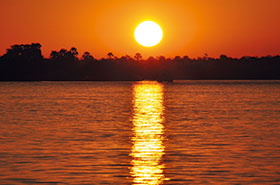 Nestled virtually in the foothills of the Magaliesberg and in close proximity to the Roodeplaat Dam Nature Reserve in the heart of Pretoria's Montana, Zambezi Country Estate is a secure haven for its residents.
According to the estate's risk and security manager, Cornè Meyer, the estate's security portfolio needs to encompass more than just traditional guarding and boomed access gates. He emphasises that a risk management approach to security is essential to ensure that all elements work together for maximised protection of the residents, their assets and estate guests. However, although security is of the utmost importance within an estate, it in actual fact forms only a small part of the total risk management portfolio.
He quotes Thomas S. Coleman: "Risk management is the art of using lessons from the past to mitigate misfortune and exploit future opportunities – in other words, the art of avoiding the stupid mistakes of yesterday while recognising that nature can always create new ways for things to go wrong."
The estate has identified that complete risk management needs to include the periodic changes in estate management as well as in legislation, such as the PoPI Act and the OHS Act. It is also important to factor in all requisite parameters and the budget when tenders to implement or upgrade security changes are requested. Furthermore, any changes in the implementation of a security system need to be undertaken in a manner that ensures the total safety of the system and its residents. This is coupled with the assurance that the contractor or sub-contractor has adhered to the OHS Act and all of the estate's rules.
Eye-opener to risk
"We have strategically changed our approach to security by adopting a broader outlook and we noticed that there were loopholes in the systems, policies and procedures that were undertaken in an outdated manner. An example is that we were never quite sure if cloud-based surveillance footage was saved in a totally secure manner, or whether it was vulnerable to hacking. If you look at implementing risk management, this all creates a completely new security portfolio for estate security managers. Approaching security from a risk management perspective has been a total eye-opener for us," says Meyer.
While you still need security at the gates and patrolling of estate fences on a round-the-clock basis, there is, says Meyer, more to estate security than just that. One finds that the normal day-to-day running of estates includes the presence of visitors, contractors and other visitors, and school children after hours, all of whom are associated with their own inherent set of risk factors.
"Let us consider, for example, a child playing in a play area. They are hurt, so what are the procedures to follow when this event occurs? By having a risk management plan in place, we are now able to ensure that medical help is readily available. By communicating the risk management plan through to residents we are able to emphasise the fact that we are enhancing their safety and security and this gives them the peace of mind that they are well taken care of anywhere on the property," Meyer explains.
Collaboration is essential
He says that it is important to have the backing of the HOA. This was achieved through a consultative process that outlined how the new risk assessment and management system's outcomes would lead to an overall improvement in both the residents' lives as well as adding reputationally to the estate, which would result in better property values. "While we did encounter some initial resistance from some parties, once they were able to see the bigger picture they adopted the new system quite readily."
When considering the most important aspects in an estate's security operations, one needs to acknowledge that each estate is different. It is important to outline a vision and impress the importance of the security plan in terms of how it will positively affect the safety and security of residents.
There is an improvement within estates when residents work together with the HOA and security team on the development of a risk assessment and management plan. The majority of estates in South Africa have security systems and in general use a subcontractor or service provider who not only handles their security, but also the risk management.
"This is not a desirable situation and I would advise them to rather appoint somebody in the HOA office who is able to take all elements, including policies and procedures specific to the estate into consideration. A large reason for evaluating security on a site-specific basis is that you get to know the people on your estate and what their exact requirements are in terms of security," says Meyer.
Further reading:
24-hour emergency response for staff
August 2019 , News, Security Services & Risk Management
The FirstRand Group has partnered with PanicGuard to create a 24-hour emergency response programme for staff.
Read more...
---
Keeping our changing environment secure
August 2019 , Editor's Choice, Security Services & Risk Management
For a crime to take place there needs to be a victim and a criminal who sees an opportunity. For a cybercrime to take place we need the same set of circumstances.
Read more...
---
The importance of real security risk assessments
August 2019, Sentinel Risk Management , Editor's Choice, Security Services & Risk Management, Residential Estate (Industry)
Andy Lawler, MD, Sentinel Risk Management, says a security risk assessment is an onerous task, but is not something estates can consider optional or a luxury item anymore.
Read more...
---
Risk assessment or product placement?
August 2019, Technews Publishing, Alwinco, SMC - Security Management Consultants , Editor's Choice, Security Services & Risk Management, Residential Estate (Industry)
Hi-tech security solutions asked a couple of experts to provide estate managers and security managers with some insights into what a 'real' risk assessment includes.
Read more...
---
How far are we really at with artificial intelligence?
August 2019, Axis Communications SA , Editor's Choice, CCTV, Surveillance & Remote Monitoring, IT infrastructure, Residential Estate (Industry)
Justin Ludik unpacks exactly how far AI has come and what it potentially can do for society and more importantly, surveillance.
Read more...
---
More than simply a camera
August 2019, Forbatt SA, Secutel Technologies , CCTV, Surveillance & Remote Monitoring, Residential Estate (Industry)
With the human element being the weakest link in all security solutions, Hi-Tech Security Solutions looks at the pros and cons of using body-worn cameras in estates.
Read more...
---
Residential security – caveat emptor
August 2019, Stafix , Integrated Solutions, Security Services & Risk Management
When it comes to improving your property's security, make sure you take all the options into account as you build a layered approach to keeping people safe and assets secured.
Read more...
---
The importance of effective perimeter security
August 2019, Elf Rentals - Electronic Security Solutions, Stafix , Editor's Choice, CCTV, Surveillance & Remote Monitoring, Residential Estate (Industry)
Protecting the perimeter is critical for any residential estate; how does one go about making sure your perimeter is as secure as possible?
Read more...
---
Security playing speedcop
August 2019, Axis Communications SA, Hikvision South Africa , CCTV, Surveillance & Remote Monitoring, Residential Estate (Industry)
Estates now have a legal precedent to manage their traffic and fine people in the estate for violations of the rules; all they need do is find solutions that will support them.
Read more...
---
Ensuring your electric fence is compliant
August 2019, Stafix , Perimeter Security, Alarms & Intruder Detection, Security Services & Risk Management
A challenge facing both existing and potentially new perimeter electric fence installations is how to economically meet the legal requirements required in the SANS 10222-3:2016 standards document.
Read more...
---