printer friendly version
Risk management approach to ­estate security
Residential Estate Security Handbook 2017 Security Services & Risk Management, Residential Estate (Industry)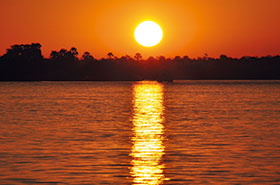 Nestled virtually in the foothills of the Magaliesberg and in close proximity to the Roodeplaat Dam Nature Reserve in the heart of Pretoria's Montana, Zambezi Country Estate is a secure haven for its residents.
According to the estate's risk and security manager, Cornè Meyer, the estate's security portfolio needs to encompass more than just traditional guarding and boomed access gates. He emphasises that a risk management approach to security is essential to ensure that all elements work together for maximised protection of the residents, their assets and estate guests. However, although security is of the utmost importance within an estate, it in actual fact forms only a small part of the total risk management portfolio.
He quotes Thomas S. Coleman: "Risk management is the art of using lessons from the past to mitigate misfortune and exploit future opportunities – in other words, the art of avoiding the stupid mistakes of yesterday while recognising that nature can always create new ways for things to go wrong."
The estate has identified that complete risk management needs to include the periodic changes in estate management as well as in legislation, such as the PoPI Act and the OHS Act. It is also important to factor in all requisite parameters and the budget when tenders to implement or upgrade security changes are requested. Furthermore, any changes in the implementation of a security system need to be undertaken in a manner that ensures the total safety of the system and its residents. This is coupled with the assurance that the contractor or sub-contractor has adhered to the OHS Act and all of the estate's rules.
Eye-opener to risk
"We have strategically changed our approach to security by adopting a broader outlook and we noticed that there were loopholes in the systems, policies and procedures that were undertaken in an outdated manner. An example is that we were never quite sure if cloud-based surveillance footage was saved in a totally secure manner, or whether it was vulnerable to hacking. If you look at implementing risk management, this all creates a completely new security portfolio for estate security managers. Approaching security from a risk management perspective has been a total eye-opener for us," says Meyer.
While you still need security at the gates and patrolling of estate fences on a round-the-clock basis, there is, says Meyer, more to estate security than just that. One finds that the normal day-to-day running of estates includes the presence of visitors, contractors and other visitors, and school children after hours, all of whom are associated with their own inherent set of risk factors.
"Let us consider, for example, a child playing in a play area. They are hurt, so what are the procedures to follow when this event occurs? By having a risk management plan in place, we are now able to ensure that medical help is readily available. By communicating the risk management plan through to residents we are able to emphasise the fact that we are enhancing their safety and security and this gives them the peace of mind that they are well taken care of anywhere on the property," Meyer explains.
Collaboration is essential
He says that it is important to have the backing of the HOA. This was achieved through a consultative process that outlined how the new risk assessment and management system's outcomes would lead to an overall improvement in both the residents' lives as well as adding reputationally to the estate, which would result in better property values. "While we did encounter some initial resistance from some parties, once they were able to see the bigger picture they adopted the new system quite readily."
When considering the most important aspects in an estate's security operations, one needs to acknowledge that each estate is different. It is important to outline a vision and impress the importance of the security plan in terms of how it will positively affect the safety and security of residents.
There is an improvement within estates when residents work together with the HOA and security team on the development of a risk assessment and management plan. The majority of estates in South Africa have security systems and in general use a subcontractor or service provider who not only handles their security, but also the risk management.
"This is not a desirable situation and I would advise them to rather appoint somebody in the HOA office who is able to take all elements, including policies and procedures specific to the estate into consideration. A large reason for evaluating security on a site-specific basis is that you get to know the people on your estate and what their exact requirements are in terms of security," says Meyer.
Further reading:
Numerous challenges for transport and logistics
Transport (Industry) CCTV, Surveillance & Remote Monitoring Security Services & Risk Management Logistics (Industry)
Operators are making significant investments in automation and digitalisation in order to address security concerns, improve loss prevention as well as efficiency, and reduce unit order costs.
Read more...
---
Defining the resilience of cybersecurity
Cyber Security Security Services & Risk Management
Cyber resilience is less buzzword and more critical business strategy as the cybercrime landscape grows in intent and intensity.
Read more...
---
Technology and the future of security installation in South Africa
Editor's Choice Integrated Solutions Security Services & Risk Management
What are the technologies and trends shaping installation, service and maintenance teams globally, and how will they shape South African businesses today and in the future?
Read more...
---
Upgraded security and AI monitoring at upmarket estate
Watcher Surveillance Solutions Editor's Choice CCTV, Surveillance & Remote Monitoring Integrated Solutions Residential Estate (Industry)
Estate upgrades and enhances its security through a partnership between surveillance specialist Watcher and the incumbent guarding company.
Read more...
---
The technology wave implications for staff mismatches in control rooms
Leaderware Editor's Choice Security Services & Risk Management
An industry habit of looking at control rooms through a physical security lens has increasingly left clients and staff at a disadvantage in keeping up with control room technology and demands.
Read more...
---
Streamlining processes, integrating operations
Security Services & Risk Management Integrated Solutions Transport (Industry) Logistics (Industry)
With Trackforce Valiant, Airbus now has one single platform that connects its security guards, supervisors and management across its organisation.
Read more...
---
Smollan partners with FleetDomain
Logistics (Industry) Asset Management, EAS, RFID Security Services & Risk Management Transport (Industry)
Smollan has been using FleetDomain to manage its fleet of around 2000 vehicles in South Africa, enabling it to contain costs and manage its fleet much more effectively.
Read more...
---
Smarter parking services
Security Services & Risk Management Transport (Industry) Logistics (Industry)
Smart technologies are changing the face of parking services and helping property owners realise their commercial objectives.
Read more...
---
Adopting a cyber-secure mindset
Security Services & Risk Management Cyber Security
Adopting a cybersecure mindset is the key to mitigating the risk of falling victim to the growing cybercrime pandemic.
Read more...
---
SAFPS warns against advance-fee scam
News Security Services & Risk Management
The Southern African Fraud Prevention Service (SAFPS) has warned consumers of an advance-fee scam where the perpetrator is falsely presenting themself as a representative of the SAFPS.
Read more...
---