printer friendly version
A boom market for suppliers
July 2014
CCTV, Surveillance & Remote Monitoring
With remote monitoring, or offsite monitoring as some prefer to call it growing rapidly, there is not only a growing market for remote service providers, but also for companies supplying and installing the technology that makes this service work. With that in mind, Hi-Tech Security Solutions asked a few technology providers to join us at a round table to discuss their take on the remote monitoring market. Our attendees were as follows.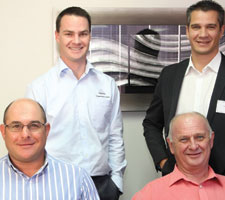 Seated: Philip Smerkovitz, Martin Cooper. Standing: Michael Metcalfe, Jan Keyser.

Philip Smerkovitz
Philip Smerkovitz is the MD of TeleEye South Africa. The company is responsible for the Africa distribution of the TeleEye brand of products. It also supplies video management products and consumer products from TeleEye and is the African distributor for FLIR Systems and Redwall CCTV-based outdoor detectors.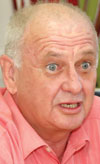 Martin Cooper
Martin Cooper is from Graphic Image Technologies (GIT), distributors for SerVision, BriefCam and DVTel. SerVision technology is aimed at mobile and remote services and it is based on very low bandwidth transmission, and Cooper says this is why the product works so well. He says GIT supplies most of the mobile solutions to the biggest security companies in Africa, including for their fleets. The company also produces a mobile security jacket, which is designed for security companies with DVR, camera and microphone built in. BriefCam is a forensic package that compresses hours of video footage into minutes.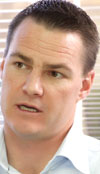 Michael Metcalfe
Michael Metcalfe is the new Milestone channel business manager for the southern Africa Region. The company is setting up a local operation to better serve its client base in the region. Metcalfe says Milestone is the glue that enables companies to easily integrate different aspects of their surveillance projects. "We're a true open platform in the sense that we allow for the integration of third-party products such as the camera, analytics and other tools to allow customers to do integration more easily and more effectively manage their security installations."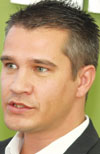 Jan Keyser
Finally, Jan Keyser is the national products manager for Miro Distribution, an IP convergence distributor that represents numerous brands related to IP video and wireless network communication.
A boom market?
Cooper says that from the perspective of GIT, the remote monitoring market is growing fast, presumably because of a lack of trust in physical security services. "With remote monitoring you don't need the same number of people in the field or the same number of vehicles on the road. You can actually check everything that's going on from the control room, or even from cellphones wherever you are. Then, based on what you're actually looking at, you can decide what reaction is appropriate. When done correctly, you're reducing the need for boots on the ground and increasing trust."
Cooper warns, however, that this growth is also an opportunity for smaller companies without adequate infrastructure to offer remote monitoring as a get-rich-quick scheme. They seem to think remote monitoring is easy to do with very little in terms of investment.
Smerkovitz splits remote monitoring into two areas. There's the extension of CCTV surveillance defined as remote viewing of video footage, be it live or recorded. This, he says, is standard functionality one should expect from a video surveillance system. "If you're buying surveillance, it's very rarely used just to have onsite recording and viewing. Remote usage, be it through smartphones or laptops etc., has become a standard."
This area of remote monitoring is growing and many larger companies are choosing to do their own remote monitoring by building their own control rooms or they have management in the field that are accessing surveillance remotely from a management functionality perspective rather than only as a security function.
This is a high-growth area because it saves money in terms of travel, improved client service and so forth. It also provides for a reduction in staff numbers. "You can put a good manager in a central area and have him/her manage a couple of stores or a couple of sites," Smerkovitz adds. "That's a logical extension to the security aspects of remote monitoring and takes us into the management side of things."
In the security arena, Smerkovitz says the second remote monitoring area that is growing is using it as a guarding service. Video footage is used to monitor sites and when events are detected, armed response or onsite guards are dispatched to deal with it.
This area is one in which South Africa is somewhat lacking he notes, perhaps due to labour still being affordable here. In this area he also sees some companies giving remote monitoring a bad name because they are not well prepared to handle what they think is an easy task. "We've seen some disasters in terms of how remote monitoring is being carried out and that has tended to put off some potential customers. This often happens when a company comes in with an alarm panel and an IP camera, or a DVR and an alarm panel, but offers no integrated functionality, no real thought process about how remote video alarm verification should work," Smerkovitz adds.
"Remote video alarm verification is very different to remote video management. With remote video management you don't need the little checks and balances in place. It's quite easy to do, you throw in an ADSL line, you don't need failovers, it's not critical monitoring. If your line goes down then it's too bad, you get on a bit later and view your footage then.
"But with video alarm verification as a service, you have to be as efficient as a good guarding or response service on site, and that means failovers have to be in place as well as the right equipment on site and in the control room. Personally, that's one of our focuses for this year: to educate the end user on how systems should work and getting people to subscribe to the service providers who do it properly. The catch is, if you hire a company that does it right, you are going to pay more and that often makes people choose the cheaper route and end up disillusioned."
Metcalfe agrees that there is a lack of education in the market, both on the side of the resellers and the end users. Many companies still want to see guards on site because they're unsure of the real effectiveness of remote services. However, the trend is to reduce the amount of human bodies on site to eradicate as much as possible the human error factor, although you can't eliminate them entirely.
With third-party services available within Milestone's VMS, guarding companies can use their video surveillance to centrally run virtual guard patrols and analytics that would check that the guards on site are awake and doing what they're supposed to do.
"The analytics will actually pick up that the guard's been sitting for too long or he's in the wrong position, or whatever the case is, and then generate an event," Metcalfe says. "This can then alert a supervisor to make a call or visit the site or speak to the guard via audio-enabled cameras."
With Milestone, users can even go further to have roving cameras. Metcalfe explains this is due to the fact that any smartphone device can be licensed as a channel. "So if there's an event happening and, for example, a guard doesn't have the tools handy to take on the event and they don't want to risk their life, they can take video footage of the event as it happens. The video is stored on the server and can be accessed when required for evidence or to determine the appropriate response. Again, any authorised person can access the video if required."
Keyser believes that the growth in remote monitoring is also as a result of better understanding of the benefits achievable by both end users and systems integrators (SIs).
"The problem we see is that while the general benefits are known, neither the SI nor the user really understands what they really want to achieve with the technology and how to do this," Keyser notes. "Again it's down to a lack of education as to what is really achievable and what technologies they need to implement, be it simple alarm activation or a full suite of analytics or just number plate recognition.
"Sometimes people say they want it all, but don't actually know why and what they want to get from it."
Cloud and bandwidth failure
When looking at some European and American case studies, it's clear that cloud services are playing a role in remote monitoring, especially for smaller companies. Unfortunately, despite the many press releases infrastructure providers in South Africa have sent out about the availability of bandwidth and the lower prices, this is not a reality in this country due to the lack of infrastructure and high costs of bandwidth.
Even though there are companies like FLIR and Sunell (and others) that are launching cloud-based solutions, the consensus among the attendees is they are unlikely to find much of a foothold in South Africa because of the lack of infrastructure as well as the lack of reliable quality bandwidth at a reasonable price.
The cost factor also prevents effective use of mobile technology on site due to the crazy fees mobile service providers charge. If you have a number of guards who could potentially provide video evidence over a mobile device, you need an enormous budget for bandwidth. You could get the cost down to about 19c per megabyte, which sounds cheap until you start sending video.
Taking a more innovative approach, Keyser says that while the infrastructure and bandwidth issues in South Africa are valid, the situation opens up an opportunity for people to be more creative. There are a growing number of organisations with closed, private networks covering their campuses.
Smerkovitz also says there are a growing number of remote sites making use of satellite bandwidth, which has become quite cost effective and reliable of late.
Killing the bandwidth ghost
It seems that a part of every surveillance sales effort is the mobile angle; in other words, managers and supervisors will be able to remotely watch video streams on their smartphones or tablets. The round-table attendees agree that this is more of a management tool as, once again, the costs of broad mobile video streaming would be too high.
Metcalfe adds that control room managers can also benefit from mobile access. If their staff are occupied with other matters, a mobile alert can give them a heads-up and allow them to take action before things take a turn for the worse.
Cooper notes that it's also about accountability. Company managers can keep abreast of what's happening from anywhere, including reviewing their service provider's reaction to an alarm event. This not only keeps them in the loop, but gives them the reassurance that all is in order without them being on site.
While there are solutions designed to reduce the bandwidth required to transfer video over slow (or mobile) links, such as 3G or even EDGE or GPRS, Smerkovitz notes that the issue is more about being able to transmit multiple streams. This allows the control room to receive video over cable or satellite at full frame rate, but for someone operating remotely (such as a guard or a site supervisor), this stream would deliver poor visuals. The solution is to reduce the bandwidth required for a second stream so that the mobile user can see clearly on his device while the control room still receives the full video stream to view and record. Milestone offers this type of service, calling it transcoding, which provides for full-frame viewing in the control room, but reduces the storage footprint for unimportant video and the bandwidth required for mobile viewing.
The decision on using multiple streams depends on what the video is to be used for. For video verification and to simply confirm a problem exists, lower bandwidth streams are sufficient. One the other hand, when individual identification is required, you need more bandwidth to get a clear image.
Cooper adds that cost is always the issue. In companies with surveillance technology in a fleet of vehicles, for example, they need to decide whether a DVR in each vehicle is more cost effective than transmitting video over cellular networks. With hundreds of vehicles on the road, this issue becomes all the more important as even low-bandwidth streams will end up costing a fortune. The technology to stream only on alarm events with the onboard DVR recording continuously would be the solution to choose – as long as it is set up correctly.
Control room software
When looking at remote monitoring services, the software running your control room is potentially the most important part of the operation. Hi-Tech Security Solutions asked the round-table attendees what they considered the key elements of a control room application are.
Smerkovitz says the primary capability is to record an event remotely. As an event is triggered, it needs to not only be viewed by operators, but it also needs to be recorded immediately along with the actions of the operators. Having DVRs and NVRs in the field is useful, but criminals are aware of these devices and often destroy or steal the recorders in the hope that there is no copy of their misdeeds.
The second capability required is to be able to assign events to the right operators. Operators have different levels of capability and therefore specific events should automatically be assigned to the operator with the correct skills and experience to deal with them effectively.
The third is logging. It's crucial to ensure that everything is logged. Logs will serve as training mechanisms, and more importantly, proof that the service provider and the operator followed procedure in dealing with a situation. It also ensures that any acts of collusion can be spotted and verified no matter what the operator may say.
Metcalfe adds that an open VMS platform is key as it allows the service provider to integrate almost any product or service required into the system. In the case of Milestone, around 3000 cameras can be integrated into the system immediately and it has application partners that develop a host of analytics and other applications that are designed to slot into the VMS. This includes video solutions as well as audio and access control, among many others. It also allows for different views and access to be allocated to different operators and for the particular shift they may be working on.
Killer app
To end the round table, Hi-Tech Security Solutions asked each attendee what they thought was the killer app in today's remote monitoring market.
Smerkovitz mentions low-cost, high-definition cameras with audio capabilities and edge storage. This allows continual recording on site, with an alert sent to a control room when the analytics detects some type of event. These systems are ideal for small one-camera sites that need surveillance, such as electricity boxes or communications towers.
Cooper says that all the companies he deals with are looking for an edge to separate them from the competition by offering lower fees and better service. He's seen mobile functionality go through the roof as an additional feature to give managers and owners an insight into what's happening in their businesses.
Metcalfe says the ability of Milestone's Corporate and Expert products to allow for centralised management as well as a federated architecture changes the game. This means that branches or other remote locations can be managed centrally, and even set up remotely from the central control room with these versions of XProtect. It also offers a smaller version for free that handles a limited number of cameras and can be expanded as required.
Keyser says that his experience is the remote monitoring companies are looking for the ability to purchase a complete solution from one provider so that they have one number to call. Miro offers customers a choice of reliable technologies and can provide solutions from the network communications to cameras and VMS applications. In this age of IP convergence, he also sees wireless communications becoming more popular due to the fast rollout of the network and the reliability of the service when installed correctly.
In conclusion, it's clear that remote monitoring as a market is growing, offering cost effective solutions to end users who want more control over their security as well as improved management capabilities. As it is a growing market, there will naturally be companies trying to make a quick buck without having the ability to deliver a reliable service. To avoid the industry getting a bad name, users should educate themselves about what they want from potential remote monitoring services and ensure their contract contains a clear service agreement. It will also do well to opt for IP and open systems to ensure you have the option to mix and match best-of-breed components into an integrated solution. And while nobody likes the fly-by-nights, maybe their presence is also positive as it forces professional service providers to lower their costs and provide superior service. This will allow the customer who is careful about choosing his remote monitoring partner to get the best deal at the end of the day.
Credit(s)
Further reading:
A contact-free hotel experience
Issue 7 2020, Technews Publishing , Access Control & Identity Management
Check-in and go straight to your room without stopping at the reception desk at Hotel Sky in Sandton and Cape Town.
Read more...
---
Efficient storage for security
Issue 7 2020, Dell EMC , CCTV, Surveillance & Remote Monitoring
There is a dramatic increase in the amount of storage and computing power required to support today's safety and security systems.
Read more...
---
Safe restaurant reopening technology
Issue 7 2020, Dahua Technology South Africa , CCTV, Surveillance & Remote Monitoring
Denmark's Arkaden Food Hall makes use of Dahua People Counting and Flow Control solution for safe reopening.
Read more...
---
Management of PPE allocation made simple
Issue 7 2020, Powell Tronics, Technews Publishing , Editor's Choice
Of all the roadblocks and challenges COVID-19 has introduced us to over the past few months, one of the tasks organisations have to manage is the issuing of PPE to staff.
Read more...
---
No downtime for transport security
Issue 7 2020, Secure Logistics, Technews Publishing , Logistics (Industry)
After a brief downturn in crime due to the COVID-19 lockdown, the transport sector is once again at the centre of a crime spree.
Read more...
---
Warehouse security and the pandemic
Issue 7 2020, Technews Publishing , Logistics (Industry)
The warehousing industry is under intense attack from organised, armed criminal syndicates following the lockdown.
Read more...
---
From the editor's desk: Waiting for PoPI
Issue 7 2020, Technews Publishing , News
A while ago we heard of yet another cyber breach, this time from Experian.
Read more...
---
An exciting journey in security
Issue 7 2020, Technews Publishing, BTC Training Africa , Editor's Choice
Errol Peace describes his 40-plus year career in the security industry where he was and is a great proponent of training as an "exceptionally exciting journey".
Read more...
---
Forbatt SA invests in South Africa's security industry
Issue 7 2020, Forbatt SA , CCTV, Surveillance & Remote Monitoring
Forbatt SA is set to offer an improved service to the industry by making sure it has the products and solutions the industry needs, as well as a new showroom.
Read more...
---
Analytics with your existing cameras
Issue 7 2020, Secutel Technologies , CCTV, Surveillance & Remote Monitoring
With SecuVue from Secutel Technologies, it is possible for any business to monitor their offices, warehouses or stores remotely, from any part of the world.
Read more...
---