printer friendly version
Wide scope for remote ­monitoring services
July 2014
CCTV, Surveillance & Remote Monitoring
Remote monitoring services are growing in popularity in South Africa and the world as organisations of all types and sizes come to realise the benefits of remote and offsite management of many of their security and even non-security functions. The question many are still asking is whether remote monitoring can benefit a business and remove some non-core tasks while reducing costs (see below: Remote monitoring is valuable, but no silver bullet). The question of what a remote monitoring service can effectively provide is also always on the agenda since it may be simple to monitor a site from a remote location, but what do you do when something happens and you need an experienced person on site to deal with it.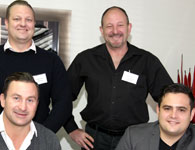 Seated: David von Hoesslin, Warren Myers. Standing: Chad McLintock and Shaun Jayes.
(We should note that for the purposes of this round table, we view the terms remote monitoring and offsite monitoring as meaning the same, although this is not always strictly true.)
Hi-Tech Security Solutions asked a few local remote service providers to join us at a round table to look at the market from the point of view of a service provider.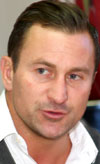 David von Hoesslin
David von Hoesslin is a director at SecurityWeb, with a remote monitoring ­division called SiteWatch. Launched in Cape Town about 15 years ago, the company started as a guarding concern and evolved into the remote monitoring market as the directors realised this would be a significant part of the security industry going forward.
Warren Myers is the CEO of Myertal, a company focused purely on offsite monitoring that has been operating for three years.
Chad McLintock
Chad McLintock is a director of the UTM Group. The company started 10 years ago specialising in technology for the security market, but has also developed an offsite monitoring division.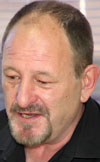 Shaun Jayes
Shaun Jayes heads the offsite monitoring division at ADT, a fairly new division that has been in operation for nearly three years.
Our first question to the group dealt with what the market is looking for in a remote service provider, what are the trends they are seeing in the market? Is it simply a replacement and additional support mechanism for guards, or are customers looking beyond the 'bobby on the beat' angle.
Jayes says that the ADT remote service currently is more about replacing guards with virtual guarding patrols or services. ADT focuses on exception based monitoring and Jayes says there is a large misconception in the market that remote monitoring means there is someone sitting in a control room watching the customer's site 24/7.
"This can work in certain situations, but about 95% of the time you need a system that's actually going to alert the control room when there's an incident. In these instances it's all about early warning and response. In over 20 years in this industry, it's the only thing I've discovered that actually works proactively if you have the right technology and people."
Prioritisation and exception
Von Hoesslin adds that there are many companies trying to jump on the remote monitoring bandwagon by saying they're doing remote video monitoring and they're not, they're doing remote viewing. There is a big difference and customers need to know the difference. "If the industry can get this right, we can instil confidence in our model and change the security industry to a proactive service," he says.
The growth and capabilities of modern video analytics are making this possible, notes McLintock. "It's no longer about someone sitting there watching screens 24-hours a day. Analytics takes the drudge work away and allows for lower streaming rates, which allows for by monitoring by exception – the technology pushes the video back to the control room when there's something happening."
"It's absolutely critical, in my opinion, for monitoring companies to have the right equipment that enables them to do this," adds Jayes. He says it has been a problem in the industry for some time that some companies claim to offer a remote monitoring service, but their technology infrastructure is basically a DVR onsite, which they dial into to view video. "That is not offsite monitoring."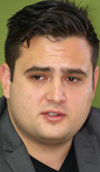 Warren Myers
Myers says the key word is 'prioritisation'. When service providers dial in and do a video patrol or check certain areas at specific intervals, they perform a necessary service, but they are missing out on what happens when they are not actively focusing on that site. Using technology and analytics changes the way remote monitoring is done. You can still have patrols and check-ins, but according to Myers, "We like to think of our services prioritising the video that needs to be watched, when it needs to be watched, all the time."
The result of this is that only about 2% of the actual video that DVRs record is actually sent to the control room for viewing. And because this is triggered by an alarm or alert, it is then immediately dealt with by the operator who has standard operating procedures (SOPs) on what to do, who to call etc.
Even though bandwidth costs are still high, McLintock adds that the ability to stream video is now less costly and more reliable due to technology like H.265 compression, even over cellular connections, so the days of simply putting a guard on site and paying a fee are over. The management capabilities are far superior with remote monitoring and this proactive capacity changes the game.
However, it all comes down to using the right equipment that supports the monitoring exercise, Jayes says. "You've got to use equipment that has specialised compression engines to compress video data over low bandwidth conditions, which is still a problem in this country. You need to know that you can focus on an incident without the system crashing because your technology can't handle the real-time feeds."
Better educated customers
As remote monitoring has grown, customers have also become more educated and many of them now know what they want from a remote service. Myers says a few years ago, you would first have to educate customers as to what remote monitoring was and the services it could provide. Today, many potential customers know and are able to clearly define what they want from the service.
Von Hoesslin adds that it is the normal evolution of something new. People are initially averse to change and want to see how others have experienced the service. Now that the industry has passed that first stage, more people understand the benefits and therefore the need for the right service. That's not to say there aren't companies giving the industry a bad name through poor service, but they are being pressurised by those organisations providing a professional service.
Part of this education, according to Jayes, is that customers are realising that guards are not supposed to be detectives, they're supposed to be responders. A guard can only see a certain amount at one time, assuming he's awake and alert and he hasn't been bribed, threatened, knocked out or killed. Remote monitoring technology allows us to use guards as responders, knowing what the situation is and how to deal with it. It also protects the guards, as one is not going to send an unarmed man into a situation that would endanger him.
"If you've got the correct systems in place to monitor the guards, you're not only assisting them in the completion of their duties, they are also aware they're being monitored and are less likely to sleep or take bribes," adds Von Hoesslin. "Additionally, they have the confidence in knowing that they are being supported and not simply abandoned and expected to make the decisions in an unknown situation, decisions that could get them in trouble."
Better management
Von Hoesslin prefers to call the control room operators profilers because they are trained to assess and manage a situation professionally. They are more qualified than a guard and better informed because of the technology they have at hand, and can therefore keep the guard safe while doing whatever is necessary to deal with the situation.
Importantly, the operators are safe and therefore remain calm, talking the guard through the situation and following whatever the SOP is for that situation. Remote operators don't panic and accidentally do the wrong thing. This results in better managing the security of the customer and results in fewer uncontrolled and perhaps dangerous events running out of control.
Moreover, sensitive sites are under threat, usually with the assistance of someone on the inside. Myers says that simply having the remote monitoring system in place deters them from criminal behaviour as they now know they are under surveillance. Even if not caught in the act because they are supposedly doing what their job requires at the time, if the video is recorded they can be taken to task after an event.
Remote monitoring in its various forms also assists response companies. Knowing what the situation is ensures the appropriate response is dispatched, while the video feed will prevent a response to a false alarm, which means that the majority of today's response events will not have to happen.
Where does remote monitoring fit in?
The idea that remote monitoring can replace guards is not altogether true. Myers says the service can be used to reduce guards, but you can't do away with them as they will still be needed for running access control and so forth. After hours, the service can also be used to limit the number of guards on site while the service manages perimeter and intrusion protection.
Starting with perimeter detection is the norm with most clients, says Jayes. However, with the capabilities of video analytics today the scope for remote monitoring has broadened. For example, you can monitor direction to see if a vehicle turns in the wrong direction, or check the speed of vehicles or people to detect if someone is speeding or running for some reason. On campus, it can be used to detect when a large group of people are gathered together for an extended period of time.
In the retail environment, cameras installed for remote monitoring can also be used for people tracking, heat maps, queue monitoring and point-of-sale monitoring. In certain cases, McLintock says the service can also be used for asset tracking.
From a management perspective, the ability to allow supervisors and managers to view video via mobile devices and make decisions in real time, without waiting for them to drive to a location or relying on telephone calls to keep them updated, is invaluable. And then there's vehicle monitoring for security and management purposes.
The core of remote services
The core of a remote monitoring service is the control room. If a service provider is to be alerted and respond in time and in an effective manner, the technology in the control room must support this endeavour. Von Hoesslin says experience shows providers need to have a single management platform in the control room that is capable of integrating multiple products and services.
A single product is easier to maintain and also easier to run as the operators will only need to learn to use one. This product will naturally require the ability to save SOPs and so forth to guide operators through different events.
McLintock adds that apart from the software, remote monitoring providers need to have redundancy, both in terms of communications networks and, especially in South Africa, battery and UPS power to cater for the unreliable electricity supply.
Since one of the selling points of a remote monitoring service is transparency to the client, Myers stresses the importance of a stable and reliable reporting application to ensure clients know everything that happens. Unlike a physical guard on the premises that is seen every day, when remote monitoring is done correctly, the customer may not see an incident for months and wonder what they are paying for. In-depth reporting will keep them in the loop as to what has happened.
Jayes also stresses the importance of reliable, long-term storage in accordance with BS8418 (the standard for "detector activated remotely monitored CCTV systems in the UK"). The standard stipulates that you need to be able to store all your video logs in your control room for at least 6 months.
This ensures the service provider can refer back to any events if there are queries or disagreements and not only show the video footage of an incident, but the exact logs of how the incident was dealt with in the control room. In other words, the provider can't sweep anything under the rug.
Another key component of the control room is the operators. Finding, training and retaining good quality controllers is the biggest challenge, according to Myers. You need the right people and the right training, combined with the right environment to ensure they are motivated and able to do their jobs effectively. And most of the people selected for these jobs are not ex-guards because the requirements for an operator are very different from that of a guard.
The quality of operators is another area in which the professional remote monitoring service provider differentiates itself from the fly-by-nights. Myers notes that for an efficient control room, the company can not take any shortcuts when hiring staff. This means professional pre-screening and due diligence on the staff coming in because these employees are being given a large responsibility. "The screening process includes ongoing polygraphs on everyone, all the time," he says. "It's an expense, but it's something that you just can't risk. We run all those pre-requisite checks and ongoing polygraphs as a standard with our controllers."
It's clear that remote monitoring is a booming field, but it is also clear that setting up and running a service is no simple job. Companies need financial, technical and human resources if they are to offer customers the services with the efficiency required to keep customers happy. The key to any remote monitoring service is understanding what is required and planning the roll-out carefully and ensuring your systems perform at peak capacity at all times. It's far more than having minimum wage employees staring at a video stream all day long.
Management is an opportunity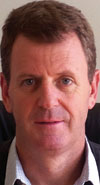 Mike Voortman
Mike Voortman, CEO of Verifier, an offsite monitoring provider, was not able to attend the round table, but he shared some thoughts with Hi-Tech Security Solutions.
Voortman says that there is still a lot of education that needs to happen in the market. While the industry is aware of remote monitoring and the benefits it provides, users are generally not as aware. Most users that are aware of the potential benefits are looking for guard replacement services, but few are aware of the additional functionality remote service providers can deliver.
For example, he says that physical guards and remote monitoring complement each other; guards are still needed on site for access control, but remote services are better for perimeter guarding. They also work well together when checking on guards or alarm events to ascertain exactly what is happening and what the appropriate response should be.
The management functionality in remote monitoring is crucial. Remote services can ensure that operating procedures and processes are followed while reducing the number of supervisors required, for example.
Another benefit of remote monitoring is that it is transparent. If the process is handled correctly, the service provider can't hide anything from the client as all events are captured and reports are copied to everyone concerned. Of course, this may not be the case when guarding companies offer their own remote services as it benefits the company to keep lapses in operating procedures a secret.
Verifier does not offer armed response or guards to clients, but sticks to its remote monitoring services. However, Voortman says that the company has launched a response team that will react to specific events for certain clients when required, as SAPS capacity is often limited.
Within the Verifier control room, there is limited video streaming and operators watching screens. About 90% of the company's activity is as a result of intelligent analytics raising the alarm. Operators are also given regular schedules in which they need to do a virtual patrol to check on elements highlighted by each customer – which could be things such as perimeter or guard checks, door open or lights on checks etc.
And while the remote monitoring market is definitely a growth market, Voortman believes it's only starting to gain traction and there are many other areas in which remote services will be used in future. The biggest opportunity is perhaps not in traditional guarding, but in the management capabilities this service offers.
Remote monitoring is valuable, but no silver bullet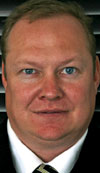 Ian Downie
Remote monitoring may seem like the cheaper solution to traditional guarding services, but is it? Ian Downie, director of sales and marketing for Cape Town-based Xone Integrated Security acknowledges that remote offsite monitoring has many benefits and may be the perfect solution in certain instances, but he says it is definitely not the silver bullet many believe it is.
Downie says it is impossible to replicate an onsite control room remotely or for a lower cost. Some of the functionality can be replicated, but unless you have a significant (and expensive) amount of bandwidth available, for example, you won't receive the same service. While IP is a powerful tool in the monitoring company's arsenal, you require bandwidth to transmit video, audio and other data without latency.
Moreover, companies who claim to be able to replicate onsite control rooms for a lower cost are simply wrong. If you need a certain number of employees onsite and specific technology, you will need the same offsite to run the control room as effectively – plus extra bandwidth to transmit video and other data.
Where remote control rooms are required, such as when collusion on site is a problem, customers need to be careful in crafting very specific contracts, standard operating procedures (SOPs) and service level agreements (SLAs). And you will always need an onsite presence to support remote monitoring, such as guards to respond to a break-in incident etc.
According to Downie, a well run remote monitoring site can offer the following (among other functions):
* Alarm and virtual patrols at night,
* Perimeter alarm notification (with onsite response capabilities),
* Reduced guarding requirements,
* Staff audits,
* Spot checks and virtual patrols to complement onsite guards, and
* Targeted surveillance, review and collusion checks.
Downie says there is a significant role for remote management as there are many functions a remote service can fulfil, but at the moment, it is not all the industry makes it out to be.
Credit(s)
Further reading:
A contact-free hotel experience
Issue 7 2020, Technews Publishing , Access Control & Identity Management
Check-in and go straight to your room without stopping at the reception desk at Hotel Sky in Sandton and Cape Town.
Read more...
---
Efficient storage for security
Issue 7 2020, Dell EMC , CCTV, Surveillance & Remote Monitoring
There is a dramatic increase in the amount of storage and computing power required to support today's safety and security systems.
Read more...
---
Safe restaurant reopening technology
Issue 7 2020, Dahua Technology South Africa , CCTV, Surveillance & Remote Monitoring
Denmark's Arkaden Food Hall makes use of Dahua People Counting and Flow Control solution for safe reopening.
Read more...
---
Management of PPE allocation made simple
Issue 7 2020, Powell Tronics, Technews Publishing , Editor's Choice
Of all the roadblocks and challenges COVID-19 has introduced us to over the past few months, one of the tasks organisations have to manage is the issuing of PPE to staff.
Read more...
---
No downtime for transport security
Issue 7 2020, Secure Logistics, Technews Publishing , Logistics (Industry)
After a brief downturn in crime due to the COVID-19 lockdown, the transport sector is once again at the centre of a crime spree.
Read more...
---
Warehouse security and the pandemic
Issue 7 2020, Technews Publishing , Logistics (Industry)
The warehousing industry is under intense attack from organised, armed criminal syndicates following the lockdown.
Read more...
---
From the editor's desk: Waiting for PoPI
Issue 7 2020, Technews Publishing , News
A while ago we heard of yet another cyber breach, this time from Experian.
Read more...
---
An exciting journey in security
Issue 7 2020, Technews Publishing, BTC Training Africa , Editor's Choice
Errol Peace describes his 40-plus year career in the security industry where he was and is a great proponent of training as an "exceptionally exciting journey".
Read more...
---
Forbatt SA invests in South Africa's security industry
Issue 7 2020, Forbatt SA , CCTV, Surveillance & Remote Monitoring
Forbatt SA is set to offer an improved service to the industry by making sure it has the products and solutions the industry needs, as well as a new showroom.
Read more...
---
Analytics with your existing cameras
Issue 7 2020, Secutel Technologies , CCTV, Surveillance & Remote Monitoring
With SecuVue from Secutel Technologies, it is possible for any business to monitor their offices, warehouses or stores remotely, from any part of the world.
Read more...
---