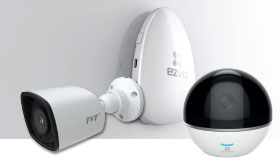 Home security in an estate?
September 2017, Residential Estate (Industry), Integrated Solutions
The point of paying a premium to live in a secure estate is that it is secure. Most residents assume this means their responsibility to look after their own security is therefore transferred to the security team, which residents sometimes support by trying to allocate the minimum budget possible for security.
Of course, there will always be a conflict between security and residents. Residents want 100% guaranteed security, which is never possible, while the estate managers want more money to accomplish more in the security realm, to try and get as close to that 100% goal as possible.
Nevertheless, the idea of abdicating your security to someone else is appealing, but dangerous. Unless you can afford a 24-hour team of bodyguards, you are unlikely to be untouchable. And even with them, John F. Kennedy would tell you: there is still a risk. So what should estate dwellers do when it comes to their own home security?
The fact is, your security teams do a pretty good job of protecting the perimeter and controlling access to the estate. But criminal syndicates are not stupid; they will find ways to get in. The cliché remains true: your security needs to be functioning at 100% capacity all the time, while the criminals can fail 99% of the time and still profit from their 1% success rate.
One also needs to consider that more syndicates are setting up shop inside estates, either buying or renting property to give them unhindered access to upmarket homes and goodies. Added to that, there is also the problem of people who seem to think helping themselves to their neighbours' stuff is fine, and there are kids who are sent out on their own into the safe estate that get up to mischief and vandalism. And the list of potential risks goes on.
So securing your home, even in an estate, is a must if you really want peace of mind. The benefit is that you won't have to worry about perimeter and access control, only your own house. To find out what home security options there are for estate residents, Hi-Tech Security Solutions asked a few people for some insight into products and solutions designed for the consumer market.
Alarms are so 1999
In many homes, especially the more upmarket homes, the age of the Internet of Things has arrived and people want everything connected. The same will apply to security, and we can see the result of this consumer demand in products that are managed via a smartphone and which can be integrated with other home automation solutions. A simple alarm is simply not on the cards for the connected elite.
Rex Pennefather and Matt De Araujo from Inhep Digital Security (IDS) confirm this, noting that alarms have for many years been driven by the demand created by crime and insurance stipulations. "As the South African security market has developed to maturity, so we are starting to experience the challenges of globalisation, commoditisation and the Internet on our industry. Our customers are now doing their banking, social media, and a good portion of their browsing on their phones and are expecting a unified ecosystem for the management of devices, appliances and security in their houses."
They add that, in the past, alarms have been a grudge purchase for most people, and the industry is now challenged to transfer the feature set of its solutions into tangible value for customers. "IoT is the perfect stepping stone to this with a large portion of data, control and storage now being housed in the cloud and accessible by GPRS or IP connections. Customers who have historically been presented with an outdated and complicated static keypad can now access, control and interrogate their home from a device of their choice, a device that is intuitive and designed for consumer applications."
The benefit of being in an estate, some of which don't allow home alarms because of the noise factor, is that alarms can be linked to internal control rooms or guard houses. In addition, the owner can easily be alerted on a mobile device or email, and can even view home surveillance cameras from the same device, says Vaughn Tempelhoff from Forbatt SA.
He adds that most suppliers are moving to cloud-based applications where remote viewing and accessibility is quick and easy. "TVT is a good example where it is as easy as enabling NAT, switching your DVR on, and scanning a barcode."
Alarm II
While some form of alarm is always a good idea to alert residents to risks, today's alarms allow for much more than linking a passive and making a noise. Hikvision's senior technical engineer, Toby Chao, explains that access control, video intercom and smoke/water/door sensors can be added to a modern alarm control panel.
"Even our lights, TV and washing machine can be added. In my opinion, home security systems can easily and effectively be mixed with non-security technologies. It simply makes sense that all technologies work together to make a smart, simple and an all-in-one home security system."
"The alarm is the perfect integrated box to offer not only the much demanded security application, but also heaps of value-adds for the consumers," say Pennefather and De Araujo. "Abroad we have seen the likes of Intelbras in Brazil, 2G and Vivint in the US, Amazon Alexa and many others embrace this opportunity and start to incorporate cable, internet, solar and lighting into their home solutions. Most modern alarms do not require much more than a simple GPRS, Ethernet or serial device to create an open source or proprietary platform for remote control and panel access. IDS has gone so far as to develop and app-based solution that can control alarm panels that were sold and installed as far back as 2005, yet work with the latest iPhone or Samsung smartphone."
They say it makes sense to use your alarm as the medium to blend in and control non-security applications, provided everything is managed and correctly installed. With the rapid expansion of CCTV in Africa and the massive cost lowering initiatives underway by dominant players in this space, the challenge for local manufacturers is not to try and compete with these players, but rather to develop and incorporate platforms and interfaces that allow exchange between services and devices.
Product options
When it comes to specifying what products they have available that fit the above descriptions, the respondents have a broad selection.
Hikvision provides the EZVIZ product range, which includes alarm and CCTV equipment for the consumer market, as well as access control and video intercom devices. The company also acquired Pyronix, a producer of alarm and detector equipment to supplement its home security offering.
Chao says all products can be seamlessly integrated into one single platform so that every event is visible. "For example, when a visitor swipes a card to open a door or presses a button to phone the house owner, or even when an intrusion alarm is triggered, users are able to see what's going on in real time on Hikvision's client software or mobile app. This either can be a live-view pop-up or an app notification, whichever the user prefers.
Chao explains that products from Hikvision are engineered to be easy to install and use, For example, many products support POE (Power over Ethernet), which allows users to simply 'plug and play' the equipment. When cameras and an NVR are connected, the backend device automatically finds and activates the cameras, automatically allocating an IP address to make it quite simple, even for users without much IT knowledge.

Forbatt offers the TVT range for home security. Tempelhoff notes that TVT is known for its robustness and ease of use. The product caters for a wide spectrum of clients, from domestic use through to commercial applications. "TVT's analogue range supports all current analogue technologies in the market, including AHD, TVI and CVI, making the product a breeze to install even if you are unaware of the technology the customer is using."
IDS has developed the HYYP Smart Home app which seamlessly integrates with any IDS alarm solution and now allows homeowners the ability to control and have visibility of their alarm status remotely and in real time. The HYYP app allows users to arm, disarm and bypass zones remotely, as well as get notifications should there be a violation, bypass, panic or trouble condition.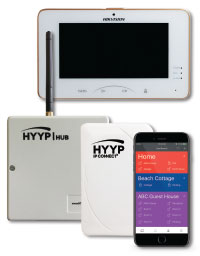 "Through our proprietary trigger command embedded in the app, users are also now able to control a host of outputs and triggers for home automation solutions. Key applications at present include using your alarm to remotely control your gate, garage, electric fence or switch your lights on or off, geysers, pumps and motors," state Pennefather and De Araujo. "Essentially we can control any one of the 51 available outputs on the IDS X-Series control panels."
They continue that both the HYYP GPRS Hub and HYYP IP-Connect module are simple to install and do not require IT or systems integration knowledge. "We have maintained the standard alarm install process using a preconfigured and highly secure smart platform and switch as well as DHCP routing control to optimise control, security and simplicity. Our Smart app includes a multitude of features requested by our control groups, like the ability to view multiple sites on your phone, to control which notifications you receive and which you don't, the ability to store and embed user codes for trigger and control, and the ability to add multiple users with your desired control levels."
Today's estate resident does not need to install security solutions that simply sit there and, hopefully, do nothing. You can gain the benefits of reliable home security while also entering the IoT and home automation world by accessing and controlling a host of other functions from your smartphone. In other words, you can still obtain value from your installation without the 'grudge purchase' idea so often associated with security products and solutions.
For more information contact:
• Forbatt SA, +27 (0)11 469 3598, sales@forbatt.co, www.forbatt.co.
• Hikvision South Africa, Evan Liu, +27 (0)10 035 1172, support.africa@hikvision.com, www.hikvision.com.
• IDS (Inhep Digital Security), +27 (0)31 705 1373, marketing@idsprotect.com, www.idsprotect.com.