printer friendly version
Simple but secure home security
Residential Estate Security Handbook 2017 CCTV, Surveillance & Remote Monitoring, Integrated Solutions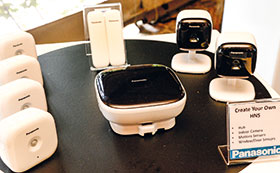 Home security is a priority for the majority in order to protect loved ones and the memories, mementoes and priceless items in the home. At the same time, cost is always a concern, with many people unable to afford private home security services. It is for these reasons that there is a growing trend towards home security systems which can be installed by the user and are much easier on the pocket.
Panasonic's Home Network System, for example, allows you to create a wireless network of cameras, sensors and controllers, both in and outside the home. These can be controlled with a smartphone, via a single app, and offer many additional benefits over standard security systems.
For example, the system doubles as a complete and comprehensive baby monitoring device, enabling parents to check in on the child using live video footage, streamed directly to their mobile device. It is able to detect motion, sound and temperature and can immediately notify you of any unusual conditions. In addition, the camera offers a built-in microphone and speaker, enabling parents to talk to the baby, or play up to five different lullabies to help it fall asleep.
In a similar fashion, external cameras will allow users to monitor their pets at any time and from anywhere – perfect for those occasions where you have to go away for a day or two. The same outdoor cameras are also useful for assisting you in checking who is knocking on your front door.
These cameras not only deliver real-time streaming, but also offer a quad view, enabling the user to view up to four cameras simultaneously, as well as providing motion detection for specific areas of the garden where recording and notification are considered critical.
Moreover, because the solution is run by an app on your smartphone, you can control lighting and appliances remotely too, turning devices in a room on and off, at anytime and anywhere. This means you can make it appear as though someone is in the house, even when you are away.
Panasonic's Home Network System allows you to decide what solutions you want and add these to the network as and when they are required. It includes external and internal cameras, smart plugs for controlling your lights and doors, windows and motion sensors that will alert you if anyone enters your property.
Not only is this an extremely cost-effective solution, it is also simple and easy to install. The system can be set-up in three easy steps, without any complicated installation. Simply plug in the hub, download the Home Networking System app – which is available on both iOS and Android – and ensure your mobile device is connected to your Wi-Fi network. The system is seamlessly integrated with Wi-Fi and has a range of over 300 metres.
For more information contact John David, Panasonic South Africa, +27 (0)11 312 7015, [email protected], www.panasonic.com
Further reading:
Cyber resilience is more than cybersecurity
Technews Publishing Cyber Security Integrated Solutions IT infrastructure
Hi-Tech Security Solutions held a round-table discussion focusing on cyber resilience and found that while the resilience discipline includes cybersecurity, it also goes much further.
Read more...
---
Avoiding human error at ports
LD Africa Transport (Industry) CCTV, Surveillance & Remote Monitoring Products Logistics (Industry)
LD Africa introduced a local port to the AxxonSoft Port Security System ,a solution that helps overcome the element of human error and eliminate paperwork.
Read more...
---
Compact, lightweight bullet cameras with support for analytics
Axis Communications SA Products CCTV, Surveillance & Remote Monitoring
Axis Communications announced two new outdoor-ready bullet-style cameras featuring deep-learning processing units for analytics based on deep learning on the edge.
Read more...
---
Numerous challenges for transport and logistics
Transport (Industry) CCTV, Surveillance & Remote Monitoring Security Services & Risk Management Logistics (Industry)
Operators are making significant investments in automation and digitalisation in order to address security concerns, improve loss prevention as well as efficiency, and reduce unit order costs.
Read more...
---
A key to urban transport challenges
Axis Communications SA Transport (Industry) CCTV, Surveillance & Remote Monitoring Integrated Solutions Logistics (Industry)
There are many enabling technologies that can impact transportation in South Africa, but a good place to start is by considering the applications for smart physical technology with the ability to collect and respond to data.
Read more...
---
Hikvision aims for solutions
Technews Publishing Hikvision South Africa Editor's Choice CCTV, Surveillance & Remote Monitoring News Integrated Solutions Conferences & Events
Hikvision recently held a roadshow titled Industry X, where the company highlighted its latest products and solutions, supported by partners and distributors.
Read more...
---
Reliable, low-maintenance video appliances
Technews Publishing Editor's Choice CCTV, Surveillance & Remote Monitoring News IT infrastructure Products
Symetrix, part of the Agera Group, has added the AES range of video recording servers, storage appliances and workstations to its portfolio.
Read more...
---
Technology and the future of security installation in South Africa
Editor's Choice Integrated Solutions Security Services & Risk Management
What are the technologies and trends shaping installation, service and maintenance teams globally, and how will they shape South African businesses today and in the future?
Read more...
---
A new full-colour era
Dahua Technology South Africa CCTV, Surveillance & Remote Monitoring
Traditionally, there have been two options for using surveillance cameras in the dark: flooding the scene with visible light, or alternatively using infrared (IR) illumination.
Read more...
---
AIoT delivers dynamic digital platforms
Hikvision South Africa CCTV, Surveillance & Remote Monitoring
Many stadiums or venues are seeking new, smart solutions that can help venue operators to stay on top of real-time situations dynamically on digitally driven platforms, and to achieve more efficient and sustainable venue management.
Read more...
---