printer friendly version
Simple but secure home security
Residential Estate Security Handbook 2017 CCTV, Surveillance & Remote Monitoring, Integrated Solutions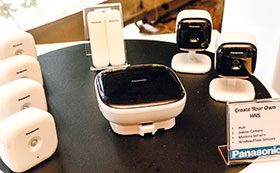 Home security is a priority for the majority in order to protect loved ones and the memories, mementoes and priceless items in the home. At the same time, cost is always a concern, with many people unable to afford private home security services. It is for these reasons that there is a growing trend towards home security systems which can be installed by the user and are much easier on the pocket.
Panasonic's Home Network System, for example, allows you to create a wireless network of cameras, sensors and controllers, both in and outside the home. These can be controlled with a smartphone, via a single app, and offer many additional benefits over standard security systems.
For example, the system doubles as a complete and comprehensive baby monitoring device, enabling parents to check in on the child using live video footage, streamed directly to their mobile device. It is able to detect motion, sound and temperature and can immediately notify you of any unusual conditions. In addition, the camera offers a built-in microphone and speaker, enabling parents to talk to the baby, or play up to five different lullabies to help it fall asleep.
In a similar fashion, external cameras will allow users to monitor their pets at any time and from anywhere – perfect for those occasions where you have to go away for a day or two. The same outdoor cameras are also useful for assisting you in checking who is knocking on your front door.
These cameras not only deliver real-time streaming, but also offer a quad view, enabling the user to view up to four cameras simultaneously, as well as providing motion detection for specific areas of the garden where recording and notification are considered critical.
Moreover, because the solution is run by an app on your smartphone, you can control lighting and appliances remotely too, turning devices in a room on and off, at anytime and anywhere. This means you can make it appear as though someone is in the house, even when you are away.
Panasonic's Home Network System allows you to decide what solutions you want and add these to the network as and when they are required. It includes external and internal cameras, smart plugs for controlling your lights and doors, windows and motion sensors that will alert you if anyone enters your property.
Not only is this an extremely cost-effective solution, it is also simple and easy to install. The system can be set-up in three easy steps, without any complicated installation. Simply plug in the hub, download the Home Networking System app – which is available on both iOS and Android – and ensure your mobile device is connected to your Wi-Fi network. The system is seamlessly integrated with Wi-Fi and has a range of over 300 metres.
For more information contact John David, Panasonic South Africa, +27 (0)11 312 7015, j.david@za.panasonic.com, www.panasonic.com
Further reading:
Smart water management
Axis Communications SA CCTV, Surveillance & Remote Monitoring Integrated Solutions
South Africa is currently facing a water crisis, with scarcity and inefficient water management posing significant challenges to sustainable, consistent access to water. Smart technology and powerful partnerships may offer a proactive solution to SA's water crisis.
Read more...
---
Helping retailers optimise monitoring and security
Guardian Eye Retail (Industry) CCTV, Surveillance & Remote Monitoring
From a smart retail perspective, it is crucial to understand that monitoring stock and other assets through camera surveillance and a variety of Internet of Things (IoT) sensors stretches further than the stores themselves.
Read more...
---
Empowering Istanbul's public transportation
Dahua Technology South Africa CCTV, Surveillance & Remote Monitoring Integrated Solutions
Dahua's intelligent transportation solution, using technologies like DSM and AI-based passenger flow counting, has facilitated an intelligent system upgrade for nearly 6 400 minibuses and electric buses in Istanbul.
Read more...
---
Smart manufacturing redefined
Hikvision South Africa CCTV, Surveillance & Remote Monitoring Industrial (Industry)
AI and intuitive visualisation technology allows managers to monitor manufacturing sites, production, and operational processes, and to respond in real time in the event of an issue – helping to drive efficiency and productivity.
Read more...
---
AI is getting smarter, and critical infrastructure is set to benefit
Axis Communications SA CCTV, Surveillance & Remote Monitoring
With technology advancing at an astonishing pace, AI has emerged as a defining trend in today's business arena. Enterprises across all sectors are prioritising this technology, embracing its transformative potential to drive change and growth.
Read more...
---
Collaboration delivers integrated and holistic security
Guardian Eye CCTV, Surveillance & Remote Monitoring News Integrated Solutions
Guardian Eye and Lytehouse have partnered to integrate their speciality solutions and provide a holistic security offering that overcomes the fragmentation of security systems and services.
Read more...
---
Manage security systems remotely
Hikvision South Africa CCTV, Surveillance & Remote Monitoring IT infrastructure Products
Hikvision launched a new generation of smart managed switches that, in conjunction with the Hik-Partner Pro mobile app, enable installers to remotely deploy and configure security systems with comprehensive operation and maintenance capabilities.
Read more...
---
Synology enhances functions for advanced surveillance integration
Technews Publishing CCTV, Surveillance & Remote Monitoring IT infrastructure Products
With the capability to function as both an API client and server, Surveillance Station offers a versatile platform for integration, whether it's embedding video streams into other platforms or overlaying external data onto recorded video.
Read more...
---
SMART Surveillance Conference 2023
Technews Publishing Editor's Choice CCTV, Surveillance & Remote Monitoring Conferences & Events
Some people think the future is all about cloud technologies, but the SMART Surveillance conference demonstrated that AI is making edge surveillance much more attractive, over distributed sites, than ever before.
Read more...
---
Supporting CCTV intelligence with small and big data
Leaderware Editor's Choice CCTV, Surveillance & Remote Monitoring
The increasing development of AI and its role in enhancing investigation-led surveillance, and the increasing capacity of control rooms and local analysts to deliver data in return, can increase the synergy between intelligence and surveillance.
Read more...
---