printer friendly version
The total cost of ownership can hurt your security budget
Residential Estate Security Handbook 2017 Residential Estate (Industry), Security Services & Risk Management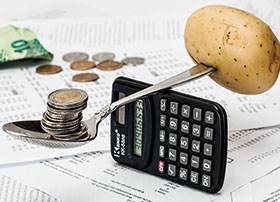 Total cost of ownership (TCO) became famous as a concept in the last century when Gartner made it a household name in the IT industry. TCO is basically a financial estimate that allows buyers to determine the full cost of a product or service over its expected lifespan.
In the security industry, the cost of a surveillance camera, as a simple example, would include the purchase price, the cost of maintenance over its lifespan, and could even include the cost of bandwidth required to transfer images to a central server, the partial cost of the operators monitoring the camera and so on.
Of course, in an estate environment, nothing will be as simple as that since you have multiple cameras, access control systems, electric fences, significant network installations, control rooms and their equipment and people, as well as guards and their equipment to consider. And that's just a starting point.
Unfortunately, most people see the initial cost of the hardware and software as the cost of the solution, ignoring maintenance and upgrades, breakages and other aspects that are a normal part of any security, and in fact, any electronic system. Getting a good idea of what the full TCO of the system is over its lifespan – say five years, although this changes depending on what products you choose – is important because you need to budget for all the 'small things' you will need to pay for over that lifespan.
Budget too little and you will have a choice of either asking for more money, which is never a pleasant option; making sacrifices in terms of postponing the purchase of new and improved solutions because you're spending more on maintenance; or cutting down on maintenance (or using a cheaper service provider) in order to afford new equipment – a choice that can have significant consequences on the effectiveness of your security as a whole.
Given the importance of a reliable TCO estimate at the start of a project, Hi-Tech Security Solutions asked a few experts for some insight into what exactly goes into a TCO calculation for a new installation or a significant upgrade.
Finding your formula
Brian Sharkey from Security Management Consultants (SMC), says there is no perfect formula. "We have found that each project and every client (homeowners association and body corporate) have different needs. Dependent on those needs, we can estimate the TCO over a number of years."
He adds that issues such as maintenance costs are vital in the calculation, and not just the initial costs. "We firmly believe that you can spend millions of Rand on upgrades and new installations, but if you don't include a detailed maintenance plan, you could be wasting your money. Another important component in calculating the TCO is to provide for 'unforeseen circumstances'. Mother Nature, for example, can be an unforeseen circumstance through direct lightning strikes despite installing adequate lightning protection, as can floods which have been known to break 50 and 100 year flood lines."
SMC also always advises clients to build in a reserve for when insurance doesn't cover the full expense of repairs or replacements.
Etienne Jurgens, technical operations manager at Xone, "Especially in larger installations where the investment is typically in the millions of Rand, it becomes the responsibility of the security adviser to ensure the correct investment decision is made by the client. Sadly, TCO is normally not the main driver when any investment decision is made."
The immediate cost of the system and availability of funds are always the driving factor, he says, with TCO only becoming a factor when the costs of different options are similar. The TCO therefore is only quoted at a very high level with the following items typically focused on:
1. Period of warranty offered by the supplier when equipment becomes faulty.
2. Operational life expectancy of equipment before it is due for replacement.
3. Maintenance time and cost required on equipment to keep it at its operational best.
"We find that TCO is therefore limited to the yearly maintenance required to keep the system operational."
"For a new installation, all elements need to be taken into consideration," says Sasha Bonheim from Axis Communications, focusing on the surveillance aspect of TCO. "This is a somewhat challenging task. For example, looking at the infrastructure; is there power on the perimeter fence or does one have to install solar panels? Then you look at the distance the perimeter covers and calculate how many cameras you would need.

"From there you can start to assess your costs for network, storage, cabling and accessories. These are all physical costs. From there we turn to maintenance, staff, training etc. Using a TCO model can help capture all the costs associated with a video surveillance system over its complete lifecycle."
Pieter van Wyk, senior manager: fire and security, BT-SA, notes, "When I do costing on a design for a new installation or an upgrade on a complex or estate, I look at the environment and outside conditions.
"For example, if I do a design on a solar powered system, which is the new-age or green way, I would do a special costing or maintenance and SLA proposal to accommodate, for instance, the battery life of your solar system. The fact is, batteries never last long in our harsh temperature conditions in South Africa. The ideal temperature for a battery is in a dry temperature controlled environment consistently on 20 to 22 degrees Celsius."
The camera question
When looking at a security operation, we often focus on the impressive technology like surveillance cameras, but forget about everything else required to make the cameras worthwhile. We asked what percentage of a project (roughly) is spent on cameras and what is spent on infrastructure (networking, storage, servers, software and so on)?
Surprisingly, while cameras may be the coolest toys to play with, they do not make up the largest cost in a project. Bonheim says that they can account for roughly 16% of the total cost. "If we break it down, we can see the largest costs have to do with maintenance, coming in at around 19%."
Maintenance and repair costs play a significant part of any TCO. The importance of product reliability is often underestimated when considering the cost of maintaining and operating a system. High product quality is, of course, a critical aspect to keeping maintenance and repair costs to a minimum.
She adds: "Every project has a unique cost distribution and it is up to each project team to determine which cost factors to take into account and how to judge the monetary aspect of each factor." (See the cost breakdown in Figure 1.)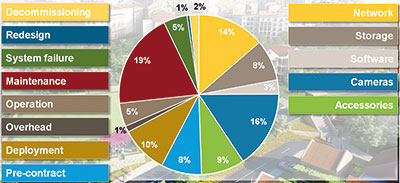 Figure 1.
Sharkey agrees, noting, "We have been fortunate to have been involved in some very large and some very small upgrade projects on CCTV, and often the 'back-of-house' equipment, such as networking, servers etc. are not considered at the outset. Clients are often not fully aware of the advances in technology that are available, and it is critical to explain what the advantages are in planning for future growth in the system. Often the infrastructure costs can be greater than the actual cameras."
Jurgens states that the answer is not straightforward and there are many factors that influence the spend on CCTV cameras compared to their supporting equipment. These are typically:
1. Layout requirements of perimeter CCTV where the perimeter is influenced by geographical limits, like rivers or hills or by municipal zoning that are quite often not straight in nature.
2. Ease of routing of cable compared to wireless costs.
3. Information retention time required by client.
4. Brand of camera selected.
"To look at the typical percentage spent on cameras compared to the supporting infrastructure, I had a look at our last 10 quotes for CCTV equipment with an ex-VAT cost of more than R2 million. These projects also required that the CCTV equipment was hard wired with no wireless connectivity."

Figure 2.
Figure 2 reflects the percentage of the camera cost compared to the overall cost of the installation. Jurgens advises that the average of the cost spent on cameras only was 52%, but as mentioned, this depends on various factors.
"Additionally, the brand of camera quoted for also has a huge impact. As an example, a quote recently supplied for R4 million worth of CCTV equipment, the camera contribution to the total overall cost was 69% for brand A compared to 51% of brand B, with the latter using six more cameras than brand A."
Van Wyk adds that it also depends on the project. In a perimeter surveillance solution, if you choose to hard-wire the whole solution there is a huge amount of trenching, conduits, labour and cable involved which will push the cost of the surveillance aspect up.
"Not only is it expensive, but time consuming and a big inconvenience for the residents of the estate, assuming it is an existing estate. Wireless and solar options are a lot faster to install and not as messy, and are thus less inconvenient to the end user."
And then there's the fence
As noted, the surveillance aspect is only one area of your security's total cost. Even for those estates with significant investments in cameras along the perimeter, they still need a fence or wall of some kind. And while it's simple to get a costing for your perimeter fence at Rx per metre, what else should be considered.
Each perimeter is a custom design, says Van Wyk. "For this reason I always walk the full perimeter to provision for all such different encounters like streams and different types of walls. For instance, most of the designs I have done includes the fence changing from a brick wall to a palisade fence at some point. This is, to me, the most common change you will find."
Sharkey has a similar opinion. "We have in recent years successfully devised and undertaken the project management of a number of perimeter upgrade projects for estates with perimeters from as small as 1 km to as long as 8,5 km. Each one is different and often extremely complex due to difficult terrain. Some perimeter upgrades have been undertaken on rocky terrain, often with stream and river crossings.
"On very large and complex perimeter upgrades we recommend working with quantity surveyors to ensure costs are controlled on not only the supply and installation of the final solution, but also the amounts of concrete required and the types of under-dig solutions proposed. We have found that in erecting a very secure perimeter solution, cameras are not required initially, but should be planned for in future expansion, with the infrastructure being provided at the outset of the perimeter project.
Jurgens says the perimeter budget is never a simple calculation as various factors have to be taken into account. These include steep slopes or whether there is an under-dig and so on. However, he says most of the larger estates have cameras to support their physical fence, so the final cost will include the combination of cameras, poles and other necessities.
Focusing on cameras as a crucial part of perimeter security, Bonheim notes that thermal technology has proven to be the best option in long distance detection on the perimeter as it allows for detection in fog, haze, pitch darkness and extreme sunshine. "This solution coupled with an advanced analytic that allows for early detection will minimise false alarms, thereby reducing the overall labour costs of guards physically manning the perimeter."
The maintenance gremlin
As mentioned before, maintenance is always a factor due to normal wear and tear, bad weather, vandalism, accidents and so on. It would be great if there was a set formula an estate or systems integrator could use to calculate a reasonable value that will need to be spent on maintenance over the course of the security solution's lifespan. But does one exist? Or is it a case of taking a chance that your technology will behave and succeed against the elements?
Bonheim says that maintenance plays a huge role when considering a TCO lifecycle. "As mentioned earlier, it is important to consider the quality of the product that you are installing as this will be a factor when keeping repair costs to a minimum. Unplanned events that cause a system to fail can lead to excess costs for an estate.
"For example, in a residential estate, if the surveillance system fails, it could lead to very high costs as extra security guards may need to be dispatched and other measures taken. It's always important to invest in good quality products that are reliable and have been tested to withstand extreme weather conditions."
Echoing this, Jurgens adds that security upgrades do not have a set time span of operational life as it can vary depending on when what piece of equipment was installed. "The cost forecasted to be spent on a security installation is therefore based more on past experience per financial year. Taking the cost over a set number of years gives you an average spent on the security installation cost."
Van Wyk puts a number on this, saying at least 10% of the total value of the installation over three years is a reasonable amount to budget for maintenance. This will allow for a few cable replacements and for a few cameras lost to lightning or other damage over that timeframe.
Sharkey's advice is that maintenance and service-level agreements (SLAs) are critical to the long-term success of a security installation or upgrade. The cost of these agreements varies, dependent on the conditions and terms of the contract proposed. "A strictly enforced SLA ensures the client receives value."
Buy or use?
When considering costs, the vast majority of estates look at security as a cost centre and something they have to spend huge sums of money on. While we can't get away from the need to spend on security, there are options apart from the big spend. In other words, estates can look at a leasing or rental model.
In this scenario, service providers offer a full solution (products, installation and maintenance) at a set monthly or annual price, with annual escalation all encompasses in a contract – including a service-level agreement. In this way, the service provider is responsible for the technology as well as its functioning (and perhaps even the guards and other security personnel), and they are contracted to deliver a specified service in terms of uptime, response times and so on.
Sharkey says rental options are attractive in the short term as a quick solution can be obtained without having to go through the often lengthy processes trustees are required to follow in spending large amounts of owner's money, or raising special levies to pay for the solution.
"The advantages are that while paying for the system at a higher cost in the longer term than an initial outright purchase, full maintenance and upgrades for hardware and software is included. The contractor/supplier are required to keep to their side of the rental agreement over the agreed period in terms of services and ad hoc repairs."
He warns that an important aspect to look at when considering this type of option is the right to sell the rental agreement should the existing service provider's business be sold during the contract period. "That is something to take cognisance of in the contract."
Van Wyk notes that the rental or lease option would be more expensive in the long run due to interest and escalations, but it is an option to avoid a huge capital expense. "At the end of the day, it is up to the client to make that decision. I would however recommend, whether or not they take the rental agreement or the capex option, to include offsite monitoring. This will allow them to save on physical security guards, control room layouts and onsite control room operators. This can all be handled offsite at a monthly rate."
Another word of advice comes from Jurgens, who says it's important to split the services at contractual level. "This will allow one to separate the installation, maintenance and any other services. If your integrator is not performing on any level, you can simply terminate that portion. You do not want to be tied to a company providing poor maintenance simply because they did the installation."
He adds that extended warranties are very desirable in this context to align the leasing period to the lifespan of the system.
It's clear that the TCO of a security system is far more than the purchase cost, and far more than we can include in an article. However, it is clear that planning the installation or upgrade of a security system requires more than mapping out vulnerable points and deciding how you are going to deal with them, and then getting a quote for a bundle of technology. Maintenance, upgrades, replacements, personnel and a host of other costs all add up to the real value of the system you're installing, and that value should relate to the protection service the solution will provide.
In cases where estates save a few Rand by buying cheaper technology at the start of the project, which happens more often than any will admit, the savings are almost guaranteed to be lost over the next few years as maintenance and technical callouts increase. And while we all want a bargain, in the case of security, are those few Rand worth the risks residents and staff face when security fails?
For more information contact
• Axis Communications, +27 (0)11 548 6780, [email protected], www.axis.com.
• BT-SA, 0860 105 183, [email protected], www.bt-sa.co.za.
• Security Management Consultants, +27 (0)11 795 2693, [email protected], www.smc.co.za.
• Xone Integrated Security, +27 (0)82 906 7600, [email protected], www.xone.co.za.
Credit(s)
Further reading:
Compact, lightweight bullet cameras with support for analytics
Axis Communications SA Products CCTV, Surveillance & Remote Monitoring
Axis Communications announced two new outdoor-ready bullet-style cameras featuring deep-learning processing units for analytics based on deep learning on the edge.
Read more...
---
Numerous challenges for transport and logistics
Transport (Industry) CCTV, Surveillance & Remote Monitoring Security Services & Risk Management Logistics (Industry)
Operators are making significant investments in automation and digitalisation in order to address security concerns, improve loss prevention as well as efficiency, and reduce unit order costs.
Read more...
---
Defining the resilience of cybersecurity
Cyber Security Security Services & Risk Management
Cyber resilience is less buzzword and more critical business strategy as the cybercrime landscape grows in intent and intensity.
Read more...
---
A key to urban transport challenges
Axis Communications SA Transport (Industry) CCTV, Surveillance & Remote Monitoring Integrated Solutions Logistics (Industry)
There are many enabling technologies that can impact transportation in South Africa, but a good place to start is by considering the applications for smart physical technology with the ability to collect and respond to data.
Read more...
---
Technology and the future of security installation in South Africa
Editor's Choice Integrated Solutions Security Services & Risk Management
What are the technologies and trends shaping installation, service and maintenance teams globally, and how will they shape South African businesses today and in the future?
Read more...
---
Upgraded security and AI monitoring at upmarket estate
Watcher Surveillance Solutions Editor's Choice CCTV, Surveillance & Remote Monitoring Integrated Solutions Residential Estate (Industry)
Estate upgrades and enhances its security through a partnership between surveillance specialist Watcher and the incumbent guarding company.
Read more...
---
The technology wave implications for staff mismatches in control rooms
Leaderware Editor's Choice Security Services & Risk Management
An industry habit of looking at control rooms through a physical security lens has increasingly left clients and staff at a disadvantage in keeping up with control room technology and demands.
Read more...
---
Smollan partners with FleetDomain
Logistics (Industry) Asset Management, EAS, RFID Security Services & Risk Management Transport (Industry)
Smollan has been using FleetDomain to manage its fleet of around 2000 vehicles in South Africa, enabling it to contain costs and manage its fleet much more effectively.
Read more...
---
Privacy shield with optional face blur
Axis Communications SA Products CCTV, Surveillance & Remote Monitoring
Axis Live Privacy Shield compares a live camera view to a set background scene and applies dynamic masking to areas of change.
Read more...
---
SAFPS warns against advance-fee scam
News Security Services & Risk Management
The Southern African Fraud Prevention Service (SAFPS) has warned consumers of an advance-fee scam where the perpetrator is falsely presenting themself as a representative of the SAFPS.
Read more...
---