printer friendly version
Remote maintenance is a reality
Residential Estate Security Handbook 2017 Editor's Choice, Integrated Solutions, Residential Estate (Industry)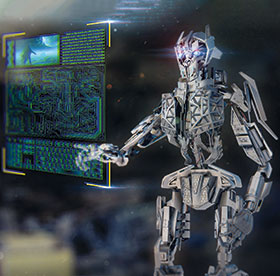 The annoying thing about technology is that it breaks. The perplexing thing about technology is that sometimes we can leave it alone and it somehow decides to ignore the settings we prescribed, or adjusts them for reasons unknown.
When something does happen, it's an investment in time and money to get someone clever to fix it or replace it. While there is nothing we can do about the limits of technology today, there is something we can do to limit the losses in time and money, and in the security world, potentially more serious losses when systems aren't working. In other words, we can perform regular maintenance on systems to ensure they are in working order and doing what we want them to do.
The traditional way of maintaining your security infrastructure (or any electronic infrastructure) is to wait until something breaks or starts misbehaving and then calling in a technician. In some cases, estates contract with their service providers to have a technician on call with specified response times and so forth. There are even those who contract with service providers for regular maintenance calls, although many are loathe to do this as the HoA often sees it as spending money when there is no 'real' reason to do so.
But the world is changing. If we can guard our perimeters via remote monitoring, why can't we keep our systems in check remotely as well? Even better, why can't we remotely monitor our technology in a way that can proactively warn us before something goes wrong, allowing those responsible to fix the problem, where possible, before it actually becomes a problem?
Rise of the machines
With the Internet of Things (IoT) and artificial intelligence (AI) becoming more accepted in general, this has in fact become possible. More than possible, Bernard Senekal, MD of Naxian Systems says it has become a reality.
"IoT means that we connect the physical (in this case the devices and systems on site) to the Internet (securely)," explains Senekal. "IoT technologies then provide a mechanism for data collection and automation. Simply put, we can obtain real-time data about the health of systems while ensuring that responses (usually in the form of automated workflows) execute far more effectively than the traditionally manual, unconnected method."
That's not the whole answer to the proactive service we want, however. While IoT provides the facilities for data collection and process automation, Senekal says it is just good for data collection and advanced automation capabilities. The IoT does not provide the ultimate keys to the castle in the form of predictive and hence preventative maintenance (ensuring a technical issue is addressed before it occurs). For this we need AI and the associated learning technologies.
"In the case of a residential estate, you would typically want to ensure that the boom gate and/or biometric entry system is maintained before it simply becomes unusable and leads to increased risk because a manual procedure has to be put in place until the issue can be resolved. IoT with AI and learning avoids makes this a reality."
Trust the machine?
Allowing a computer somewhere to keep your electronic equipment in good working order sounds good, but what about when it doesn't work. Electrical outages, Internet blackouts, workers digging in the wrong place and cutting your estate off from the world, and a host of other potential problems may impact your ability to constantly monitor your devices.
Granted, an hour or two of not checking your electronics shouldn't result in any major problems, but we all know that sometimes systems just don't work. How reliable would an automated, electronic monitoring system be in the real world?
"If the architecture of your system is built in a way that ensures data from the site is available consistently, and you know how to make use of the data, then you have reliable results," states Senekal. "You can never predict every problem that may arise from a site beforehand. Sites do however mature over time and become 100% predictable if you follow some good practice guidelines."
He says the following points will help ensure reliability at an ever-increasing level:
1.) You don't keep the resolution of the fault as the intellectual property of a specific field engineer, but force the capture of the resolution back into your systems.
2.) Monitor the strengths and weaknesses of your field resources and automate customised e-learning for them in order to address weaknesses.
3.) Reference back to libraries or expert systems that obtain the resolutions for specific problems so that even the most untrained or incompetent resource has a resolution matrix to follow when they get to a site.
4.) Ensure your systems and site experiences are logged and are the intellectual property of the estate rather than remaining with a few human resources that eventually move on, placing you back at the ground floor.
One of the greatest challenges faced by the IoT industry is data gathering and processing. Two primary issues exist. One is that the vastness of the data in terms of the amount of data records that are being captured, while the second is the processing of this data after it has been sent to a central location.
"Currently the cost of distributing this data collection and processing function to the edge (to the site itself) so that we have filtered data in the offsite processing environment is costly because of the processing required for advanced automation algorithms. At Naxian we have recently 'cracked' this challenge and we are in beta stage with a technology that will ensure that data collection, data retention and advanced automation and analytics can run on extremely affordable hardware at the edge.
Impress the boss
While this publication is focused on the security aspect of residential estates, IoT covers everything electronic, including security. Therefore, while the security manager may want to monitor and manage security equipment automatically, the option is there to use the same infrastructure to manage any electronic devices used in an estate.
When asked what else can be included in the list of electronics that can be managed, Senekal says, "think battery life-cycle management, air conditioners, traffic lights, locomotives, diesel engines, transformers, multi-function office automation machines, the ECUs on motor vehicles and so on."
Basically, this automation can be applied successfully anywhere one finds electronic 'things' that require predictive and preventative maintenance and life-cycle management in order to optimise efficiency, reduce risk and cost, and enhance profitability.
Naxian performs the above services for estates (and for a host of other industries) using its locally developed product, Synapse, and its AI agent, Annie (Artificial Neural Network Inside Everything). "Our platform stems from the PSIM command and control environment, but has been adapted to the IoT space where we see any and every device as just another signal with a specific signature. We are therefore not limited to a specific technology discipline or manufacturer in terms of what we can talk to."
Listing the benefits of Naxian's service, Senekal says the company is ideal for local estate customers because:
• It is locally developed, which means it is built for South African conditions. Where else in the world do you have the type of residential estates with the level of security that you have in SA?
• Because it owns the technology, clients can select from various pricing models which are not affected by currency fluctuations.
• Naxian's IoT platform is linked to its AI, so it can provide predictive and preventative maintenance, whereas most of its competitors can't.
For more information contact Naxian, +27 (0)87 820 0620, [email protected], www.naxian.co.za
Further reading:
Cyber resilience is more than cybersecurity
Technews Publishing Cyber Security Integrated Solutions IT infrastructure
Hi-Tech Security Solutions held a round-table discussion focusing on cyber resilience and found that while the resilience discipline includes cybersecurity, it also goes much further.
Read more...
---
A key to urban transport challenges
Axis Communications SA Transport (Industry) CCTV, Surveillance & Remote Monitoring Integrated Solutions Logistics (Industry)
There are many enabling technologies that can impact transportation in South Africa, but a good place to start is by considering the applications for smart physical technology with the ability to collect and respond to data.
Read more...
---
Hikvision aims for solutions
Technews Publishing Hikvision South Africa Editor's Choice CCTV, Surveillance & Remote Monitoring News Integrated Solutions Conferences & Events
Hikvision recently held a roadshow titled Industry X, where the company highlighted its latest products and solutions, supported by partners and distributors.
Read more...
---
Reliable, low-maintenance video appliances
Technews Publishing Editor's Choice CCTV, Surveillance & Remote Monitoring News IT infrastructure Products
Symetrix, part of the Agera Group, has added the AES range of video recording servers, storage appliances and workstations to its portfolio.
Read more...
---
Technology and the future of security installation in South Africa
Editor's Choice Integrated Solutions Security Services & Risk Management
What are the technologies and trends shaping installation, service and maintenance teams globally, and how will they shape South African businesses today and in the future?
Read more...
---
Upgraded security and AI monitoring at upmarket estate
Watcher Surveillance Solutions Editor's Choice CCTV, Surveillance & Remote Monitoring Integrated Solutions Residential Estate (Industry)
Estate upgrades and enhances its security through a partnership between surveillance specialist Watcher and the incumbent guarding company.
Read more...
---
The technology wave implications for staff mismatches in control rooms
Leaderware Editor's Choice Security Services & Risk Management
An industry habit of looking at control rooms through a physical security lens has increasingly left clients and staff at a disadvantage in keeping up with control room technology and demands.
Read more...
---
Streamlining processes, integrating operations
Security Services & Risk Management Integrated Solutions Transport (Industry) Logistics (Industry)
With Trackforce Valiant, Airbus now has one single platform that connects its security guards, supervisors and management across its organisation.
Read more...
---
Resilience is a collaborative effort
Technews Publishing Editor's Choice
Cyber resilience is not an 'IT thing'; Wayne Olsen says it is an enterprise-wide risk strategy that involves collaboration, lots of collaboration.
Read more...
---
The challenge of data safety and availability
Technews Publishing Editor's Choice Cyber Security
Veeam offers backup and recovery software that presents the user with one interface to manage backups to and from almost any platform.
Read more...
---