printer friendly version
Customised access and visitor management
Residential Estate Security Handbook 2017 Residential Estate (Industry), Access Control & Identity Management, Products & Solutions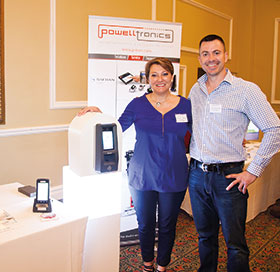 Electronic visitor management systems are generally placed in the same category as other security systems – a cost centre. However, the benefits which can be derived from deploying an appropriate card/biometric reader and software far outweigh the initial investment cost.
Powell Tronics has built a solid base of clients in the residential estate sector, with a number of premier estates around the country currently successfully operating its access control and visitor management solutions.
For the fourth consecutive year, the company participated in the Hi-Tech Security Solutions' Residential Estate Security Conference as a premier sponsor. John Powell, CEO of Powell Tronics, says that the event provides the company with an unrivalled opportunity to specifically address one of its major target audiences in a one-on-one environment.
This year's event saw Powell Tronics promoting the use of its in-house developed PT-Guest visitor management software. According to Powell, PT-Guest caters for the pre-authorisation of visitors to an estate with a link back to a specific resident.
"When it is used together with a licence disc scanner, we can ensure that accurate information is captured when a visitor arrives onsite. No longer will the infamous 'M Mouse' be scribbled in a traditional visitor book when a guest visits. The system doesn't stop there though, as it then ties in a visitor request to the fully integrated access control system. Full details of the visitor's transactions are then provided via a web-based reporting system for analysis after the visitor has left," Powell explains.
Powell continues that the company can also offer a scaled-down version in the form of PT-Scan. This Powell Tronics-developed software offers a simple interface that replaces the traditional visitor book with a small hand-held scanner that also provides a host of web-based reports.
Powell Tronics also used the event to underline the advantages of the new MorphoAccess SIGMA Extreme terminal. "The MorphoAccess SIGMA Extreme is more rugged and durable than any of the readers Morpho has previously released. It has an IK09 rating which means that the device is protected against 10 joules impact, or the equivalent impact of a 5 kg mass dropped from 200 mm above the impacted surface," says Powell.
Powell Tronics adopts a customised application philosophy that entails consultation with installers and end users to determine the best hardware and software for their specific access control and visitor management requirements.
For more information contact Powell Tronics, 0861 787 2537, marketing@powelltronics.com, www.p-tron.com.
Further reading:
Gallagher Security releases Command Centre v9
Gallagher News & Events Access Control & Identity Management Integrated Solutions
Richer features, greater integrations, with the release of Gallagher Security's Command Centre v9 security site management software designed to integrate seamlessly with various systems and hardware.
Read more...
---
Lock down your access control with Alcatraz AI
C3 Shared Services Healthcare (Industry) Access Control & Identity Management AI & Data Analytics
Alcatraz AI, represented in South Africa by C3 Shared Services, changes access control by harnessing the power of artificial intelligence and analytics at the edge, where facial recognition becomes the essential credential autonomously.
Read more...
---
Effective access control
Flow Systems Access Control & Identity Management Products & Solutions
Flow Systems has introduced its new Extra Heavy Duty Industrial Rising Vehicle Barrier, which provides a high level of protection. It is a traditional-looking control barrier with the benefits of high-level physical protection.
Read more...
---
SafeQuip introduces lithium fire extinguishers
Fire & Safety Products & Solutions
With the use of Lithium batteries increasing in many types of portable devices and battery storage solutions, SafeQuip, in partnership with AVD Lithex, is introducing a fire extinguisher aimed at suppressing and extinguishing, and also preventing re-ignition of lithium fires.
Read more...
---
New generation of cyber-focused controllers
Gallagher News & Events Access Control & Identity Management Products & Solutions
The C7000 gives users an opportunity to leverage their hardware and firmware to build a platform designed to catapult their organisation into the future, with cybersecurity baked in from inception.
Read more...
---
New T&A terminal features revolutionary AI technology
Suprema News & Events Access Control & Identity Management AI & Data Analytics
Suprema has launched BioStation 2a, the world's first deep learning-based fingerprint recognition solution, providing powerful access control features and an improved ability to extract templates from low-quality fingerprints.
Read more...
---
Nextivity CEL-FI ROAM R41 boosts your cell signal
IoT & Automation Products & Solutions
Designed for cars, trucks, and boats, it is the industry's most powerful cellular coverage solution for on-the-go applications. It features the 4th generation IntelliBoost chip to deliver channelised coverage for mobile network operator (MNO) signals.
Read more...
---
Olarm advances smart security with Texecom integration
Olarm News & Events Perimeter Security, Alarms & Intruder Detection Products & Solutions
Following Olarm's achievement as the OSPA 2023 winner of 'Outstanding Security Integrator', it has taken another significant step in its innovation journey with the announcement of its integration with Texecom Premier Elite.
Read more...
---
Enhanced security at Xanadu Nature Estate
Turnstar Systems Access Control & Identity Management Products & Solutions
Turnstar Systems recently installed two bicycle turnstiles at the 240-hectare Xanadu Nature Estate, set in the Magaliesberg, the perfect location for secure communal living catering to the lifestyle of residents.
Read more...
---
Reliable access management for famous film location
Paxton Access Control & Identity Management Residential Estate (Industry)
The Royal Connaught Park features a private swimming pool, health and fitness suite, outdoor tennis court and onsite parking, with over 100 residents coming and going every day.
Read more...
---