printer friendly version
Customised access and visitor management
Residential Estate Security Handbook 2017 Residential Estate (Industry), Access Control & Identity Management, Products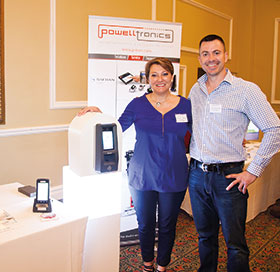 Electronic visitor management systems are generally placed in the same category as other security systems – a cost centre. However, the benefits which can be derived from deploying an appropriate card/biometric reader and software far outweigh the initial investment cost.
Powell Tronics has built a solid base of clients in the residential estate sector, with a number of premier estates around the country currently successfully operating its access control and visitor management solutions.
For the fourth consecutive year, the company participated in the Hi-Tech Security Solutions' Residential Estate Security Conference as a premier sponsor. John Powell, CEO of Powell Tronics, says that the event provides the company with an unrivalled opportunity to specifically address one of its major target audiences in a one-on-one environment.
This year's event saw Powell Tronics promoting the use of its in-house developed PT-Guest visitor management software. According to Powell, PT-Guest caters for the pre-authorisation of visitors to an estate with a link back to a specific resident.
"When it is used together with a licence disc scanner, we can ensure that accurate information is captured when a visitor arrives onsite. No longer will the infamous 'M Mouse' be scribbled in a traditional visitor book when a guest visits. The system doesn't stop there though, as it then ties in a visitor request to the fully integrated access control system. Full details of the visitor's transactions are then provided via a web-based reporting system for analysis after the visitor has left," Powell explains.
Powell continues that the company can also offer a scaled-down version in the form of PT-Scan. This Powell Tronics-developed software offers a simple interface that replaces the traditional visitor book with a small hand-held scanner that also provides a host of web-based reports.
Powell Tronics also used the event to underline the advantages of the new MorphoAccess SIGMA Extreme terminal. "The MorphoAccess SIGMA Extreme is more rugged and durable than any of the readers Morpho has previously released. It has an IK09 rating which means that the device is protected against 10 joules impact, or the equivalent impact of a 5 kg mass dropped from 200 mm above the impacted surface," says Powell.
Powell Tronics adopts a customised application philosophy that entails consultation with installers and end users to determine the best hardware and software for their specific access control and visitor management requirements.
For more information contact Powell Tronics, 0861 787 2537, [email protected], www.p-tron.com.
Further reading:
Rack-mounted, three-phase online UPS
Security Services & Risk Management IT infrastructure Products
The new Eaton 93PX 15-20 kVA UPS combines high efficiency with a compact footprint, lower TCO, and improved cybersecurity to provide stable power for critical IT, industrial, manufacturing, and medical applications.
Read more...
---
Automated, real-time traffic analysis and ML-based mitigation
IT infrastructure Products
NetScout Systems has launched Adaptive DDoS Protection for its Arbor Threat Mitigation System (TMS) to dramatically improve the detection of distributed attacks that dynamically change vectors and target numerous destination IP addresses at once.
Read more...
---
Paxton opens first experience centre in South Africa
Paxton News Access Control & Identity Management
The new Paxton Experience Centre in Johannesburg is now open and welcoming security installers and end users who want to see Paxton's products in action.
Read more...
---
Turkish university installs IDIS surveillance
CCTV, Surveillance & Remote Monitoring Products
IDIS video streamlines complex surveillance systems for learning institution, upgrading a 350-camera system with 24/7 control room monitoring to transform security for Social Sciences University of Ankara (ASBU).
Read more...
---
Securing a luxurious residential estate
Turnstar Systems Residential Estate (Industry) Access Control & Identity Management
Turnstar Systems recently partnered with Balwin Munyaka Residential Estate to secure the entrance to its Crystal Lagoon, ensuring only authorised residents and guests can access the site.
Read more...
---
Long-distance connectivity with Simplex ES Net Life Safety
Johnson Controls Global Products Fire & Safety Products
ES Net Network Bridge allows fire alarm system data to be transmitted across distant buildings via a customer's existing network infrastructure, improving system-wide monitoring and control in facilities and campuses where life safety networks are often widely dispersed.
Read more...
---
Visitor management via QR code
ATG Digital Access Control & Identity Management Products
ATG Digital has launched its QR Code Reader to enhance access control's security and efficiency. The new QR Code Reader enables seamless, contactless access control, creating an efficient user journey.
Read more...
---
District secures activity centre
Paxton Access Control & Identity Management Products
Paxton's Net2 access control solution is a user-friendly and flexible networked access control system, which made installing and managing access control security at an activity centre straightforward.
Read more...
---
Manage security systems remotely
Hikvision South Africa CCTV, Surveillance & Remote Monitoring IT infrastructure Products
Hikvision launched a new generation of smart managed switches that, in conjunction with the Hik-Partner Pro mobile app, enable installers to remotely deploy and configure security systems with comprehensive operation and maintenance capabilities.
Read more...
---
From overwhelm to oversight
Editor's Choice Cyber Security Products
Security automation is vital in today's world, and Microsoft Sentinel is a widely adopted, but complex answer. ContraForce is an easy-to-use add-on that automatically processes, verifies and warns of threats round-the-clock.
Read more...
---