Robust and reliable
September 2017, Residential Estate (Industry), CCTV, Surveillance & Remote Monitoring, Products
In the ever-changing and harsh conditions in which our security professionals operate it is critical to align oneself with body-worn cameras built for its purpose. These units sometimes get manhandled, put through their paces in harsh outdoor activities and every now and then meets the ground via clumsy hands.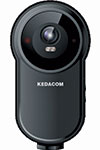 Kedacom body worn camera.
Kedacom's range of body-worn cameras was designed, keeping the harsh requirements in mind when working in any residential access controlled environment. The unit, as default, features a ruggedised housing with high quality rubber buttons giving one the ability to press them even submerged under water. In essence, the entire range was designed keeping IP67 in mind, protecting the unit from ingress of harmful dust and water submersion at 1 m for 30 minutes. Kedacom's body-worn cameras also provide drop protection of up to 2 m.
Body-worn cameras have certainly taken the residential estates by storm. They form a vital part in protecting the dignity of both residents as well as contracted security professionals when dealing and interacting with each other. Units such as Kedacom's body-worn completely avoids the 'he said, she said' scenario as the truth behind video and audio recording does not lie. When implemented correctly the units provide tremendous value and should not become a white elephant in any guarding application.
For more information contact Forbatt SA, +27 (0)11 469 3598, sales@forbatt.co, www.forbatt.co