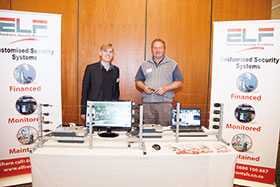 Partnering with estates for security success
September 2017, This Week's Editor's Pick, Perimeter Security, Alarms & Intruder Detection, Integrated Solutions, Residential Estate (Industry)
The team at Elf Rentals considers themselves to be specialist partners in the electronic security sector in terms of the financing, installation and maintenance of security contracts.
The company's Chris Lovemore points out that that the sophistication of electronic security equipment, including fencing, access control, biometric access, power supplies and networking, results in long-term reliability issues. "This sophisticated equipment, by its very nature, is not able to be installed and run smoothly ad infinitum. This means that it requires continual maintenance and upgrading during its lifetime."
This, he says, is where Elf Rentals enters the fray. "By offering clients a number of customised options, we are able to eliminate the issues they commonly face with security system purchases, such as unreliable suppliers who go out of business and can no longer support the equipment.
"Any residential estate that is serious about their security needs to enter into a partnership with a company that is able to provide a great knowledge base, as well as high levels of service and technical capabilities," he adds. Lovemore says that a number of defining elements differentiate the company. Firstly, Elf automatically extends the warranties on all security equipment it supplies to clients from the standard 12 months to 60 months. This additional cover is supplied to clients at no additional cost to them, thereby providing them with complete peace of mind, as Elf covers the risk of failure on all equipment it provides.
Secondly, Elf insures all the equipment supplied. Typically, if equipment is damaged by, for example a lightning strike, the downtime that ensues while insurers are contacted and forms are submitted, could compromise the security of the estate and its residents. In what can be deemed a completely seamless operation, Elf simply goes straight to site and fixes the equipment and thereafter makes the necessary claims with its insurers. This ensures that systems are never inoperational for extended periods of time.
"We are able to link to third-party guarding companies, providing equipment training for the security requirement. We are also able to provide direct financing for clients. We do not use an intermediary financier and are therefore able to write contracts where we can take much more risk, and we are not holding clients to ransom, as with some finance contracts. We see ourselves as technical partners who make sure systems work 100% efficiently all of the time," says Lovemore.
For more information contact Elf Rentals, +27 (0)41 368 3701, www.elfrentals.co.za