printer friendly version
From the outside in
Residential Estate Security Handbook 2017 Residential Estate (Industry), Access Control & Identity Management, Perimeter Security, Alarms & Intruder Detection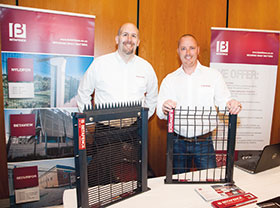 Global perimeter fencing leader Betafence believes that the perfect residential estate security solution is one that derives from a synergistic integration of various elements. By leveraging its own knowledge and experience garnered over the past 137 years, and on occasion partnering with professional security consultants like Rob Anderson, the company has built up an admirable footprint of clients.
According to Dan Edwards, Betafence South Africa mirrors the achievements of its international parent company, with successful installations since 1997 at a number of South Africa's premier residential estates, including Monaghan Farm, Zimbali Coastal Resort and Estate, Simola Estate, Kingswood Golf Estate, Kindlewood Estate, Fancourt Hotel & Country Estate and Brettenwood Coastal Estate.
Edwards points out that all of Betafence South Africa's perimeter fencing products are certified to the highest international standards such as ISO 9001-2008, and products and coatings are tested independently by the likes of CSIR to ensure they meet specific local and international standards. All Betafence products sold in South Africa are manufactured in South Africa from South African products.
"Our products are then tailored to meet the needs of South Africa. It is important to estate managers and Body Corporates to know that the perimeter fencing they have installed is built to endure the harshest conditions. A pre-treatment process guarantees a perfect PVC coating adhesion to the product surface and is therefore proven to withstand the elements, with extreme anti-corrosion features, making it suitable for estates in coastal regions. We in fact offer a 10 year underwritten guarantee against corrosion, making the products especially popular in areas like the KZN North Coast."
The company offers a complete integrated solution that ensures the deployment of holistic security offerings such as the perimeter fencing, the access control system and surveillance solutions. "By strategically planning the integration of all of these elements with third-party suppliers and a security consultant, Betafence is able to create a solution that covers all the bases in a quality-controlled manner," says Edwards.
He explains that the fencing has great visual appeal with residential estates, providing not only high levels of security, but furthermore providing aesthetic compliance, an important factor at an élite residential estate. The design of the fencing allows for almost unhindered visibility, therefore allowing optimisation of any lighting and surveillance systems used on the estate.
The Hi-Tech Security Solutions conference and exhibition allowed the company to showcase its perimeter fencing capabilities and maintain brand awareness. Edwards says that the company is well known in the estate sector but as new estates arise or existing ones upgrade, the event gives them a strong brand exposure opportunity.
Further reading:
Hybrid licence plate recognition
ZKTeco Products Access Control & Identity Management Transport (Industry) Logistics (Industry)
The ZKTeco LPRS2000 is a hybrid-recognition vehicle management terminal that combines the latest high-performance UHF reader.
Read more...
---
Olarm launches PRO 4G communicator
Olarm News Perimeter Security, Alarms & Intruder Detection Products
Olarm has announced an additional 4G/LTE version of its Olarm PRO smart communicator. It is aimed at areas suffering from poor connectivity by providing support for 4G, 2G and Wi-Fi networks.
Read more...
---
Suprema joins FiRa Consortium
Suprema News Access Control & Identity Management
Suprema recently became a member of the FiRa Consortium, a consultative body that establishes standards for ultra-wideband (UWB) technology, the next generation of wireless communication.
Read more...
---
Upgraded security and AI monitoring at upmarket estate
Watcher Surveillance Solutions Editor's Choice CCTV, Surveillance & Remote Monitoring Integrated Solutions Residential Estate (Industry)
Estate upgrades and enhances its security through a partnership between surveillance specialist Watcher and the incumbent guarding company.
Read more...
---
Physical security at distribution centre
Turnstar Systems Transport (Industry) Access Control & Identity Management Products Logistics (Industry)
Turnstar's Velocity Raptors create a high-security physical barrier at Massmart's new 75 000 m2 distribution centre in Riversands, Johannesburg .
Read more...
---
UHF RFID standalone terminal
ZKTeco Products Access Control & Identity Management Transport (Industry) Logistics (Industry)
The U2000 increases access control functions and supports TCP/IP communication, Wiegand in/out, two relays, third-party electric locks, door sensors and exit buttons.
Read more...
---
Jaco van Wyk joins Olarm in Johannesburg
Olarm News Perimeter Security, Alarms & Intruder Detection
Jaco van Wyk has joined Olarm as its partner manager in Gauteng; he has strong technical security and client service experience in the South African market.
Read more...
---
Fotech and C3SS launch technology partnership
C3 Shared Services News Perimeter Security, Alarms & Intruder Detection
Fotech has signed a non-exclusive MOU with C3SS, a South Africa-based perimeter and infrastructure security company, to target specific African markets.
Read more...
---
UHF and Bluetooth multi-technology reader
Evolving Management Solutions Products Access Control & Identity Management
The SPECTRE nano offers hands-free identification of the vehicle and/or the driver, as well as interoperable and multi-protocol secure identification.
Read more...
---
Automation made easy
Vox Products IT infrastructure Residential Estate (Industry)
Vox Sixth Sense IoT features battery-operated sensors that are easy to install and connect automatically to an IoT-specific network, allowing you to view the information gathered from any connected device via an app.
Read more...
---