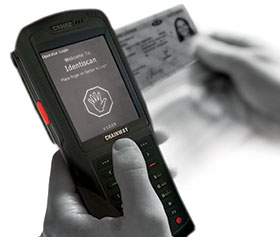 Effective, PoPI-compliant visitor management
September 2017, Residential Estate (Industry), Security Services & Risk Management
Establishing the correct identity of visitors to an estate or complex is crucial to effective security. In the past, the tattered visitors' book was standard at every gate, but now, everyone knows that these books are ineffective as information is largely inaccurate and mostly illegible. Moreover, with the Protection of Personal Information (PoPI) Act, paper-based access control registers will no longer be compliant and will become obsolete.
OnGuard has developed a solution for visitor management called Identiscan, a hand-held mobile data terminal effective in scanning both motor vehicle and driver's licences. When using the Identiscan Electronic Visitor Management System (EVMS), all data is encrypted and stored offsite on a secure server to meet the most stringent regulatory requirements.
"Identiscan is a good security solution for access control and we offer it as a service to all our clients," says Charl du Toit from SJC Security. "It takes away the work of handwritten security tasks and increases control procedures at estates and places of business."
The system ensures both the identity of the user (the guard) as well as the visitor. Before using the device, the user first enters their PIN to identify them. This ensures that they remain accountable for management of the scanner as well as the allocation of the access record to the specific guard. There is no longer an option to say "I didn't let that person in".
Peter Bicar, estate manager at Silvertree Estate in Tokai, notes, "We have seen a real benefit in reduced crime by percentage on the estate since using Identiscan. It enables us to ascertain if the driver has a valid driver licence and that the vehicle is valid as well. All visitors, including contractors, are recorded entering the estate and I receive daily reports on the day's activities. I am able to retrieve backup information from the server in order to follow up should an incidence occur."
The benefits of using Identiscan are:
• Accuracy of information.
• Elimination of paper-based access control registers.
• Improved speed of processing visitors and contractors.
• No computer required as the data stored offsite.
• Automatic warnings of undesirables people/vehicles.
• In-depth reporting.
• Direct control of the gate or boom via the scanner.
"Identiscan is a massive deterrent for someone who wants to enter illegally. It also prevents people who don't have a valid registration or identification from entering – there is just no basis for argument. If they don't have a driver's licence, they simply don't come in," explains Tony Heath from Stable Yard Estate.
He adds, "We have received very good service from Identiscan; there is never any downtime. We once needed something to be looked at and it was attended to in a matter of hours. The product is not just limited to use for guarding companies either. I am the chairman of a complex of 1550 houses and we have direct access to a list of all visitors on a daily basis, with their photo ID and full details so we can trace any internal incidences as they occur."
For more information contact Identiscan, +27 (0)21 701 7777, www.identiscan.co.za.