printer friendly version
Back to the future
Residential Estate Security Handbook 2017 Editor's Choice, Cyber Security, Integrated Solutions, Residential Estate (Industry)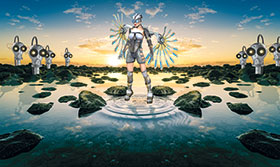 The last 10 years has seen substantial change in the security technology world. So, what will the next 10 years bring? It is worth considering the possibilities because if you don't, in 10 years you may not be offering the most viable solution. That would not be good for your business, or if you are a user, it could be difficult to survive the changes necessary to stay secure.
We hear so much about the 'disrupters' in the environment around us. For instance, the electric car could 'disrupt' the fuel industry. If so, the fuel industry needs to make plans to make the necessary changes for survival.
There are a few potential disruptors in the security sector, or we may just see it as technology advances. Let's list a few (technical or otherwise):
1. The guarding industry is becoming too expensive for the average client. Not only must there be annual increases, but removing the E-grade, and at the end of this year, the D-grade, has a knock-on effect and big cost increases. So, something must happen to reduce the total cost of manpower.
2. The ever-increasing application of technical solutions, require that better 'pilots' or operators be employed. They need to be more skilled, trained and better paid. If we don't, the technology spend is not a good choice and the results will be far less than required.
3. The increased computing power of electronics in the security devices has opened big opportunities. Much of the analysis is being achieved in the camera for instance.
4. Improved analytics is providing more consistent results. Some solutions even have a level of learning to improve the efficiency of the system.
5. We are starting to have a greater number of open systems, that allow for system integration to take place at low cost with high returns. The open systems allow for the interconnection of different brands and products. The days are gone when the product chosen locked you in to the brand for life.
Without listing any more 'disruptors ', we can see a trend:
• Less people employed.
• These employed, being much higher skilled than the current deployment.
• Technology supports greater level of automated reaction to events.
If a machine (an ATM) can be good enough to hand out cash, why can't the entrance gate have an automated guard machine (AGM) to decide if you can enter? This is possible already. The use of drones in all aspects of life is already happening. So, the drone will become the first response to an alarm.
We have many on-line methods of paying for goods. It relies on making sure there is positive identification. Visitors to an estate may have to use 'Pay System' to register as a visitor to get access through the AGM. Of course, the AGM will be a wonderful solution to those people that shout at the guards and abuse them.
The world of robotics and artificial intelligence (AI) is making these sorts of suggestions well within our capabilities. With this scenario in front of us there are a few challenges. And they are not technical, they are people challenges:
(a) Lots of people will be out of work, a big social problem.
(b) Training and upskilling of the few left to pilot the system will become vital. This training does not exist yet.
(c) The quality of communication systems, including the Internet, needs to be top class with fail-over solutions.
(d) The installer/integrator will need to be top quality. All the outcomes and results will be based on the build quality and maintenance of the system.
(e) But be careful, the AI systems monitor your actions and try to think for you. That may be the next risk we have to be aware of.
So, in the new world of less people, more technology and systems in the residential estate security space, what else can be expected? As a start:
(a) A new breed of criminal who is a technical expert. They exist already.
(b) A security manager who is a technical manager.
(c) An investigator who is skilled in the technology sector and equipment operation.
(d) Training facilities that need to have improved training courses for the new demand.
(e) Companies that offer technical audit and technical risk management services to continually evaluate the health of your system.
(f) A legal system and court procedures that will have to be able to perform in the new environment. Much of the crime may be based on technology manipulation, to the advantage of the techno-crook.
As much as we may feel this is not for us, the increasing labour costs and reducing technology costs are going to win the day. The clients will be demanding that we rise to the occasion.
It's not the badly trained guard that is going to fail. It's going to be the badly designed/installed/maintained technology that is going to fail. How are we going to manage that risk?
As I have been told many times, "The future is not what it used to be".
Credit(s)
Further reading:
Cyber resilience is more than cybersecurity
Technews Publishing Cyber Security Integrated Solutions IT infrastructure
Hi-Tech Security Solutions held a round-table discussion focusing on cyber resilience and found that while the resilience discipline includes cybersecurity, it also goes much further.
Read more...
---
A key to urban transport challenges
Axis Communications SA Transport (Industry) CCTV, Surveillance & Remote Monitoring Integrated Solutions Logistics (Industry)
There are many enabling technologies that can impact transportation in South Africa, but a good place to start is by considering the applications for smart physical technology with the ability to collect and respond to data.
Read more...
---
Hikvision aims for solutions
Technews Publishing Hikvision South Africa Editor's Choice CCTV, Surveillance & Remote Monitoring News Integrated Solutions Conferences & Events
Hikvision recently held a roadshow titled Industry X, where the company highlighted its latest products and solutions, supported by partners and distributors.
Read more...
---
Reliable, low-maintenance video appliances
Technews Publishing Editor's Choice CCTV, Surveillance & Remote Monitoring News IT infrastructure Products
Symetrix, part of the Agera Group, has added the AES range of video recording servers, storage appliances and workstations to its portfolio.
Read more...
---
Technology and the future of security installation in South Africa
Editor's Choice Integrated Solutions Security Services & Risk Management
What are the technologies and trends shaping installation, service and maintenance teams globally, and how will they shape South African businesses today and in the future?
Read more...
---
Upgraded security and AI monitoring at upmarket estate
Watcher Surveillance Solutions Editor's Choice CCTV, Surveillance & Remote Monitoring Integrated Solutions Residential Estate (Industry)
Estate upgrades and enhances its security through a partnership between surveillance specialist Watcher and the incumbent guarding company.
Read more...
---
The technology wave implications for staff mismatches in control rooms
Leaderware Editor's Choice Security Services & Risk Management
An industry habit of looking at control rooms through a physical security lens has increasingly left clients and staff at a disadvantage in keeping up with control room technology and demands.
Read more...
---
Streamlining processes, integrating operations
Security Services & Risk Management Integrated Solutions Transport (Industry) Logistics (Industry)
With Trackforce Valiant, Airbus now has one single platform that connects its security guards, supervisors and management across its organisation.
Read more...
---
Resilience is a collaborative effort
Technews Publishing Editor's Choice
Cyber resilience is not an 'IT thing'; Wayne Olsen says it is an enterprise-wide risk strategy that involves collaboration, lots of collaboration.
Read more...
---
The challenge of data safety and availability
Technews Publishing Editor's Choice Cyber Security
Veeam offers backup and recovery software that presents the user with one interface to manage backups to and from almost any platform.
Read more...
---