printer friendly version
When Dahua Technology meets AI
August 2017 CCTV, Surveillance & Remote Monitoring, Integrated Solutions
Video analytics has been evolving over the past 10 years and receives much more attention these days due to the use of artificial intelligence (AI). Machine learning greatly simplifies the software development process and the processing power of GPUs (graphic processing units) made it possible to perform near real-time video analysis. Dahua Technology made an early start in AI applications compared to other players in the global video surveillance industry, thus made a few achievements in the successful application of AI-powered video surveillance solutions in projects at city and even country level.
For example, for the 2016 G20 summit, China deployed video surveillance solutions developed by Dahua Technology using AI – deep learning to automatically screen pedestrians in airport and train stations for criminal suspects.
Accelerating the pace of intelligent surveillance
Deep learning refers to artificial neural networks that are composed of many layers. It aims to emulate humans' ability to analyse and study. It imitates the mechanism of the brain in order to interpret data, such as image, voice and text. In the security industry, the application of deep learning is important for two reasons. Deep learning, on the one hand, improves the accuracy of some algorithms. On the other hand, it realises functions which cannot be done without using deep learning.
For instance, facial recognition includes three key parts: face detection, facial features alignment and feature extraction comparison. If deep learning technology was adopted, the performance of each part would be improved dramatically. Using deep learning, the facial expression, gender, age, hair colour, accessories, emotion etc. can all be better recognised.
Schema for Dahua facial recognition technology.
Moreover, the GPU can be used to accelerate the computation of deep learning algorithms. Traditional intelligent analysis is unable to cover a large-scale scene with more than 300 people, not to mention group analysis of moving scenes. Now, based on deep learning technology and GPUs, it can easily deal with 300 targets simultaneously and further estimate the crowd density and identify the movement of the crowd to provide more useful information to security staff.
Dahua made an early start on AI
Dahua Technology made an early start in AI applications compared to other players in the global security industry. In 2009, Dahua established a department to research intelligent algorithms and explore potential applications in security solutions. The department was later merged with other research groups to form the Institute of Advanced Technology, which focuses on advanced technologies such as AI, optics, codecs, ISP etc.
Dahua cooperates with universities in and out of China to advance research on deep learning. As a result, in the beginning of October, 2016, Dahua's face recognition algorithm ranked number one on the public authoritative testing platform LFW, beating Tencent, Google and other top academic and commercial groups around the world. Furthermore, on 7 March, 2017, Dahua and NVIDIA launched the 'Deep Sense' server for smart video structure analysis, accelerating the development of intelligent surveillance at an even higher speed with deep learning.
A GPU powered 'Deep Sense' server can cover 192-channels of HD video. Unlike previous Intelligent Video Analytics (IVA) which can only monitor the key entrances due to cost and capacity limitation, it becomes technically and economically viable to fully monitor the surveillance system of a typical building campus. With a rich set of search criteria, it is much more likely to get a match even without getting a clear facial image of the target.
ANPR (automatic number of plate recognition) by Dahua has improved traffic and parking management for various environments, promoting sustainable urban development. Deep learning is also being applied to the recognition of vehicles and people. Human objects can be classified according to clothing, hair colour, glasses, backpack, gender, age range and even facial expressions.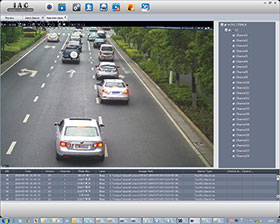 Dahua Vehicle Identification.
Vehicles can be classified by colour, make, model and type on top of licence plate.
Dahua's deep learning video analytics server handles recognition of up to 80 people within 40 ms. Human recognition can be applied in crowded places with a continuous flow of people, such as on escalators, crossroads, business centres and gates of exhibition centres, and its accuracy rate reaches up to 95%. As long as there is enough training done, the recognition rate is only constrained by how big a part of the target is exposed to the camera and their moving speed. Just as if a human operator is watching the video full time.
The system can trace the trail of a target to screen for 'behaviour of interest'. This helps police improve their speed of solving crimes and deter criminals, thereby improving security. For example, if the police want to find a suspect who is a middle-aged man with red umbrella, they can search the key words like 'red umbrella', 'male', '30 to 50 years old' and so on in the system. The AI system can perform a quick search and save a lot of manual work.
Trends for AI technology and application in the global security industry
The development of AI applications will likely face many obstacles and difficulties, but the trends are optimistic. The advance in human object and vehicle recognition has made significant impact to security applications. Voice recognition is likely to be the next driver. Acoustic pattern can be combined with human behaviour patterns or vehicle characteristics to narrow down a search faster and reduce false alarms. Voice can also be a form of data entry or interaction. Hand gesture and body gesture or a combination of these could help the 'machine' understand the context of what is happening.
So, what will the world be like when surveillance meets AI?
For more information contact Zhejiang Dahua Technology Co., +86 571 8768 8883, [email protected], www.dahuasecurity.com.
Credit(s)
Further reading:
Antarctic surveillance
Dahua Technology South Africa CCTV, Surveillance & Remote Monitoring
Dahua Technology donated 15 security cameras to different scientific bases in the Argentine region of Antarctica; the cameras were especially developed to handle the harsh climate and extreme weather conditions in the area.
Read more...
---
31 percent of all IoT SIMs managed with third-party IoT CMPs
News Integrated Solutions
Berg Insight recently released new findings about the market for IoT connectivity management platforms (CMPs), a standard component in the value proposition from mobile operators and IoT MVNOs around the world.
Read more...
---
Deep learning engine set to supercharge end-to-end solutions
CCTV, Surveillance & Remote Monitoring
IDIS, manufacturer of South Korean-made video technology, will be displaying an exciting line-up of end-to-end video solutions that include the latest advances in AI-powered video analytics for businesses of any size, at this year's Intersec.
Read more...
---
Realistic image quality even in dark environments
Dahua Technology South Africa CCTV, Surveillance & Remote Monitoring
The 4K video surveillance market size is expected to grow at 9 percent CAGR (compound annual growth rate), which is primarily driven by the increasing demand for public safety and security services.
Read more...
---
Cloud-based forensic video searching
CCTV, Surveillance & Remote Monitoring
Arcules introduces Forensic Video Search to empower rapid event identification within its video cloud service, providing a critical tool to help businesses identify specific objects or events in seconds.
Read more...
---
Minimising fire risks in automotive logistics
Hikvision South Africa CCTV, Surveillance & Remote Monitoring Products Logistics (Industry)
Automotive logistics company uses thermal imaging solution from Hikvision to ensure its stores of lithium batteries for electric vehicles never overheat and cause a fire.
Read more...
---
Axis launches P3265-LVE dome camera
Axis Communications SA Products CCTV, Surveillance & Remote Monitoring
Based on ARTPEC-8 — the latest Axis system-on-chip (SoC) — Axis' latest dome high-performance camera includes a deep learning processing unit (DLPU), and cybersecurity features.
Read more...
---
Smart car parking solution eases traffic flow
Dahua Technology South Africa CCTV, Surveillance & Remote Monitoring Integrated Solutions Products
Ethiopia's first smart parking lot, designed to improve traffic flow and management efficiency, has been built and installed using Dahua Technology's smart parking solutions.
Read more...
---
VMS 7.2 supports the investigation process and adds cloud capabilities
CCTV, Surveillance & Remote Monitoring Integrated Solutions Products
Qognify has launched the second release of its VMS, including extended support for body-worn video, additional functionalities to support investigations, and a new web client architecture. VMS 7.2 addresses the increasing use of body-worn video (BWV) across many sectors.
Read more...
---
The future of AIoT
Hikvision South Africa News CCTV, Surveillance & Remote Monitoring
Hikvision hosted its 2022 Shaping Intelligence Summit in Bali, Indonesia, on 29-30 November, where the company, its customers, and technology and solution partners, looked into the future of AIoT and explored paths to shared success.
Read more...
---