printer friendly version
The components of city ­surveillance
February 2014
CCTV, Surveillance & Remote Monitoring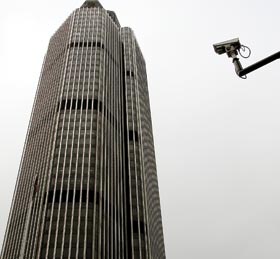 "We're getting used to seeing cameras on the street corners. And depending on who you ask, they either work like a dream or are a miserable failure and a waste of taxpayers' money.
The reality is that city surveillance isn't about cameras. It's about the whole setup, from the control room, the operators, the technology, the software managing the process, the network, the support from response teams – both private and police – and the processes put in place to deal with crime in its many forms."[6.1]
This paper aims to detail some of the aspects to make a CDB surveillance operation work. A chain is only as strong as it weakest link. One aspect could determine the success or failure of the system as a whole.
The people
First and foremost it is the people that make a system work. It is important to involve all the role players from the very onset of the project. List of role players:
The client
This is normally the city authorities in terms of city surveillance but could be anyone picking up the bill. This responsibility could even be shared. This group has established the need but does not necessarily have the technical knowledge or budget to implement the project. The technical expertise is obtained from the consultants, product suppliers, and system integrators.
Authorities
These are the local and national authorities that have an interest in public safety and are normally the police and metro police departments. Their knowledge on crime is indispensable. They should be actively involved in identifying the crime hot spots during the camera positioning planning process. These departments are effectively the teeth of the operation and without them, there would be no deterrent.
Consultants
The consultants provide the client with the most cost-effective solution, tailored to meet the client's requirements. The advantage of having a consultant is that the consulting firm is not tied to any specific brand of product or any specific installer. The consultant has an in depth knowledge of what is required to make the system work and what products are currently available in the market. Although it is advisable to use one brand throughout the system, it sometimes pays to use specific products from more than one supplier to achieve the best results. Particular care should be taken to ensure there are no integration problems or issues with the long-term maintenance contracts or service level agreements.
End-user(s)/system operators
This is the group of people who use the system. Often the Police departments have direct access to the system. Often the end user consists of personnel from different departments.
Although there is software that can do facial recognition, number plate recognition, detect foreign objects, follow objects and detects changes in activity patterns, the team operating are still the key to how effective the system performs. There is still no technology on the horizon that can reliably identify urban incidents; the human mind and eye is unchallenged at the core of this process. With proper psychometric selection, training and development, a control room operator should be able to pre-empt anti-social or crime-related actions.
Suppliers
These supply the necessary hardware and software. They normally have their own installers or a network of accredited installation partners. These specialist companies have in-house designers and system integrators. Whilst the wealth of knowledge on their system and products should be appreciated and expected, due care should however be taken as they may well be biased towards specific products.
IT department
"Everyone involved with surveillance systems will be working with the IT Department more and more. For instance, over 75% of integrators report that they are spending more and more time with IT this year versus last year."[6.2]
It is imperative to constantly liaise with the IT department and get their buy in.
Emergency services
All parties involved benefit from linking the CCTV system/control room to emergency services, such as:
* Local fire department.
* Local medical emergency centres.
* Local law enforcement agencies.
* National law enforcement agencies.
* Rapid response units.
General public
Recent surveys have proven that in most cases there will be some resistance from public groups citing infringement of privacy and civil liberties as the main reason for their objections. It is shown that these concerns are reduced post installation.[6.3]
"The proportion of respondents happy or very happy about having cameras in their area declined in nine areas following their installation; in five of these the reduction was statistically significant. However, the level of support of CCTV remained high at over 70% of the sample in all but one area."[6.3]
The process
Implementation: The process should follow the six stages of a project as set out by the Engineering Council of South-Africa and published in the Government Gazette[6.4]. The stages are as follows but would not be discussed in this paper.
Operational processes: The process flow for each scenario should be set up in consultation with all the relevant parties to ensure reaction time is kept to a minimum. These processes are not cast in stone and incremental improvements should continuously be made. Revisions will be required as the system changes, department changes and crime pattern changes.
The technology
Cameras
Important factors to consider when selecting cameras include:
* The purpose or aim of that specific camera. Each type of camera has it strengths and weaknesses and each camera has to be handpicked to ensure the best performance for the least amount of money.
* Environmental factors (heat, humidity, indoor or outdoor). Special care should be taken to ensure the cameras operate optimally and continue to do so over time. Especially for outdoor use the enclosure forms a critical link in the chain. Special care should be given to IP cameras as they are sensitive to heat and humidity.
* Light conditions. Determine the light conditions at each camera position. Determine if footage is required at nighttime or twilight. Determine the quality of footage required at those times. Consider all artificial light sources like street lighting. Additional lights or infrared (IR) lights might be required. Specialised cameras are available but come at a premium, thus the client/end user requirements should be clearly defined.
* Does the camera need to be discreet or visible. This is an important factor. Do you want the public to see the camera? It is sometimes useful to have some visible cameras to act as a deterrent for perpetrators and boost the confidence of the general public. Some schemes even employ dummy cameras that are essentially only the enclosure. In addition to being a deterrent they also draw attention away from the hidden 'invisible' or 'candid camera' types.
* Risk of vandalism. Most camera ranges offer a vandal resistant enclosure to be used where there is risk of vandalism.
* Mounting position. Careful consideration should be given to the mounting position. For city surveillance most of the cameras would be fixed to the outside of buildings or street light poles. Generally, mounting height is between three and five metres. The viewing angle should be pre determined. Limited adjustments are possible after the camera is mounted. Although the necessary care and planning goes into the mounting position it is sometimes required to move a camera to a new position due to some unforeseen factor or change in operation. It is worth the cost of moving a camera to obtain the best images.
* Price and value for money. With all the options available the benefits of employing a more advanced camera should be carefully weighed against the additional cost.
General types of cameras
There are many different types of indoor and outdoor cameras available. These include:
* Fixed dome cameras.
* PTZ dome cameras.
* Fixed box cameras.
* Wide dynamic range cameras.
* Day night cameras.
* Innovative technology, such as the Panomera range by Dallmeier.
Network
One of the major challenges for an IP-based video surveillance system for city surveillance is the network. A local area network (LAN) is usually not suitable as the covered area can be very large and it may well prove too expensive to lay cables. The following solutions may be considered:
* Fibre-optic network: A fibre-optic network can be used if a wired network is considered for a city surveillance application. It is a technically good and robust solution with high capacity bandwidth. The project time for laying a fibre optic network is generally long because the fibre optic cable is usually laid underground. It may be time-consuming to get all the permissions from different city authorities. The ideal situation is if the network already exists. This solution may be used in mid- or large-sized city surveillance applications.
* Wireless solution: It is easier to get permission to set up a wireless network solution and the installation work is minor. This means that it offers a way to cost-efficiently and quickly deploy cameras over a large area, especially in city surveillance applications. Another advantage of wireless networks is mobility. The benefit is particularly useful for camera installations in vehicles like buses or emergency vehicles.
However, support from the wireless solution partner is crucial. Bandwidth could be an issue to the applications. In a city surveillance application with hundreds of cameras, a mesh or a point-to-multipoint wireless network can be the appropriate solution. This is recommended for small and mid-size city surveillance applications.
* Fibre optic backbone + wireless mesh network: The advantages with the combination is high capacity bandwidth with flexibility and scalability. This is recommended for mid- and large-sized city surveillance applications.
* GSM/GPRS/3G based for mobile viewing of video images. This is regarded as an alternative and should not be used as the basic network.
The trend in system design is to decentralise. In a decentralised system, each camera has its own processor, storage and encoder. The advantage of this is that information is transmitted faster and provides additional redundancy.
Control room
The central control room is the most important element of the urban surveillance system. The control room environment is a restricted space, which should be run with military precision and discipline. If done properly, the operators are not distracted by sounds or telephones and they can focus on their task. Apart from specific screening tests, various methods have been developed to enhance the operator's ability to concentrate. As control room staff has to work in shifts, a large number of people needs to be screened, selected and trained.
The most spectacular successes of urban surveillance are specifically those incidents which have been identified before it actually commenced. To have a reaction vehicle arriving on a scene and apprehending the wrongdoers red-handed makes for very good publicity.
Server
The server normally forms part of the control room. The requirement for this is no different than for any other server. The following should be included in the design:
* Environmental control and management.
* HVAC to equipment and environmental heat loads.
* Generator backup to redundancy requirements.
* UPS backup systems in hybrid configuration to redundancy levels.
* Surge protection.
* Power distribution network.
* Fire detection and protection.
* Access control and security.
* Occupational health and safety aspects.
* Aesthetics.
* Operational requirements for optimised work comfort and efficiency.
Video writing and reading is an intensive process and this should be kept in mind when selecting the hard drives for backup. The storage capacity is affected by the:
* Number of cameras in the system.
* The amount of time each camera records.
* The image quality.
* The duration the backups are needed for.
* Encoding and compression ratio.
Software
The software is the key to process the vast amount of visual information gathered by the network of cameras. Many software packages have advanced features like:
* Facial recognition.
* Number plate recognition.
* Event bookmarking.
* Object or people tracking.
* Analysing patterns.
* Counting.
* Foreign object recognition.
It is important that the software is user-friendly and that the system is set up to take advantage of the array of advanced features. The software is as much a part of the system as the hardware.
Conclusion
Although the findings of surveys done have very diverse results when it comes to reducing crime, the general consensus is that surveillance does deter crime and vandalism and makes for a healthy environment.
Surveys show that CCTV is more effective in deterring certain types of crime like vehicle, theft, vandalism and terrorism than petty crimes. More often than not, the crimes captured on CCTV are compulsive crimes whereas the rates of pre emptive crimes are reduced after the installation of a CCTV system. Many communities around the world are benefiting from a well designed surveillance system.
The system should operate proactively, rather than reactively. The benefits to having city surveillance include:
* Improving the city image in order to attract tourists and investment.
* Improved confidence.
* Reduced crime rates.
The best results are achieved when the surveillance systems0s are combined with other crime-reducing strategies. Communication and information sharing is key.
References
6.1) Hi-Tech Security Solutions ®
6.2) http://www.infinova.com/download/whitepaper/WorkingwithIT.pdf
6.3)Home Office Research Study 292 Assessing the impact of CCTV: https://www.cctvusergroup.com/downloads/file/Martin%20gill.pdf
6.4) Board Notice 117 of 2013: ECSA: Guidline of Services and Processes …
For more information contact DFR Engineers, +27 (0)12 546 7574, www.dfreng.co.za
Further reading:
Mitigating the human risk
Issue 5 2020, Managed Integrity Evaluation, Technews Publishing, iFacts , CCTV, Surveillance & Remote Monitoring
Hi-Tech Security Solutions asked Jennifer Barkhuizen and Jenny Reid for some information around background screening and vetting of potential new hires.
Read more...
---
Teaching old cameras new tricks
Residential Estate Security Handbook 2020, Deep Data , CCTV, Surveillance & Remote Monitoring
Dr Jasper Horrell and Mark Smuts from DeepAlert reveal how estates can upgrade their existing surveillance infrastructure to include the latest AI-enhanced analytics, without buying new hardware.
Read more...
---
Thermal continues to evolve
Residential Estate Security Handbook 2020, Technews Publishing, Axis Communications SA, Bosch Building Technologies, Dahua Technology South Africa , CCTV, Surveillance & Remote Monitoring
Thermal cameras have made an enormous impact to perimeter security, with more to come as artificial intelligence enhances analytics.
Read more...
---
Automated estate protection
Residential Estate Security Handbook 2020, Axis Communications SA , CCTV, Surveillance & Remote Monitoring
Marlenique Estate makes use of an end-to-end Axis Communications solution, installed by Energize Technology Africa for automated security. Automated estate protection.
Read more...
---
Integrated security management system
Residential Estate Security Handbook 2020, Protoclea Advanced Image Engineering , Products, CCTV, Surveillance & Remote Monitoring, Integrated Solutions
Phorcas is a security information system developed by Protoclea designed to integrate multiple sub-systems into a powerful crime fighting solution.
Read more...
---
Serverless ANPR solution
Residential Estate Security Handbook 2020, XtraVision , CCTV, Surveillance & Remote Monitoring, Products
Serverless ANPR automatically controls the movement of up to 1000 listed cars through barriers and provides carpark management information.
Read more...
---
Bosch launches a fully open camera platform
Residential Estate Security Handbook 2020, Bosch Building Technologies , Products, CCTV, Surveillance & Remote Monitoring
Bosch has announced the launch of INTEOX, a new camera platform designed to modernise the security and safety industry.
Read more...
---
IP 3000i cameras with built-in analytics
Residential Estate Security Handbook 2020, Bosch Building Technologies , Products, CCTV, Surveillance & Remote Monitoring
Bosch IP 3000i cameras extend smart video surveillance to general security applications.
Read more...
---
Arteco Video Event Management Software
Residential Estate Security Handbook 2020, XtraVision , Products, CCTV, Surveillance & Remote Monitoring
Arteco views video analytics as an enhancement to the video security experience and not as a costly addition or complication to standard video management.
Read more...
---
Vehicle and driver identification
Residential Estate Security Handbook 2020, Protoclea Advanced Image Engineering , Products, CCTV, Surveillance & Remote Monitoring, Perimeter Security, Alarms & Intruder Detection
Detecta features vehicle identification (make and model), automated number plate recognition (ANPR), vehicle colour recognition, driver identification, high speed and free flow detection.
Read more...
---