printer friendly version
The role of humans in CBD and city surveillance
February 2014
CCTV, Surveillance & Remote Monitoring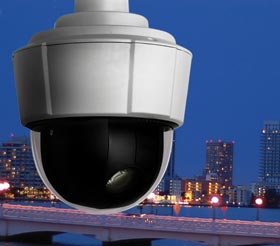 The recent footage aired on national TV and Facebook, on the hijacking in the Johannesburg CBD, highlighted the calculated and emotionally detached way in which car thieves approach the hijacking process. What it also highlighted was the role that CCTV surveillance plays in capturing evidence that can possibly be used to track down the criminals, and hopefully apprehend and prosecute them.
That being said, what happens behind the surveillance scenes is just as important as the technology itself. Hi-Tech Security Solutions asked how the human element plays an active role in ensuring that the correct footage is captured and the appropriate action is taken.
Safe City Msunduzi in Pietermaritzburg, an entity of and totally funded by the Msunduzi Municipality, continues to stand testament to the ultimate success of an inner city surveillance project that goes to work for its citizens and business people. Headed by Lucas Holtzhausen, this project has driven crime down significantly and continues to deter even the wiliest criminals from trying to perpetrate crimes within its boundaries.
"We believe that control room staff need excellent observational skills, the ability to concentrate for long periods of time, good communication skills, computer literacy, the ability to analyse situations quickly and correctly, the ability to control their emotions (acting calmly under pressure) and an inherent belief in their instincts," said Holtzhausen.
Craig Donald, director of Leaderware agreed, adding that control room operators should be competent in conflict management, given the various personalities as well as the situations that they participate in on a regular basis.
Warren Myers, CEO of Myertal Tactical Security, said that on a more practical level, control room employees should be subjected to criminal record checks, undergo aptitude tests and a polygraph test. "Good control room operators are created through ongoing training, solid management structures and incentive programmes."
Technical expertise
Holtzhausen said that Safe City Msunduzi used to contract out its maintenance element but has now moved that function in-house. "This means that we have had to employ more technical people who have an intimate understanding of CCTV technology, with an associated IT and networking capability and knowledge. We have also determined that technicians should be able to work effectively and without interruption under even the most adverse weather conditions, since criminals do not only make an appearance in mild and sunny weather. In addition, technicians need to be team players, be able to learn quickly and have experience in wireless communication technology."
Myers said that 90% of problems related to the surveillance systems are power or network related. "Therefore, the technical team needs to understand these issues and at the same time be able to develop and nurture relationships with other stakeholders to ensure the effective functioning and adoption of the system. They are required to have skills related to managing the system from the control room video software perspective as well as from an internal network and reporting software perspective."
Donald rates an understanding of the social and geographic environment, where a system is being installed, as critical to the installation's success. "Without an intimate knowledge of the best positions for cameras in terms of uninterrupted viewing, there will be constant issues with the footage acquired. In addition, technical staff need to be tough and durable, in a similar way that the CCTV equipment needs to be, as they are often out in all hours or weather conditions and difficult physical circumstances."
One of the most important elements in the ongoing sustainability of a CBD surveillance system is the ability to attain and maintain a healthy and cooperative working relationship with other stakeholders such as community policing forums, the SAPS, armed response companies as well as local residents and business owners.
"The appointed surveillance team liaison person or people should be very diplomatic and have good marketing and selling skills. In addition, they need to have a teambuilding orientation and be able to draw others into the framework for a successful outcome. Finally, they should be organised, with ready access to the required data and statistics," said Donald.
Holtzhausen added that an adaptability to the various educational levels encountered is an asset and liaison personnel should have the ability to listen to others and comprehend their intent. Good presentation skills are also advantageous.
By developing the skills required for the various team members, the control room and CBD surveillance environment often provides personal development for these personnel. "Most of the people employed in the control room greatly improve their IT skills as a result of their daily duties. This allows personnel with base level skill sets to become more proficient in both IT and networking disciplines," said Myers.
"We have seen that the skills and knowledge acquired by our control room operators has armed them with the capabilities and confidence to become supervisors and even managers in the control room," added Holtzhausen.
"The skills developed in the control room environment often equips these employees for positions in community organisations, city risk management and the SAPS," said Donald.
"We look for certain character traits in a control room operator, primary of which are patience, the ability to look at screens for extended periods of time and skills of observation. The technical employees should be able to think outside the box and obviously have technical acumen," said Holtzhausen.
"Perseverance and a passion to learn, accompanied by the willingness to work long and sometimes extended hours, are other attributes that one should look for in city surveillance control room personnel," said Donald.
Standard operational procedures
After employment, training needs to be undertaken to bring employees up to speed with individual standard operational procedures. "All our employees are registered with PSIRA to ensure that they have the appropriate qualifications and we then bring Craig Donald in to train them on human behaviour. We comply with ISO 9001 certification in the control room and have our own in-house auditor who ensures that we follow the correct procedures in terms of filming footage and taking statements, for example. We also utilise the services of a local psychologist who designs customised courses where we have a specific need. The technical employees receive training on the technology with the suppliers of the products," said Holtzhausen.
Myers said that control room operators receive bi-weekly training without exception. "Even if the site-specific information has not changed, we will then revise existing standard operating procedures (SOP) documents to reinforce their knowledge. We offer incentive bonuses to control room operators in cases where an incident has been properly and satisfactorily dealt with."
Donald said that the training he provides includes incident recognition, body language and pre-emptive recognition of events before they occur. "On-job training occurs when operators assist each other with information such as common hotspots and getaway routes."
Teamwork
"A fast reaction time is critical and allied to this is the ability to ascertain what categorisation events should receive. Without good liaison between city management, the SAPS and the control room, frustration levels will be high," said Donald.
"Firstly, one needs to have available a crime analysis of the area under surveillance; know the capabilities and skills of each surveillance team member; and have detailed crime statistics to hand from the SAPS. Ideally, the SAPS should have a constant presence in the control room. This allows the surveillance team to highlight events and potential events while the SAPS officer is able to determine the best course of action to follow from a criminal procedure perspective. This will provide a rapid response to criminal events before they are able to escalate," Holtzhausen pointed out.
"We have determined that response in under five minutes is considered the required average. The SAPS member in the control room can also assist control room personnel in completing the necessary forms for prosecutory purposes, to ensure legal compliance. It is also much easier to ensure that the chain of evidence for video footage is not compromised by issuing it directly to the SAPS officer in the control room."
"There are many advantages to maintaining a healthy relationship between the control room and the SAPS. Providing information on hotspots allows the SAPS to respond to high risk or priority areas with the assurance that they have a substantial amount of data available on the type of crime, the number of perpetrators, where they are situated, if and how they are armed, etc. By maintaining open communication during deployment of the officers, the control room is able to provide real-time updates on the event and what risks there are at any specific moment," Holtzhausen continued.
"After the fact, the footage acquired allows the SAPS to implement criminal charges by providing proper identification of perpetrators and provides a database for analysis of trends. In turn, the SAPS is able to acquire statements from victims and provide proof that the footage has not been tampered with and is therefore beyond reproach, to ensure that it is admissible as evidence in court.
"In addition, this ongoing presence should be supplemented with regular scheduled meetings between all the stakeholders to discuss trends and to plan operations. Police radios placed in control rooms will assist in providing feedback to and from the control room operators.
"We believe that grime causes crime, so it is important to ensure that littering and disorganised trading is kept to an absolute minimum. The best scenario is to liaise closely with city management to try and remove any illegal traders from the streets. Licence plate recognition cameras allow one to not only monitor vehicles that have been stolen or used in previous crimes, but the knock-on effect is that Safe City Msunduzi has managed to help the City recover R5 million in outstanding traffic fines," said Holtzhausen.
"In our own instance, we have set up a dedicated courtroom in the Pietermaritzburg Courthouse that deals with all our cases. We provided the necessary equipment for viewing footage, which allows the prosecutory process to be substantially speeded up. From our side we ensure that the prosecution team receives the necessary dockets and reports, in compliance with the necessary specs, to guarantee that cases are not thrown out of court.
"Buy-in from the public is also important and we run regular drives to encourage them, via SMS, Twitter or Facebook, to report crimes," he said.
In conclusion
In order to ensure that the stakeholder relationships are mutually beneficial, it is important to have a standard operating procedure document and service level agreement in place. "The operators need to understand what the SAPS and armed response teams need at that particular moment, when an incident is identified. Equipment also needs to be maintained and used properly," Myers explained.
Control room employees need to feel safe in their environment. "Shift work can be tiring so a support structure is important. This includes organising shifts around available transport schedules. In addition, trauma debriefing should be provided when serious incidents occur," said Donald.
"The health of our control room employees is a pressing factor as we employ a large number of disabled people whose resistance to illness is lower. We have a comprehensive medical aid membership for all our staff so that they can be treated quickly and competently," Holtzhausen commented.
"We also address the psychological wellbeing of employees as they often witness terrible events such as physical attacks and vehicle accidents. We have a formal agreement with Lifeline whereby we send our staff to them for counselling. If deemed necessary, they are then referred onto a specialist for further counselling or medication. The physical and emotional wellbeing of control room operators is critical to the success of any CBD/city surveillance project and should not be overlooked," he concluded.
Credit(s)
Further reading:
Leaders in risk and security: As long as there are people, there will be risk
Issue 5 2020, iFacts, Technews Publishing , Editor's Choice
Jenny Reid is a self-made success, focusing on people, the risks they create and the potential they have.
Read more...
---
Mitigating the human risk
Issue 5 2020, Managed Integrity Evaluation, Technews Publishing, iFacts , CCTV, Surveillance & Remote Monitoring
Hi-Tech Security Solutions asked Jennifer Barkhuizen and Jenny Reid for some information around background screening and vetting of potential new hires.
Read more...
---
XProtect available on AWS
Issue 5 2020, Milestone Systems, Technews Publishing , Editor's Choice
Milestone recently announced the availability of XProtect on Amazon Web Services. Hi-Tech Security Solutions asked Keven Marier for more information.
Read more...
---
Adjusting to a new reality
Issue 5 2020, Technews Publishing , Integrated Solutions
COVID-19 to accelerate adoption of technology-enabled smart city resilience approaches: robotics, digital twins, and autonomous freight.
Read more...
---
From the editor's desk: We're back!
Issue 5 2020, Technews Publishing , News
Welcome to the fifth issue of 2020. If years were people, 2020 would have been hung, drawn and quartered...
Read more...
---
From the editor's desk: Sustaining security and sanity
Residential Estate Security Handbook 2020, Technews Publishing , News
Sustainability is a critical component of almost anything in these days of a tanking economy, boosted by COVID-19, which is given further emphasis by the economy being further hammered by the 'cure' for ...
Read more...
---
The COVID test for estate business continuity planning
Residential Estate Security Handbook 2020, Technews Publishing , Editor's Choice
Many estates were caught unaware when the COVID-19 pandemic and subsequent lockdown hit. Helderberg Village was ready for the challenge.
Read more...
---
Teaching old cameras new tricks
Residential Estate Security Handbook 2020, Deep Data , CCTV, Surveillance & Remote Monitoring
Dr Jasper Horrell and Mark Smuts from DeepAlert reveal how estates can upgrade their existing surveillance infrastructure to include the latest AI-enhanced analytics, without buying new hardware.
Read more...
---
More efficient guarding through the effective use of technology
Residential Estate Security Handbook 2020, Technews Publishing, OnGuard, Stallion Security, Active Track , Security Services & Risk Management
Technology in its many forms can be used to optimise the efficiency and performance of on-site guarding.
Read more...
---
Focus on touchless biometrics
Residential Estate Security Handbook 2020, Hikvision South Africa, Saflec, IDEMIA , Suprema, Technews Publishing , Access Control & Identity Management
The coronavirus has made touchless biometrics an important consideration for access control installations in estates and for industries globally.
Read more...
---