printer friendly version
Never too old to learn
May 2017
News
In this issue of Hi-Tech Security Solutions we look at employee verification, but go a bit further into what employers are doing these days when it comes to making employment decisions. One thing that is fast becoming standard is social media vetting.
In the article on employee verification, readers will gain a little insight into what real social media vetting is about. I was surprised when the company mentioned (Farosian, which partners with iFacts) did a profile on me. With scant information about me, I received a report of over 20 pages.
The results show I'm a low-risk hire so let the offers roll in. Or it could mean that I'm just good at hiding the facts. . . What the report showed me was how open and transparent all social media sites are. My exposure to the physical and virtual security worlds have left me a touch paranoid so my profiles are reasonably secure, without being inaccessible. What that really means is that they are not secure at all.
It doesn't matter how secure you think you have made your social media, if you're linking and interacting with other people, you're an open book if someone has the know-how and wants to discover who you really are – according to Facebook, Twitter and all the other sites. A proper vetting process is much more than a Google search and delivers much more too.
Another vetting process is behavioural vetting which determines the kind of person you are and whether you would fit into a particular job and culture. In itself, behavioural analysis is nothing new, but the company responsible, PDA-Africa, has a process that is so simple and fast you wonder what they would be able to find out about you. Again, there's a surprise in store when you receive the report. In my experience it was unnervingly accurate. You can even get an automated voice to talk you through the results.
So no matter how right you think you are, expressing an opinion on social media could be the worst thing you do as it can come back to haunt you years later – free speech be damned.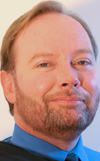 On a more security-related note, this issue once again sees our annual 'Securex Preview'. We have a bunch of pages with snippets from many of the exhibitors, telling you what you can expect from them at the show. As is always the case, there is too much information and too few pages so we couldn't include everyone and everything in the preview.
Nevertheless, we hope you enjoy the preview and the magazine as a whole, and for those attending Securex, we hope you enjoy the show. For those exhibiting or speaking at the event, Hi-Tech Security Solutions wishes you all the best. Be sure to stop by our stand!
Andrew Seldon
Editor
Credit(s)
Further reading:
Leaders in risk and security: As long as there are people, there will be risk
Issue 5 2020, iFacts, Technews Publishing , Editor's Choice
Jenny Reid is a self-made success, focusing on people, the risks they create and the potential they have.
Read more...
---
Mitigating the human risk
Issue 5 2020, Managed Integrity Evaluation, Technews Publishing, iFacts , CCTV, Surveillance & Remote Monitoring
Hi-Tech Security Solutions asked Jennifer Barkhuizen and Jenny Reid for some information around background screening and vetting of potential new hires.
Read more...
---
SABRIC annual crime stats 2019
Issue 5 2020 , News
SABRIC, the South African Banking Risk Information Centre, has released its annual crime stats for 2019
Read more...
---
XProtect available on AWS
Issue 5 2020, Milestone Systems, Technews Publishing , Editor's Choice
Milestone recently announced the availability of XProtect on Amazon Web Services. Hi-Tech Security Solutions asked Keven Marier for more information.
Read more...
---
Adjusting to a new reality
Issue 5 2020, Technews Publishing , Integrated Solutions
COVID-19 to accelerate adoption of technology-enabled smart city resilience approaches: robotics, digital twins, and autonomous freight.
Read more...
---
From the editor's desk: We're back!
Issue 5 2020, Technews Publishing , News
Welcome to the fifth issue of 2020. If years were people, 2020 would have been hung, drawn and quartered...
Read more...
---
XtraVision moves to new premises
Issue 5 2020, XtraVision , News
Hot on the heels of the company changing hands, XtraVision, a distributor of electronic security and fire solutions in Africa and South America, has relocated.
Read more...
---
20 years of innovation in security and biometrics
Issue 5 2020, Suprema , News
Founded in 2000, Suprema has built a sales network in over 140 countries and has over 1 billion users.
Read more...
---
Fidelity ADT and Vumacam join forces
Issue 5 2020, Fidelity ADT , News
Fidelity-ADT recently partnered with Vumacam to roll out a surveillance network of cameras across a number of southern suburbs in Johannesburg.
Read more...
---
Dahua launches ECO Partner Programme
Issue 5 2020, Dahua Technology South Africa , News
Dahua Technology has launched its new technology partner programme, the Dahua ECO Partner Programme.
Read more...
---