printer friendly version
Detection in all situations
February 2014
Perimeter Security, Alarms & Intruder Detection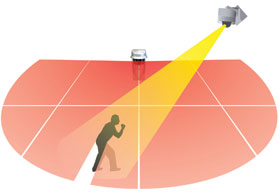 Citing the country's crime statistics for the period 2012/2013, which were released in September 2013 by Police Minister Nathi Mthethwa, Ingo Mutinelli, sales director for Elvey Security Technologies says the fact that robberies at residential premises had increased by almost 70% in the last nine years was serious cause for concern.
On the rise in South Africa, house robberies are classified in the serious and violent crime category by police, who reported 17 950 incidents during 2012/2013 – up 1184 on attacks in the previous year. Not far behind were business robberies, which increased year-on-year by 2,7% to 16 377 incidents, 345% higher than in 2004/2005.
In light of this, Elvey Security Technologies has no hesitation in recommending the use of cutting-edge technology such as Optex's outdoor detectors.
Existing architecture and legacy design can make it impossible to retrofit the latest in multi-level security systems. Bearing in mind that there are three levels of physical security, namely the outer and inner perimeters, and the building interior, the ideal would be to have two or three different forms of protection, but this is not always financially or practically possible. Which is where Optex's range of outdoor detectors has a role to play in terms of preventing theft and deterring trespassers.
Products from Optex's BX, AX, VXI, VX, FIT and HX ranges are regularly chosen by installers for use in a host of commercial and industrial applications, he adds, owing to their flexibility, mobility and reliability, even in the toughest weather conditions.
Characterised by a combination of unique detection area design, on-board technology and the ability to conduct accurate site activity analysis, these detectors are easily integrated into existing systems. Below, says Mutinelli, are some examples of how Optex products are used.
Protecting buildings
Scrap, lead, copper and electronics, also highly sought-after by thieves, are being successfully protected by Optex detectors around the world. These, in conjunction with features such as recorded voice warnings, scare off the criminally intentioned, effectively preventing not only theft but the inevitable damage to premises that occurs during break-ins.
Protecting a zoo
Desperate to curb the theft of rare and valuable animals, a zoo in the United Kingdom is relying on Optex to safeguard its prized residents. According to Mutinelli, a combination of detectors strategically placed in cages and pens as well as on pathways and at the entrances and exits of enclosures, has ensured peace of mind for the owners and keepers.
Protecting a church
A church in London had been targeted by metal thieves in the past, removing lead coverings, says Mutinelli. The remote and rural location of the church, its size and limited budget meant that a cabled security system was prohibitive. As the system would be remotely monitored and responded to by key holders, nuisance alarms had to be kept to a minimum while insuring a high catch performance in case of intrusion. Optex recommended a cost effective solution to provide a high performance, stable outdoor detection system. After taking into consideration the expectation, budget and cabling restrictions, a wireless solution was chosen and opted to include a number of Optex outdoor wireless PIR sensors, namely the VX-402.
Protecting a car dealership
In a separate incident, Wilson & Co, located in the United Kingdom has two car showrooms – one in Scunthorpe, where a catalytic converter and some other parts were stolen despite an operational remotely monitored CCTV system, and one in Grimsby, where there had been a number of break-ins although a guard was present. The dealer principal wanted to protect both showrooms from intrusion by unauthorised personnel accessing the site out of hours but the system also had to be immune to the false alarms normally associated with swaying vegetation and flags. The solution was the installation of wireless outdoor detectors, including 20 x wide area detectors in the form of the VX402, five building perimeter detectors (BX80) and 14 x 30 m and 60 m active beams (AX range) to cover the sites after hours. When any of the beams are triggered the system sends an alarm to the control room.
Protecting a private residence
A large English private VIP residence comprised of a variety of different perimeters including fences, bushes and walls with large areas of vegetation and pets roaming around freely. The homeowner sought to protect his property from intrusion using a discreet early-warning detection technology linked to a networked CCTV system. The system had to provide 100% ground coverage in a precise detection pattern and be immune to false activations by the homeowner's pets and vegetation. Other solutions were deemed unsuitable for the task: it was difficult to set the detection areas of a PIR or a microwave detector precisely enough; video analysis is expensive and could be affected by environmental conditions, such as light and shadows; and a buried cable sensor would have been costly and disruptive to install. The solution was to install 17 Optex Redscan units because they were easy and quick to install and possible to set up a precise detection area easily, which would not be affected by the type of the boundary or the environment with very low false alarms.
In conclusion, says Mutinelli, "Business owners don't have to pack up for greener pastures to beat crime, nor do they have to close up shop in the face of low morale and declining productivity, which is so often the result of crime, they can create a safe working environment for themselves, their staff and their clients, through the use of internationally acclaimed, cost-effective detection technology."
For more information contact Elvey Security Technologies, +27 (0)11 401 6700, priyesh.jagjivan@elvey.co.za, www.elvey.co.za
Credit(s)
Further reading:
Visitor access control at Ruimsig Country Club
September 2019, Elvey Security Technologies , Access Control & Identity Management, Products
Cost-effective access control solution that would control the ingress and egress of people, without hindering the traffic throughput of members.
Read more...
---
Securing Savannah Hills Estate
August 2019, Rhyco Risk Projects , CCTV, Surveillance & Remote Monitoring, Perimeter Security, Alarms & Intruder Detection
Savannah Hills Estate in Midrand planned a security upgrade which was awarded to Rhyco Risk Projects. The project started in March 2019 and was completed in May 2019.
Read more...
---
Multiple methods for motion detection
August 2019, Axis Communications SA , Perimeter Security, Alarms & Intruder Detection
There are strengths and weaknesses with all motion detection solutions, and their effectiveness will be dictated by the environment and the components they are being used with.
Read more...
---
Ensuring your electric fence is compliant
August 2019, Stafix , Perimeter Security, Alarms & Intruder Detection, Security Services & Risk Management
A challenge facing both existing and potentially new perimeter electric fence installations is how to economically meet the legal requirements required in the SANS 10222-3:2016 standards document.
Read more...
---
End-to-end security solutions for residential estates
August 2019, Elvey Security Technologies , Integrated Solutions, Residential Estate (Industry), Products
While there are a multitude of security options available for residential estate body corporates, unfortunately the solutions are not always able to integrate seamlessly, resulting in a hotchpotch of disparate systems.
Read more...
---
From fog to foxes
August 2019, Axis Communications SA , Perimeter Security, Alarms & Intruder Detection, CCTV, Surveillance & Remote Monitoring, Integrated Solutions
What makes radar devices so valuable is the fact that they can provide a high range of accurate data while barely relying on external factors, such as weather or light.
Read more...
---
AI-based malware detection
August 2019 , Perimeter Security, Alarms & Intruder Detection, Cyber Security
Check Point Software introduces Malware DNA, a new artificial intelligence-based malware detection engine to accelerate zero-day threat prevention.
Read more...
---
RDC's IceCube Video
August 2019, Radio Data Communications , Perimeter Security, Alarms & Intruder Detection
IceCube Video gives the benefit of adding CCTV cameras to the system with control and monitoring integrated in the same app.
Read more...
---
Manage exceptions only
July 2019, Secutel Technologies , Perimeter Security, Alarms & Intruder Detection, Products
Secutel Technologies brings intelligence to all cameras with its locally designed, manufactured and marketed SecuVue Cloud Video Recorder (CVR), turning cameras into intelligent sources of information.
Read more...
---
GSM IceCube Gateway
July 2019, Radio Data Communications , Perimeter Security, Alarms & Intruder Detection
The GSM IceCube Gateway unit is a new generation, multi-directional interactive gateway module which replaces the traditional radio, and is a key component to generating future revenue for security companies.
Read more...
---