printer friendly version
Wireless jamming investigated
February 2014
Perimeter Security, Alarms & Intruder Detection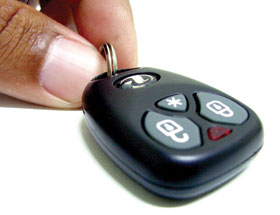 While switching to wireless security systems, such as alarms and intruder products, seems to be the popular choice these days, it seems criminals also approve of this option. Jamming wireless security devices is not only possible, but is becoming a favourite among the criminal element looking for an easy score without annoying interruptions.
Late in 2013, SAIDSA (South African Intruder Detection Services Association) released a Technical Bulletin warning members about potential wireless jamming issues in wireless alarms being installed in South Africa. The bulletin warned against using the 433 MHz wireless spectrum, which is widely used in numerous products and industries worldwide, and advised that installers preferably make use of systems using the 868 MHz frequency.
The association also advised using a combination of wired and wireless systems in each installation and that no more than 50% of the area at risk be protected by wireless products. SAIDSA also advised installers to advise their customers of the risks inherent in wireless systems.
Although Hi-Tech Security Solutions was unable to confirm the motivation behind this bulletin, we hear it was as a result of a homeowner installing a wireless alarm system which was jammed when criminals attacked his residence. Whether this is true or not, the issue of wireless security, especially alarms and intruder devices is one that should be addressed.
While wireless jamming devices are illegal in South Africa, the devices are easily available from unethical international sellers over the Internet – assuming you can get them past Customs, which apparently isn't too hard.
Hi-Tech Security Solutions spoke to some experts to find out more about this crime scourge.
Jamming realities
Bob Lafite and Clinton Lemmer from VixNet are both involved in the wireless security market and are well aware of the dangers of wireless jamming. The reality is that jamming a wireless signal is simple. Lafite showed us a jammer, a small box that can easily be held in one's hand. After switching it on, our cellphones lost their signal within a few seconds and only recovered it when the jammer was switched off.
He noted that this jammer had a range of about 50 metres, while there are other larger ones that can kill wireless signals over kilometres. (Since VixNet is involved in the wireless market, it has permission from ICASA to have the jamming device. Without this permission it would be illegal to possess it.)
The simplest example of wireless jamming can be seen in the recent trend of jamming the remote locking of cars. When a person leaves their car in a mall parking lot, for example, criminals activate their jammers which prevents the person's remote signal from reaching their car and locking the doors. As the individual walks away, thinking their car is locked, the thieves have easy access.
The same principle applies to alarms in homes or businesses. Criminals activate a jammer and the signal from the alarm is unable to reach a receiver and set off the alarm or raise an alert at a security company. This leaves the criminals free to break in without the danger of armed response or the police turning up.
Lemmer adds that jamming is a simple process. It does not actually jam a device, it simply creates so much noise on the frequency (or frequencies) that no signals can get through. He warns that any frequency can be jammed like this, it is not only at 433 MHz. The reason most people refer to 433 MHz is that it is commonly used for wireless signals in everything from security products through to baby monitors and model cars and more – because it is licence free.
As a provider of wireless connectivity for security purposes (see Local company rolls out ­proprietary wireless network at www.securitysa.com/47181n), VixNet is actively working to prevent criminals from jamming its signals. Lafite says the company uses direct-sequence spread spectrum (DSSS) technology which uses a set of frequencies that its products are programmed to follow (some companies also use frequency hopping). This makes jamming harder.
Because VixNet licenses its own frequencies outside of the norm and has significant bandwidth available to its customers, it would cost potential thieves millions to buy a jamming device able to stop its signals. In addition, VixNet uses bidirectional communications which would automatically detect a loss of signal and raise the alarm.
So, while jamming is a problem the security industry needs to take note of, it is not an unbeatable problem for installers who know their technology.
Wired and wireless
Giles Calenborne and Matt De Araujo from IDS agree with the above comments. They add that all security products have weaknesses which can be exploited; and they confirm that any frequency can be jammed.
This does not mean that wireless products should be avoided. Calenborne says the security market knows of these weaknesses and is responsible for properly advising clients and designing and installing the appropriate solutions. In this case, the appropriate solution is to avoid having only one solution based only on wireless technology.
Every security solution should be made up of layers, such as an electric fence, external beams, internal beams and so on. Combining wired and wireless technologies is the best option because if one is compromised, the other can still function.
De Araujo notes that even with a wireless only solution, criminals need to know which system has been installed and which frequency it runs on if they are to be able to jam it effectively. This is why 433 MHz is potentially more dangerous as it is a good guess globally if you want to jam mobile devices running on this popular frequency. He also advocates frequency hopping as an additional security mechanism to protect wireless installations.
Of course, bidirectional communications (which SAIDSA also recommends), or two-way handshaking between control panels and devices is a good option to avoid jamming. If the panel doesn't receive a response or a communication from a device for a specific time, it can raise the alarm. Alternatively, some receivers can be set up to listen for noise on their designated frequency and raise an alarm if detected for a specific period.
What the market needs to have is cool heads able to assess the situation and explain it to customers, says Calenborne. If you choose accredited and reputable firms to do the installation for you, and accept that the cheapest products on the market are not necessarily the best, you will find a solution combining wired and wireless technology that you can rely on.
For example, there are detectors on the market that offer two-way handshaking, but these are more expensive, with the result that the price-sensitive home market is slow on the uptake.
While there may be criticism of the SAIDSA bulletin, the fact is that wireless jamming is a problem that exists and could escalate if criminals see easy pickings. Installers need to educate themselves and their customers as to the benefits and risks of wireless solutions, and implement systems that deliver a secure solution to their clients and avoid the risk of the whole security system being disabled by wireless jammers. Perhaps mentioning the issue among the association's members is the right way to raise awareness among the security industry as well as customers.
Hi-Tech Security Solutions would like to hear our readers' opinions on the issue of wireless jamming and the risks and benefits of wireless technology. If you would like to comment, please send an email to andrew@technews.co.za
Contacts
IDS: +27 (0)31 705 1373, www.idsprotect.com
VixNet: +27 (0)11 253 3140, www.vixnet.co.za
Further reading:
New alarm solutions
Issue 2 2020, Hikvision South Africa , Perimeter Security, Alarms & Intruder Detection
Hikvision has created a broad portfolio of alarm solutions that are sophisticated, automated, and fit for purpose.
Read more...
---
The end of blind alarms
Issue 2 2020 , Perimeter Security, Alarms & Intruder Detection
Today's alarms should be supplemented by visual verification to ensure that guards are not dispatched to false alarms, wasting time and money.
Read more...
---
Video and audio convergence
Issue 1 2020, Hikvision South Africa , Perimeter Security, Alarms & Intruder Detection
Hikvision has introduced its video and audio convergence solution to the market, featuring an innovative real-time intrusion deterrent feature.
Read more...
---
Securing perimeters of secure locations
November 2019, Axis Communications SA, Modular Communications, Hikvision South Africa, Nemtek Electric Fencing Products, Technews Publishing, Stafix , Government and Parastatal (Industry), Perimeter Security, Alarms & Intruder Detection, Integrated Solutions
Hi-Tech Security Solutions asked a number of companies offering perimeter security solutions for their insights into protecting the boundaries of national key points.
Read more...
---
Utility outages: Are you looking at the big picture?
October 2019 , Perimeter Security, Alarms & Intruder Detection
We have to start thinking about, and laying plans for, the real possibility that the whole grid is somehow compromised.
Read more...
---
Perimeter protection in Ghana
October 2019, AcoustAlert , Mining (Industry), Perimeter Security, Alarms & Intruder Detection
A gold mine in Ghana has erected a dual fence with AcoustAlert PIDS fence detection on both inner and outer fence lines.
Read more...
---
A committed service provider
October 2019, Elf Rentals - Electronic Security Solutions , Perimeter Security, Alarms & Intruder Detection, Residential Estate (Industry)
The theme Elf promoted through its sponsorship was that it offers clients its own financial commitment and willingness to accept the risk of equipment failure.
Read more...
---
Thermal cameras with artificial intelligence
October 2019, Dahua Technology South Africa , Perimeter Security, Alarms & Intruder Detection, CCTV, Surveillance & Remote Monitoring, Residential Estate (Industry)
Dahua Technology showcased solutions that are important to residential estates, namely perimeter protection.
Read more...
---
Securing estate perimeters
October 2019, Nemtek Electric Fencing Products , Perimeter Security, Alarms & Intruder Detection, Residential Estate (Industry)
Nemtek has a range of products designed to secure the perimeters of estates, however its display at the conference focused on its Network Energizer and its Dual-Action Tension Sensor.
Read more...
---
Using home security to provide home automation
October 2019, TPA Security Distributors , Perimeter Security, Alarms & Intruder Detection, Products
Making outdoor intrusion detection sensors an integral part of the security/home automation system is a reality with Texecom Connect and Ricochet technology.
Read more...
---