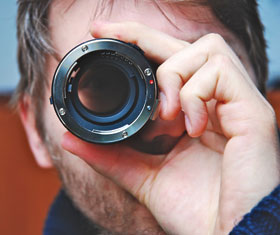 Offsite and on the ball
February 2014, Security Services & Risk Management
While CCTV cameras continue to be effectively deployed in various industries, limiting the number of manual guards required, the Site Data Loggers (SDLs) continue to remotely monitor Limited Payout Machines (LPMs) in the gambling industry.
Hi-Tech Security Solutions spoke to Mike Voortman, MD at Verifier, an independent CCTV offsite monitoring company, and Hosea Malope, CEO at Zonke Monitoring Systems (ZMS), an independent remote monitoring company in the gambling industry. The important issues for customers in dealing with these two different companies are independence and the core competency aspects of the businesses.
Verifier provides an exclusively offsite monitoring solution, meaning the company does not supply/install equipment, provide guarding or any other related security products.
Voortman says estates often find it impractical and costly to monitor the main access control points which require manned security for access. Using offsite monitoring, guard and guardhouses can be eliminated. Moreover, smaller estates often prefer not to have manned security as the limited functions required result in bored security staff, who project a poor image. The elimination of the guardhouse frees up the capital for the required perimeter capex.
In business premises, afterhours lock-down monitoring is most effective – because guarding can be eliminated. With correct systems configuration, staff working late or arriving early can be visually escorted, with any perceived threat being voice challenged from the remote monitoring station. Where guarding cannot practically be eliminated, staff complements can be reduced by, for example, eliminating perimeter patrols on a 24/7 basis.
It's not all positive however, as offsite monitoring can produce negative consequences if the process isn't managed properly. Poorly configured and integrated equipment can make it impossible for the remote monitoring service to perform its tasks as intended. Additionally, poor bandwidth and unstable networks can negate the effectiveness of this solution, one where communication with client's system and people is vital to service delivery.
Voortman is able to clarify the savings of an offsite monitoring surveillance service. He says a net saving per guard of approximately R250 000 over a 3-year period can be achieved (over and above the capitalisation of cost equipment). In addition, the fact that the security is enhanced and most often future proofed gives the client the added benefit of staying ahead of the curve.
"Developers can market their developments accordingly, while also advertising lower projected levies," he adds. "And, though not statistically proven, it is clear that criminals prefer to target non-offsite monitored sites."
Gambling on specialisation
Taking a different view of offsite monitoring, Hosea Malope, CEO at Zonke Monitoring Systems (ZMS), says that from a gambling perspective, ZMS installs SDL devices at customer sites to collect data from gambling machines. This data is then used to determine the gaming taxes due to the provinces and VAT to the treasury. Moreover, the system records more than revenue, including events, player's activities and performs an asset management function. This secures and protects the casino as well as members of the public.
The systems can tell if a machine has been tampered with, whether in favour of gamblers or the casino, ensuring a regulated and fair playing field for all concerned.
When looking at offsite monitoring solutions in the gambling market, Malope says organisations must ensure they choose a partner that can implement systems that will save the organisation money in the long run. The system should require minimal human intervention so as to avoid manipulation and fraud. And it should be integrated with existing systems or technology to ensure that maximum benefit can be derived – such as integrating loyalty programmes.
While many companies prefer dealing with multi-skilled partners who can perform multiple jobs, Malope says the scope for specialist companies remains positive, especially in critical areas. He cautions, however, that these companies must be able to work with and integrate their systems with others to ensure the client receives a comprehensive, integrated solution.
Voortman adds that focused providers definitely have a future as long as they remain at the cutting edge. "Look at how specialists have mushroomed in other industries, health and safety, IT, Web, financial services, etc. Twenty years ago you only had one B.Com degree offered by universities, now there are many variations due to the market demanding specialisation.
"Increasingly complex trading conditions, technology demands etc require that a business sticks to its knitting. Seeing potential profits up or down the vertical is tempting, but many businesses fail as a result of entering areas which are not their speciality. Good installation companies do not necessarily provide solid monitoring services, for example."
Contact
Verifier, info@verifier.co.za, www.verifier.co.za
Zonke Monitoring Systems, www.zonkems.co.za