printer friendly version
Giving a voice to evacuation systems
November 2013 Integrated Solutions, IT infrastructure, Transport (Industry)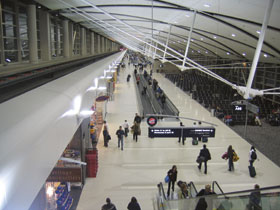 Airports, railways stations and bus depots are highly vulnerable areas in terms of passenger safety and security. One of the biggest issues faced within these large environments, where thousands of people are constantly moving around, is the adequacy of a suitable loudspeaker and evacuation system.
Hi-Tech Security Solutions discussed the importance of ensuring that the audio system is designed and engineered to suit these unique environments with Stephen Bricknell, responsible for business development at Technology Innovated Distribution (TID). TID supplies a number of product lines to the passenger transportation sector, the most pertinent of which are the Biamp Vocia networked paging system, and Bose professional loudspeaker ranges.
"The Vocia range stands out from similar products on the market due to the fact that it is network based and is designed around a digital platform. This range is perfectly suited to the passenger transportation sector and has features of particular value in these environments, including delayed paging, store and forward paging, and the facility to record an announcement and repeat it automatically at specified intervals. In addition, maximise announcement intelligibility and automation, a text-to-speech option allows the audio system to automatically interrogate the venue management system and create a text-to-speech message incorporating real-time data. This feature allows automated messaging for, as an example, directing passengers to the correct boarding gate for the correct flight," Bricknell explained.
The second vital component of such a system is the selection of the correct loudspeaker for the acoustic environment. "Bose Professional loudspeakers employ a high degree of patented technology that produces excellent sound clarity even in areas where the acoustics are inferior, such as airports and railway stations. The Bose speakers have been designed to overcome the challenges of the highly reverberant characteristics as well as high levels of background noise normally experienced in these environments," said Bricknell. In addition, the Vocia and Bose products are certified as compliant to European Voice Evacuation Standards (EN54) which allows for professional audio quality in these challenging environments, whilst maintaining compliance to the internationally accepted standards for these critical life safety systems.
Bricknell pointed out that one of the biggest problems in the industry is that there is little conformity to international standards by local companies. "These standards are currently under review by the SABS, so hopefully their adoption will become mandatory in the future. We have to consider that in passenger service locations there are large numbers of the public who have not been trained to deal with evacuation situations. In these instances, the audio system is not only utilised to make flight/trip-related announcements, but is furthermore a critical component should a disaster take place and people need to be evacuated in an orderly fashion.
"With this in mind, the audio system has two critical requirements: it must be failsafe and the audio quality must be of the highest standard. Many factors come into play when considering a successful system. Foremost, the supplier or installer of the system should be well versed in the idiosyncrasies of the specific industry. Solutions need to be application-specific and this could be guaranteed through system engineering and a set of specifications determined by an independent consultant who has a comprehensive track record in the passenger transportation sector."
Speech intelligibility heads the list of non-negotiables when designing an audio system for this sector of the market. Bricknell suggests that an acoustic model of the venue is designed. "Proprietary software is available from reputable vendors, which allows for the installer or integrator to match the technology to the environment. Alternatively, an audio consultant who has experience in the field will probably have access to their own modelling software. This should ideally be a prerequisite for any tender award, to ensure best practice."
Bricknell said that certain factors are becoming increasingly more desirable in a public announcement and evacuation system. Any system which makes use of network infrastructure results in a simpler installation as well as more flexibility and scalability. Additionally, operating on a digital platform will continue to gain ground and become the standard in the future.
Bricknell believes that engineering skills are ultimately more important than the individual products. "A comprehensive understanding of the environment is crucial. I cannot overemphasise that any announcement and evacuation system needs to be based on superior technology, be designed by an experienced and knowledgeable person and should ideally comply with international standards."
For more information contact TID - Technology Innovated Distribution, +27 10 500 0111, tiaan@tidistribution.co.za, www.tidistribution.co.za
Further reading:
Building a nervous system for smart cities
Issue 1 2020, Pinnacle Instruments SA , Integrated Solutions
Build a central nervous system for smart cities, by employing real-time situation reporting and analysis that unites the powers of cloud computing, AI, IoT and big data.
Read more...
---
The secret to 5G security? Turn the network into a sensor
Issue 1 2020 , Integrated Solutions
We are about to make the leap from being a civilisation that uses networks to one that runs on them in a fundamental and inextricable way.
Read more...
---
The move to services and RMR
Issue 1 2020, Merchant West, G4S South Africa, Technews Publishing , Integrated Solutions
Project work used to be the staple diet for system integrators, but that was before the services model changed the way businesses buy and use their security systems.
Read more...
---
Global security industry adopts servistisation models
Issue 1 2020 , Integrated Solutions
New as-a-service business models are gaining traction because they reduce capital expenditure and cost of ownership, finds Frost & Sullivan.
Read more...
---
Looking ahead with mobile access technologies
Access & Identity Management Handbook 2020, Technews Publishing, HID Global, dormakaba South Africa, Salto Systems Africa, Suprema, Gallagher , Access Control & Identity Management, Integrated Solutions
Given the broad use of smartphones around the world and the numerous technologies packed into these devices, it was only a matter of time before the access control industry developed technology that would ...
Read more...
---
Scalable access solution
Access & Identity Management Handbook 2020 , Access Control & Identity Management, Integrated Solutions
Bosch Building Technologies makes access management simple, scalable and always available with Access Management System 2.0.
Read more...
---
Securing perimeters of secure locations
November 2019, Axis Communications SA, Modular Communications, Hikvision South Africa, Nemtek Electric Fencing Products, Technews Publishing, Stafix , Government and Parastatal (Industry), Perimeter Security, Alarms & Intruder Detection, Integrated Solutions
Hi-Tech Security Solutions asked a number of companies offering perimeter security solutions for their insights into protecting the boundaries of national key points.
Read more...
---
The safe city and its need for interoperability
November 2019 , Integrated Solutions, CCTV, Surveillance & Remote Monitoring
Interoperability continues to present one of the greatest challenges, particularly with video management systems, video recording devices and cameras.
Read more...
---
Analytics-driven solutions for smart infrastructure
November 2019, Bosch Building Technologies , Integrated Solutions
Video analytics technology can bring intelligence to infrastructure by delivering solutions for traffic flow, improved safety, smart parking, and data collection.
Read more...
---
A platform approach to innovation and value
CCTV Handbook 2019, Technews Publishing , Editor's Choice, CCTV, Surveillance & Remote Monitoring, Integrated Solutions, IT infrastructure
Moving to the platform model of doing business holds tremendous advantages for end users and smaller developers, but also for the whole technology supply chain.
Read more...
---