printer friendly version
Integration in a box
October 2013 Products, Access Control & Identity Management
The S2 NetBox brings the power of the S2 NetBox Web-based security appliance to applications that can benefit from advanced features even though they are smaller in scale. NetBox systems integrate credential-based access control, intrusion detection, and video applications, delivering a unified management and administration experience using only a Web browser.
With support for up to 32 access control readers, these systems are aimed at a range of uses from independent organisations to field offices of large enterprises.
The S2 NetBox VR starts with the NetBox's capabilities and adds video surveillance, forensics and support for 16 cameras. It tightly integrates S2's NetBox system management software with its NetVR video management solution, adding video recording, advanced surveillance, and powerful forensics. The seamless integration of access control, event monitoring, and video in the NetBox VR lets you interactively explore recorded video. Using the unique Forensic Desktop facility, you can locate video of many incidents in one click, right from the activity log. Its rich search capabilities let you find almost any video of interest within a minute or two.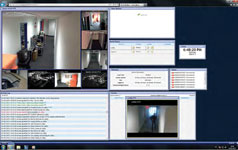 NetBox's Widget Desktop technology seamlessly integrates all aspects of real-time security monitoring: video surveillance, access control, and alarms. Users can use the built-in desktops or build their own to address unique monitoring needs. A drag-and-drop designer with variable grid size makes great looking displays with little effort.
S2 Network Nodes for access control and monitoring functions, IP cameras or adapters for video recording, and other devices managed by the system are connected to the network as well. Other than terminal connections for camera power, access controlled doors and intrusion detection points, an IP network is all of the connectivity the system requires.
The S2 NetBox package includes an S2 Network Controller module, an S2 Network Node module, one Access Control Module (ACM) and internal power supply, all in a single enclosure. Add-on modules are available to support two full portals (two readers, four inputs, and four outputs), eight inputs, eight outputs, or eight temperature points, and installers can mix and match module types to achieve the required mix for their applications. Further expansion is accomplished by adding additional nodes or MicroNodes to a limit of 32 readers, 512 inputs, and 512 outputs.
The network controller for the NetBox is fully solid state, including processor, memory, and SSD while the VR employs an upgraded processor and dual spinning disks for storage. Both the NetBox and the NetBox VR use the architecture of S2's popular Extreme platform, proven in hundreds of thousands of operating hours on the job. The VR edition is provided in a tabletop enclosure with included mounting hardware for 19-inch equipment racks.
Smaller scale yet enterprise class
S2 NetBox and S2 NetBox VR products bring you a rich user interface that integrates your access control, alarm and event monitoring, and video. In the real-time monitoring mode, you can operate your running system, seeing and reacting to real-time events and video from the NetBox integrated monitoring displays. An administrative mode supports operations on the card access database, video forensics and report generation for permitted users. The configuration mode lets authorised users completely tailor the system environment from user privileges to custom monitoring displays.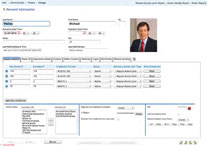 The S2 NetBox access control database is advanced but still easy to work with.
These systems deliver the well known enterprise-class capabilities of the S2 Enterprise, but for smaller deployments. Using the S2 Global architecture, it's easy to build enterprise scale systems with central management and oversight, one small piece at a time. Creating a security network out of appliances at the network edge is often the most cost-effective and robust way to secure a geographically distributed organisation.
Although NetBox is a physical appliance that connects to a network, users access it using a Web browser and the system operates like a sophisticated website. Video is delivered through the Web browser as well, and at speeds suitable for real-time surveillance.
Access control integration
At the heart of NetBox's software is S2's access control system. NetBox access control lets you create a database of people, their credentials, and their access privileges. The system then manages the live access control administration and monitoring, archiving the history for reporting and optionally associating video with the access control events.
Data about access control credential holders is stored in an SQL-compliant database. In addition to access privileges, each person record optionally holds information about vehicles, personal data, and office directory data. User custom data fields can be entered and searched using the person locator feature that lets you quickly find one or more records that match the search terms. You can then list the matches and easily edit the resulting records. It's straightforward to integrate custom applications with NetBox using the NBAPI interface, and bulk data inserts, edits, and deletes can be accomplished with the supplied Data Management Tool.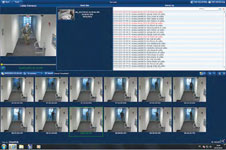 The Forensic Desktop uses time, visual information, and the NetBox's activity log to locate video of interest incredibly quickly.
Photos can be imported from files or captured live using the optional ID badge feature. The badge creation process, including photo capture, is conducted from within a Web browser. Badge printers can be network connected or connected to the client computer.
Every access control event is immediately available for display across the system through the Web interface. Local users, remote users, and even permitted mobile device users can monitor the system in real time. Events are also placed into a permanent archive that is referenced by the built-in report writer. Users can take advantage of the many packaged reports, or build their own depending on specific need. Users who want to use NetBox event data outside of the system, can export the data to CSV, access it through the API, or use the database views the system publishes through ODBC.
Door management functions like scheduled unlock times and 'first-in unlock' are supported. Also provided is S2's remote unlocking protocol. Designated access cards, when presented twice in quick succession, cause a sustained unlock or re-lock at portals where the feature is enabled. Enterprise features such as two-man access control, badge types, elevator access control, and much more are part of the standard system software.
In addition to Network Nodes and MicroNodes from S2 Security, NetBox supports access control hardware from Mercury Security and ASSA ABLOY, allowing flexibility in system configuration.
Access control specifications
Cardholders: 20 000
Online transactions: 40 000 000
Available access levels: 512
Available time specifications: 512
Unique user privileges: 512
Simultaneous users: 5
Readers (per enclosure): 14
Portals (nodes): 32 (32)
Max inputs/outputs: 512/512
For more information contact S2 Security Corporation, www.s2sys.com
Further reading:
New LPR camera from Axis
October 2019, Axis Communications SA , Products
Dedicated licence plate camera for capturing clear images and easy integration with third-party software.
Read more...
---
The importance of XDR for cyber protection
October 2019 , Cyber Security, Products
35% of South African organisations are expecting an imminent cyberattack and a further 31% are bracing for it to happen within a year, according to local research conducted by Trend Micro.
Read more...
---
Arteco launches new management platform
CCTV Handbook 2019, Arteco Global, Technews Publishing , CCTV, Surveillance & Remote Monitoring, Products
Arteco has released its latest management platform, Omnia, designed to be faster and more responsive to operators? needs.
Read more...
---
TruVision licence plate cameras
CCTV Handbook 2019, UTC Fire & Security SSA , Products, CCTV, Surveillance & Remote Monitoring
TruVision ANPR cameras offer functionality for applications where vehicle access management is required based on licence plate.
Read more...
---
Edwards Public Address & Voice Alarm System
October 2019 , Security Services & Risk Management, Products
Carrier has added the Public Address & Voice Alarm (PAVA) range to its fire product offerings.
Read more...
---
Your business needs synchronised security
September 2019 , Cyber Security, Products
This complete security portfolio from Sophos offers endpoint, servers, firewall, Wi-Fi, mobile, email and encryption that is fully scalable to grow as your business does.
Read more...
---
Sarix Professional Series 3 IP cameras
September 2019, Pelco by Schneider Electric , CCTV, Surveillance & Remote Monitoring, Products
Offered in mini-dome, bullet, box, and wedge configurations, the Sarix Professional (Pro) Series 3 Fixed IP cameras deliver a set of features and performance at affordable price points.
Read more...
---
Enhanced biometric technology for mines
September 2019, ZKTeco , Mining (Industry), Access Control & Identity Management
Biometric identification and authentication are currently used at various mines in South Africa and in the SADC region.
Read more...
---
The future of connectivity in South Africa
September 2019 , IT infrastructure, Products
Next-generation technologies will drive real transformation in companies. Organisations across all industries must prepare to enter the next phase of the digital future, says Matthew Hall, product director at Rectron.
Read more...
---
Uniview LPR camera
September 2019 , Products, CCTV, Surveillance & Remote Monitoring
Uniview has released a new LPR (licence plate recognition) camera in South Africa with high capture and recognition rates.
Read more...
---