printer friendly version
Security you can bank on
October 2013 Integrated Solutions, Financial (Industry)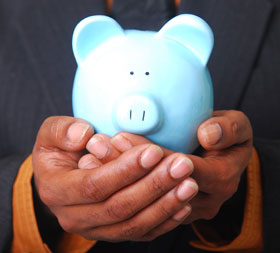 Keeping money safe, whether physically or online has always been challenging. The draw for criminals is obvious and in the current economic crunch, accompanied by unprecedented unemployment levels, this is escalating as a critical need. Hi-Tech Security Solutions spoke to four industry representatives about what role technology is playing in deterring and preventing theft.
Gareth Dewey, national business development manager, technical, for Protea Coin, said a common trend that companies are leaning towards, regarding staff identification and authentication, is the use of biometric readers. "There are many options available, however, from a cost implication perspective, biometrics seem to have the best ROI.
"The driving force behind biometric readers is to prevent the possibility of buddy clocking and also securing the employees on the premises. Often CCTV cameras can be used to provide visual verification for identification and authentication purposes."
Ernest Mallett, regional sales director, Sub-Saharan Africa for Tyco Security Products said the company's focus is on HID iClass and iClass SE with SIO biometric readers in high-risk areas for authentication. "Some of the financial services sector companies have opted for a more secure approach by using TripleDes encrypted RS-485 readers with compatible cards. In both cases, our focus is to eliminate opportunities for card cloning and Wiegand sniffing. Done correctly it's almost as good as biometric authentication at a lower price."
Roy Alves, business development manager, MEA at Axis Communications said: "There is a drive to correlate access control with video. The latest iPhones have fingerprint access technology and it's just a matter of time before all your financial transactions will require your fingerprint."
Grahame Saunders, divisional manager of the public safety division at NEC Africa commented that in terms of logical access, biometrics is being used to safeguard data in banks and for online transactions. These systems have the ability to be used for both audit and forensic evidence purposes. Users may be requested to sign on not only at the start of a transaction, but also periodically when they commit to certain transactions such as changing data or transferring funds.
Is monitoring happening onsite or remotely?
"Both options are effective, depending on the circumstances. The important aspect to keep in mind is that sufficient information and research needs to be acquired, based on the requirements of the customer and the premises. Whether the customer has the capability, capacity and safety on site to have an on-site monitoring control room needs to be considered. Whether the site is a high-, medium- or low-risk site will also play a fundamental role from a monitoring perspective. Some clients prefer both options from a security and backup point of view," said Dewey.
"I believe there is a move towards monitoring offsite as bandwidth becomes more readily available. Often though, banks will have their own control room as well as using a third-party offsite facility," said Saunders.
Alves remains cautious about the bandwidth issue. "High-definition footage does not travel well on the bandwidths we have access to presently. I would suggest that any offsite monitoring should focus on events rather than constant monitoring. Video should be retained on site but be accessible to the control room. There is currently a trend towards mobile platforms but there is still quite a road to be travelled, as video quality is degraded."
Getting it right
"I believe that a consultative approach is the most important technique that must be followed in order to determine that the correct offering is made. Companies who are looking at implementing surveillance technologies regardless of securing premises, assets or people, should clearly define the requirements or expectations they want to achieve and be willing to invest in the technology," said Dewey.
"There is a big focus on video and intrusion integration as well. Banks want simplicity and ease of use with secure results," said Mallett.
"One should get the IT department involved in the process as they are responsible for the smooth running of these systems in terms of networking and cabling. Often the IT department is nervous about security having access to sensitive banking data, so collaboration would be advantageous," said Alves.
"We have seen a move towards smarter technology with video analytics providing event-driven feedback. Scenarios such as a person running rather than walking, crossing trip lines, movement in doorways, or dropping bags and leaving them unattended, can be programmed into a system and when the transgression occurs, the system alerts the control room," said Saunders.
"Thermal cameras are often deployed at the perimeter, allowing precise detection of unauthorised people, through the production of a heat signature, before an event can occur. Boom control at entrances act as a holding pen for people entering the property and can be situated at various points between the main entrance at the perimeter and the entrance to the actual building. This allows a virtual lockdown in each sector which is effectively monitored using facial recognition technology and licence plate number recognition (LNPR). Once the person reaches the building they will enter via either revolving doors or man trap cubicles," said Alves.
"Areas are restricted for various reasons and there are a number of requirements regarding most restricted areas, that is, inductions and certificates. The system should have the capability to manage these tasks," Dewey continued.
Mallett said that perimeter to vault security can be split into three areas. "In commercial buildings, people would use access cards for entrance. This also applies to logical access whereby if the access control system has not checked you in for the day then the ERP system will not provide you with computer access. Online visitor management is one other aspect of this.
"Cash in transit is next, with biometric access and video as well as POS integration key in these areas. In retail banking, there is less technology in the access control for banking halls, but technology is used to track staff movements and to assist with T&A applications. Video is now migrating to IP solutions, integrated to the access control and alarm systems. Security in this sector is low-key as risk is limited," Mallett added.
On guard
There is agreement that there will always be a place for physical guarding, whether as a security guard within the bank or as a cash-in-transit officer. "People visiting a bank feel more comfortable if a guard is present, even when there are high levels of security technology," said Saunders.
"Technology can be deployed not only to supplement the guarding, but also to protect the guard. Cameras in CIT vehicles provide feedback on guard movements and any events. Audio detection in cameras will send an alarm to the control room in the event that glass breaking, gunshots or screams are detected. Often, prior to a crime being committed, criminals will interfere with the camera or its lens. Certain cameras will detect when this occurs and will immediately send a signal to the control room for intervention," said Alves.
Hot technology
"Facial recognition technology is gaining ground and can be deployed across large architectures like in banks where fraud detection is important. This would allow the banks to identify known fraudsters irrespective of how many branches they frequent," said Saunders.
"Video analytics is becoming an important requirement when specifying solutions. This includes full HD systems that allow for quality footage and also allow you to decrease your camera count on site. Having a technology solution that allows the user to define zones and triggers within the ATM world is becoming a huge requirement from a security point of view," said Dewey.
Contacts
Axis Communications, +27 (0)11 548 6780, www.axis.com
NEC Africa, +27 (0)11 656 3416, www.nec.com
Protea Coin, +27 (0)12 665 8000, www.proteacoin.co.za
Tyco Security Products, +27 (0)82 566 5274, www.tycosecurityproducts.com
Credit(s)
Further reading:
New LPR camera from Axis
October 2019, Axis Communications SA , Products
Dedicated licence plate camera for capturing clear images and easy integration with third-party software.
Read more...
---
Vox expands managed services with Mimecast
October 2019, Vox Telecom , Integrated Solutions
Vox has added Managed Mimecast to its suite of managed service offerings to provide customers with a more effective way of safeguarding their emails against spam and malicious attacks.
Read more...
---
Digitising Maslow's Hierarchy of Needs
October 2019 , Integrated Solutions, IT infrastructure
Mobile technology has the potential to change how Africa approaches patient and healthcare, says Phathizwe Malinga, managing director, SqwidNet.
Read more...
---
Intelligent analytics and the brains to match
September 2019, Bosch Building Technologies , CCTV, Surveillance & Remote Monitoring, Integrated Solutions
What if the brains behind our security cameras could be trained to improve their cognitive ability to pay attention, learn, and problem-solve according to specific rules and situations?
Read more...
---
AI-powered autonomous Drone-in-a-Box
September 2019 , CCTV, Surveillance & Remote Monitoring, Integrated Solutions
Organisations in the mining, energy and industrial, oil and gas, ports and terminals sectors can optimise security and business operations, whilst reducing risks and operational costs
Read more...
---
A platform approach to innovation and value
CCTV Handbook 2019, Technews Publishing , Editor's Choice, CCTV, Surveillance & Remote Monitoring, Integrated Solutions, IT infrastructure
Moving to the platform model of doing business holds tremendous advantages for end users and smaller developers, but also for the whole technology supply chain.
Read more...
---
Open does not always mean easy integration
CCTV Handbook 2019, VERACITECH, Technews Publishing , Editor's Choice, CCTV, Surveillance & Remote Monitoring, Integrated Solutions
Customers who opt for best-of-breed solutions will have to rely on their integrators to develop customised integrated solutions for them.
Read more...
---
Video analytics and AI
CCTV Handbook 2019, Axis Communications SA, Dallmeier Electronic Southern Africa , Hikvision South Africa, Technews Publishing, Dahua Technology South Africa , Editor's Choice, CCTV, Surveillance & Remote Monitoring, Integrated Solutions
Artificial intelligence has the potential to deliver real benefits in the world of video analytics and many companies are already delivering customer benefits.
Read more...
---
Cloudy with a chance of AI
CCTV Handbook 2019 , Editor's Choice, CCTV, Surveillance & Remote Monitoring, Integrated Solutions
One local company has developed an AI solution that can be added to existing surveillance installations, offering 24-hour intelligence.
Read more...
---
Integration insights
CCTV Handbook 2019, Gijima Electronic and Security Systems (GESS), Technews Publishing, neaMetrics , Integrated Solutions
The security industry would be a vastly different place if installers and integrators were not able to make a range of different products work together.
Read more...
---