printer friendly version
Dump the DVR, or not?
August 2013
CCTV, Surveillance & Remote Monitoring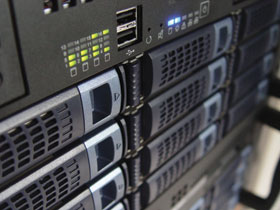 When considering the storage setup for your video surveillance solution, the days of simply using any old IT equipment are long gone. Even though storage is still an IT function, effective management of video footage requires a different setup to your traditional data storage arrays due to different read and write cycles.
Hi-Tech Security Solutions asked a few storage experts to tell us more about the storage systems required for large surveillance projects. We're not focusing on systems that can be served by a DVR (digital video recorder) or NVR (network video recorder) or two, but large systems requiring terabyte (TB) storage arrays and more for multiple users.
Ryan Martyn, director of Syntech, says generic IT storage solutions are almost more problematic than specific surveillance-orientated storage systems. While the cost of storage is reducing all the time and higher capacity systems are more readily available, the two biggest challenges that the surveillance industry face are performance and reliability.
"Most generic storage systems do not have an interface with sufficient bandwidth to receive all of the data which a surveillance system generates, nor are they fast enough to process the data quickly enough and save it without lost frames or corruption. Another important consideration is that hard drives fail and without adequate RAID protection the stored data is at risk in the event of a hard drive failure."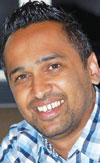 Kalvin Subbadu, sales manager for South Africa for WD.
Kalvin Subbadu, sales manager for South Africa for WD recommends a pre-configured server or network attached storage (NAS) solution with the appropriate hard drive technology is deployed specifically for security surveillance if optimal services and performance is required. "Not having purpose built hardware for security surveillance is akin to running a race in high heels rather than running shoes. You might get there, but the journey will be fraught with blisters and will definitely take longer."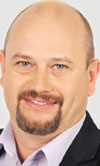 Riaan de Leeuw, mid-tier business manager at RSA, part of EMC.
On the other hand, Riaan de Leeuw, mid-tier business manager at RSA, part of EMC, says that the emergence of IP surveillance has changed things, making traditional IT infrastructure part of the surveillance solution. "Market analysis shows that the IP security surveillance industry is moving to a more open architecture. Generation 2 surveillance products were always standalone, proprietary solutions which tied the customers into a single vendor. This meant that vendors' products drove the clients' requirements.
"With the introduction of open systems, clients' requirements now drive what product is best for their operation. This means that generation 3 surveillance or commonly known as IP surveillance systems are able to be installed onto the clients existing IT systems and strategies using generic IT servers and storage solutions which the client is already using as part of their IT department. The flexibility, scalability and ability to integrate into existing legacy systems to improve the operational capabilities allows for improved services of an open system based on generic IT equipment."
Bruce Askham, service delivery manager at Dell SA echoes this, noting that as IP becomes the norm in surveillance, the IT industry already has the skills and products to cater for the storage and management of large quantities of data. Dell has been involved in projects involving thousands of cameras using its equipment that has been designed specifically for video data.
As with EMC, systems have been built specifically for large installations, designed to overcome the bottlenecks video streams would encounter in traditional data storage systems.
When to lose the NVR
While many of the servers and storage systems used today are nothing more than large NVRs or DVRs, Martyn recommends considering servers and storage systems for larger installations where all of the content needs to be saved in a central location. "Environments where data integrity is imperative and RAID protection is required as well as installations where content needs to be saved for several months normally require these systems."
It is advisable to look at surveillance servers and storage when the data requirements exceed the capacity of DVRs and NVRs, says Subbadu. "As your data increases and these DVRs and NVRs no longer meet the volumes that the surveillance systems generate, servers and NAS devices with multiple drives can cope with higher volumes of digital footage and offer the benefit of scalability."
De Leeuw advises that enterprise-type solutions, such as airports where surveillance is a business critical application and require large numbers of cameras and integrations into existing systems such as access control, fire etc., are best suited for an open system.
DVRs are best suited for small standalone installations, such as 50 cameras or less which does not require integration into existing systems like access control systems, fire etc. "Rule of thumb is a DVR device will support up to 32 cameras, after 32 cameras a new DVR gets added."
Again, Askham agrees, noting city surveillance and government installations, such as for the police and military are where Dell is actively involved.
However, Subbadu adds that there are specialist skills required with the installation and configuration of servers and storage solutions for the surveillance market. The data stored i.e. surveillance footage is more than often sensitive and the impact of the loss of this footage can be significant. For example, it can mean the difference between a conviction and the perpetrator of a crime not being charged. The installer should have an in-depth understanding of how surveillance works, the technology employed, the differences between surveillance and regular data storage etc.
"Security installers and integrators should strive to have these skills in-house, but more than often, vendors work transparently with their channel partners if sales and technical support is required, which can be considered outsourcing."
De Leeuw adds that larger IT organisations like EMC are moving into surveillance because going on the 80/20 rule, 80% is now generic IT equipment in a surveillance solution. Level 1 and level 2 IT skills are required to install and support these systems, while level 3 can be outsourced.
Technical issues
So what technical issues will companies have to cater for when installing a sizable storage solution for the surveillance efforts? If 80% of your storage infrastructure is the same, what specialities does one need for the remaining 20%?
Martyn advises that one first needs to always take note of the storage requirements and capacity of systems, data integrity and RAID configuration.
Having the appropriate AV drive is probably the most important consideration, according to Subbadu. "They are designed specifically for these demanding surveillance environments where 24x7 reliability is paramount. AV drives are engineered to provide reliability in servicing streams (up to 12 simultaneous audio-video streams), enhanced command completion time and the ability to speedily process video to ensure it is ready for the next piece of footage.
"They also incorporate new media formats such as Advanced Format (AF) technology which enables increased aerial densities and as such larger physical sectors that provide enhanced protection and correction algorithms. AV drives deliver high resolution image quality, fast access and on-demand video playback and higher capacities that enable higher resolution."
Apart from the storage systems themselves, De Leeuw also says it's important to pay attention to the underlying network reliability and performance, as well as an analysis of existing cameras and the quality of the video feed from them.
It's also worth looking at the specific technology that makes up the 20%. For example, Askham notes that Dell has introduced a Fusion card that dramatically increases the read/write performance of data – something of particular interest for video solutions. This is part of its specific architectural solutions designed to speed the flow of data through the infrastructure to the storage systems.
Separation of state and surveillance
Quite often we hear that one of the benefits of IP technology in security is the ability to use common IT architecture. While this is true in theory, the question is whether surveillance systems should actually share infrastructure with normal business operations.
Martyn says, "Absolutely not, sharing these systems with regular network traffic will diminish the performance of the storage and put a huge amount of additional traffic on the user network. This would make general operations on the network very slow and cause cameras to drop frames. Networks and storage should be kept separate."
Subbadu agrees, noting, "It is not recommended to share business data with a surveillance server or vice versa as they have two very different purposes and requirements. The hard drives for each system feature different capabilities and attributes that are geared towards their specific environment. Another consideration is that if the server fails, the company will lose both its company and surveillance data. This also highlights the requirement to ensure backups are done on a regular basis."
However, De Leeuw adds that, as mentioned, the surveillance industry is moving towards the IT industry and so "solutions such as virtualisation are being introduced, which is the perfect example of shared hardware. IP open systems are now supporting virtualisation, which the DVR technology does not. This does then have a reliance on the underlying IT equipment to be capable of supporting a surveillance system."
The continual move to IP in the security market is opening doors to the sharing of infrastructure and technology, however, as we can see above, it's not as simple as just slotting a storage array into a rack and connecting your camera feeds. At the same time, with companies like Dell and EMC (and others) seeing potential in the surveillance market, it's obvious that IT skills are becoming more important, as are traditional IT suppliers.
One benefit of traditional IT suppliers is they are used to providing support services, such as Dell's four-hour response time. There are few (if any) security companies that can do the same. Naturally, this only deals with the infrastructure aspect of a surveillance project. Traditional security skills are still required for the planning, implementation and maintenance of surveillance solutions, but are they enough to keep profit-hungry IT integrators at bay?
Dell: www.dell.co.za
EMC: southafrica.emc.com
Syntech: www.syntechsa.co.za
WD: www.wdc.com
Credit(s)
Further reading:
Mitigating the human risk
Issue 5 2020, Managed Integrity Evaluation, Technews Publishing, iFacts , CCTV, Surveillance & Remote Monitoring
Hi-Tech Security Solutions asked Jennifer Barkhuizen and Jenny Reid for some information around background screening and vetting of potential new hires.
Read more...
---
Teaching old cameras new tricks
Residential Estate Security Handbook 2020, Deep Data , CCTV, Surveillance & Remote Monitoring
Dr Jasper Horrell and Mark Smuts from DeepAlert reveal how estates can upgrade their existing surveillance infrastructure to include the latest AI-enhanced analytics, without buying new hardware.
Read more...
---
Thermal continues to evolve
Residential Estate Security Handbook 2020, Technews Publishing, Axis Communications SA, Bosch Building Technologies, Dahua Technology South Africa , CCTV, Surveillance & Remote Monitoring
Thermal cameras have made an enormous impact to perimeter security, with more to come as artificial intelligence enhances analytics.
Read more...
---
Automated estate protection
Residential Estate Security Handbook 2020, Axis Communications SA , CCTV, Surveillance & Remote Monitoring
Marlenique Estate makes use of an end-to-end Axis Communications solution, installed by Energize Technology Africa for automated security. Automated estate protection.
Read more...
---
Integrated security management system
Residential Estate Security Handbook 2020, Protoclea Advanced Image Engineering , Products, CCTV, Surveillance & Remote Monitoring, Integrated Solutions
Phorcas is a security information system developed by Protoclea designed to integrate multiple sub-systems into a powerful crime fighting solution.
Read more...
---
Serverless ANPR solution
Residential Estate Security Handbook 2020, XtraVision , CCTV, Surveillance & Remote Monitoring, Products
Serverless ANPR automatically controls the movement of up to 1000 listed cars through barriers and provides carpark management information.
Read more...
---
Bosch launches a fully open camera platform
Residential Estate Security Handbook 2020, Bosch Building Technologies , Products, CCTV, Surveillance & Remote Monitoring
Bosch has announced the launch of INTEOX, a new camera platform designed to modernise the security and safety industry.
Read more...
---
IP 3000i cameras with built-in analytics
Residential Estate Security Handbook 2020, Bosch Building Technologies , Products, CCTV, Surveillance & Remote Monitoring
Bosch IP 3000i cameras extend smart video surveillance to general security applications.
Read more...
---
Arteco Video Event Management Software
Residential Estate Security Handbook 2020, XtraVision , Products, CCTV, Surveillance & Remote Monitoring
Arteco views video analytics as an enhancement to the video security experience and not as a costly addition or complication to standard video management.
Read more...
---
Vehicle and driver identification
Residential Estate Security Handbook 2020, Protoclea Advanced Image Engineering , Products, CCTV, Surveillance & Remote Monitoring, Perimeter Security, Alarms & Intruder Detection
Detecta features vehicle identification (make and model), automated number plate recognition (ANPR), vehicle colour recognition, driver identification, high speed and free flow detection.
Read more...
---