printer friendly version
IFSEC SA 2013 a winner
August 2013
Conferences & Events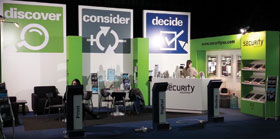 As can be expected from the premier security exhibition in Africa (and South Africa), IFSEC SA was once again a success. From the perspective of Hi-Tech Security Solutions, the show was definitely a winner and we had a great stream of visitors to our stand.
As can be expected from the premier security exhibition in Africa (and South Africa), IFSEC SA was once again a success. From the perspective of Hi-Tech Security Solutions, the show was definitely a winner and we had a great stream of visitors to our stand.
The show's organisers were also positive about the event. "Preliminary feedback from both exhibitors and visitors has been positive," says Charlene Hefer, event director, UBM Montgomery. With more than 200 exhibitors highlighting and promoting their brands, Hefer says that some companies have reported a breakthrough number of leads and sales from this event.
From an overview of Africa's vulnerabilities when it comes to cyber security to the unique security challenges facing our local mining industry – the dedicated Homeland Seminar Theatre at IFSEC South Africa 2013, provided delegates with a range of topics affecting African security.
From wireless fire detection to the latest CCTV trends in Africa and around the world, the IFSEC South Africa 2013 Seminar Theatre covered the widest range of topics affecting today's security and fire protection professionals.
IFSEC South Africa was once again co-located with OSH EXPO Africa, one of the fastest growing occupational safety and health events in Africa. "We are delighted with the continuous growth of IFSEC SA and OSH EXPO Africa," says Hefer. "Our team has worked hard to offer a world-class show that not only draws a growing number of visitors, but ensures that all of our exhibitors experience maximum return on their marketing investment.
"It's become clear to us that our continued investment in both IFSEC South Africa and OSH EXPO Africa, to position them as global events is paying dividends and the local market is demanding more of the same," says Hefer. "Plans are already in full swing for IFSEC South Africa 2014, taking place from 13-15 May 2014," she concluded.
Impressions and exhibits
One of the things Hi-Tech Security Solutions noticed at many smaller and even a few of the larger manufacturers from South Africa is that there are very few companies still selling only their products.
Even successful manufacturers have taken the plunge into becoming resellers for third-party products that complement their own. Others are making the effort to ensure their products are open and/or they have easily accessible SDKs to ensure other companies can easily integrate their products into value-adding solutions.
This is one of the clear signs that business is out there, but buyers want solutions that solve a problem instead of a product. You can also see this in the presentations of many of the major players as they focus on what solutions or verticals their products can play a role in rather than the highest resolution or some other gimmick.
This year people aren't even pushing IP anymore, I think everyone has accepted it as a reality (although many companies are still making analogue hay while customers are buying, with some promoting HD-SDI).
Looking at specific displays, we found a range of exhibits worth mentioning, but we have space to mention only a few.
Reditron had a large stand at IFSEC again this year, but the news that the company had been bought (again) and would be integrated with IPSS was not public yet. Nonetheless, as our story in this issue states, it's business as usual for the company with no jobs lost and further improved customer service on the cards.
TeleEye had its usual stand at the show, although in a different position from last year and introduced a range of products to visitors. These included the latest JN300 Series, a professional range of H.264-based real-time 700TVL DVRs. The DVRs support up to 16-channel real-time recording at the resolution of 960x576 pixels. It is 33% higher resolution than the standard D1 resolution. When it works with the latest 700TVL 960H analogue cameras, they can form an ultra-high resolution analogue surveillance system.
Ideco Biometric Security Solutions once again hosted a coffee lounge which contained comfortable couches along with good coffee and the company's range of identity management solutions. Apart from the range of Morpho finger and vein biometric readers and Ideco's GreenBox, the company also displayed the latest Morpho 3D Face Reader which promises facial recognition in less than four seconds from a database of 60 000 users. Keep an eye out for more on these new products.
Transaction Control Technologies showcased a range of solutions for access control, remote site access, secure cash drops and smoke theft prevention technology. Some of its exhibits included:
* Selector Door for secure single person access control into administration or cash offices ensures that only authorised people gain access into secure areas.
* TRACcess which secures a variety of access points, containers, vehicle cargo bays etc. After-hours delivery becomes a viable and secure option.
* Smokecloak Theft/Attack Prevention system rapidly fills the protected area upon alarm or panic activation with a dense white vapour, instantly reducing visibility.
Bytes System Integration (now incorporating Brand New Technologies) demonstrated VPSign's VPAD, an electronic document product that captures handwritten signatures. The customer signs the document using the medium of the tablet, as if signing a piece of paper using an ink pen. The difference is that the document is not printed but is stored electronically and is tamper-proof. VPad stores the signature's encrypted biometric identifiers for authentication purposes.
Axis Communications also had a large stand with solutions for verticals and a number of new products. These include the Q1931-E, specifically designed for use in harsh environments and tough climates, offering high contrast 384x288 resolution thermal images. It is also the first thermal camera offering Axis' Corridor Format, which is especially useful for effective perimeter protection of for example industrial facilities or railroad tracks.
Intelligent video is a key component of any thermal camera, and the Q1931-E provides tampering alarm, motion detection, and support for Axis Camera Application Platform.
Eavesdropping Detection Solutions displayed the latest high level technical surveillance countermeasures (TSCM) equipment available for the detection of covert listening, video and optical surveillance devices. It also launched the new Orion 2.4 Non-Linear Junction Detector by Research Electronics International (REI) (USA) and the new Super Broom Non-Linear Junction Detector by Audiotel International (UK) at the exhibition. The first time that these units will be seen in South Africa.
Companies report back
Hi-Tech Security Solutions also asked some of the exhibitors to give us their impressions of the event. Below are a few of the replies.
Suprema
"Suprema featured many new products with a continued focus on system integration and value adding products and services to ensure the continued growth of Suprema into Africa. On the hardware side we had the new improved FaceStation 3D GUI turning heads and the new HID proximity and iCLASS SE device options sparking creative thoughts with installers and integrators alike," says Walter Rautenbach, MD at neaMetrics, the distributor for Suprema.
"Building on our value added distribution model, we demonstrated a number of integrated solutions. This year's list included SmartProtect – a Milestone plug-in completing Suprema's access control with integrated video management, New ProSync Workforce Management modules including statistics, monitoring and smart phone applications – fully integrated with EasyRoster. EasyRoster Deployment Manager's new Alarm Management, enabling rule based deployment alarms, also created renewed excitement for security companies with large and widespread guarding deployments."
Abloy Africa, in partnership with Suprema had its range of high security locking and fire compliant mechanisms on display. This new collaboration offers end-users high-end secure solutions. On the Homeland Security side, enthusiasts were treated with Aware Inc.'s livescan now fully incorporating Suprema's FBI certified scanners.
"We received an overwhelming response and are enthusiastic about next year's new product line-up that will continue expanding Suprema's footprint into Africa", said Rautenbach.
Elvey Security Technologies
A combination of world-leading products and a stylish, easy-flow stand design saw Elvey Security Technologies awarded Best Large Stand at IFSEC SA 2013.
"IFSEC SA 2013 as a whole was a tremendous success, as was the Elvey display, which was designed to showcase a range of top-end products while accommodating the easy movement of customers through the stand," says Ingo Mutinelli, sales director for Elvey. "One of our main objectives was to create a voyage of technology and innovation for our clients, and we achieved this through the use of colour-coded bulkheads to identify the various categories, which included intruder detection, access control, CCTV, integration and fire."
The show also generated a number of leads for the company and engendered much positive feedback from existing customers who were happy with their 'Elvey experience' and pleased with the direction in which the company was heading.
Pentagon Distributors showcased an array of products that reaffirmed its reputation as an expert in the field of single platform security integration.
Newcomers to the stand included Bosch, with its Building Integration System (BIS). "This is the most economical and scalable integrated building and enterprise management system on the market," says Brendon Hall, MD of Pentagon Distributors, adding that it's ideally suited for deployment in a range of environments including retail chains, banks, warehouses, university campuses, office buildings and correctional facilities.
"What makes the BIS so impressive," he says, "is that it provides a unified point of control to manage one or multiple sites, while simplifying operations and reducing training costs and the personnel quotas."
DSC, with its new feature-rich hybrid intrusion platform, was another worthy exhibitor on the Elvey stand. "DSC is leading the innovation charge with its new PowerSeries Neo, which redefines intrusion security by combining the flexibility of a modular, hardwired system with the simplicity of a wireless device, resulting in the most comprehensive hybrid system available today. In addition to the mentioned features, the DSC Neo supports video Verification," says Mutinelli.
Visonic was there to showcase its PowerMaster wireless intrusion alarm systems, which are designed around PowerG technology. According to Mutinelli, these systems combine reliability with performance and an advanced feature set that together address the needs of the residential and commercial markets. The new PowerMaster-30 supports high bandwidth, which enables the network to transmit large amounts of data in a short time. As a result, it can support up to 127 devices as well as audio and video alarm verification applications.
Optex demonstrated its high-end, outdoor detection offerings with its Redwall and new VXI Infinity ranges. "Feedback from visitors, many of whom were installers who had been using Optex's products for years, was very positive," says Mutinelli.
Centurion Systems
As has been their tradition, South African access automation manufacturer Centurion again presented a colourful and diverse offering. Gate motors, traffic barriers, wireless infrared beams, GSM devices and biometric readers were among the Centurion products on display, with the 'security' part of the 'security and convenience' mantra championed by the company coming through in a big way.
Attendees were treated to exclusive sneak previews of two new Centurion products, namely the G-SPEAK GSM intercom system and the SupaHelix multi-unit remote receiver/GSM device, both of which were met with an overwhelmingly favourable response. While these products won't be commercially available until around the beginning of next year, the general reaction from visitors did seem to indicate that they believe it to be worth the wait. Both the SupaHelix and the G-SPEAK promise to combine security, convenience, reliability and functionality with the general aplomb that Centurion's products have become known for.
Photon infrared gate safety beams (featuring wireless technology), which made their début appearance at IFSEC 2012, made a return to the expo this year and visitors were challenged to see how far apart the transmitter and receiver could be placed apart before alignment would be lost.
On display for the first time at IFSEC was the MyGSM GSM monitoring and switching device, a relative newcomer to the Centurion camp but one which is already immensely popular, and allows users to activate and monitor devices from anywhere in the world using their phones.
The D10 Turbo industrial sliding gate operator has been a starring attraction at IFSEC for three consecutive years now, and it shows no signs of losing any of its appeal. Its operating speed of 50 metres per minute remains an impressive feat – and one which is conducive to driveway security – and those treated to demonstrations of this behemoth were also impressed to learn that, at a lower speed setting, the D10 Turbo can still move gates weighing up to a ton.
Centurion's marketing and sales director, Richard Rohman, had the following to say about the show: "It was once again a well-organised event with greater quantities of visitors compared with last year. It's always difficult to measure the value one gets out of exhibitions, but it's certainly hugely beneficial when you have new products to show to the market. There was good support from African clients, and we had a good number of clients from the continent visiting our stand. It's a pity we didn't get more clients coming in from Europe, but having said that we had a client of ours from Belgium coming out, not necessarily to see us, but to see what was available at the show because he felt that South Africa, being in the thick of crime, would have products on display at this exhibition that would be at the cutting edge. I would encourage the organisers to perhaps promote that fact."
Hikvision
Hikvision showcased a broad line-up of products and solutions for a variety of different industries and applications at IFSEC South Africa 2013. Examples include our high definition cameras, Fisheye camera, ATM DVR, HD IP solution, HD-SDI solution, Effio CCD solution and HiWatch solution (specifically designed for small-to-medium enterprises) to address customers' different surveillance needs.
Along with these, visitors also got the opportunity to experience a variety of our advanced technologies: such as EXIR-Innovative IR technology and WDR technology. Of special note, Hikvision's intelligent video technologies were presented on video wall at the stand, including auto-tracking technology which helps to detect any progressively moving object and follow it within a specific defined area; and people-counting to do bi-directional analytics. These intelligent solutions are highly acclaimed by visitors coming over to the Hikvision stand.
NEC
NEC was also on the show, demonstrating a range of public safety solutions including the NEC videowall solution for command and control applications. The NEC MultiSync UN series of speciality large format displays feature built-in dual digital daisy chain, DisplayPort and DVI, and advanced LED backlit technology for best image uniformity and minimal power consumption.
The flexibility of the NEC MultiSync X463UN and X551UN videowall solution allows for swift and straightforward recalibration of displays and simple swap outs should this be required. The advanced heat management technology, auto brightness control and ECO mode help to prolong the life of the displays and reduce the total cost of ownership.
Milestone
"IFSEC SA was successful for Milestone, with a perfect location and a lot of qualified leads and projects to take home from the show. The show itself did not reveal many new products but clearly indicated an increase of visitors adapting to and looking for products that are based on IP technology. The amount of new players entering this market was limited, but there was an abundance of low-cost products offered to the market, and the acceptance of these products appears to be growing fast," says Peter Biltsted, director, Middle East & Africa for Milestone Systems.
Credit(s)
Further reading:
Paxton expands free education offerings
Issue 4 2020, Paxton Access , Conferences & Events
In response to the recent global pandemic, Paxton has expanded its online installer training platform and launched a series of informative webinars.
Read more...
---
Open Source Intelligence post COVID-19
Issue 3 2020 , Conferences & Events
ASIS South Africa hosts Craig Pedersen in a webinar focused on open-source intelligence (OSINT).
Read more...
---
Cybersecurity in the physical security world
Issue 1 2020, Hi-Tech Security Solutions , Calendar of Events
Cybersecurity in the physical security world    14 May 2020, Johannesburg    Hosted by Hi-Tech Security Solutions    More details to come.   
Read more...
---
Technology solutions to enhance retail security and optimise profit
Issue 1 2020, Hi-Tech Security Solutions , Calendar of Events
Technology solutions to enhance retail security and optimise profit    20 August 2020, Johannesburg.    Hosted by Hi-Tech Security Solutions    More details to come.   
Read more...
---
Residential Estate Security Conference Johannesburg
Issue 1 2020, Hi-Tech Security Solutions , Calendar of Events
Residential Estate Security Conference Johannesburg    8 October 2020, Johannesburg    Hosted by Hi-Tech Security Solutions    More details to come.   
Read more...
---
Making estate security work in the real world
Issue 2 2020, Technews Publishing , Conferences & Events
Hi-Tech Security Solutions is proud to have the CEO of Cotswold Downs, Shantelle Walters, presenting at the Residential Security Conference on the topic of 'Invisible Efficiency and Security.'
Read more...
---
The blessing and curse of communications
Issue 2 2020, Technews Publishing , Conferences & Events
In the Residential Security Conference 2020, Craig Rosewarne will delve into the murky world of cybercrime, while Rudi Potgieter will discuss the possibilities and benefits of a unified network.
Read more...
---
Technology at work to optimise security
Issue 2 2020, Technews Publishing , Conferences & Events
Artificial intelligence (AI) and drones are the latest additions to the security options for residential estates which will be discussed in the Residential Estate Security Conference 2020.
Read more...
---
Efficient and cost-effective risk management for estates
Issue 2 2020, Technews Publishing , Conferences & Events
Identifying your estate's vulnerabilities is key to being able to manage and maintain them effectively.
Read more...
---
Surveillance augmented by technology and people
November 2019, Technews Publishing , CCTV, Surveillance & Remote Monitoring, Conferences & Events
iLegal 2019 examined how the surveillance industry is being enhanced through the intelligent integration of the latest technology and the best people have to offer.
Read more...
---