printer friendly version
Healing fraud in healthcare
August 2013 Access Control & Identity Management, Healthcare (Industry)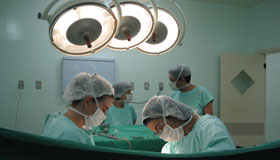 Research into the use of biometrics to reduce fraud in the medical scheme sector overseas is ongoing. Hi-Tech Security Solutions spoke to representatives from two medical schemes and the forensic audit manager from Netcare to find out whether there is or will be any uptake of the technology in South Africa.
A report in http://academia.edu by Dennis Backherms, a graduate in information technology from Capella University in the USA, takes an in-depth look at the inherent advantages and disadvantages of biometric technology in the healthcare sector.
According to Backherms: "Medical identity theft ranges from opportunists viewing medical information for personal insight, to people wanting medical attention but who do not have their own, or sufficient, medical insurance (funds) to cover costs."
What's up Doc?
Gerrie Isaacs, who is one of the forensic audit managers from Netcare said that to date Netcare has utilised biometrics exclusively for time and attendance purposes. As South Africa's largest private hospital group, Netcare submits thousands of claims on a monthly basis to various medical aid schemes. "Sadly, a number of these claims are investigated due to fraudulent use of member cards by non-members."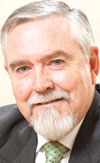 Graham Anderson, Profmed's principal officer
Graham Anderson, Profmed's principal officer says that although this trend is not isolated to certain income sectors, there is definitely a predominance of occurrence within the lower income category. "Medical scheme membership is a cost that not all can afford. Even if a main member is on the scheme, if his/her income is relatively low, they will probably not be able to enrol all members of their immediate family on to the scheme. This is one instance when fraudulent use of a legitimate card is prevalent.
"Biometrics would definitely be the answer in reducing or even eliminating card identity theft. While patients being admitted are required to produce some form of identity, often the image cannot be definitively connected to the patient due to factors such as age and ill health. By asking a patient to verify their identity with a biometric fingerprint, we would be able to immediately ascertain whether the holder of the medical aid card and the legitimate owner of the card are one and the same," Isaacs points out.
Is it viable in SA?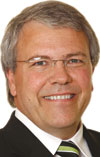 Medihelp's principal officer and CEO, Anton Rijnen
The million-dollar question is whether biometrics would work in the local medical scheme sector. Anderson and Medihelp's principal officer and CEO, Anton Rijnen, do not believe biometric technology will find a welcome home in their industry.
Both men believe that the adoption of biometric technology would be the panacea to many ills, but the limitations to the adoption process are too numerous.
"In principle, biometrics can be used to reduce fraud in the medical schemes industry. However, the cooperation of service providers is required and it must be cost effective. Accessing the rural areas may be problematic as some of the locations where services are rendered might not have an adequate infrastructure or even electricity," says Rijnen.
"We believe that every service provider should have an identical item of biometric equipment, irrespective of which medical scheme the patient belongs to. This would definitely aid in speeding up the claims process. In addition, very close attention should be paid to the authenticity of the patient during the biometric enrolment process," he adds.
"The ideal situation would be for all medical schemes to share a common biometric database. However, this might be difficult due to the fact that there is not a single body representing all medical schemes. Furthermore, the legislative requirements should be considered if a shared biometrics database is used.
"The use of biometrics can be a benefit to all role players in the healthcare industry, as the identity fraud perpetrated against medical schemes is also identity fraud against the service provider. In addition, biometrics can be used to safeguard access to confidential patient information."
Anderson says: "At this stage it would be impossible to implement a biometrics system due to the fragmentation within the industry. There are thousands of service providers and each of these would need to install a system in their rooms. The logistics around the sheer number of medical scheme members will also prove complicated for enrolment purposes. This is especially prevalent in the rural areas or where the main member is situated in one location and his/her dependants in a different area.
"This fragmentation is not only prevalent in the supplier industry but also in the medical scheme industry. Most medical schemes are members of the Board of Healthcare Funders. However, one of South Africa's larger schemes is not a member, so uniformity would be difficult to enforce," he adds.
"I do believe that if one were to start on a small scale and perhaps enrol one scheme with one hospital group, for instance, we could see some progress. Ultimately, the hospital groups need to motivate the adoption of biometrics to reduce fraud," Anderson concludes.
Conclusion
Perhaps, the potential success of biometrics in the medical scheme sector can best be summarised by the aforementioned report: "Biometric technology in the health care industry will not reach its full potential until the trust of both the health care professional and consumer have understood its use does not threaten the privacy of personal information."
The local medical scheme representatives that we spoke to echo this sentiment and cite logistics as well as mass acceptance as being the major stumbling blocks. For the immediate future then, the industry will continue to battle the incessant fraudulent use of member medical scheme cards.
Contacts
Medihelp: www.medihelp.co.za
Profmed: www.profmed.co.za
Netcare: www.netcare.co.za
Credit(s)
Further reading:
Paxton10 for smart buildings
Issue 5 2020, Paxton Access , Access Control & Identity Management
Paxton10, offering access control and video management on one simple platform, is available in the South African market.
Read more...
---
Suprema enhances cybersecurity
Issue 5 2020, Suprema , Access Control & Identity Management
Suprema BioStar 2 is a web-based, open and integrated security platform that provides comprehensive functionality for access control and time and attendance.
Read more...
---
A wizz at visitor management
Issue 5 2020 , Access Control & Identity Management
WizzPass is a locally developed software platform for managing visitors to businesses, buildings or business parks.
Read more...
---
Contactless at the game
Issue 5 2020, IDEMIA , Access Control & Identity Management
IDEMIA partners with JAC to successfully test frictionless biometric access technology at Level5 Stadium in Japan.
Read more...
---
Focus on touchless biometrics
Residential Estate Security Handbook 2020, Hikvision South Africa, Saflec, IDEMIA , Suprema, Technews Publishing , Access Control & Identity Management
The coronavirus has made touchless biometrics an important consideration for access control installations in estates and for industries globally.
Read more...
---
Providing peace of mind
Residential Estate Security Handbook 2020, ZKTeco , Access Control & Identity Management
Touchless technology embedded with face and palm recognition sensors provide 100% touchless user authentication for a variety of applications.
Read more...
---
Frictionless access with a wave from IDEMIA
Residential Estate Security Handbook 2020, IDEMIA , Access Control & Identity Management
Platinum Sponsor IDEMIA displayed its frictionless biometric reader, the MorphoWave Compact, at the Residential Estate Security Conference.
Read more...
---
Cost effective without compromising security
Residential Estate Security Handbook 2020, Bidvest Protea Coin , Access Control & Identity Management
Bidvest Protea Coin offers a range of services, all integrated to offer a future-proof and cost-effective security solution for estates.
Read more...
---
Broad range of estate solutions
Residential Estate Security Handbook 2020, Hikvision South Africa , Access Control & Identity Management
Hikvision offers residential estates a range of systems and solutions that deliver security, from the gate to the individual's own home.
Read more...
---
Excellerate looks beyond traditional guarding
Residential Estate Security Handbook 2020, Excellerate Services , Access Control & Identity Management
Excellerate Services has a suite of best-of-breed technologies that have been integrated into a sophisticated SLA, incident and people management system.
Read more...
---