printer friendly version
Long-range access control
Access & Identity Management Handbook 2017 Access Control & Identity Management, Products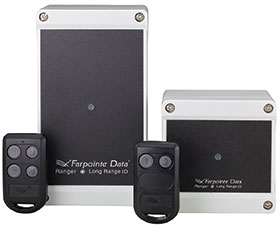 Farpointe Data has announced that access control manufacturers, distributors and integrators can now add a 13,56 MHz contactless smartcard module with MIFARE Classic or today's benchmark, the DESFire EV1, to their customers' Ranger long range transmitters, making them compatible and interoperable with Farpointe Data contactless smartcard readers and credentials.
The Ranger product line has always been compatible with Farpointe Pyramid proximity systems, being equipped with potted proximity supporting 26 bit Wiegand as well as custom Wiegand formats plus certain HID and AWID 125 kHz proximity protocols. Transmitter coding is sequential, exactly as ordered, with no over or under runs.
"EV1 sets the security benchmark for presentation technology," emphasises Scott Lindley, president of Farpointe Data. "Access control system manufacturers, integrators and dealers promoting long range reading will be able to tout greater security over MIFARE Classic smartcard technology because MIFARE DESFire EV1 uses 128 AES encryption, the same as used by the US federal government. MIFARE DESFire EV1 is based on open global standards for both air interface and cryptographic methods. It is compliant to all four levels of ISO/IEC 14443A and uses optional ISO/IEC 7816-4 commands."
Regarding other security issues, users can take advantage of the read range, which allows the Ranger receiver to be installed on the secure side of an installation, out of harm's way. Secondly, an element of the Ranger transmitter-to-receiver long-range, over-the-air protocol takes advantage of a secure, digital anti-playback routine. It is based on a custom enhanced rolling code variant of the Tiny Encryption Algorithm (TEA).
The anti-playback feature virtually eliminates the risk of code sniffing and unauthorised cloning. Lastly, Ranger supports MAXSecure, a unique Farpointe option, providing a higher-security handshake, or code, between the transmitter and receiver to help safeguard against credential duplication and ensure that a specific end-user's receiver will only collect data from these specially coded transmitters.
Used in conjunction with smartcard technology, the Ranger Transmitter supports both long range and smartcard presentation technologies with a wide range of end-user applications. Long range access control solves a number of demanding access applications that call for extended read ranges, such as parking lots, alarm activation, building entrances, marina gates, facility lock-downs, remote door opening and more. It can be used in any application where pressing a button is more convenient than presenting a card. And, once at the facility's front door, the transmitter can still be used in lieu of a card.
Ranger has been used for applications where it's critical to move larger vehicles through a secure portal, such as aircraft in and out of a hanger or tractor trailers moving in and out of terminals. For the latter, oftentimes the private property on the unsecure side of a gate allotted for trucking is limited and local authorities frown greatly on a spill over onto public roadways. Competing solutions may have inconsistent range and cannot quickly move multiple, large vehicles through these areas.
The added range reliably provided by the Ranger can eliminate this stack-up. Gated housing communities appreciate the long read range of Ranger, up to 60 m, and marinas value the ruggedised construction of the Ranger, which is both weather- and vandal-resistant.
For more information contact Scott Lindley, Farpointe Data, +1 408 731 8700, scottl@farpointedata.com.
Further reading:
Improved security health check tool
Gallagher Access Control & Identity Management Products
Gallagher Security has streamlined its free Security Health Check tool, making it easier than ever to protect against potential system risks and improve business efficiencies.
Read more...
---
Maximum fire protection for the most dangerous places
Securiton Fire & Safety Mining (Industry) Products
Africa's heavy mining and resource processing industries are some of the continent's leading economic lights. They also present some of its toughest fire safety challenges on the planet.
Read more...
---
RDC expands its production capabilities
Radio Data Communications Perimeter Security, Alarms & Intruder Detection Products
Local electronics manufacturer, RDC, recently acquired a new SMT (surface mount technology) machine to boost its manufacturing output and meet the needs of its global customer base.
Read more...
---
Suprema showcases integrated security solutions
Suprema Access Control & Identity Management Products
Apart from being an access terminal that supports multiple credentials such as facial recognition, RFID, mobile and QR codes, the BioStation 3 also supports VoIP Intercom and real-time video monitoring features to make it a truly multi-functional reader.
Read more...
---
Unlock seamless security with integrated products
Secutel Technologies Integrated Solutions Products
By combining SecuVue and Secutraq, Secutel has created a system that enables users to configure analytics, facial recognition, pose detection, and XFS among other security triggers modern service providers require.
Read more...
---
Local electronic locks
Access Control & Identity Management
YeboTech is an electronics manufacturing company, founded in 2005, which designs, markets and sells an electronic key and locking systems, aimed at replacing all conventional mechanical locks.
Read more...
---
Selecting the correct access control system
Enkulu Technologies Access Control & Identity Management
Frazer Matchett, Managing Director of Enkulu Technologies, suggests the right questions to ask when selecting an access control solution; not just the access system, but the integrated solution that fits your requirements.
Read more...
---
Integrated guarding services
XtraVision Integrated Solutions Access Control & Identity Management Industrial (Industry)
XtraVision offers a few tips on how to go about planning and setting up an integrated approach to sustainable and successful security services, from the initial risk assessment to the technology and people required.
Read more...
---
Paxton secures multi-tenant office in Cape Town
Paxton Integrated Solutions Access Control & Identity Management Products
Cecilia Square in Paarl, Cape Town is an office building from where several businesses operate. The multi-tenant site has recently undergone a full refurbishment, including a complete upgrade of its security system for access control.
Read more...
---
AI face recognition OEM module
Suprema News Access Control & Identity Management Products
Suprema AI, a company specialized in artificial intelligence–based integrated security solutions, recently launched its high-performance face recognition OEM module called 'Q-Face Pro' in response to the growing need for contactless security solutions.
Read more...
---