printer friendly version
V&A Waterfront surveillance is a security winner
July 2013 CCTV, Surveillance & Remote Monitoring, Retail (Industry)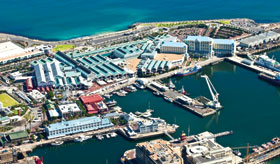 Using Axis cameras and Milestone software, the V&A Waterfront in Cape Town embarked on a three-year project to upgrade over 1000 analogue surveillance cameras to the IP platform, while enhancing its ability to proactively manage security across its large mixed-use property.
When considering the implementation of a modern surveillance solution for an area the size of 80 rugby fields, one cannot simply opt for the cheapest solution and start installing cameras. It is a complex situation further complicated by the fact that the area already had over 1216 analogue cameras installed.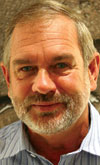 Deon Sloane
This was the challenge that faced the well-known V&A Waterfront in Cape Town. Deon Sloane, senior security manager at the V&A was faced with a security surveillance system that had to cover an area of approximately 300 acres, with over 16 000 people working on site in any 24-hour period and around 23 million visitors each year. In addition, there are some 10 kilometres of roads and 85 buildings within the Waterfront area – and that does not take into account future expansion plans.
Of course, Sloane understood that simply adding cameras and moving to an IP platform would deliver limited results in an area of the size and complexity of the Waterfront. If the new security system was going to be worth the time, effort and cost, it had to deliver more than video. At the recent Milestone Partner Open Platform (MPOP) event in Abu Dhabi, Sloane explained the final solution the V&A Waterfront wanted, and how it was achieved.
Due to the size and complexity of the project, the V&A and its system integrator, ITS Group, won the Milestone MEA (Middle East and Africa) award for project of the year for this multi-million Rand implementation. The award was handed out at the MPOP conference in May.
V&A requirements
Sloane said that to implement a security solution for the V&A Waterfront, the company knew it would need to avoid simply focusing on cameras and video feeds. A focus on movement control, be it the movement of people, cars, delivery vehicles etc., would have to be the central focus on the solution.
This approach would allow the Waterfront to balance the proactive and reactive side of security and deliver a working solution that meets the needs of the owners, the tenants and their businesses, as well as the visitors who expect a secure, stress-free experience. In the end, the security team wanted real-time intelligence from its security installation to allow it to make fast, informed decisions on a 24/7 basis.
Sloane adds that the 24/7 nature of the V&A's security requirements made it crucial that they found partners that were able to provide a high level of support, demonstrate an intricate knowledge of the products chosen and would be able to deliver a sterling maintenance service. Efficient maintenance and support are critical elements of any effective solution.
To find the right technology to meet the V&A Waterfront's needs, Sloane embarked on a year-long research project, together with Nigel Versfeld from Diversified Security Engineering as a consultant that culminated in the decision to standardise on Axis hardware and Milestone's video management software.
Putting it together
When talking about the decision to adopt Milestone's XProtect Corporate, Sloane says the first benefit was, and is, that it is an open architecture platform, which gives the end user the freedom to create and use a security system tailored to its needs. There are also no limitations in the scalability of the Milestone system, and one can expand as your requirements change without having to replace software or install a different version.
"It also allows us to balance proactive and reactive security correctly," Sloane says. XProtect is also easy to use, an important issue for Sloane as he did not want operators struggling with their software when they should be concentrating on protecting their environment. To make using the system easier, standard operating procedures (SOPs) are easy to load and can guide the operators in the correct action to take in a variety of circumstances.
The VMS is also there to present reports to the right people in as close to realtime as possible, streamlining the process of producing management reports. This brings the concept of physical security to management level and allows executives to see the real results of the system from a security as well as a business perspective.
The move to IP
While the V&A Waterfront knew there would be benefits in moving from analogue to IP cameras and infrastructure, the process also had some caveats. Sloane explains that it was not enough to simply plug a camera in anymore, now the technical staff and the Waterfront's service provider needed IT and networking skills. The first step was therefore to upgrade the skills of the V&A's technical teams so that they could more easily handle the transition to IP.
When looking for a camera manufacturer, Sloane considered a few, but decided to standardise on Axis Communication's products. Once again, it was important to find a manufacturer that supported open protocols and could provide a range of different cameras at a reasonable cost. As before, support and maintenance was of paramount importance. The Axis support base in the Western Cape was therefore a tick in the right box.
Given the size and scope of the area in which more than 1000 cameras would have to be installed, it was important that Axis had cameras that could handle the varying lighting conditions both inside and outside buildings. And being located on the Cape Town coastline, the V&A also needed reliable cameras that could deal with varying weather conditions, from heat to cold, strong winds and the corrosive sea air, while still being aesthetically appealing.
Axis met all these requirements with wide-dynamic range (WDR) cameras that could handle varying light conditions, as well as IP66-rated devices for protection from the environmental challenges. On top of this, it also provided tamper resistant cameras that delivered quality high-definition images. There is also a range of proven third-party analytics solutions the V&A could use with Axis and Milestone.
Phased approach
To ensure the project was rolled out efficiently and could be seen to be delivering results, a phased approach over three years was taken. Sloane says the three-year timeframe was chosen because the V&A Waterfront needed a security solution, not simply products. This approach allowed the company to ensure each part of the project delivered on its promises before moving to the next phase.
Part of the solution was to ensure that not only did the technology work correctly, but that it was integrated with the V&A's guarding services to ensure prompt and effective responses to all situations.
Another benefit to using open architecture software and hardware that supports open protocols is that the security solution can be expanded as required, using the latest in camera technology without being forced to change or reconfigure anything. Even if the V&A Waterfront decides to use product from a different camera manufacturer, XProtect's openness ensures this will not cause any problems.
Sloane says that the V&A Waterfront undertook this project with the aim of setting a benchmark, and it has succeeded. He attributes this success to careful research and planning, and the willingness of Axis and Milestone to commit to a long-term partnership with the V&A Waterfront.
Credit(s)
Further reading:
Retail solutions beyond security
Issue 8 2020, Axis Communications SA, Technews Publishing, Hikvision South Africa , Editor's Choice, CCTV, Surveillance & Remote Monitoring
The need for security technology to deliver more than videos of people falling or stealing from retail stores is greater than ever.
Read more...
---
A 'step-change' in tracking and monitoring
Issue 8 2020, Dahua Technology South Africa , CCTV, Surveillance & Remote Monitoring, Products
View an overall scene while monitoring a specific person or vehicle, or obtain a panoramic view while being able to zoom in and track particular targets.
Read more...
---
AI-powered hardhat detection
Issue 8 2020, Hikvision South Africa , Industrial (Industry), CCTV, Surveillance & Remote Monitoring
Hardhats save lives, but only if people wear them. Intelligent, AI-powered hardhat cameras are helping to ensure workers in dangerous locations stay safe at all times.
Read more...
---
HDR and GDPR ready, with edge-storage
Issue 2 2021, Dallmeier Electronic Southern Africa , CCTV, Surveillance & Remote Monitoring
Dallmeier introduces new generation of Picoline ultra-compact fixed dome and varifocal box cameras.
Read more...
---
S&ST launches second App Challenge
Issue 2 2021 , Integrated Solutions, CCTV, Surveillance & Remote Monitoring
Security & Safety Things has launched its second App Challenge for the development of creative, specialised video analytic applications for specific use cases in retail, transportation/smart cities, healthcare and entertainment/stadiums.
Read more...
---
Improving patient care
Issue 2 2021, Axis Communications SA , CCTV, Surveillance & Remote Monitoring, Healthcare (Industry)
Nemours Children's Health System has installed Axis network video cameras in every patient room to improve patient care to avoid nuisance alarms.
Read more...
---
Geutebrück releases latest management system
Issue 2 2021 , CCTV, Surveillance & Remote Monitoring, Integrated Solutions
G-SIM X Panopticon, the latest release of Geutebrück's management system, integrates additional features designed for more rapid and cost-effective setup, enhanced intuitive operation, and multi-site networking.
Read more...
---
Surveillance in remote areas
Issue 2 2021, LD Africa , Products, CCTV, Surveillance & Remote Monitoring
The JH016 4G Solar Powered Outdoor Security Camera is designed to meet the security needs for remotely monitoring off-the-grid locations, without Internet/Wi-Fi or power.
Read more...
---
Vemotion reports a surge in streaming video surveillance applications
Issue 2 2021 , CCTV, Surveillance & Remote Monitoring
Vemotion Interactive, the UK manufacturer of low-latency, high-performance, live video streaming solutions for systems integrators and OEM solutions providers reports that over the past 12 months trends in streaming live video have accelerated.
Read more...
---
Eagle Eye Networks and Salto partner in co-living trend
Issue 2 2021, Eagle Eye Networks , CCTV, Surveillance & Remote Monitoring
Cloud video surveillance and cloud access control are giving co-living communities the necessary insights into how to better protect, manage and optimise the use of their spaces.
Read more...
---