printer friendly version
Milestone's secret weapon is its ecosystem
July 2013
CCTV, Surveillance & Remote Monitoring
Milestone Systems recently held its Milestone Partner Open Platform Days (MPOP) for its Middle East and Africa partners in Abu Dhabi. Hi-Tech Security Solutions was fortunate to be there to hear the latest from the company and some of its partners.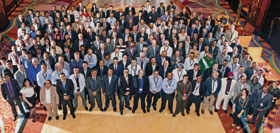 Attendees at MPOP MEA 2013.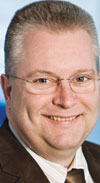 Peter Biltsted, Milestone's director for the Middle Easand Africa. "The skills requirements for accreditation will be increased.""
In introducing the conference, Peter Biltsted, Milestone's director for the Middle East and Africa, said the conference attracted about 270 people from 24 countries as well as demonstrations from 24 exhibitors. These exhibitors ranged from Milestone's Diamond partners like IBM, to Platinum partners like Arecont Vision and Razberi Technologies, Gold partners like Sony, Bosch, Pivot 3 and Allied Telesis, and other sponsors like Pelco, Axis, Sentry 360, Vivotek and Raytek, among others.
Local companies represented at the event included Axis Communications, Camsecure, IPVS (IP Video Solutions), ITS Group and the V&A Waterfront. At the dinner event at the end of the conference, Milestone handed out a range of annual awards to recognise its partners in the MEA (Middle East and Africa) region.
This year saw South African companies showing their colours and collecting multiple awards in each category. The following lists the South Africa awards:
* Best Value Added Distributor of the year 2012 for Africa was won by IPVS;
* Best Project of the year 2012 for Africa was won by the V&A Waterfront and ITS Technologies (be sure to read the case study printed in this issue);
* Best MAP Partners of the year 2012 for Africa was won by Axis Communications, which also won the same award for the Middle East region;
* Best Partner of the year 2012 for Africa was Camsecure.
State of the Union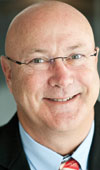 Eric Fullerton, Milestone's chief sales and marketing officer. "Milestone has divided the market into nine segments ranging from low to high complexity and single to multiple sites."
In his State of the Union presentation, chief sales and marketing officer, Eric Fullerton noted that Milestone's compounded growth between 2004 to 2012 averaged 34,3%. He added that the Middle East was the strongest contributor to the company's first quarter results for 2013, showing 117% growth, 49% above budget. This region is really in the pound seats for security growth in the coming years, even the partners in the region were excited about the opportunities and looking to establish a presence in critical centres – such as Abu Dhabi and Dubai.
He then highlighted Milestone's leadership in open platform video management over the years. Two of the focus areas he highlighted was Milestone's decision to commit to its channel and establishing the Milestone ecosystem – allowing third parties to create applications that could be integrated into and enhance the value-add of the core Milestone platform. South Africa's Smart Protect (www.smartprotect.co.za) is an example of this type of application.
In 2013, the company's goal is to execute on three aspects of its strategy, a new segmentation model, an updated channel partner programme and its multi-platform recording engine (called Arcus).
In the segmentation area, Fullerton says Milestone has figured out that the traditional market segmentation of the low end consisting of one to 16 cameras, the mid-market made up of 17 to 100 cameras and the high-end of over 100 cameras does not work in the real world. Milestone has therefore divided the market into nine segments ranging from low to high complexity versus single to multiple sites, each served by various XProtect products.
The goal is to use a common strategy to address all the customer segments, but to focus on what works for the customer, whether this is starting small and growing the solution as required, or high-touch customers that require one-to-one service for complex, multi-site solutions.
Fullerton later also highlighted the pain points in the market that Milestone either resolves or is working to resolve. These include:
* Flexibility: Milestone's technology must be adaptive to current and future market and customer needs.
* Simplicity: there is a great need for simplicity across all the company's products and Milestone is working to implement solutions that are simple to use, but powerful.
* Scalability: the company allows customers to scale from 8-camera solutions up to enterprise-level solutions easily, without having to reinstall software or learn how to use a new application.
* Reliability: this is a core value of Milestone, and is first in its values of reliability, openness, independence, flexibility and innovation.
Biltsted also said that in the past Milestone's partner programme made it too easy for some companies to get accredited, which is unfair to loyal Milestone partners. The skills requirements for accreditation will be increased to ensure that partners have a minimum level of knowledge; this will allow Milestone to vouch for their partners' ability to deliver.
Full service
Currently, Milestone has many offices throughout the world and unconfirmed talk at the conference says it may be opening an office in South Africa soon, as well as holding a partner conference in the country. At the same time it has over 6000 global integrators, over 500 partners and over 100 000 end-users in over 95 countries.
Cees Poortman, Milestone VP, EMEA followed with more insight into the services Milestone wants to offer its partners. Following 25% growth for the company in EMEA for 2012 and 40% for the year to date, Milestone is looking to solidify and expand its ecosystem.
To support the full ecosystem, Milestone will expand the services it offers to include more than software. Some of the services partners can expect from the company in future include marketing and pre-sales support, as well as customisation support. Poortman made it clear, however, that Milestone would remain 100% channel focused and was changing the way it operated to expand its leading market position by expanding its partners' capacity to deliver solutions. Enhancing the ecosystem is a win-win for everyone.
The company is also in the process of developing more ways in which partners at various levels can help themselves without having to call a support line and talk to an operator. The Milestone website has been enhanced and will be further enhanced to support this initiative.
Juliette Gustavsson, head of Milestone's corporate marketing reinforced this approach by highlighting the tools the company has made available to partners. Some of these include a YouTube channel with educational content, as well as free 30-day trials of all its software that allows anyone to discover its value. Milestone will also focus on qualifying more leads for the channel.
As part of its improved website, Milestone's Solutions Finder also allows people to discover third-party solutions that have been integrated into Milestone and are designed to solve specific issues. The partner segment of the website will also provide early access for partners to all company information. Gustavsson adds that Milestone will ensure it is in all the places customers will be looking for it to promote the brand and give partners a chance to meet the right people.
Product improvements
Bjorn Skou Eilertsen, VP of the corporate products business unit, highlighted the changes and improvements Milestone has and is making to its product line up to address market needs.
Availability is key for Milestone's XProtect Corporate product and it has had its hot standby speeds improved 10-fold, while its failover is five-times faster than before. It has also extended its clients to mobile devices.
With Milestone's new Interconnect, the company enables customers to manage surveillance and storage equipment from various branches in a 'loosely coupled' federated architecture. This gives control rooms easy and fast access to stored and live video feeds from branches and offices around the world. Interconnect offers partners the opportunity to do more business with clients who may in the past have hesitated to include their smaller remote offices in their surveillance solution.
It has also released Milestone XProtect Expert for medium and large installations. Its central management interface allows large systems with multiple recording servers to be efficiently managed as one uniform system. Using scheduled and event-driven rules, it is easy to automate security actions and control external systems, reducing the amount of manual tasks. Expert has the same features and scalability as XProtect Corporate, but is designed to be a simpler stepping-stone to Corporate without features such as failover.
Finally, Eilertsen says the company is continually looking to simplify the set-up process of its Professional, Essential and Express versions of XProtect. The focus is on ease of use and the speed of installation, and Milestone has advice readily available online.
Partner support
Christian Bohn, VP corporate marketing and alliances was left to sum up how Milestone was ensuring its software as well as the solutions from its ecosystem are delivering the best solutions and value to customers, as well as more business to partners. He started by explaining how Milestone meets all the requirements on the "open systems checklist": Milestone offers a non-proprietary platform that uses standard IT equipment, its SDK and APIs are readily available to developers, it has established an ecosystem of partners and it offers consulting and support to its channel.
As far as meeting the broadest needs of the market, Milestone added over 500 new drivers to its system in 2012 and supports over 150 manufacturers. It will continue this support and intends to improve its ability to add drivers and support new camera features quickly.
In 2013, we will see a new camera manufacturer programme from Milestone, as well as better integration with its top partners. There will also be stronger ONVIF integration. Bohn also stresses the more stringent requirements for certification partners, as well as better assurance for customers that their certified products will perform as required.
Finally, the company will also be launching a Vertical Specialist Programme with targeted channel partners that have skills in specific markets. In this programme, the company will recommend these partners when requests come in.
Partners take Milestone further
Milestone's partners were also afforded the opportunity to take the stage and talk about what they are doing as part of the ecosystem. IBM's Christian Schnedler, senior public safety consultant spoke on his company's Smarter Cities initiative to "secure a smarter planet".
He noted that security is the most fundamental value a government can offer its citizens and that it is a prerequisite to other values, such as economic growth. The approach Schnedler takes is to treat physical security as data that can be analysed for current and future needs.
He sees the need to get "sensors" into the world to collect security-related data (these sensors can be any security products, including mobiles). The need is then to effectively store, manage and analyse these data to anticipate, prevent or respond to events. Naturally, this extends far beyond the limited scope of security, to include any events or conditions that will affect a city and its inhabitants, such as water availability and purity.
Arecont Vision's Scott Schaffer took the stage to talk about the growing market requirement for smaller, faster and less expensive cameras. However, he noted that with these requirements, customers were still looking for more reliability and higher quality. He says megapixel cameras are still in the early adopter phase and will make an even bigger impact in the surveillance world going forward.
Tom Galvin, president of Razberi Technologies was on hand to talk about his company's all-in-one ServerSwitch appliance running Arcus, a video surveillance platform Milestone designed to be embedded in hardware devices, enabling Milestone's hardware technology partners to deliver customised, market-ready solutions. Milestone pre-configures and embeds the surveillance platform into hardware devices running Linux, Mac OSX or Windows operating systems to produce solutions to a market that increasingly demands low-complexity surveillance solutions.
The ServerSwitch has Linux embedded and can support up to 16 terabytes of storage. Arcus is supplied pre-installed as a low-cost entry-level platform. It offers basic DVR functionality out of the box and is run from a simple Web interface. If Arcus is preinstalled, there are no licence costs. If users want more than Arcus, other Xprotect versions can be downloaded and run on the platform.
These three partners had displays in the exhibition area. More than 20 other companies were also exhibiting everything from cameras, to lighting and storage solutions, physical security products and analytical applications that all function as add-ons to Milestone's core XProtect product.
The attendance, both from the partners as well as exhibitors shows not only the interest in Milestone's software, but also the exciting growth prospects in the MEA region. The Middle East alone is set to outpace every other area in the world in terms of growth this year, and potentially for many years to come. While Africa should be a good target for Milestone's surveillance ecosystem, it remains to be seen how the emerging economies on the continent perform in the coming months and years. And given the pile of prizes won by South African partners, the country is in a good position to capitalise on growth in the region going forward.
Milestone Arcus
Milestone Arcus is an embedded video surveillance platform for low-complexity, low-cost security installations. Milestone Arcus runs on Linux, Mac OSX and Windows operating systems, within network storage and cameras or other devices on the edge.
This is a significant differentiator in today's security market offerings. Hardware partners embedding Milestone Arcus in any kind of hardware form factor will be able to offer a streamlined, video management tool that is simple and easy to install – at competitive price points.
Arcus is a multi-platform VMS solution for hardware vendors to embed in their products, to be sold by their channels as an out-of-the-box solution, ready to use. These embedded solutions will be co-branded with Milestone to let customers know they are getting the best in video surveillance.
About 60% of the physical security market is estimated to be using analogue equipment so there is considerable potential business that will be moving to IP networked solutions over the coming years. "There is conservatively $6B in analogue sales by 2015 that will be converting to IP in the security equipment market, not including service and maintenance. Milestone Arcus opens up new growth opportunities in which hardware vendors can accelerate their business," said Balaji Srimoolanathan, principal consultant, aerospace, defence & security, Frost & Sullivan. "Milestone Arcus is timed right for this trend and can reach the low end of the security market that will be in transition. It will be a major driver, with huge impact in motivating a lot of people to move toward IP."
Hardware vendors who embed Milestone Arcus in their products will gain an advantage from low development costs by using the top-branded Milestone VMS technology. Milestone will provide the integration and software upgrade paths in ongoing new releases.
Credit(s)
Further reading:
A step up in safety
Issue 4 2020 , CCTV, Surveillance & Remote Monitoring
With the COVID-19 pandemic, body-worn cameras (BWC) now play an even more important role in safety and accountability than ever before, ensuring a more significant option in the protection of employees.
Read more...
---
Latest Longse thermal technology
Issue 4 2020, LD Africa , CCTV, Surveillance & Remote Monitoring
Longse thermal IP cameras include remote monitoring, a video server and high-definition camera functions.
Read more...
---
LenelS2 enhances VRx VMS
Issue 4 2020, UTC Fire & Security SSA , CCTV, Surveillance & Remote Monitoring
LenelS2 announces enhancements to VRx video management system, uses deep learning and native NetBox ecosystem integration for a unified security management experience.
Read more...
---
Empowering verticals with AI
Issue 4 2020, Dahua Technology South Africa , CCTV, Surveillance & Remote Monitoring
Dahua Technology has released WizMind, a portfolio of project-oriented products delivering AI solutions to verticals including government, retail, energy, finance and transportation.
Read more...
---
The benefit of thermal screening
Issue 4 2020, Technews Publishing, Sensor Security Systems , Security Services & Risk Management
How preventive screening with thermal cameras can help in the fight against COVID-19.
Read more...
---
The OSPAs partner with Securex South Africa
Issue 4 2020, Technews Publishing , News
The Outstanding Security Performance Awards (OSPAs) have partnered with Securex South Africa and will be launching the 2021 awards during a security thought leadership webinar on 16 July 2020 at 14:30.
Read more...
---
From the editor's desk: The worst of times
Issue 4 2020, Technews Publishing , Editor's Choice
While the world is going through a tough time at the moment with the pandemic and seemingly endless economic problems, Hi-Tech Security Solutions and Technews Publishing has had an additional burden of ...
Read more...
---
Leaders in risk & security: Assessing threat, risk and vulnerability
Issue 4 2020, Sentinel Risk Management, Technews Publishing , Editor's Choice
After serving a 27-year 'life sentence' in the military, Andy Lawler has spent over ten years in the private security industry as a risk specialist.
Read more...
---
Safety and productivity for retailers
Issue 4 2020, Dahua Technology South Africa , CCTV, Surveillance & Remote Monitoring
Dahua Technology launches retail epidemic safety protection solution to enhance store operation safety under COVID-19.
Read more...
---
Non-contact and visual protection measures
Issue 4 2020 , CCTV, Surveillance & Remote Monitoring
Non-contact and visual protection measures to contain the coronavirus – Geutebrück extends its product portfolio by three DSGVO-compliant video solutions.
Read more...
---