printer friendly version
Using security technology to ­improve the bottom line
July 2013
Integrated Solutions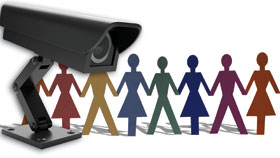 In recent years, organisations have realised that security technology does not need to be a cost-to-company. Many companies and organisations are now capitalising on the flexibility of this technology to provide them with a return on investment. Hi-Tech Security Solutions asked four vendors to share their customer experiences and explain how security technology can be used for non-security purposes.
Martin Cooper, technical director of Controlsoft said they have seen an upsurge in the use of security technology and systems for business purposes. "Everyone acknowledges that security does not provide a direct return on investment. The most it can do is prevent what is already yours from being unlawfully taken. What organisations began to ask was: 'How can we utilise this huge capital investment to save us money?'
"One of the most popular business uses of security equipment is for time and attendance. By using biometric readers to determine the exact number of hours an employee has worked, companies are saving substantial amounts," Cooper said. "Another instance is using biometrics to enable only an authorised user to log into their PC. In this way data theft and fraud is eliminated."
According to Francois Malan, MD of Camsecure, the adoption of security technology has been immense. "Many companies are spending more on this technology for business purposes than what they are for traditional security purposes. This is especially true in the banking and retail sectors.
"We have seen growing popularity in till point integration and people counting. In addition to ensuring that there is no fraud or theft at the tills, cameras provide feedback on market demographics, such as where and when people are buying certain items. In this way, it provides stores and centres with consumer trends. In addition, till point integration with video also helps with the investigation of fraudulent transactions, security measures such as pin and chip and, additionally, surveillance analytics such as facial recognition are being investigated to curb these fraudulent transactions.
"We recently tested two surveillance based systems to provide a centre with a people counting function. This is complemented by surveillance cameras that monitor movement within the centre, to provide an accurate determination of traffic flow. A heat map indicates areas of busyness in red, less traffic in areas marked orange and quieter areas marked in green. Cameras are also used to determine queue length and the amount of time people wait in a queue. When the queue becomes too long, management is alerted and they can take action by opening more till points."
An interesting new application is using facial recognition technology to indicate the emotional state of a person while shopping and paying for purchases. This can provide greater insight for store managers or banks to improve service levels.
Healthy health & safety
Julian Moss, Pelco product manager at Schneider Electric, originates from the UK where security technology has been used for business purposes for many years. "Typically, improved control of health and safety is a popular reason for using security technology. Organisations use cameras for general observation purposes that allow them to monitor whether employees are infringing OHS regulations. On a more niche level, we have seen the surveillance cameras take on an increasingly popular role in the monitoring and tracking of wildlife in game reserves."
So what prompted the decision to use security technology for non-security purposes? "Depending on the application, the answer could be a need to closely monitor OHS practice. One mining client needed to ensure that the employees and contractors entering the property held valid medical certification. By using biometrics, the mine was able to disallow access to all people who were not in possession of a valid, current certificate," said Marius Brits, operations manager for systems at Johnson Controls.
Cooper said that not only does the use of this technology for T&A save companies money, but it is also environmentally friendly. "With growing concerns about reducing carbon footprints, biometric T&A eliminates a lot of paperwork. Confidentiality of documentation is also a factor. We have seen a system where an employee working in a Johannesburg office sends his document via the company internal system to a printer at the Durban office. Once he arrives at that office, he merely uses his fingerprint to access the system and print his document. In this way, there is no concern that the document will be lost in transit."
Cross pollination
Malan believes that cross-pollination of technology is a natural phenomenon. "This has been prompted by the adoption of common communication standards through IP technology. An example of this is the evolution of the traditional intercom system, which is now becoming closer to VoIP telephones. This is now also a security function, due to the added remote ability to control your facilities and allow people to enter or leave your premises from a central control."
"The security technology plays a dual role – for traditional security as well as for business purposes," said Brits. "Surveillance cameras monitor employees and suppliers at the receiving and dispatch areas to ensure that the correct type and amount of product is either received or dispatched. In addition, it can be used for OHS purposes to prevent employees from entering hazardous areas."
Cooper agreed, adding that security plays the predominant role in protecting assets, with the knock-on benefit it provides when integrated with other business systems.
Cases in point
"Cash suspending entails storing your profile on a system then using your fingerprint to access money and pay for your purchases and bills without having to carry any cash. There are also student applications where a biometric fingerprint reader is used to record what they eat and how much they have spent at the college or university canteen. Their benefactors can then log into a website and place limits on their maximum allowable expenditure and monitor future spending," said Cooper.
Moss cited a mine application where aerospace cameras are being utilised in deep excavations. "The mines drill sample tunnels and use the cameras to survey the area and ensure that the drillbits are working effectively. The analogue cameras are housed inside a durable tube that can withstand the harsh underground conditions.
"Other applications include the recording of facial expressions in response to billboard advertising. This provides the advertiser with valuable feedback on whether the advertisement is being favourably received. Cameras can monitor pedestrian traffic levels within shops and could alert management to possible bottleneck situations. With this information in hand, they can then deploy staff from quieter branches to assist with the busier stores," added Moss.
He continued: "On a production line for PCBs where the components are placed using laser guidance, cameras can both ensure correct placement and monitor workflow. Cameras have been deployed to reservoirs where they monitor the level of the water table on a marine quality graduated vertical staff gauge, in the event that the sensors become clogged up with sludge."
Malan said that there is an increasing call for security technology in production facilities. "Here the technology can be used to monitor workflow and critical production areas, as well as for OHS compliance, to prevent liability claims and to educate employees. In addition, cameras can be used in conjunction with waybills to ensure that packages are sent to the correct container or truck. This is similar to the application on weighbridges where companies can ascertain that the correct product is in a specific truck and also to confirm the reading on the scale."
All respondents agreed that some customisation of security technology and systems will be required in specific instances. Generally, the customisation is software based, but some equipment will require special housing. "Attention should be paid to the correct use of equipment, specifically if a camera is installed in an outside environment. In this instance, it is critical that weatherproof housing is used. This is often something that is overlooked," said Moss.
What next?
Moss said that the number of possible applications for security technology is limited only by the imagination of its users. "Energy saving continues to dominate world circles and by integrating BMS with security technology, companies and organisations can dramatically reduce their carbon footprint by automating the switching on and off of office equipment, lighting and HVAC systems.
"Cameras and access control systems are so much more than just security technology – they are a very powerful management tool and have the potential to save organisations large amounts of money. It is important to have realistic expectations, though, in order to achieve a good outcome. Regardless of what the popular crime investigation series on television may say, you simply cannot keep enlarging an image to improve its clarity," he quipped.
"We have just finalised the integration of an alcohol analyser (Alcolizer) with a customer's current T&A and access control system. The workers on site operate heavy machinery on a daily basis. It is therefore vital that they are not allowed to operate the machinery while under the influence of alcohol," said Cooper.
"When drivers arrive at work, they place their finger on the biometric reader and they are then requested to blow into the tube attached to the Alcolizer. If they test positive for alcohol ingestion, the system will not permit them to enter the premises and an alert will be sent to the HR department who will then place the Alcolizer results on their record. This can then be used as evidence should disciplinary procedures or CCMA intervention be required.
"Also in the development stages is the integration of the HID Global SE smartcard proximity reader range with Controlsoft's hardware architecture. We will utilise our I-Net IP controller to communicate with the HID readers. In this way, we will enable the end user to implement a highly encrypted smartcard solution at lower cost due to each I-Net being able to control four doors," said Cooper.
"A large mine is currently investigating the integration of their X-ray machine with a biometrically-driven instrument that measures the amount of radiation each person is exposed to. It will measure the number of times they have been X-rayed within a certain timeframe and will provide feedback to the human resources department on their risk profile. This is, of course, in addition to detecting whether they are stealing from the mine," said Brits.
"It is critical to point out the limitations of any technology. You also need to be realistic about the budget and the skills of the person using the technology. One of the biggest barriers is non-delivery on technology promises. It is better to keep things simple by breaking technology implementation into simple steps and achieving these sequentially," said Malan.
The adoption and adaptation of security technology to fulfil a secondary, business-driven role has huge potential for organisations. Benefits that can be expected are increased health and safety awareness and compliance; increased operational efficiency; increased employee productivity; reduced false employee wage bills; and reduced liability claims.
Credit(s)
Further reading:
A contact-free hotel experience
Issue 7 2020, Technews Publishing , Access Control & Identity Management
Check-in and go straight to your room without stopping at the reception desk at Hotel Sky in Sandton and Cape Town.
Read more...
---
Management of PPE allocation made simple
Issue 7 2020, Powell Tronics, Technews Publishing , Editor's Choice
Of all the roadblocks and challenges COVID-19 has introduced us to over the past few months, one of the tasks organisations have to manage is the issuing of PPE to staff.
Read more...
---
No downtime for transport security
Issue 7 2020, Secure Logistics, Technews Publishing , Logistics (Industry)
After a brief downturn in crime due to the COVID-19 lockdown, the transport sector is once again at the centre of a crime spree.
Read more...
---
Warehouse security and the pandemic
Issue 7 2020, Technews Publishing , Logistics (Industry)
The warehousing industry is under intense attack from organised, armed criminal syndicates following the lockdown.
Read more...
---
From the editor's desk: Waiting for PoPI
Issue 7 2020, Technews Publishing , News
A while ago we heard of yet another cyber breach, this time from Experian.
Read more...
---
An exciting journey in security
Issue 7 2020, Technews Publishing, BTC Training Africa , Editor's Choice
Errol Peace describes his 40-plus year career in the security industry where he was and is a great proponent of training as an "exceptionally exciting journey".
Read more...
---
Secure IoT devices and networks
Issue 6 2020, Technews Publishing , Cyber Security
Check Point Software's IoT Protect solution secures IoT devices and networks against the most advanced cyber-attacks.
Read more...
---
Keep your distance with PeopleCounter and DistanceGuard
Issue 6 2020 , Integrated Solutions
Using 2D and 3D LiDAR sensors from SICK, people can easily uphold the recommended minimum distance in public and pre-defined spaces.
Read more...
---
From the editor's desk: Covid consolidation
Issue 6 2020, Technews Publishing , News
The global security industry has seen quite a few high-profile mergers and acquisitions over the past year or two, with an even greater number of smaller companies that don't get the headlines also merging, ...
Read more...
---
Critical control management
Issue 5 2020 , Integrated Solutions
The critical control management process is an excellent practical approach to ensure effective controls over potentially catastrophic events.
Read more...
---