printer friendly version
Integrated biometric access
Access & Identity Management Handbook 2017 Access Control & Identity Management, Integrated Solutions, Education (Industry), Security by Industry Sector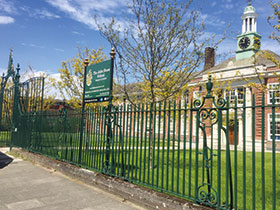 The John Roan School is a secondary comprehensive in Greenwich, south-east London. Founded in 1677, it is one of the oldest state schools in the country. With a brand new, state-of-the art building at Westcombe Park, and a fully redeveloped facility at Maze Hill, John Roan required an improved and upgraded access control solution.
The John Roan School contracted Ideal Security to provide a solution that would enable the school security administrators to manage and control the movement of people across the school grounds. The students at the school had got into the habit of sharing access tokens and PIN numbers, in order to take advantage of restricted areas on the premises. John Roan required a solution that would prevent this practice.
Biometric solution
Russell Webb, of Ideal Security recommended integrating the school's existing Net2 system with Suprema BioConnect's identity management platform, to provide a simple end-to-end system for the school security administrators.
Net2 is a user-friendly, flexible networked access control system, designed to make the management of any site straightforward. The ease with which an additional identity management system can be integrated into the Net2 software, meant it provided the ideal framework to meet the school's growing requirements.
The installation of 31 BioLite Net Readers was initially used to manage the movement of the 300 members of staff across the two school sites. With the completed BioConnect and Net2 software integration, the new system is nowfully operational, managing the flow of over 1600 students and the 300 staff across the school grounds.
The multi-factor authentication required by the BioLite Net readers; PIN, fingerprint, and token, enabled the users to continue using their existing PINs and tokens, with the additional level of security and peace of mind from the biometric authentication. The new system provides a unique record of who is on site, preventing any unauthorised persons from gaining access to restricted areas or from using a borrowed token. Utilising the existing means of identification, while integrating with the new readers has meant disruption to the staff and students was kept to a minimum.
Fast rollout
The simplicity of the Net2 software integration with the BioConnect platform means that John Roan has been able to roll the new system out to more users than anticipated, in a short period of time.
Russell said, "The John Roan School admin loved Net2 for its simplicity and flexibility both for reporting and integration options". The Net2 and BioConnect platform integration has capitalised on the simplicity that Net2 is known for, to deliver a much improved solution and, most importantly for the John Roan School, a simple administration tool.
For more information contact Paxton, +27 (0)21 427 6691, support@paxtonaccess.co.za, www.paxtonaccess.co.za
Credit(s)
Further reading:
Integrated transportation security
Guardian Eye AI & Data Analytics Integrated Solutions Logistics (Industry)
HG Travel installs an AI-powered camera system integrated across 115 vehicles throughout a fleet comprising 160 vehicles of different sizes, along with predictive and self-monitoring tools to track tyre condition, fuel consumption and theft, and overall vehicle maintenance.
Read more...
---
Embracing next-generation surveillance for safer cities
Surveillance Integrated Solutions AI & Data Analytics
With the South African government highlighting the importance of building smart cities by integrating advanced technologies to make them more resilient and liveable, the role of next-generation network video and surveillance technologies cannot be ignored.
Read more...
---
Gallagher Security releases Command Centre v9
Gallagher News & Events Access Control & Identity Management Integrated Solutions
Richer features, greater integrations, with the release of Gallagher Security's Command Centre v9 security site management software designed to integrate seamlessly with various systems and hardware.
Read more...
---
Paxton's Net2 secures medicinal cannabis facility
Paxton Access Control & Identity Management Healthcare (Industry) Videos
Paxton's Net2 access control has been installed at Highlands Grow, a fully licensed industrial-scale cultivator, producing cannabis for medicinal and recreational use.
Read more...
---
Lock down your access control with Alcatraz AI
C3 Shared Services Healthcare (Industry) Access Control & Identity Management AI & Data Analytics
Alcatraz AI, represented in South Africa by C3 Shared Services, changes access control by harnessing the power of artificial intelligence and analytics at the edge, where facial recognition becomes the essential credential autonomously.
Read more...
---
Integrating farming and security solutions for productivity
Security BIS Agriculture (Industry) Integrated Solutions
Security challenges are a harsh reality in South Africa, particularly for those in remote areas. Sadly, recurring rural crimes like farm attacks and livestock theft are part of the farming community's lives.
Read more...
---
Effective access control
Flow Systems Access Control & Identity Management Products & Solutions
Flow Systems has introduced its new Extra Heavy Duty Industrial Rising Vehicle Barrier, which provides a high level of protection. It is a traditional-looking control barrier with the benefits of high-level physical protection.
Read more...
---
Newport Aquarium replaces traditional locks and keys
Paxton Access Control & Identity Management Entertainment and Hospitality (Industry)
Newport Aquarium wanted to replace its old security system with an easy-to-use and high-security access control solution to keep the animals, visitors, and staff safe. The solution was Net2, a PC-based access control system that offers centralised administration.
Read more...
---
Securing easy access
Suprema neaMetrics Access Control & Identity Management
Securing access to hospitals and healthcare institutions presents a unique set of challenges, because these facilities operate 24/7, have highly 'open' access in public areas and require a strict level of security.
Read more...
---
Reliable mass notification
Access Control & Identity Management
The use of voice alarm and voice evacuation systems within the healthcare industry ensures a safer and more reassuring environment in the event of an emergency.
Read more...
---