printer friendly version
Integrated biometric access
Access & Identity Management Handbook 2017 Access Control & Identity Management, Integrated Solutions, Education (Industry), Security by Industry Sector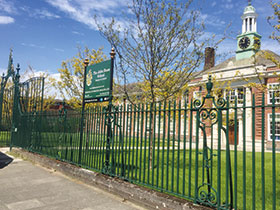 The John Roan School is a secondary comprehensive in Greenwich, south-east London. Founded in 1677, it is one of the oldest state schools in the country. With a brand new, state-of-the art building at Westcombe Park, and a fully redeveloped facility at Maze Hill, John Roan required an improved and upgraded access control solution.
The John Roan School contracted Ideal Security to provide a solution that would enable the school security administrators to manage and control the movement of people across the school grounds. The students at the school had got into the habit of sharing access tokens and PIN numbers, in order to take advantage of restricted areas on the premises. John Roan required a solution that would prevent this practice.
Biometric solution
Russell Webb, of Ideal Security recommended integrating the school's existing Net2 system with Suprema BioConnect's identity management platform, to provide a simple end-to-end system for the school security administrators.
Net2 is a user-friendly, flexible networked access control system, designed to make the management of any site straightforward. The ease with which an additional identity management system can be integrated into the Net2 software, meant it provided the ideal framework to meet the school's growing requirements.
The installation of 31 BioLite Net Readers was initially used to manage the movement of the 300 members of staff across the two school sites. With the completed BioConnect and Net2 software integration, the new system is nowfully operational, managing the flow of over 1600 students and the 300 staff across the school grounds.
The multi-factor authentication required by the BioLite Net readers; PIN, fingerprint, and token, enabled the users to continue using their existing PINs and tokens, with the additional level of security and peace of mind from the biometric authentication. The new system provides a unique record of who is on site, preventing any unauthorised persons from gaining access to restricted areas or from using a borrowed token. Utilising the existing means of identification, while integrating with the new readers has meant disruption to the staff and students was kept to a minimum.
Fast rollout
The simplicity of the Net2 software integration with the BioConnect platform means that John Roan has been able to roll the new system out to more users than anticipated, in a short period of time.
Russell said, "The John Roan School admin loved Net2 for its simplicity and flexibility both for reporting and integration options". The Net2 and BioConnect platform integration has capitalised on the simplicity that Net2 is known for, to deliver a much improved solution and, most importantly for the John Roan School, a simple administration tool.
For more information contact Paxton, +27 (0)21 427 6691, support@paxtonaccess.co.za, www.paxtonaccess.co.za
Credit(s)
Further reading:
Face recognition while wearing a mask
Issue 9 2020 , Access Control & Identity Management
Update for IXM TITAN adds features for mask detection and face recognition while wearing a mask to biometric provider's touchless solution.
Read more...
---
Choosing the right biometric technology in the new normal
Issue 9 2020, IDEMIA , Access Control & Identity Management
Selecting the right biometric data that delivers according to your requirements is crucial to ongoing success. So, how do we select the appropriate biometrics to meet our needs?
Read more...
---
Net2 updated and Installer app launched
Issue 9 2020, Paxton , Products
Paxton continued creating new products and solutions throughout 2020. The new developments include a series of innovative and enhancing COVID-secure updates for Net2.
Read more...
---
Keeping COVID in check
Issue 8 2020, Suprema , Access Control & Identity Management, Healthcare (Industry)
Suprema thermal camera solution helps prevent the spread of COVID-19 in South Korea in a focused healthcare approach from government.
Read more...
---
Scorpion Spike Barriers for St Helena Bay
Issue 8 2020, BoomGate Systems , Access Control & Identity Management
The Port of St Helena Bay, along the west coast of South Africa, gets a security upgrade in the form of the Scorpion High Security Spike Barrier.
Read more...
---
Gallagher unveils new T30 access reader
Issue 8 2020, Gallagher , Access Control & Identity Management
Gallagher has launched the new T30 card and PIN reader with two-factor authentication, designed to offer an extra layer of security without the display screen.
Read more...
---
Speeding into the office
Issue 8 2020, Turnstar Systems , Access Control & Identity Management
The Firs commercial property is situated in the heart of Rosebank – Johannesburg's second largest business centre – surrounded by new commercial, residential and retail property developments. Rosebank ...
Read more...
---
Paxton introduces Checkpoint Control
Issue 8 2020, Paxton , Access Control & Identity Management
Paxton's new Checkpoint Control feature supports COVID-secure sites and helps Net2 users protect employees and visitors by monitoring and approving people as they enter buildings.
Read more...
---
Turnstar secures MTN
Issue 8 2020, Turnstar Systems , Access Control & Identity Management
Turnstar Velocity barriers and Velocity Raptor spike vehicle barriers form part of the physical access solutions that secure the MTN head office in Johannesburg.
Read more...
---
Net2 integrates with additional thermal scanners
Issue 8 2020, Paxton , News, Access Control & Identity Management
Paxton has updated Net2 to include six new thermal temperature scanning integrations to assist in managing the pandemic.
Read more...
---