printer friendly version
Stellenbosch University secures access
Access & Identity Management Handbook 2017 Access Control & Identity Management, Education (Industry), Security by Industry Sector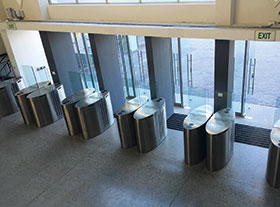 Listed amongst the top 300 universities worldwide, the picturesque University of Stellenbosch is probably South Africa's most prestigious tertiary educational facility. With 29 000 students and 300 permanent staff members, this iconic learning facility has shaped the futures of many promising South African and international scientists, engineers, educators, lawyers, theologians and medical students in its 10 faculties.
Sensitive research, learning and examination material, together with student assignments and post-graduate theses are compiled in the university's computer laboratories. The need to provide educators and students with complete peace of mind with regard to the integrity and protection of their data is a critical factor in the facility's integrity and reputation.
Students have access to the Internet through a dedicated computer user's area (FMHSCUA) opposite the library. The FMHSCUA has 148 computers, 121 in two multifunction laboratory/e-classroom facilities, 26 in a small e-classroom, and the remainder in a small room providing specialised services such as CD/DVD burning, colour printing and scanning. All areas are air-conditioned and have 24-hour DVR security camera surveillance.
The need to control access into the FMHSCUA was a top priority for the university and led to a collaborative agreement for Turnstar to provide five Speedgate Secure Lanes at strategic access points into the computer rooms. Craig Sacks, CEO of Turnstar, explains that each student at the University of Stellenbosch is issued with an RFID student card that provides them with access to predefined areas, such as the computer rooms.
The Speedgate Secure is Turnstar's highest-level security wing gate/flap gate and is designed to integrate with all popular access control software systems and readers. The sophisticated anti-tamper and anti-tailgate detection increases security levels and ensures that the system maintains the highest levels of integrity and reliability.
The system is both aesthetically pleasing and highly practical, with the design allowing for the glass wings to seamlessly retract into the stainless steel cabinet for high-speed access. The Speedgate Secure high-volume units at the university are full-height wide lane (900 mm wide) and contain an optical safety sensor array that prevents accidental closure when people are passing through.
Together with an appealing design, the hand-made Speedgate Secure barriers are focused on ultra-heavy-duty high-speed operation, through the incorporation of a high-spec motor drive and gearbox.
Feedback from the university has been extremely positive and centred on the ease of use of the systems and the elimination of pedestrian bottlenecks, with a simultaneous increase in security of valuable assets within the computer laboratories.
For more information contact Turnstar Systems, +27 (0)11 786 1633, craig@turnstar.co.za, www.turnstar.co.za
Credit(s)
Further reading:
Suprema ranks first in survey
Issue 2 2021, Suprema, neaMetrics , News, Access Control & Identity Management
In a recent survey conducted in Korea, Suprema was chosen as the top brand for access control management software and mobile access solutions.
Read more...
---
Suprema integrated with Nedap
Issue 2 2021, Suprema , Access Control & Identity Management, News
Suprema recently announced that it has integrated its latest facial recognition devices into Nedap's access control system, AEOS, to enable organisations to manage their access control by making use of Suprema's latest facial recognition technology.
Read more...
---
Single bollard stops and destroys simulated bomb truck
Issue 2 2021 , Access Control & Identity Management
Delta Scientific announced the successful testing of its Model DSC635, a single shallow foundation bollard design that stops and destroys a 6804 kg test truck with less than 0.6 m of static penetration and 1.87 m of dynamic penetration.
Read more...
---
Controlling pedestrian access
Issue 2 2021, Turnstar Systems , Education (Industry)
Turnstiles can be used throughout a site to monitor and protect different areas, for example student residences, dining facilities, computer rooms and libraries – wherever there is a need to allow access only to authorised individuals.
Read more...
---
Size of OSDP-verified list is underappreciated
Issue 2 2021 , Access Control & Identity Management
Farpointe Data announced that, at first glance, it appears that there are just 25 devices from seven different vendors listed as OSDP Verified. Although that doesn't seem like a lot, it really is.
Read more...
---
Paxton hires top talent in South Africa
Issue 1 2021, Paxton , News, Access Control & Identity Management
The international access control and video surveillance manufacturer, Paxton, announced it will continue to invest in new talent to accelerate expansion into the South African market.
Read more...
---
Gallagher achieves UK cybersecurity standard
Issue 1 2021, Gallagher , Access Control & Identity Management, Cyber Security, Government and Parastatal (Industry)
The Gallagher UK CPNI CAPSS High Security System features compliances to the Cyber Assurance for Physical Security Systems (CAPSS) standard, and the Centre for the Protection of National Infrastructure (CPNI) Readers and Tokens standards.
Read more...
---
OSDP verified readers/credentials preferred
Issue 1 2021 , Access Control & Identity Management, News
Farpointe is among the first three manufacturers to have earned the SIA's new OSDP Verified mark on its mobile, contactless smartcard and proximity solutions, while simultaneously finding that OSDP is specified more than ever before.
Read more...
---
Three key areas for zero-trust access
Issue 1 2021, Cyber Security South Africa , Editor's Choice, Access Control & Identity Management, Cyber Security
Protecting the network with this zero-trust access (ZTA) approach means that all users, all devices and all web applications from the cloud must be trusted, authenticated, and have the correct amount of access privilege (and no more).
Read more...
---
Touchless access control for the new pandemic reality
Issue 1 2021, Bosch Building Technologies , Access Control & Identity Management
Bosch has released version 4.8 of its Building Integration System (BIS), which offers safe, touchless access control solutions to curb the spread of viruses like COVID-19; it supports biometric and mobile device authentication and provides building managers with enhanced integration of fire panels and intrusion panels.
Read more...
---