printer friendly version
Stellenbosch University secures access
Access & Identity Management Handbook 2017 Access Control & Identity Management, Education (Industry), Security by Industry Sector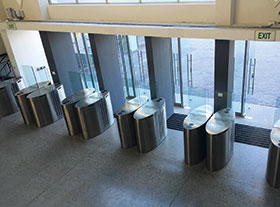 Listed amongst the top 300 universities worldwide, the picturesque University of Stellenbosch is probably South Africa's most prestigious tertiary educational facility. With 29 000 students and 300 permanent staff members, this iconic learning facility has shaped the futures of many promising South African and international scientists, engineers, educators, lawyers, theologians and medical students in its 10 faculties.
Sensitive research, learning and examination material, together with student assignments and post-graduate theses are compiled in the university's computer laboratories. The need to provide educators and students with complete peace of mind with regard to the integrity and protection of their data is a critical factor in the facility's integrity and reputation.
Students have access to the Internet through a dedicated computer user's area (FMHSCUA) opposite the library. The FMHSCUA has 148 computers, 121 in two multifunction laboratory/e-classroom facilities, 26 in a small e-classroom, and the remainder in a small room providing specialised services such as CD/DVD burning, colour printing and scanning. All areas are air-conditioned and have 24-hour DVR security camera surveillance.
The need to control access into the FMHSCUA was a top priority for the university and led to a collaborative agreement for Turnstar to provide five Speedgate Secure Lanes at strategic access points into the computer rooms. Craig Sacks, CEO of Turnstar, explains that each student at the University of Stellenbosch is issued with an RFID student card that provides them with access to predefined areas, such as the computer rooms.
The Speedgate Secure is Turnstar's highest-level security wing gate/flap gate and is designed to integrate with all popular access control software systems and readers. The sophisticated anti-tamper and anti-tailgate detection increases security levels and ensures that the system maintains the highest levels of integrity and reliability.
The system is both aesthetically pleasing and highly practical, with the design allowing for the glass wings to seamlessly retract into the stainless steel cabinet for high-speed access. The Speedgate Secure high-volume units at the university are full-height wide lane (900 mm wide) and contain an optical safety sensor array that prevents accidental closure when people are passing through.
Together with an appealing design, the hand-made Speedgate Secure barriers are focused on ultra-heavy-duty high-speed operation, through the incorporation of a high-spec motor drive and gearbox.
Feedback from the university has been extremely positive and centred on the ease of use of the systems and the elimination of pedestrian bottlenecks, with a simultaneous increase in security of valuable assets within the computer laboratories.
For more information contact Turnstar Systems, +27 (0)11 786 1633, [email protected], www.turnstar.co.za
Credit(s)
Further reading:
Salient Systems manages campus security
Education (Industry) CCTV, Surveillance & Remote Monitoring Access Control & Identity Management
The University of Massachusetts Amherst relies on Salient Systems for video, access control operations for flagship campus as it standardises on IP surveillance.
Read more...
---
From physical to virtual IDs
Access Control & Identity Management
The future of sovereign documents (IDs) such as identity cards, passports and driver's licences is virtual, however, there are still some key challenges to overcome in order to get there.
Read more...
---
QR Code passwordless authentication method
News Access Control & Identity Management Products
LogMeOnce introduces a patented QR Code passwordless authentication method allowing users to scan a code with their mobile device for secure authentication.
Read more...
---
Improving biometrics to address privacy, scale and accuracy
Editor's Choice Access Control & Identity Management News
CryptoNets uses artificial intelligence and a new type of encryption; it is very fast, locating a face among countless others in milliseconds without the need to have any other data to narrow the search.
Read more...
---
Integration relieves PoPIA pressure for estates
Access Control & Identity Management
ATG Digital has announced that its flagship product, At The Gate, is available as an add-on to the EstateMate community management app.
Read more...
---
Web-based access control
Regal Distributors SA ZKTeco Access Control & Identity Management
Managed over the cloud, ZKBioSecurity is the access control solution that ensures total control over all entrances, exits, internal doors, gates and turnstiles, and more.
Read more...
---
The AI knows best
Access Control & Identity Management
RBA makes use of the vast computing power of machine learning to analyse thousands of data points to determine how risky a transaction may be.
Read more...
---
Enterprise identity fraud prevention
Access Control & Identity Management
Trustmatic brings government-grade facial 1:N search capabilities to the cloud, supporting face deduplication and identification against watchlists, and providing seamless integration via REST API.
Read more...
---
Dynamic Drop Arm Barrier for disabled access
Turnstar Systems Access Selection Guide Commercial (Industry)
Accommodating those who use wheelchairs, while also maintaining adequate access control into business facilities, means selecting reliable access control products that provide wheelchair accessibility.
Read more...
---
Gallagher announces ISO 27001 certification
Gallagher News Access Control & Identity Management
Gallagher has announced it has achieved ISO 27001 accreditation, a standard that ensures organisations protect their information in a systematic and efficient way, through a comprehensive Information Security Management System (ISMS).
Read more...
---