printer friendly version
Access module eases admittance
Access & Identity Management Handbook 2017 Access Control & Identity Management, Integrated Solutions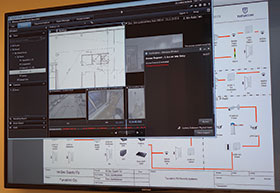 When Turvatiimi moved to new premises at the Flamingo Shopping and Entertainment Center in the suburbs of Helsinki, a new automated access control system was needed.
Turvatiimi have multiple offices at the premises, meaning that a total of 19 doors must have secured access. Employees will move between the offices throughout the day and the company has a high number of visitors daily. A traditional reception or access control system would be impractical to handle this flow of people due to Turvatiimi Oyj's high security level needs.
All persons entering or leaving have to be identified; visitors have to be handled securely and efficiently, with no tailgaiting of visitors, misused access cards or spoofing of access. These are all inherent risks with traditional access control systems.
Hi-Sec Supply installed 18 cameras (Axis M3007, P8514, M3014, M3005 and P1425-LE) and 19 Axis A1001 Access Control units for controlling the doors. All are controlled by Milestone XProtect Professional video management software (VMS) with full integration to the Axis A1001 door controllers using the Milestone Access Control Module with Axis integration. All employees now have access tokens that can be used at all locations. The system integrates fully with the Responda 113 alarm system, ensuring rapid and informed response if unauthorised access is detected.
The Advantage: the Milestone video-enabled access control system enables Turvatiimi Oyj to keep track of all persons on the premises, while at the same time provide excellent service to visitors. An employee expecting a visitor will get a notification upon the arrival of the visitor, with a picture. This ensures that all persons at the premises are identified. The system will link access to a door with the video from a camera. In this way the identity of a person entering or leaving is ensured. If access tokens are swapped, it can be detected. Tailgating can also be detected through the use of the video verification. Visitors who are temporary staff such as workmen can be identified and tracked if attempting to access the premises during unauthorised hours or to access-restricted areas.
Need for secure but easy access
Turvatiimi realised that a traditional access control system would not be a viable solution for the company because of their need for a high-security solution. Traditional panel-based access control systems require expensive, high-maintenance control panels to convey information and often use proprietary hardware that does not integrate with other systems. It is important to understand that a traditional access control system is only registering events based on the control panel. It might detect that a PIN code is used, but the system is unable to detect if it is an authorised person typing the PIN code. If an incorrect PIN code is disclosed, the security of the system is compromised.
Access control systems using cards or security tokens suffer from the same type of weakness, as cards may be lost, stolen or swapped. Again the system is only able to detect that a certain card has accessed a card reader. If a card or a PIN code has been used to gain unauthorised access, any video security system can only be used to detect unauthorised entry after the fact, unless a manned solution is used.
A video-integrated digital solution based on Ethernet cabling for data and power simplifies installation and offers a higher level of security because the video can link a person to an event, such as a door being accessed. The integration between an access control system and a VMS (Video Management Software) enables a unified operation if the VMS client is used for controlling access, because the visual identification is an added level of security to the access control system.
The extended security and the simplified operation were the main reasons for choosing the integrated Axis/Milestone solution for Turvatiimi. Use of the Milestone Mobile client simplifies operations further and all employees can verify request for access if needed.
The recordings and access control data are kept for two to three weeks in case of the need for investigation of an access event. Furthermore, the use of Milestone XProtect VMS with its open platform technology enables Turvatiimi to add analytics as needed. An example of this could be people counting, giving the exact number of persons at their premises at all times. This is essential information in case of fire or other emergencies.
Initially the system was implemented in Turvatiimi's headquarters with 50 employees. The rest of the 25 locations are to follow.
Integrated access solutions
The Finnish corporate landscape is currently being shaped by a rising number of small-to-medium-sized enterprises. This has led to increased construction activity in the commercial sector and raised the demand for integrated and efficient security solutions.
The ability to integrate alarms, access control and video security is a key to keep costs down and improve efficiency in alarm handling. If incidents can be documented using integrated access and video security systems, then guarding services can be better informed and thereby more efficient. It could be that a door has been kept open by a contractor or it could be a malfunction of a door-closing mechanism. Video verifies the situation for more appropriate response to alarms.
For more information contact Milestone Systems, +27 (0)82 377 0415, arms@milestonesys.com, www.milestonesys.com
Credit(s)
Further reading:
Improved security health check tool
Gallagher Access Control & Identity Management Products
Gallagher Security has streamlined its free Security Health Check tool, making it easier than ever to protect against potential system risks and improve business efficiencies.
Read more...
---
Suprema showcases integrated security solutions
Suprema Access Control & Identity Management Products
Apart from being an access terminal that supports multiple credentials such as facial recognition, RFID, mobile and QR codes, the BioStation 3 also supports VoIP Intercom and real-time video monitoring features to make it a truly multi-functional reader.
Read more...
---
Success in business process best practices
Technews Publishing Kleyn Change Management Editor's Choice Integrated Solutions Security Services & Risk Management
This month we commandeer time with the woman who is spearheading our national conversation on Women in Security, Lesley-Anne Kleyn, to get to know the lady herself a little better.
Read more...
---
Local electronic locks
Access Control & Identity Management
YeboTech is an electronics manufacturing company, founded in 2005, which designs, markets and sells an electronic key and locking systems, aimed at replacing all conventional mechanical locks.
Read more...
---
Selecting the correct access control system
Enkulu Technologies Access Control & Identity Management
Frazer Matchett, Managing Director of Enkulu Technologies, suggests the right questions to ask when selecting an access control solution; not just the access system, but the integrated solution that fits your requirements.
Read more...
---
Integrated guarding services
XtraVision Integrated Solutions Access Control & Identity Management Industrial (Industry)
XtraVision offers a few tips on how to go about planning and setting up an integrated approach to sustainable and successful security services, from the initial risk assessment to the technology and people required.
Read more...
---
Paxton secures multi-tenant office in Cape Town
Paxton Integrated Solutions Access Control & Identity Management Products
Cecilia Square in Paarl, Cape Town is an office building from where several businesses operate. The multi-tenant site has recently undergone a full refurbishment, including a complete upgrade of its security system for access control.
Read more...
---
AI face recognition OEM module
Suprema News Access Control & Identity Management Products
Suprema AI, a company specialized in artificial intelligence–based integrated security solutions, recently launched its high-performance face recognition OEM module called 'Q-Face Pro' in response to the growing need for contactless security solutions.
Read more...
---
KWAL raises a glass to security upgrade
Turnstar Systems Access Control & Identity Management Products
The Kenya Wine Agencies Limited (KWAL) was in need of an integrated security upgrade. This is where Turnstar came into the picture to provide a solution that would keep KWAL secure and efficient.
Read more...
---
Dahua Insider Series for touchless access
Dahua Technology South Africa Access Control & Identity Management Products
The Insider Series Access Control Solution offers touchless access (via Bluetooth) using the DMSS mobile app; it has three distance modes and two trigger modes (normal and shake).
Read more...
---