printer friendly version
The perimeter security challenge
Access & Identity Management Handbook 2017 Residential Estate (Industry), Access Control & Identity Management, Perimeter Security, Alarms & Intruder Detection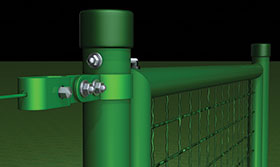 The rising threat of violent and organised crime in South Africa in recent months has undoubtedly increased awareness of perimeter security and security in general, especially in the residential, wildlife, commercial and industrial environments, to name a few. However, violent and organised crime isn't the only threat. Political instability, industrial action, vandalism and much more continue to challenge perimeter security.
Furthermore, these sites typically encompass a wide area and pose a physical challenge to security personnel as the perimeters require efficient monitoring to enable rapid response to a potential breach or actual breach. Historically the approach has been deployment of personnel to walk or drive a perimeter as well as deployment of an electric fence as a deterrent.
In the past five years, however, the development of advanced technology to monitor and protect perimeters has become big business and in this writer's opinion, been the single largest catalyst driving the cost of previously inaccessible technology down to make it more affordable to a much larger percentage of the market.
Advanced perimeter security technologies, as of the release of this article, encompass the following technologies, which in one form or another, can be deployed to protect a perimeter:
• Thermal cameras.
• Video analytics.
• Smart electronic fencing.
• Underground and fence mount seismic solutions.
• IR and microware poles.
• Radar.
• High megapixel cameras.
• Licence plate recognition.
However, in the deployment of these technologies, the following needs to be considered to not only deliver a secure perimeter, but also operational efficiencies:
• Accuracy, above all exceptional and reliable detection at fair distances is paramount and this varies per technology.
• Ability to adapt technology to site-specific requirements.
• Integration, solutions that easily integrate with auxiliary systems.
• Low false alarm rates, where complex algorithms differentiate between real and false alarm events.
• Real-time monitoring. The infrastructure being deployed to carry the detected events must be reliable, have redundancy, and able to transmit at a high rate (preferably Gigabit speeds). I personally recommend single mode fibre on large site deployments where possible. Although expensive, the life span is 10 plus years so the total cost of ownership is more affordable long term than other mediums.
Thermal cameras, I believe, have become the go-to for perimeter solutions in the market and have had massive successes in both the residential and wildlife sectors. However, I must add that thermal cameras have a very specific shortcoming in the ability to run the surveillance theory of Detect, Identify and Recognise. Thermal cameras have the ability to see immense distances (over one kilometre with a 60 mm lens), but this causes an immediate problem in detecting and identifying what the object is on the screen.
This shortcoming isn't directly related to the camera, but rather the video analytics engine it is running. After using and testing multiple thermal cameras, from the low cost to the ridiculously expensive, from a 13 mm to 60 mm, it is my opinion that for an end-user to guarantee 100% detection, analytics on thermal cameras should not be expected to work (in the sense of detect and identify) beyond 350 to 400 metres. There are cases where the technology functions beyond the stated distance, but this will vary based on time of day and weather. The colder the weather, the better the thermal image is, and in turn, the better the video analytics functions. In essence, the accuracy increases.
More on the perimeter
I have also in recent months seen the increase in requests for radar. This is still, in my opinion, beyond the majority of end-users' budgets, but does have its place. Originally designed for military applications, a number of manufacturers have dumbed-down their offerings to avoid ITAR regulations. This has led to the increase of commercial radar.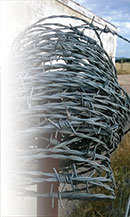 Designed to secure sites, commercial radar is compact, lightweight and reliable, and operates in all weather conditions and detects everything over vast distances. However, depending on the type of radar, it has its flaws, cost is possibly the largest, but in the last month I have seen a radar test where a R100 piece of foam was used to avoid detection by the radar – foam absorbs the signal. The last of the radar flaws, which could be considered a benefit, is its ability to detect everything, so with this, the number of alarms created increases substantially.
A number of residential estates and critical infrastructure site historically have bought into seismic sensor technology. This is where smart underground or fence mounted sensor systems, varying from fibre to individual detectors, are run around the perimeter of a site.
These sensors broadcast signals to a central control room where an alarm is created should a sensor pick up seismic vibrations: a bird on the fence, a warthog digging under the fence or a human climbing a fence. My experience with these types of systems has varied from a 50% up to 70% detection rate, but once again false alarms cause a number of issues.
IR and microware poles have been around for decades and have been the go-to for a number of verticals in the industry, none more so than residential homes. However, for a large scale and distance solution, in this writer's opinion, they have a 50/50 chance of false alarms.
High megapixel cameras
A number of manufacturers have recently released 4K and above cameras which have the ability to function at both day and night, and can provide incredibly detailed and quality pictures that allow for very accurate video analytics. I have yet to test this in poor weather and dark moon environments, and over large distances. The things I believe any reader, considering this technology for their perimeter should take into consideration are the file sizes of these video feeds. They are immense and use volumes of bandwidth, and with this, a massive amount of data storage and processing is required, but once again, I have not tested these cameras in extreme conditions.
Licence plate recognition (LPR) and biometrics
In order to lock down the perimeter or access to the site, biometrics and card systems have been the industry standard, however LPR is becoming more prevalent in locking down access to sites and the development of the technology has not only dropped the costing, but also allowed for integration.
LPR and biometrics were recently taken by a residential estate where they were integrated as a single access control solution. A number of fingerprints from different residents were added to an access record and bound to a vehicle licence plate. In so doing, a process of verification and authentication was brought into a single access record to eliminate unauthorised drivers using a vehicle and entering or leaving the estate.
In conclusion, I don't believe there will ever be a silver bullet within budget to give a zero perimeter penetration guarantee as this is always the desired outcome, but the above technology or a blend of it is definitely a step in the right direction.
For more information contact Blacklight Technology Consulting, +27 (0)11 026 7582, kelly@blacklightconsulting.co.za
Credit(s)
Further reading:
Matt De Araujo joins Ajax Systems
Ajax Systems News Perimeter Security, Alarms & Intruder Detection
Matt De Araujo has joined Ajax Systems as Head of Sales in sub-Saharan Africa with a goal to strengthen the local team and exceed expectations.
Read more...
---
Integrated guarding services
XtraVision Integrated Solutions Access Control & Identity Management Industrial (Industry)
XtraVision offers a few tips on how to go about planning and setting up an integrated approach to sustainable and successful security services, from the initial risk assessment to the technology and people required.
Read more...
---
Paxton secures multi-tenant office in Cape Town
Paxton Integrated Solutions Access Control & Identity Management Products
Cecilia Square in Paarl, Cape Town is an office building from where several businesses operate. The multi-tenant site has recently undergone a full refurbishment, including a complete upgrade of its security system for access control.
Read more...
---
AI face recognition OEM module
Suprema News Access Control & Identity Management Products
Suprema AI, a company specialized in artificial intelligence–based integrated security solutions, recently launched its high-performance face recognition OEM module called 'Q-Face Pro' in response to the growing need for contactless security solutions.
Read more...
---
AI, risk management, and frameworks
Blacklight Group Technews Publishing Editor's Choice Security Services & Risk Management Mining (Industry)
A risk management framework is a basic necessity to meet the always-evolving criminal war against mines, perpetrated by ruthless organised crime gangs that often are better informed and resourced than their targets.
Read more...
---
Container conversions for access control
BoomGate Systems Products Access Control & Identity Management Mining (Industry)
Boomgate Systems has a range of access control solutions to streamline efficiencies and ensure that the integrity of security is enhanced. An integral part of access control systems is the use of container conversions.
Read more...
---
National standards for evacuation compliance
TOA Electronics Mining (Industry) Access Control & Identity Management Products
Issued in February 2020 in terms of the National Building Regulations and Building Standard Act, the updated SANS 10400-T: 2020 standard outlines the compliance requirements for both voice alarm and evacuation and fire detection systems.
Read more...
---
Impro modernises access control at University of Stellenbosch
Impro Technologies Editor's Choice Access Control & Identity Management Education (Industry) Products
The University of Stellenbosch has been using Impro access control technologies for many years to control access to its various buildings and facilities. It recently decided to upgrade its access technologies and Impro equipment was, again, selected.
Read more...
---
Integrating existing technology and AI
Secutel Technologies Financial (Industry) Access Control & Identity Management Products
Financial institutions require strict security processes governing staff and visitors (including unwanted visitors), from the perimeter, right into their campuses and buildings; however, replacing all existing security systems with new technology is not always viable.
Read more...
---
Time attendance and access control terminal
ZKTeco Products Access Control & Identity Management
The ZKTeco F22 provides a reliable touching experience with a touch keypad and offers flexibility for standalone installation or with any third-party access control panel that supports standard Wiegand signals.
Read more...
---