printer friendly version
A turnstile for every requirement
Access & Identity Management Handbook 2017 Access Control & Identity Management, Products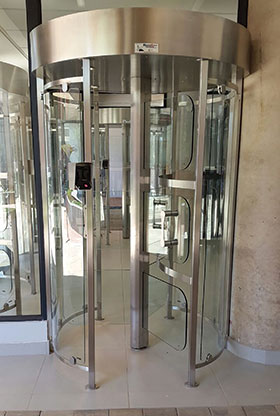 We often see turnstiles when entering buildings and venues of various sorts, and even some supermarkets, but turnstiles are much more than the old metal bars that clanked every time someone pushed their way through. While still performing their basic function of controlling access, turnstiles have evolved to take their place in the technological world we live in today.
Hi-Tech Security Solutions asked local manufacturing companies Turnstar Systems and BoomGate Systems to tell us more about what turnstiles they offer and what goes into making these access control devices.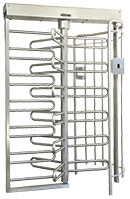 To start with, we asked about the specific turnstiles the two companies produce. Craig Sacks, CEO of Turnstar Systems explains that the company manufactures turnstiles in an ISO 9001:2015 certified factory, which ensures a quality product. "Turnstar turnstiles use the latest electronic controllers with an extremely reliable, tried and tested solenoid operated locking mechanism which is guaranteed for five years, irrelevant of usage.
"The turnstiles are available in a number of finishes, including powder coated mild steel, hot dip galvanised mild steel and 304 and 316 grade brushed stainless steel – the galvanised and stainless steel finishes being the best option for corrosive environments. For customers who are more security conscious, the turnstiles are available in four-arm configuration, while for customers who need a bit more comfort (even though the security level decreases), a three-arm configuration is available."
Sacks adds that Turnstar's products are used in a wide variety of industries, including factories, warehouses, gatehouses, commercial estates, universities and on construction sites.
"Our turnstiles are used to control the movement of people in and out of areas and also to prevent unauthorised entry and also to ensure that the correct person is entering the premises," says Sandy Rossouw, general manager, BoomGate Systems. The company produces a range of turnstiles, including:
• Full-height turnstiles: double and single, three-arm or four-arm, glass, metal (mild steel or stainless steel);
• Half-height turnstiles: double and single, three-arm or four-arm, glass, metal (mild steel or stainless steel);
• Waist-height turnstiles: double and single, three-arm only, glass, metal (mild steel or stainless steel).
Rossouw adds that BoomGate has a new range of turnstiles which are similar to the old models, but have better electronics and offer more security. The new models are also stronger. These systems are used in many markets, including mining, industrial, stadiums, universities, schools, gyms, rest rooms, casinos, theme parks and any area that needs access control.
Turnstile technology
When it comes to the technology used in the manufacturing and operations of turnstiles, Rossouw says there are two ways technology is used today. "We use technology like laser cutting, robotic bending and robotic welding to manufacture our turnstiles; we then use electronic technology to control the system.
"About 90% of today's turnstiles are controlled with biometric readers. We can also use breathalysers in mantrap turnstiles to prevent persons entering a site if they are over the legal alcohol limit. We can also deliver systems that use cameras to ensure legal entry, as well as smartcards."
Understanding the importance of integration in today's world, Sacks states that Turnstar turnstiles will work with any type of access control system and are fitted with a programmable logic controller that enables the customer to carry out diagnostics, and which simplifies the installation. "Turnstar's factory is geared up to manufacture reader mounting brackets for the integration of the many readers available on the market.
"Turnstar manufactures a full range of full-height, half-height and waist-height turnstiles as well as single reader turnstiles and speed gates."
BoomGate's range includes the Twister, Tornado, Hurricane and Cyclone models.
For more information contact:
Turnstar Systems: www.turnstar.co.za
BoomGate Systems: www.boomgatesystems.co.za
Credit(s)
Further reading:
Improved security health check tool
Gallagher Access Control & Identity Management Products
Gallagher Security has streamlined its free Security Health Check tool, making it easier than ever to protect against potential system risks and improve business efficiencies.
Read more...
---
Maximum fire protection for the most dangerous places
Securiton Fire & Safety Mining (Industry) Products
Africa's heavy mining and resource processing industries are some of the continent's leading economic lights. They also present some of its toughest fire safety challenges on the planet.
Read more...
---
RDC expands its production capabilities
Radio Data Communications Perimeter Security, Alarms & Intruder Detection Products
Local electronics manufacturer, RDC, recently acquired a new SMT (surface mount technology) machine to boost its manufacturing output and meet the needs of its global customer base.
Read more...
---
Suprema showcases integrated security solutions
Suprema Access Control & Identity Management Products
Apart from being an access terminal that supports multiple credentials such as facial recognition, RFID, mobile and QR codes, the BioStation 3 also supports VoIP Intercom and real-time video monitoring features to make it a truly multi-functional reader.
Read more...
---
Unlock seamless security with integrated products
Secutel Technologies Integrated Solutions Products
By combining SecuVue and Secutraq, Secutel has created a system that enables users to configure analytics, facial recognition, pose detection, and XFS among other security triggers modern service providers require.
Read more...
---
Local electronic locks
Access Control & Identity Management
YeboTech is an electronics manufacturing company, founded in 2005, which designs, markets and sells an electronic key and locking systems, aimed at replacing all conventional mechanical locks.
Read more...
---
Selecting the correct access control system
Enkulu Technologies Access Control & Identity Management
Frazer Matchett, Managing Director of Enkulu Technologies, suggests the right questions to ask when selecting an access control solution; not just the access system, but the integrated solution that fits your requirements.
Read more...
---
Integrated guarding services
XtraVision Integrated Solutions Access Control & Identity Management Industrial (Industry)
XtraVision offers a few tips on how to go about planning and setting up an integrated approach to sustainable and successful security services, from the initial risk assessment to the technology and people required.
Read more...
---
Paxton secures multi-tenant office in Cape Town
Paxton Integrated Solutions Access Control & Identity Management Products
Cecilia Square in Paarl, Cape Town is an office building from where several businesses operate. The multi-tenant site has recently undergone a full refurbishment, including a complete upgrade of its security system for access control.
Read more...
---
AI face recognition OEM module
Suprema News Access Control & Identity Management Products
Suprema AI, a company specialized in artificial intelligence–based integrated security solutions, recently launched its high-performance face recognition OEM module called 'Q-Face Pro' in response to the growing need for contactless security solutions.
Read more...
---