printer friendly version
Access with no strings attached
Access & Identity Management Handbook 2017 Editor's Choice, Access Control & Identity Management, Perimeter Security, Alarms & Intruder Detection, Integrated Solutions
Wireless access control systems have been available for some time, but the uptake has been limited. The slow uptake could be ascribed to a number of factors, including the fact that access control systems generally have a longer lifespan than other electronic security equipment. While some people may use a three to five year period for the lifespan of their surveillance cameras (although some analogue systems have been going for longer than that), access control systems break the five-year period with ease.
In a 2016 research report by IFSEC Global and sponsored by ASSA ABLOY (available at http://www.ifsecglobal.com/download-the-wireless-access-control-market-in-2016/), only 5% of the companies that employed electronic access control solutions had a fully wireless system in place; 24% had hybrid wired and wireless systems, while 57% had traditional wired systems using cards and fobs for entry control.
Other reasons for the slow uptake of wireless may include the different skills required for wireless access, and perhaps the price difference between wired and wireless systems, which was initially quite steep. In addition, the IFSEC research quotes Blake Kozak, principal analyst for IHS as noting, "Adoption of wireless systems has been slow in emerging countries for reasons including cost of labour, education and cost of equipment."
A benefit of wireless access the report highlights is the ease of integration with other security and building management systems – including HVAC (heating, air conditioning and ventilation), surveillance, lighting etc. Most of the respondents noted the integration process was fairly easy, with Kozak adding, "Wireless locks are often specially designed for integration with other systems, with only a few suppliers of electronic locks offering their own standalone ecosystems. As a result, the integration capabilities and ease of use can be a significant benefit."
So what would persuade the rest of the wired addicts to move to an unwired system? It's easy to promote the benefits of not having to install cabling throughout your building and so on, but the fact is your wireless systems will require either a power cable or batteries, each with their own challenges. The IFSEC report states that integration capabilities would be a primary driver for the move to wireless. However, almost equally as important are:
• Quicker, easier, less disruptive, cheaper maintenance.
• Easier integration with existing access control systems.
• Easy, quick, minimally disruptive installation.
• Battery life in excess of two years.
When one talks about wireless security implementations of any kind, the focus today often leads to the question of security as well as mention of cloud or hosted access control. Security is, naturally, of prime importance today, but with all the talk of data breaches and exposure, it may be taken somewhat out of context when it comes to wireless.
There is no doubt that there is a significant security and privacy concern for any security installation, but wireless is not more or less insecure than wired. Someone who wants to hack your system will do so if you do not take precautions, and this applies to any electronic system, wireless or wired – locally hosted or hosted in the cloud.
In the IFSEC report, 51% of the respondents believed wireless is as secure as wired access control, while only 46% thought cloud-based access is secure. Kozak notes: "Overall, properly installed cloud-based management systems by vetted integrators will meet the security requirements of most end users. One of the primary challenges with cloud-based management (especially in EMEA) is cross-­border data privacy laws, not the actual integrity of the cloud system."
With these facts in mind, Hi-Tech Security Solutions asked some vendors for their insights. Our questions were answered by:
• Wouter Du Toit from Salto.
• Riaan Pretorius from ASSA ABLOY.
• Jose A. Gonzalez from Avigilon.
• Ingo Mutinelli from Elvey Security Technologies.
The benefits of wireless
While it may be old hat to some, it's worthwhile to start recapping the benefits of wireless access control as opposed to its wired counterparts. Elvey's Mutinelli explains that wireless offers the installer the benefit of a less complicated installation, "especially in those hard to reach areas where trunking or trenching just isn't possible. The end-user in this instance receives a more complete solution which otherwise would have created many more problems such as remodelling and rebuilding … if access control was critical for that location."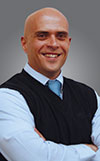 Ingo Mutinelli, Elvey Security Technologies.
He adds that a wireless solution should offer a hybrid variation with wired systems. "The power of hybrid means that wireless becomes complementary as pure wireless does have range limitations."
Du Toit expands on this, agreeing that wireless access control solutions allow for quicker installation, but adds that they also provide more options for installation. This reduces the cost of labour and time on-site drastically.
Pretorius says the ease of wireless access is like using Wi-Fi to connect your laptop to the Internet, as opposed to a network cable. It just makes everything easier. The benefits extend to installation where time to install is reduced dramatically, which results in labour cost savings. Secondly, there is a saving on the cost of material, such as cabling, conduit and other peripheral equipment.
Du Toit echoes that overall maintenance on the system is reduced and less expensive to perform. "Wireless access control solutions form part of the mechanical lock that requires very little maintenance and this is also less susceptible to external interferences like lightning, power spikes and surges that piggyback on cabling. Because it is using the mortise lock in the centre of the door, it also offers better security than using magnetic locks residing at the top of the door."
Avigilon, better known as a video surveillance company, sells a range of wired access control systems. Gonzalez explains that Avigilon Access Control Manager (ACM) systems are wired solutions that integrate with wireless locks from ASSA ABLOY (Aperio) and the Allegion AD400 series.
"On average, installation takes less time because the wireless lock combines everything found around the door, the lock, the card reader, the request to exit, and the door contact into a single point of installation rather than wiring these components separately."
Hybrid integration is the norm
The IFSEC Global report mentioned above stresses the importance of being able to integrate wireless and wired solutions, potentially even between different brands, and our interviewees support this premise.
Salto can co-exist with legacy systems already in place and use the same RFID technology, Mifare, Desfire, Legic and HID iClass, states Du Toit. "Our data-on-card solution does not require the system to be connected to a controller-based system and each user's individual access rights are carried on their card instead of sitting in memory on a controller. Even if our Sallis non-data-on-card solution is used, we do not need to replace all the existing control panels, but this is limited to partners integrated with Sallis."
The quest for power
Another issue raised in the IFSEC report is that of battery power. Nobody wants to opt for a wireless solution just to find themselves wasting time by running around and replacing batteries. Battery power is a key selling point and an important caveat for most buyers.
According to Mutinelli, any wireless system that doesn't monitor battery levels and consumption is risky. "Always make sure that your system will give you bi-directional (two-way) communications to ensure you are aware of an offline situation or a battery that's going flat. Having said that, getting power to a wireless reader on a door should be fairly easy as there is generally a maglock which should have power you can tap into."
The problem of no power means access will be denied, which can be an issue in environments where there are many people moving about all day. Pretorius explains that ASSA ABLOY's wireless locks boast a variety of features to combat this.
"Mechanical override in most cases is implemented via a traditional cylinder lock, which in the case of battery failure can simply override the lockcase (for the escutcheon the inside handle always allows egress i.e. no thumb turn is needed). To further overcome this issue each wireless lock provides diagnostics and low power warnings, which should be and are incorporated in the regular maintenance programmes.
"Should it happen that the battery does die each lock has a micro USB connection which is generally used to upgrade the lock's firmware, but can also be used as an emergency power connector from a standard USB connection. Lastly, the actual lock, via the built-in LEDs, provide a warning that its battery is nearing its end of life."
Gonzalez agrees, noting that the wireless lock solutions Avigilon sells are compatible with both alkaline and lithium batteries. These systems also send battery-low warning events to the Avigilon Access Control Manager (ACM) access system, notifying operators monitoring the system.
Summing up the power question, Du Toit adds that battery power is not a real concern. "We allow for up to 40 000 openings on a single device and the battery status is written back to the system for maintenance reporting and support. When the unit gets to the last 1 000 openings, it will warn each user visually as well as the system administrator. If all warnings are ignored, we have PPDs and portable battery packs that will power the unit from the front to allow for battery replacement.
"Unlike conventional wired systems relying on power from the grid and a 7 Amp battery backup, our solution requires only three standard AAA alkaline batteries with a life of two years' worth of openings or more. Even if the batteries are replaced every year, it is at a nominal cost compared to conventional access systems' power consumption from the grid, and it only takes a couple of minutes."
He says some clients do opt for a mechanical key override, but this adds more cost to the system and forces them to once again manage their keys – which in itself is a reason why people use wireless access control systems.
Beyond the door
It is normal to assume that access control means controlling the manner in which people gain access to an environment and where they can go within that environment. Current trends require more than this, however, and may demand the same access control to cabinets or storage containers (holding pharmaceuticals or high value goods, for example). Gonzalez says many applications can benefit from this type of access control, such as projects looking to secure lockers, small cabinets and server cabinets in ­computer rooms.
Securing your security
To end with, we must address the issue of security since it has become top of mind in today's cyber criminal playground. Fortunately, the interviewees are of the same mind (as their products reflect) that security is not an add-on, but an integral part of the solution.
The Avigilon wireless lock solutions deploy AES 128-bit encryption over either 900 MHz or 2,4 GHz frequencies.
"We utilise AES 128-bit encryption between the lock and the wireless hub," says Pretorius. "Each lock contains keys unique to the site it is programmed for. An obvious point to hack could be the USB connector, but this also is encrypted with AES 128-bit encryption."
Similarly, Du Toit says, "Salto's data-on-card solution allows the door to open because your access plan resides on your card and the wireless is merely a carrier, a way of sending transactions (blacklisted users, battery status and the state of the door) to the server and back. The wireless solution is encrypted with AES 128-bit encryption for high security."
Which product?
Should a company decide it is going to opt for a wireless access control solution, the question arises as to which brand and product to select. There are, of course, many options on the market, some from well-known brands like the companies mentioned in this article, and others from less well-known brands that are entering the wireless access market with new ideas and solutions.
When making a decision, Mutinelli advises that you get what you pay for and one should always look for a product that has a certain pedigree. "Arguably, the most respected access product in the local market is Impro. Designed and manufactured in South Africa to meet our requirements, the product is awesome. The addition of wireless really does take it to the next level of convenience, features and security."
Du Toit says Salto has a wide range of products to cater for virtually any door and locking mechanism without using cabling on the door. "Our product lines include electronic cylinders, electronic handles, controllers that can work online and offline with our data-on-card principle. This is backed up by our latest web-based software for ease of installation and maintenance. All our solutions are scalable and can work completely offline or online with live notifications and event streaming."
Salto's solution is integrated to many third-party conventional access control manufacturers through its SHIP and Sallis protocols. "With Sallis, we become part of the integrators access control bus via POE or RS-485 through our wireless online hardware, where SHIP gives our integrated partners full access to our wireless online and data-on-card solutions."
In addition, Du Toit says Salto also offers a cloud-based solution, SaltoKS, Keys as a Service, using the same wireless online hardware in a slightly different configuration. This allows the hardware to connect through the Internet or a 3G connection to a secure cloud platform. "All these solutions are backed up by mobile access credentials and applications where you can use your phone as your key or as an update point.
In addition, ASSA ABLOY offers its Aperio wireless locking solution. Avigilon sells Allegion's Schlage AD400 series wireless lock solutions and also Aperio.
As noted at the start of this article, despite the advances made in wireless access control systems, the majority of the users in the real world still use wired solutions. In addition to this, many don't even use electronic access or locking solutions at all. IHS's Kozak notes that mechanical solutions are not going away any time soon: "Although electronic locking systems will continue to see strong growth, IHS does not expect the mechanical locks market to decline. Globally, mechanical cylinders are projected to grow by about 4.6% in 2016."
The current situation is expected to remain for the near future. What we are likely to see is more companies making use of wireless access solutions where it makes sense financially, as well as in smaller projects to gauge the effectiveness of these products. The immediate future, it seems, is hybrid and developers of management platforms and access products would do well to adopt a standards-based approach to ensure they are able to easily integrate with various solutions.
For more information:
• Salto: www.saltosystems.com
• ASSA ABLOY: www.assaabloy.com
• Avigilon: www.avigilon.com
• Elvey Security Technologies: www.elvey.co.za
Credit(s)
Further reading:
Matt De Araujo joins Ajax Systems
Ajax Systems News Perimeter Security, Alarms & Intruder Detection
Matt De Araujo has joined Ajax Systems as Head of Sales in sub-Saharan Africa with a goal to strengthen the local team and exceed expectations.
Read more...
---
Elvey partners with HALO
Elvey Security Technologies News CCTV, Surveillance & Remote Monitoring
Elvey Group has partnered with HALO Europe to provide Africa's first body-worn solution with zero upfront costs. This includes an IP68-certified body camera and a 4G-connected device.
Read more...
---
Accenture Technology Vision 2023
Editor's Choice News
New report states that generative AI is expected to usher in a 'bold new future' for business, merging physical and digital worlds, transforming the way people work and live.
Read more...
---
Economists divided on global economic recovery
Editor's Choice News
Growth outlook has strengthened in all regions, but chief economists are divided on the likelihood of a global recession in 2023; experts are concerned about trade-off between managing inflation and maintaining financial stability, with 76% anticipating central banks to struggle to bring down inflation.
Read more...
---
Success in business process best practices
Technews Publishing Kleyn Change Management Editor's Choice Integrated Solutions Security Services & Risk Management
This month we commandeer time with the woman who is spearheading our national conversation on Women in Security, Lesley-Anne Kleyn, to get to know the lady herself a little better.
Read more...
---
Integrated guarding services
XtraVision Integrated Solutions Access Control & Identity Management Industrial (Industry)
XtraVision offers a few tips on how to go about planning and setting up an integrated approach to sustainable and successful security services, from the initial risk assessment to the technology and people required.
Read more...
---
Paxton secures multi-tenant office in Cape Town
Paxton Integrated Solutions Access Control & Identity Management Products
Cecilia Square in Paarl, Cape Town is an office building from where several businesses operate. The multi-tenant site has recently undergone a full refurbishment, including a complete upgrade of its security system for access control.
Read more...
---
AI face recognition OEM module
Suprema News Access Control & Identity Management Products
Suprema AI, a company specialized in artificial intelligence–based integrated security solutions, recently launched its high-performance face recognition OEM module called 'Q-Face Pro' in response to the growing need for contactless security solutions.
Read more...
---
SAFPS to launch a platform to combat fraud
Editor's Choice News Security Services & Risk Management
In response to the growing need for a proactive approach to fraud prevention, the SAFPS is developing a product called Yima, which will be a one-stop-shop for South Africans to report scams, secure their identity, and scan any website for vulnerabilities.
Read more...
---
Relaxed home cybersecurity could render consumers accidental 'inside actors'
Editor's Choice Cyber Security Smart Home Automation
Cisco security experts warn of snowball impact of relaxed approach to cybersecurity on personal devices, noting 60% of users primarily use their personal phone for work tasks and 76% have used unsecured public networks for work tasks.
Read more...
---