printer friendly version
Surveillance in desert conditions
June 2013
CCTV, Surveillance & Remote Monitoring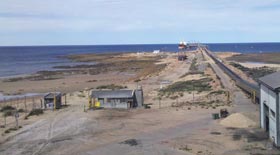 Over the past 30 years, the Argentinean town of Sierra Grande, located in the south-eastern corner of the Rio Negro province, has experienced a wide variety of ups-and-downs. During the 1980s, Sierra Grande was a bustling town prospering from its rich natural iron ore deposits and mining capabilities. Conversely, the 1990s brought government-ordered mining stoppages, the unemployment of thousands, and a mass exodus from this once proud town.
Thankfully, with government reversing their Sierra Grande mining ban, the 2000s have seen a sharp uptick in both the fortune of this region and in the lives of those who bring the ore out of the mines. However, it took more than simply reopening the mines to allow Sierra Grande to thrive once again. To help do so, Hikvision was brought in to both secure the mining facility and increase efficiency.
MCC Minera enters
When MCC Minera Sierra Grande S.A. acquired mining rights to this town in 2006; it knew a great many challenges needed to be overcome. In particular, of the three existing underground deposits – labelled North, East, and South – only the South dig-site is currently in use. Currently, Sierra Grande's mine extraction capacity is approximately 2,8 million tn. of iron ore per year.
Of particular note, the natural environment of not only the mining area, but the entire region, of Sierra Grande was a major cause for concern. Specifically, this section of the Rio Negro Province is famous for its harsh desert landscape and even harsher desert weather. As such, before MCC Minera opted for Hikvision, a thorough examination of other security manufacturers' products was conducted.
Christian Uriel Solano, president of Security One Argentina – Argentina's official Hikvision distributor for this project – noted, "It came down to two main factors: technology and durability. Both of these aspects proved that not only would Hikvision products be up the task from a technology standpoint, but they would be able to withstand any weather this unforgiving desert could throw at them."
MCC Minerva was not looking for a simple CCTV for basic security purposes. Instead, the goal was to build a comprehensive solution that provided security and improved overall mining efficiency. Not only would Hikvision products be asked to withstand the blazing heat and bitter cold, but they would be asked to do so outside in the bright light, underground in virtual darkness, as well as combining analogue and digital components both indoors and out. "It was an extremely complicated and technologically advanced case, and we congratulate the integrator on this project, Krall Infromatica, for really doing an excellent job," Solano summed up.
The nuts and bolts
Beginning at the perimeter, Hikvision's DS-2DF1-714 IR Network High Speed Dome and DS-2CC5173P-VP(IR) Vandal Proof & Weather Proof Dome Camera were tasked with providing general surveillance of the area. Complementing this was the iDS-2DF1-517 WDR Network High Autotracking Speed Dome to man sensitive areas. In particular, both cameras' IP66 rating provide assurance against weather factors, while the latter's embedded intelligence algorithms allow an operator the ability to pre-programme specific triggers and immediate notification features.
However, due to the fact that these outer perimeter walls stretch over a kilometre from the main administrative facility, it was impractical to connect these cameras with cabling. Instead, Hikvision's DS-6101HFI-IP Digital Video Server was used to convert the perimeter cameras' analogue signals to the digital IP network wirelessly; providing both higher efficiency and cost effectiveness.
Of particular note was the DS-2CD7153-E 2MP Network Mini Dome Camera, with its HD 720P real-time video, and vandal-proof housing. Strategically placed on the port to monitor the loading process of raw iron ore onto waiting ships, this high resolution camera was able to both increase productivity and increase worker safety. Additionally, its housing allows it to withstand the punishment from rock and other debris periodically catapulted upwards from the moving conveyor belt.
Moving lower, the DS-2CC192P(N)-IRT IR Bullet Camera's IR LEDs and vari-focal lens provided a similar ability within the darkened mines; while the DS-2CC192P(N)-IR Bullet Camera did the same in both administrative and other mining settings. Additionally, the DS-2CC1192P(N)(-A) Box Camera's low-illumination ability complemented all of the above throughout the many office and administrative settings comprising MCC Minera's facilities.
Rounding out this total solution were both the DS-7316HFI-ST Standalone DVR and DS-7208HVI Standalone DVR to record these closer cameras in 4CIF resolution real-time recording; while the DS-9516NI-R Embedded NVR was responsible for recording the outer perimeter's wireless IR cameras on its embedded Linux-based system.
Through an amalgamation of creativity, high-tech products, and a renewed sense of hope; Hikvision is helping both MCC Minera and Sierra Grande reach greater heights than ever before.
For more information contact Hikvision, +86 571 8700 6060, wulin@hikvision.com, www.hikvision.com
Credit(s)
Further reading:
AI technology to empower vertical markets
Dahua Technology South Africa Mining (Industry) CCTV, Surveillance & Remote Monitoring Products
Dahua WizMind is a full portfolio of solutions comprising project-oriented products that use deep learning algorithms to provide more business value to its global customers and deliver reliable and comprehensive AI solutions for vertical markets.
Read more...
---
Elvey partners with HALO
Elvey Security Technologies News CCTV, Surveillance & Remote Monitoring
Elvey Group has partnered with HALO Europe to provide Africa's first body-worn solution with zero upfront costs. This includes an IP68-certified body camera and a 4G-connected device.
Read more...
---
Regal announces new partnership
Regal Distributors SA CCTV, Surveillance & Remote Monitoring
Having a bird's eye view of your surveillance data, with the capability to drill down to the details obtained via connected security solutions, is a game changer for security operators, companies and even officers on the ground.
Read more...
---
Invisible connection and tangible protection via cloud
Dahua Technology South Africa Perimeter Security, Alarms & Intruder Detection CCTV, Surveillance & Remote Monitoring Products
Dahua Technology has launched its AirShield security solution that uses advanced, stable and reliable RF communication technology and cloud services, integrating alarm hubs, various detectors and accessories, with several software apps.
Read more...
---
Hikvision expands solar-powered solutions
CCTV, Surveillance & Remote Monitoring Products
Hikvision is offering a portfolio of solar solutions, the 4G solar-powered camera kit, a wireless bridge, and mobile solar security tower solutions to assist in keeping remote and isolated areas safe in a simple, practical, and cost-effective way.
Read more...
---
Affordable entry-level cameras from Dallmeier
Dallmeier Electronic Southern Africa CCTV, Surveillance & Remote Monitoring Products
Dallmeier has introduced the 'E' version of the DOMERA camera family, offering high image quality with 2 MP and 5 MP resolution, and providing detailed images even in low light conditions.
Read more...
---
The importance of the operator's frame of reference
Leaderware Editor's Choice CCTV, Surveillance & Remote Monitoring Security Services & Risk Management Mining (Industry)
The better the operator's frame of reference and situational awareness, and the more informed they are in dealing with CCTV surveillance in the mining industry, the more successful they are likely to be in surveillance.
Read more...
---
Enhancing surveillance on mines
Avigilon Technews Publishing Axis Communications SA Forbatt SA Hikvision South Africa Bosch Building Technologies Editor's Choice CCTV, Surveillance & Remote Monitoring Integrated Solutions Mining (Industry)
Smart Security approached a number of surveillance vendors to find out what the latest in surveillance technology is that can make a difference to security operations in mines, as well as general operations.
Read more...
---
Surveillance to improve worker safety
Axis Communications SA Mining (Industry) CCTV, Surveillance & Remote Monitoring Integrated Solutions
With substantial deposits of mineral resources, mining is critical for South Africa's economic growth and prosperity; however, mining can be dangerous, especially for the people working on the ground and in the shafts.
Read more...
---
Radar-video fusion camera
Axis Communications SA CCTV, Surveillance & Remote Monitoring Mining (Industry) Products
The AXIS Q1656-DLE Radar-Video Fusion Camera device brings video and radar analytics together in AXIS Object Analytics to deliver detection and visualisation.
Read more...
---