printer friendly version
Consulting services for BMS
May 2013
Integrated Solutions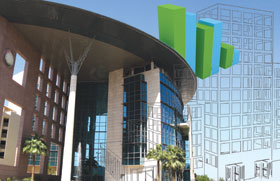 What do BMS systems offer South African businesses in terms of a realistic ROI?
Be it high-rise office buildings, libraries, hospitals and clinics, financial institutions or shopping centres, each of these commercial properties require an unique approach to ensure that peculiar security challenges, threats and vulnerabilities are managed in such a way to contribute toward effective property management.
A building management system (BMS) comprises of:
* Power systems.
* Illumination system.
* Electric power control system.
* Heating, ventilation and air-conditioning (HVAC) system.
* Security and observation system.
* Magnetic card and access system.
* Fire alarm system.
* Lifts, elevators etc.
* Plumbing system.
* Burglar alarms, CCTV.
* Trace heating.
* Other engineering systems.
* Home automation system.
* Fire alarm and safety system.
* Manage the sensors of alarm.
A BMS is definitely able to offer businesses meaningful ROI if it is assessed, designed, installed, managed and maintained properly. It is important to be aware that one shoe does not fit all. Businesses need to understand (assess) which security modules of BMS would benefit their business and only invest in those.
To extract the optimum ROI businesses need to approach the purchase and installation of a BMS as a fully-fledged project in which the parameters and critical path is clearly defined and constantly measured as the project progresses. As with any enabling technology system, the security systems installed as part of a BMS need to be properly specified to ensure that components such as surveillance cameras see what they are required to see, that data storage capacity is sufficient to cope with the data load generated, that visitor processing is managed in sync with the businesses' need, while effectively preventing unauthorised visitor access, amongst others.
A comprehensive maintenance schedule that covers all components of each security system plugged into the BMS would optimise the lifespan of components and the BMS as a solution and it reduces the monthly cost of emergency call-outs or unplanned component replacements. It is well worthwhile to include maintenance as key success factor.
When it comes to the preservation of life and protection of property it is particularly difficult to determine a value to ensuring that optimal measures are taken to mitigate any form of loss. We are of the opinion that businesses should employ the same methodology when selecting and installing a BMS as it would selecting and installing a hi-tech integrated security system, as follows:.
* Step one: Assess the needs of the building and its stakeholders.
* Step two: Design a system that meets and exceeds the requirements.
* Step three: Implement the design by methodical installation.
* Step four: Measure the implementation process to ensure that user expectations are met.
* Step Five: Maintain the entire BMS as it is commissioned to ensure optimal use of warranties and component lifespan.
What skills do consultants offering services in the BMS market need as opposed to traditional security consultants?
A security management consultant (SMC) should be equipped with the following knowledge and skills:
* Knowledge of the various types and specific security and safety applications of BMS available in the market.
* Knowledge of the integration of various enabling technical security systems, which make up and or to create a BMS.
* Security risk assessment expertise to assist businesses in determining which modules of a BMS would be required to best serve their particular needs.
* System design skills and the development of technical specifications, which should include security process development. Security personnel should have clear standard operating and emergency procedures available.
* Project management skills.
* Development and implementation of a comprehensive maintenance schedule.
Does the consulting process differ when dealing with BMS systems?
In our opinion the consultation process would remain the same as with any other system, as in Figure 1.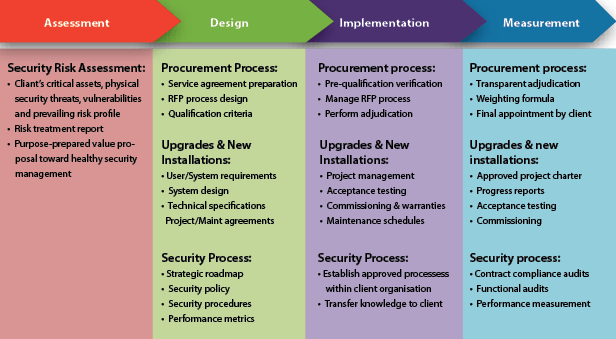 Figure 1
What steps should a potential customer go through when deciding if a BMS is the right solution?
Once the assessment has been completed by a vendor neutral consultant and all current enabling systems have been assessed. The consultant shall provide, as part of the engagement process described above, a selection of suitable BMS products that can be integrated with current systems. Again it is imperative that the consultant designs for risk, scalability, robustness and within an agreed budget, the aforementioned are all skills relevant to effective project management.
System demonstrations by various suppliers is always a good idea and should be managed by the consultant with the aim of the client being able to experience different types of systems within different conditions.
Once the product specifications have been agreed upon the consultant can proceed to draw up a Bill of Quantities (BOQ) which will be utilised within the request for proposal (RFP) or process or preferred vendor procurement process.
A thorough and comprehensive procurement process with a detailed installation specification will ensure that the right installation company is selected who can successfully install the system within the agreed time frame and budget guidelines.
An important consideration is to determine the available budget for post-installation preventative maintenance, planned component replacement and system upgrades over the lifespan of the BMS.
For more information contact Physical Risk, +27 (0)21 851 2963, [email protected], www.physicalrisk.com
Further reading:
Cyber resilience is more than cybersecurity
Technews Publishing Cyber Security Integrated Solutions IT infrastructure
Hi-Tech Security Solutions held a round-table discussion focusing on cyber resilience and found that while the resilience discipline includes cybersecurity, it also goes much further.
Read more...
---
A key to urban transport challenges
Axis Communications SA Transport (Industry) CCTV, Surveillance & Remote Monitoring Integrated Solutions Logistics (Industry)
There are many enabling technologies that can impact transportation in South Africa, but a good place to start is by considering the applications for smart physical technology with the ability to collect and respond to data.
Read more...
---
Hikvision aims for solutions
Technews Publishing Hikvision South Africa Editor's Choice CCTV, Surveillance & Remote Monitoring News Integrated Solutions Conferences & Events
Hikvision recently held a roadshow titled Industry X, where the company highlighted its latest products and solutions, supported by partners and distributors.
Read more...
---
Technology and the future of security installation in South Africa
Editor's Choice Integrated Solutions Security Services & Risk Management
What are the technologies and trends shaping installation, service and maintenance teams globally, and how will they shape South African businesses today and in the future?
Read more...
---
Upgraded security and AI monitoring at upmarket estate
Watcher Surveillance Solutions Editor's Choice CCTV, Surveillance & Remote Monitoring Integrated Solutions Residential Estate (Industry)
Estate upgrades and enhances its security through a partnership between surveillance specialist Watcher and the incumbent guarding company.
Read more...
---
Streamlining processes, integrating operations
Security Services & Risk Management Integrated Solutions Transport (Industry) Logistics (Industry)
With Trackforce Valiant, Airbus now has one single platform that connects its security guards, supervisors and management across its organisation.
Read more...
---
Nomad launches early adopter programme
Editor's Choice News Integrated Solutions Smart Home Automation
Participants in Nomad's Early Adopter Programme will receive 10% of their volume order to facilitate testing before the commercial launch later this year.
Read more...
---
Improve data connectivity in fleet management
Flickswitch Transport (Industry) Integrated Solutions Products
While the market is still dominated by tracking systems, more advanced fleet management solutions are gaining traction on the market.
Read more...
---
IoV – the cutting edge of vehicle automation
Integrated Solutions IT infrastructure Transport (Industry) Logistics (Industry)
Today's cars have become bona fide connected machines and not merely an extension of our mobile devices such as smartphones.
Read more...
---
Understanding what an IoT platform is
Trinity IoT Integrated Solutions
In an increasingly mobile-first, digitally driven global economy, IoT platforms are becoming commonplace. But what is an IoT platform, and what makes one better than the other?
Read more...
---