printer friendly version
Keeping cash safe
May 2013 Security Services & Risk Management, Retail (Industry)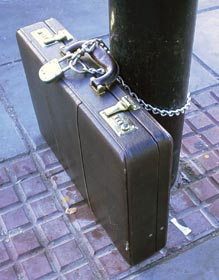 It is great news to the industry that cash in transit (CIT) heist crimes have decreased over the past few years. So how did the CIT industry get this right? Is it down to processes, technology or a combination of the two? Hi-Tech Security Solutions got the lowdown on this security industry rags-to-riches success story.
Richard Phillips, MD of Cash Connect Management Solutions sets the scene for the CIT industry. "During the late 1980s and early 1990s there were a large number of CIT heists. CIT carriers commonly made use of metal boxes to carry cash across pavements. This methodology had a number of issues: the boxes were difficult to control logistically; they were damaged in transit and they had to be returned to the customer. They were subject to a number of areas of exposure: cross pavement attacks; in-vehicle attacks; and cash centre robberies. It was not uncommon for up to eight CIT robberies to occur in a day.
"The CIT industry took a decision to start placing cash in tamper-evident plastic bags, a proven international technology. This was reinforced by placing the plastic bags in smoke boxes for cross-pavement protection," he says.
The smoke box consists of a rigid plastic case that houses the control box, locking mechanism, smoke generators, liquid dye dispensers, alarm sounder, trigger, make-safe socket, touch memory reader and LED indicators. The guard places his finger on the trigger when performing cross-pavement actions; this automatically locks the box. The trigger can only be deactivated by plugging it into a make-safe unit. Should the guard release the trigger, the box will automatically go into alarm mode. This results in the box imploding, the plastic bag melting and dye being sprayed onto the banknotes. The box records all the operations it performs so that, in the event of an incident, an audit trail can be downloaded and printed.
"It took three years to complete the conversion from boxes to bags nationally, but thereafter we witnessed huge reductions in the number of incidents of CIT cross-pavement robberies. However, it took a while longer to find a solution for in-vehicle cash heists. The final result was a custom-designed armoured vehicle, containing a drop safe into which the bags are placed," he continues.
Two-step reduction
Hannes Venter, sales director at G4S Cash Solutions SA, says that two factors play a role in reducing CIT robberies. "Firstly, CIT companies have invested heavily in developing vehicles that have evolved to provide the ultimate protection for the guards and the contents. By sep­arating the vehicle into compartments – driver, guards and vault – no two doors can be opened at one time, thus preventing entry into more than one area. In addition, all CIT vehicles have tracking devices installed. The second contributor is the migration to smoke and dye technology for cross­pavement movement."
Debbie Pryer, international cash risk expert, believes that cash in transit robberies have decreased due to the increasing sophistication within the vehicles. "Biometrics, interlocks, cash degradation systems, time delay lockers and safes, remote opening, better physical armouring protection, tracking, CCTV, automatic number plate recognition (ANPR), DNA sprinklers and smoke cloaks are all technologies that have played a large role in this reduction in incidents.
"The use of a DNA solution, which is included in the cash protection systems, means that the criminal can be pinpointed back to the exact location of the robbery. This will assist in the prosecution of that criminal," says Pryer. "Those big CIT trucks may look like a simple piece of armoured steel, but you would be surprised at the sophistication of the technology sitting inside that shell. This is due to the SA Reserve Bank's CRIM (cash risk identification and mitigation) project, which specifies the minimum standards for the CIT vehicles."
Protecting people to protect assets
Mike Shipton, group executive sales and marketing at SBV Services, believes that by creating subsystems to protect the CIT guards, one is inherently protecting the cash. "Guards feel safe, due to the technology deployed today and they therefore wish to protect the cash they are transporting. Again, on the human level, it is important to employ adequate vetting processes and, apart from using credit and crime checks, another way of determining credibility is to use a voice stress test. Then, before even employing the individual, you subject them to training to ensure that they are suited to the position."
Shipton explains that all SBV CIT vehicles have a dual redundancy system. "We have two radio systems in each vehicle, with cellphone backup. In addition, the guards are registered to biometrically access the vehicle, with doors remaining locked for unregistered people."
He says that most CIT vehicles are now equipped with a polyurethane dispensing unit that is automatically activated to protect the contents of the vault should an incident occur. This foam hardens and takes up to four hours to remove from the vault. "The criminal does not want to make himself vulnerable, nor does he want to waste effort by spending excessive amounts of time trying to retrieve the cash."
Venter says that G4S is currently busy with second-generation technology. "This entails integration of all systems in the vehicle through the vehicle tracking system. We will be able to use the system to remotely shut a vehicle down, check on its status, open and close the vaults and so forth. This will eliminate both collusion as well as robbery under duress."
Other key contributors to the CIT success story are improvements in intelligence, industry-wide collaboration, information sharing and linkage systems, and the increasing database of informants. "Interestingly, the problem the CIT companies used to have was the internal involvement. Now the criminals have the same problem, where there are many informants in their gangs," Pryer points out.
"The industry has moved towards using technology to force procedures rather than relying on trust. Ultimately, any honest person can be compromised when they or their families are threatened. Technology wins since the guard is no longer able to override the security procedures and systems," she adds.
Industry collaboration pays dividends
Venter says that the large CIT companies have started working closely together and have formed a joint operations centre (JOC) at the Hawks command centre in Pretoria. "When an incident occurs, the Hawks allocate the necessary resources from the four CIT companies and from within their own ranks, to allow appropriate reaction to an event. In addition, the relevant authorities are informed."
Shipton adds: "A further string in the bow of industry is the compilation of a database of suspicious vehicles. By consistently and continuously adding details to this database, we are able to mitigate potential incidents."
The criminal justice system has taken a stronger stance with regard to CIT-related incidents, with much of this due to the Business Against Crime (BAC) Criminal Justice Review. "They no longer give bail to robbers. We recently saw over 1000 years' combined jail sentences for the Polokwane murders and one of the major CIT kingpins was placed in jail for over 125 years," says Pryer.
"The industry bodies, namely PSI, CGCSA, SABRIC, BACSA, SAPS and others, are collaborating to find the links between the robberies and to share this information. There is also a significant shift from the South African Reserve Bank to increase recycling across the cash supply chain. The more recycling that takes place, the less cash that will sit in one place. We have managed to bring the length of time a banknote spends at the till to being back in the ATM, from 3,4 days to less than an hour. That also means there is far less cash in circulation, which has other macro economic benefits for the country," she explains.
Shipton elaborates, citing the tube dispensing system (see article 'Reducing shrinkage' in Hi-Tech Security Solutions, July 2012) employed at a major Johannesburg shopping mall. "Cash recycling is being rapidly adopted by the retailer in this mall as well as at other locations, as they see the benefits of reducing cross pavement cash movement. Another successful initiative is the application of cash trolleys. These are highly sophisticated trolleys utilised by guards within centres. We have seen a definite reduction in cash heists since their deployment."
Phillips points out that with the containment of crime against the CIT industry, there has been a concomitant increase in armed robbery against business, with official statistics suggesting over 40 attacks a day. "In response to this, we have seen the emergence of the retail cash management services industry over the past 10 years. The automated deposit device technology is designed to deter cash crime in the retail sector and the CIT service is an integral part of the overall solution.
"It is apparent however, that there has been a decline in the minimum standard required by retailers of relevant SABS certified safes. Criminals have focused their efforts on softer targets, the retailers. To truly become known as a hardened site, the solution should include the installation of a relevant Automated Cash Deposit Safe (Retail Cash Vault). Such a safe should adhere to strict SABS CAT4 standards, and become known as a hardened site," he continues.
He voices his concern over the backward-looking attitude of the Young Turks of this industry. "Unsuspecting retailers are being offered systems designed to use technology that is not compatible with modern CIT systems and procedures. The proliferation of these types of solutions has the potential of undermining the collective defensiveness within the cash security industry. The offerings of risk managers should not be limited only to the protection of cash, but in also reducing the risk of attack.
"We have learned some really important lessons over the past two decades and I find it very disturbing that, as a result of this backsliding, there is a propensity for a reversal of our current fortunes to occur. Lives are too valuable to play with and the broader cash industry needs to take a stand to ensure we do not return to the old ways," says Phillips.
The lessons learned by the CIT industry can be extrapolated and utilised to assist other industries. "Fortunately we are looking at the same principles and all the industry sectors are showing the same commitment to information sharing, regarding the criminals, across the industry bodies. Cash risk mitigation is a holistic view of the entire cash supply chain. You cannot just deal with one element, as the criminal simply displaces the robbery to the next vulnerable area," Pryer concludes.
Credit(s)
Further reading:
Cyber resilience is more than cybersecurity
Technews Publishing Cyber Security Integrated Solutions IT infrastructure
Hi-Tech Security Solutions held a round-table discussion focusing on cyber resilience and found that while the resilience discipline includes cybersecurity, it also goes much further.
Read more...
---
Numerous challenges for transport and logistics
Transport (Industry) CCTV, Surveillance & Remote Monitoring Security Services & Risk Management Logistics (Industry)
Operators are making significant investments in automation and digitalisation in order to address security concerns, improve loss prevention as well as efficiency, and reduce unit order costs.
Read more...
---
Defining the resilience of cybersecurity
Cyber Security Security Services & Risk Management
Cyber resilience is less buzzword and more critical business strategy as the cybercrime landscape grows in intent and intensity.
Read more...
---
From the editor's desk: Security and resilience
Technews Publishing News
It's often said that South Africans are a resilient bunch, and history has proven this correct. When it comes to security, both cyber and physical, resilience is key to an effective defensive plan. ...
Read more...
---
Hikvision aims for solutions
Technews Publishing Hikvision South Africa Editor's Choice CCTV, Surveillance & Remote Monitoring News Integrated Solutions Conferences & Events
Hikvision recently held a roadshow titled Industry X, where the company highlighted its latest products and solutions, supported by partners and distributors.
Read more...
---
ADI Expo returns to South Africa
Technews Publishing ADI Global Distribution News
September saw the return of the ADI Expo to South Africa. The Johannesburg event was held at the Focus Rooms and the Durban event, two days later, at the Southern Sun Elangeni & Maharani.
Read more...
---
Technoswitch Awards dinner for 2022
Technews Publishing News Fire & Safety
Technoswitch hosted its fifth awards dinner at Montecasino in September, where customers and suppliers celebrated a year of success.
Read more...
---
Reliable, low-maintenance video appliances
Technews Publishing Editor's Choice CCTV, Surveillance & Remote Monitoring News IT infrastructure Products
Symetrix, part of the Agera Group, has added the AES range of video recording servers, storage appliances and workstations to its portfolio.
Read more...
---
Technology and the future of security installation in South Africa
Editor's Choice Integrated Solutions Security Services & Risk Management
What are the technologies and trends shaping installation, service and maintenance teams globally, and how will they shape South African businesses today and in the future?
Read more...
---
The technology wave implications for staff mismatches in control rooms
Leaderware Editor's Choice Security Services & Risk Management
An industry habit of looking at control rooms through a physical security lens has increasingly left clients and staff at a disadvantage in keeping up with control room technology and demands.
Read more...
---