printer friendly version
Replacing store guards with CCTV
May 2013 CCTV, Surveillance & Remote Monitoring, Retail (Industry)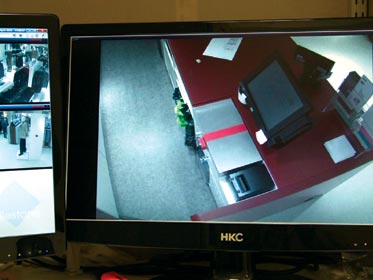 Creaseys Guernsey is a 1858 square metre site at St Peter Port. It is one of several franchised Marks & Spencer outlets in Guernsey, Jersey.
It has invested several million pounds, nearly doubling its prime retail site at Guernsey's St Peter Port by expanding into the building right next door. In the course of this, it upgraded the video surveillance system. Shrinkage, which was already significant in the original Creaseys store, was clearly only going to get worse in the enlarged store with so much of it not covered by the existing CCTV cameras. The major cause of loss was theft of banknotes from the cash tills, although there were also some incidents of shoplifting high value goods such as meat, wines, spirits and women's wear.
The surveillance installation was complicated by the fact that the expanded site runs over six different floors and each on two different levels. Some parts of the shop are also obscured by low ceilings and large pillars. Despite these site-specific challenges, high expectations were placed on the new video surveillance system. It had to be reliable, require little maintenance and be easy to use by non-security staff. It also needed to offer comprehensive coverage and act as the front line for loss prevention because the size of the store precluded the funding of manned guarding. With this brief in mind they called in specialist security contractor KMH Group to design and install a new IP surveillance system.
New solution
Milestone XProtect Enterprise IP video management software (VMS) provides viewing, recording and analysis of high-definition (HD)-quality images at up to 18 frames per second from the 74 new Axis network cameras. Milestone XProtect Enterprise is a comprehensive open platform IP VMS. It is easy to set up and manage and offers powerful features such as system configuration wizards and auto-detection of hardware, which simplifies the process of deploying large-scale video surveillance installations. The software's consolidated single-management interface provides a coherent and efficient way to view and control an unlimited number of cameras.
Creaseys' IT department now recommends the deployment of Milestone XProtect Enterprise for many of its stores. Milestone XProtect Enterprise with the XProtect Smart Client user interface has proved particularly successful for stores that operate without full-time manned guarding and where reliability and ease of use are key operational requirements.
XProtect Smart Client provides instant access to live and recorded video and enables control of cameras and export of video evidence. The Milestone software is so easy to use that the system was able to go live following just 30 minutes of user training attended by Andy Le Maitre, group financial controller at Creaseys Guernsey. He was able to talk staff through the functionality of the system without further involvement from KMH Group.
Advantages
Milestone XProtect provides Creaseys Guernsey management team and supervisors with an effective tool for protecting the outlet from losses associated with cash handling at the tills and theft of high value items on the shop floor. The cameras cover the most valuable items, including the clothing, meat, wines and spirits sections.
Supervisors with access to the system can use it to keep an eye on customer service quality levels without standing over their assistants. Video images may also be used in training exercises to show customer service in action.
"Milestone is so easy to use, because we have been able to extend its use beyond traditional security and loss prevention to improving the customer experience in-store. And recorded images post-event can be quickly found," says Le Maitre.
Creaseys Guernsey asked Milestone partner KMH Group to make recommendations to upgrade the surveillance system to IP, with a particular focus on covering cash tills. KMH Group installed Axis cameras and connected them using CAT 5 Ethernet cabling to two dedicated servers, housed in secure server rooms, running Milestone XProtect Enterprise 8 VMS.
KMH Group installed and configured the Milestone software to suit the users' needs. It is controllable through the easy interface on a dedicated PC linked to two displays located in different security rooms. Authorised staff at supervisor level and above can quickly find and view the cameras they want to see in live or recorded mode and export video evidence to DVD or local hard drive as necessary.
Hand movement
A key requirement for the new system was being able to provide sufficiently high quality images of hand movements around the cash tills to reduce shrinkage through employee or customer cash till theft, as this was the principal source of loss in the store at the time.
Le Maitre explains: "We have a specific problem in Guernsey associated with the colour of State of Guernsey bank notes. Guernsey £20 notes are red – similar to the UK mainland £20 note – while the £10 Guernsey note is blue, and therefore looks similar to the UK £20 if viewed from some distance away. It is important that we have high quality video images so we can judge which types of notes are going into the till, in case the cash registers indicate a discrepancy between cash collected and goods purchased at the end of the day.
He continued: "Our main source of shrinkage is not shoplifting of products, but disappearance of money from the cash tills. The major concern is cash not even reaching the tills when handed over by the customer. It was critical that any new surveillance system be able to offer total coverage in till areas."
Supervisors also find the video surveillance system useful to check that customers are being treated in accordance with Creaseys training. Previously, sales supervisors were finding that assistants were attentive to customers while they were in the vicinity, but once their backs were turned standards tended to slip. With the new surveillance system it became possible to check assistants' customer service behaviour at all times. This capability is now helping supervisors to reinforce correct protocols, thereby improving customer service.
There are no security guards walking the shop floor, which puts a greater responsibility on the new surveillance system to capture wrong-doing and help reduce shrinkage. Security, to a certain extent, is the responsibility of all staff. For example, assistants walk the clothing floors regularly and look for hangers without clothes, which may mean that the missing item was stolen.
Potential for remote surveillance
Creaseys is considering centralising its video surveillance systems to support more stores that have no full-time manned guarding. There is a potential benefit from being able to view and manage these stores from headquarters if necessary. Moving to IP surveillance makes remote monitoring both cost effective and reliable to stream live and recorded images to central security and loss prevention teams in headquarters.
Technical specifications
Milestone XProtect Enterprise is set up in a master/slave configuration so that dedicated PCs connected to both servers are used to view video from all of the cameras by simply connecting to the master server only. Both servers are Intel 15 3,3 GHz CPU, 4 GB RAM and 6 TB of storage capacity. The viewing PC has a 2.8 GHz CPU, 4 GB RAM and 500 GB of storage and is designed to hold all archived video locally in case of incidents.
The viewing PCs also have dedicated dual output graphics cards. With this configuration it is possible to set up live views of all cameras on one 21 inch screen. Once cameras from more than one floor are added the size of image for each view is automatically resized so that it fits in the screen. A second 21-inch monitor is set up in hot spot mode so that if the user double clicks on one camera on the left screen it automatically moves to the right screen and is displayed in a much larger resolution for more detailed analysis.
A total of 60 AXIS M3203 fixed dome network cameras were selected for their reliability. These cameras require manual focusing, so they were specified in areas where light conditions and viewing area need to change little.
A further 12 AXIS P3343 cameras were specified in areas where lighting conditions vary throughout the day. These network cameras offer remote focus and zoom operation via the Milestone XProtect software and day/night capability. All these cameras have the added advantage of being Power over Ethernet.
Two AXIS P3343-VE outdoor cameras were also installed to cover the entrances on the high street and at the quayside loading bay. These fixed dome cameras have weather-proof and vandal-resistant casing and are perfectly adapted for harsh environments.
Five existing customer entrance screen cameras were repositioned and retained. They are linked to the network using AXIS P7701 video decoders.
For more information contact Milestone Systems, +45 88 300 300, [email protected], www.milestonesys.com
Further reading:
A comprehensive video solution for retail
LD Africa Retail (Industry) CCTV, Surveillance & Remote Monitoring Products
Retail Intellect is a comprehensive, flexible solution for retailers that matches technologies to ensure point-of-sale safety and security with video analytics.
Read more...
---
Understanding customers better using AI
Secutel Technologies Retail (Industry) CCTV, Surveillance & Remote Monitoring Products
With in-store analytics of consumer behaviour, retailers can improve store performance and boost the productivity of their business.
Read more...
---
Benefits beyond just security
CCTV, Surveillance & Remote Monitoring
Store cameras are boosting customer experience and sales, as well as preventing losses, finds market research e-book from IDIS.
Read more...
---
Hikvision unveils first 'True 8K' NVRs
Hikvision South Africa CCTV, Surveillance & Remote Monitoring Products
The new M-Series NVRs can be used with a host of Hikvision cameras, and are ideal for environments where a wide field of view and extremely high image resolution are needed.
Read more...
---
AI in video analytics
CCTV, Surveillance & Remote Monitoring Integrated Solutions
AI (artificial intelligence), has been developed and debated ever since the first computers were invented, and while the most revolutionary incarnations are not yet here, AI-based technologies are widely used today.
Read more...
---
Milestone flies a Kite for small businesses
Milestone Systems CCTV, Surveillance & Remote Monitoring
Milestone Systems introduces Milestone Kite for small to medium-sized businesses and organisations, supporting 6000+ camera models from 100+ manufacturers.
Read more...
---
Railway AI-enabled video analytics
Rugged Interconnect Technologies CCTV, Surveillance & Remote Monitoring
The Rugged Computing Group has announced the AVA-RAGX, a fanless AIoT video analytics platform for railway applications, paired with Nvidia's Jetson AGX Xavier platform.
Read more...
---
No supply chain delays from Germany
Dallmeier Electronic Southern Africa News CCTV, Surveillance & Remote Monitoring Products
Dallmeier announces that its complete Domera single-sensor camera family is available without delivery problems for installers and channel partners.
Read more...
---
Hikvision releases eDVR Series with eSSD technology
Hikvision South Africa CCTV, Surveillance & Remote Monitoring Products
Hikvision recently added the eDVR Series to its expanding portfolio of security solutions for SMBs, offering compact, durable, easy-to-use and energy-efficient solutions.
Read more...
---
Axis announces W101 body-worn camera
Products CCTV, Surveillance & Remote Monitoring
Axis Communications has designed a body-worn camera, the Axis W101, that has an operating time of up to 17 hours with over 12 hours at 1080p.
Read more...
---