printer friendly version
Shopping for the right security solutions
May 2013 CCTV, Surveillance & Remote Monitoring, Retail (Industry)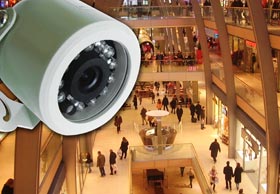 As the incidence of cash in transit (CIT) heists has decreased, criminals turn their attention to other targets with perceived high rewards. One of these is the retail industry. Hi-Tech Security Solutions takes a look at what standards define the CCTV security industry offering to the retail market. We also spoke to the Consumer Goods Council of SA about the importance to industry of the recently launched CCTV Guideline Booklet.
And while retail security goes far beyond surveillance, many companies are finding there are enormous benefits in deploying CCTV systems correctly and obtaining footage that can be used for prosecution, training, video analysis with the goal of improving business processes. The catch, as highlighted repeatedly at the recent iLegal 2013 conference, is doing the required work to ensure your surveillance system delivers the goods.
Surveillance standards – adoption or not?
Rudi Wolter, project manager at Business Against Crime Western Cape (BACWC) says that retailers and other business owners are strongly recommended to incorporate the South African National Standards – SANS 10222-5-1-1 to 10222-5-1-5 as well as 10222-5-2 to their surveillance systems. "The Operational Requirement (OR) will assist with CCTV design lay-out plan and I suggest retailers refer to the CCTV Guideline Booklet in this regard. It is very strongly recommended that the desired CCTV system is determined via a site floor plan, indicating the camera position and what area it is supposed to undertake surveillance."
Wolter does not believe that installers are adhering to these standards. "BACWC is is still waiting to see an original master plan indicating the original OR documents. The tests undertaken over the past 18 months have revealed that most CCTV cameras do not comply with the operational requirements for that location.
"The Digikin Rotakin Test Target has only recently become available in South Africa and the retailers and end users still need to instruct their service providers to obtain such a target. In the absence of knowing the objective status of the camera, one cannot determine if the camera will produce the desired video quality," he continues.
"Bad choices and incorrect placement of cameras are still prevalent in the industry due to shoddy workmanship. Inferior cable installations and termination principles are also a concern, again due to unqualified installers. The manner in which the head-end equipment is being housed is also problematic, as very little accommodation foresight has been given to where and how the recording device will be protected against atmospheric conditions, as well as to the security of the data," Wolter adds.
Keeping communication equipment and cables away from electrical equipment and cable routes seems to be another issue, according to Wolter. Normally the process of 'snagging' prior to hand-over, will eliminate such errors. However, there is little evidence that this practice still exists. The lack of record keeping regarding IP networks is also a concern and connections to these networks are happening without the consent of the people in charge of these networks."
Wolter says that trying to rectify an inferior installation incurs additional man-hours; travelling and equipment costs. "BACWC advise both the retailer or end user/business owner and the installer to ensure that the necessary OR and layout plans, with equipment specifications, are signed off and approved prior to commencement of any work as described within the SANS 10222-5-1-1/5 Standards.
"BACWC's experience in this regard is that more than 95% of the cameras tested with the Digikin Rotakin Test Set are failing their operational requirement due to non-existence of the OR document. Another common mistake found is incorrect camera settings."
The right knowledge
"The lack of knowledge, on the part of the retailer or end user/business owner/client, also plays a significant role. Installers often provide an inferior system when the client cuts the budget, rather than risk losing the deal. The end user/business owner/client only feels the impact of this error after a crime incident has occurred, when the poor quality of the footage is indicated by the SAPS," says Wolter.
To date, a small percentage of CCTV footage is successful in the South African courts due to poor quality and incorrect handling of evidence. To enhance the success, it is recommended that the end user adheres to the applicable SANS Standards, introduced in 2003 together with the Recommended CCTV Industry Guidelines.

"We need to emphasise the fact that any service provider within the security industry has to be registered with PSIRA. This is a legal requirement and both the end-user and un-registered service providers can be fined or jailed for non-compliance. In addition, service providers need to sign a document stipulating their compliance with the Department of Labour's Occupational Health and Safety Act requirements. Contractors are also required to wear the required protective clothing and have the necessary safety gear to undertake the work."
Wolter says that the fact that the equipment carries a one-year guarantee does not really help, as the installers normally do not have a maintenance contract on the installation and therefore request payment for any additional work undertaken. South African industry has been plagued with this scenario for more than10 years so it is advisable to insist on SANS standards adherence.
"BACWC encourage the use of the Digikin Rotakin Test Target to establish the current status of a camera. It is envisaged that once the owners know the status of their camera, they can then decide how to remedy the situation," says Wolter.
In December 2012 BACWC undertook a camera shoot-out using the Digikin Rotakin Test Target. "The shoot-out results did reveal many aspects that require urgent attention on the part of the suppliers and we urge them to address these issues as a matter of urgency," Wolter concludes.
CCTV Guideline Booklet
Selma Visser, operations manager of CGRI (Consumer Goods Risk Initiative) explains the rationale behind the recent launch of CCTV Guideline Booklet. "The Booklet, which was produced by the Consumer Goods Council of SA (CGCSA) in partnership with Business Against Crime Western Cape (BACWC), will provide industry with a guideline to measure current installations and operations. It will also help to determine the need and level of improvement or upgrading/replacement required, as well as assist with the compilation of implementation strategies."
The CCTV Guidelines project started in 2004 as a retail initiative and after successful implementation and utilisation of this tool in the retail industry, the scope was broadened to produce an industry document, which was published in 2007.
In 2012 CGCSA initiated the update of the document to ensure continued relevance, incorporate technology enhancements and requirements as well as expand on relevant areas including training and current case law. "The revision of the guidelines is part of the continuous goal to not only proactively mitigate criminal risk, but to also uplift the CCTV industry and educate system users on all levels by providing a relevant tool that can be implemented and utilised in every business," Visser points out.
The document will provide guidelines for the optimisation of CCTV. "This is to ensure the recording of appropriate/sufficient quality images under different physical and environmental circumstances in and around businesses for monitoring, detection, recognition and identification. The specific purpose is to generate video footage that will support investigations and successful prosecution," Visser explains.
Working groups were formed to determine a recommended industry guideline for CCTV surveillance systems in South Africa. The three working groups in this national initiative comprised Technical; Installation and Management; Legal and Evidentiary.
The partnership agreement between BACWC and CGCSA was that both Cape Town and Johannesburg would facilitate the three working groups in the provinces, to ensure a broad spectrum of quality input to the information. BACWC called on the National Prosecuting Authority (NPA) of the Western Cape to assist with CCTV evidence for court purposes. The NPA's contribution was via Senior State Advocate Christhenus van der Vijver, who chaired the Evidence Working Group in Western Cape. Because the City of Cape Town operates the biggest CCTV control rooms in Africa, Barry Schuller of the City of Cape Town was requested to chair the Installation and Operational Working Group in Western Cape. The other working groups were chaired by various industry leaders.
"The process included identification of and consultation with several experts in the CCTV field, with representatives from SAPS Forensic Laboratory, retailers, suppliers, installers, service providers, loss control and risk assessment, industrial psychologists and surveillance consultants. The working groups, facilitated by Rudi Visser, met twice a month and I collated and edited the information," says Visser.
With proper maintenance and management of a CCTV system, as well as adequate training of the users, it can become an invaluable tool to the industry. It can be used not only to prevent or react to criminal activities, but also in staff management and performance evaluation. The booklet will empower business owners and system users to make informed business decisions before investing large amounts of money in a business solution. However, Visser points out that commitment from all industry role players is crucial to the success of improvement of CCTV systems in South Africa.
Visser highlights some of the pertinent issues that are covered in the Guidelines. Role players and Responsibilities are incorporated in Chapter 2. Chapter 3 explores the Operational Requirements (OR) that are fundamental to the design, testing and operation of an effective CCTV system.
"Although Technical Aspects are addressed in Chapter 4, the aim was to limit specifications that might lead to the guidelines being outdated in the near future due to technology developments. This chapter includes:
* Aligning the technical specifications with the system purpose;
* The system design criteria;
* Required system performance including a performance guideline;
* System components, including guideline tables for each of the components."
Installation and Management Aspects are addressed in Chapter 5 and covers: Restrictions of installed cameras, as this may include the detection of movement rather than identification; black and white systems as insufficient for identification of clothing and vehicle colour; the use of compression techniques, which may result in low-resolution images.
The guidelines in this section include:
* The selection of a suitable service provider;
* Camera selection, placement and picture quality;
* Quality and routing of cabling;
* Existing infrastructure and layout of premises;
* Software and other system related requirements;
* Power management;
* General risk considerations;
* Training programmes, training and system manuals and
* Guidelines on the maintenance and management of the system.
As the importance of competent operators and system users cannot be underestimated, CCTV Staffing and Development are covered in-depth in Chapter 6 (contributed by Dr Craig Donald, Industrial Psychologist and human factors expert).
"The purpose of including the Legal and Evidentiary Aspects in Chapter 7 of this document is to guide the standardisation of protocols in the handling of video/DVD or other material that has evidential value, which is in the possession of private persons employed in the industry. During the investigation of offences committed and incidents in chain stores, the visual footage, captured on CCTV equipment is of crucial importance during the investigation and procedures that could follow.
This document also includes recommended checklists for operational requirements of the camera, recommended basic formats for basic affidavits and a recommended general checklist for the CCTV system.
The Recommended CCTV Industry Guideline is available for purchase from CGCSA by contacting Selma Visser on 0861 101 726 or [email protected].
Further reading:
Turkish university installs IDIS surveillance
CCTV, Surveillance & Remote Monitoring Products
IDIS video streamlines complex surveillance systems for learning institution, upgrading a 350-camera system with 24/7 control room monitoring to transform security for Social Sciences University of Ankara (ASBU).
Read more...
---
Brighter, greener, and smarter
Dahua Technology South Africa Products CCTV, Surveillance & Remote Monitoring
Dahua Technology released its new Dahua CH II Series Indoor Fine Pixel Pitch LED display, providing visual clarity and promoting energy efficiency and sustainability.
Read more...
---
Smart water management
Axis Communications SA CCTV, Surveillance & Remote Monitoring Integrated Solutions
South Africa is currently facing a water crisis, with scarcity and inefficient water management posing significant challenges to sustainable, consistent access to water. Smart technology and powerful partnerships may offer a proactive solution to SA's water crisis.
Read more...
---
Helping retailers optimise monitoring and security
Guardian Eye Retail (Industry) CCTV, Surveillance & Remote Monitoring
From a smart retail perspective, it is crucial to understand that monitoring stock and other assets through camera surveillance and a variety of Internet of Things (IoT) sensors stretches further than the stores themselves.
Read more...
---
The right security solution removes the opportunity
Asset Management, EAS, RFID Retail (Industry)
South African retailers are facing a multitude of challenges, including economic fluctuations, changing consumer behaviour, increased competition, supply chain disruptions, regulatory changes and the need to adapt to digital transformation, not to mention theft.
Read more...
---
Empowering Istanbul's public transportation
Dahua Technology South Africa CCTV, Surveillance & Remote Monitoring Integrated Solutions
Dahua's intelligent transportation solution, using technologies like DSM and AI-based passenger flow counting, has facilitated an intelligent system upgrade for nearly 6 400 minibuses and electric buses in Istanbul.
Read more...
---
Smart manufacturing redefined
Hikvision South Africa CCTV, Surveillance & Remote Monitoring Industrial (Industry)
AI and intuitive visualisation technology allows managers to monitor manufacturing sites, production, and operational processes, and to respond in real time in the event of an issue – helping to drive efficiency and productivity.
Read more...
---
AI is getting smarter, and critical infrastructure is set to benefit
Axis Communications SA CCTV, Surveillance & Remote Monitoring
With technology advancing at an astonishing pace, AI has emerged as a defining trend in today's business arena. Enterprises across all sectors are prioritising this technology, embracing its transformative potential to drive change and growth.
Read more...
---
Collaboration delivers integrated and holistic security
Guardian Eye CCTV, Surveillance & Remote Monitoring News Integrated Solutions
Guardian Eye and Lytehouse have partnered to integrate their speciality solutions and provide a holistic security offering that overcomes the fragmentation of security systems and services.
Read more...
---
Manage security systems remotely
Hikvision South Africa CCTV, Surveillance & Remote Monitoring IT infrastructure Products
Hikvision launched a new generation of smart managed switches that, in conjunction with the Hik-Partner Pro mobile app, enable installers to remotely deploy and configure security systems with comprehensive operation and maintenance capabilities.
Read more...
---